Mount Everest Base Camp Trek

Summary: This is a report of Neal Lever's spectacular trip and walk to Base Camp of Mount Everest, a trip he made in February 2012. During the journey of a lifetime Neal met many new friends, walked in the footsteps of explorers and experienced sights many people can only dream of. Follow Neal's personal report on these pages which includes a good selection of superb photographs. They are an inspiration to all of us who love walking and value the amazing natural world we have.
---
Day 8: Friday 17 February 2012 - Tengboche to Dingboche
8.00 am. This part of the trek has a five hundred metre gain but it is a little more gradual. We set off and straight away we descend down to the white river for another crossing via suspension bridge with the old remaining bridge in disrepair underneath (spotting the pattern) with rotten wood lath and frayed rope this bridge would have transported Hillary and his expedition all those years ago, ghostly. This stage of the trek had Ama Dablam towering over us on our right the whole time with the bluest of sky showing every detail of this magnificent mountain. We stopped at Pangboche for lunch, Sherpa stew seemed most popular and this time not too spicy with dumplings in it, very nice, especially with Tibetan bread. We spent most of the day close to the river with a reasonable ascent towards the end of the walk and arrived at Dingboche for around 3.30pm. At this altitude 4410m the lack of oxygen in your breath is normality.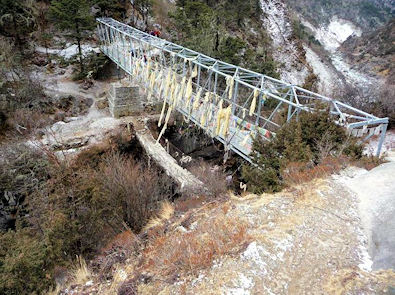 New bridge over the old one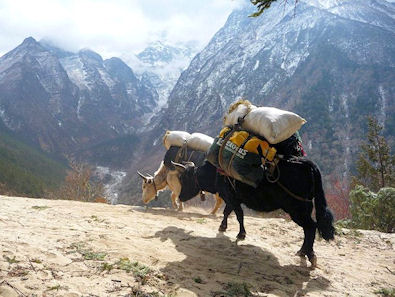 Four wheel drive Yaks
Before dinner is served (around 7.30pm) David and I (did most of my trekking with Dave) decide to trek to the top end of town about half a mile and then to ascend slightly out of the village mainly to aid sleeping but also to capture on camera the glorious surroundings.

Once we had climbed around one hundred metres we were high enough above the village to appreciate the view of Amphu Gyabjen (5630m)with a locked in glacier called Duwo Glacier which sat there like the palm of a baseball glove and was large enough to house Wembley Stadium four times, just immense. After a few Photo's and with the sun setting the air temperature dropped dramatically so we decided dinner was looming and the log burner would be on full tilt, a quickened pace was made downhill and back to base.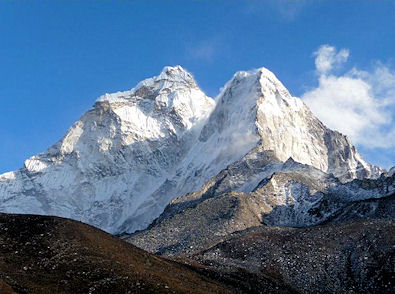 Amphu Gyabjen sunset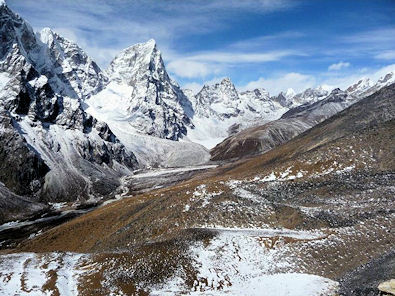 Ama Dablam range
We are staying at Dingboche for two days for acclimatization purposes and in doing so we have to ascend an adjacent ridge to 5100m tomorrow which climbs north towards Nangkar Tshang a mountain at 5616m which is blocking our view of Everest at this point. Not everyone will make the top Pasang explains because it is a tough climb with a very rocky outcrop at the top. I was not sure if I would make it as I did not feel so good that night and resigned myself to the fact the "Kumbu Cough" is not going to go till I reach Blighty. Just have a lack of energy at the moment. Also Dave and I are the only two not taking Diamox which is the drug that combats AMS, mainly to feel the full effects of altitude as we are hoping to climb Mera Peak next year at 6476m (21246ft) that's 4.024 miles above sea-level and we want an indication as to whether or not we could complete that. On that trip I will take Diamox.

Egg noodles for dinner drowned in garlic (combats AMS) which is very nice indeed and chocolate pudding for afters. This is the most popular desert. Briefly, before going to bed (as I do not feel good at all today) a couple of us go outside to see the most wonderful view of our stars. With no light pollution at all and total darkness the sky looks like a blizzard of white against blackness. The stars here are not just white but suggest an array of colours faint I grant you but still there is colour and other galaxies are defined. A totally mesmerizing view but the night is so cold that unfortunately we cannot stay out too long to view this wondrous spectacle of nature. Good night.
Copyright © 2003-2020 Walking Englishman. All rights reserved.