Mount Everest Base Camp Trek

Summary: This is a report of Neal Lever's spectacular trip and walk to Base Camp of Mount Everest, a trip he made in February 2012. During the journey of a lifetime Neal met many new friends, walked in the footsteps of explorers and experienced sights many people can only dream of. Follow Neal's personal report on these pages which includes a good selection of superb photographs. They are an inspiration to all of us who love walking and value the amazing natural world we have.
---
Day 14: Thursday 23 February 2012 - Tengboche to Phakding
6.30am. It is an early start today again and the ritual knock on the door with a cup of tea was at 6.00am. I open the door with heavy eyes to be greeted by Tenzing's smile and the early call does not seem quite so bad. He has an infectious smile and laughter to suit and is without doubt the happiest man I have ever met. Breakfast is rushed and we are soon on our way with a long walk ahead and an hour or so descent down to Phungi Thanga where we cross the river and climb for what seems ages through pine forestry on dusty paths. The smell of pine is strong and fresh.

The temperature is getting warmer day by day now and David and I are walking in base shirts and shorts enjoying pushing each other onwards and upwards to our first stop at Kyangjuma. Last time we were here we stayed the night and it was a very different place. It was cold and covered in snow with low cloud all around and here we are drinking cool lemonade and basking in the sun with views that stretch right up the Khumbu valley. The mighty Ama Dablam was setting the scene. The clarity of air is unparalleled by now and the mountains are incredibly detailed against the sky. Soon everyone is here enjoying a break and taking in the views whilst soaking up the sun, nice.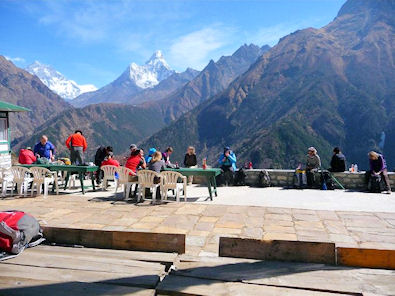 Lemonade break with view of Ama Dablam and Everest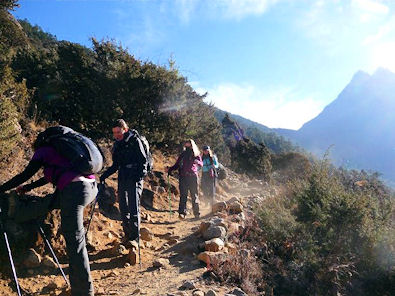 Descending down Phungi Thanga
There is a spring in your step by now and most of us are feeling a hundred percent better, (apart from this blooming cold) so we push on to Namche Bazar and lunch. The rout to Namche is around the massif rather than over the top which we did on our way up. We have views across the valley and forest is all over the lower mountains. Wild flower is starting to show in amongst the bushes and trees, blue, yellow and white. Soon we see an extremely large Memorial Stupa. It has to be for someone important as it is sat on the end of the gateway to the larger mountains. Names are running through my head. Whose memorial could it be? As we approach and I read the name It is obvious it could only have been this name, Tenzing Norgay, the most famous Sherpa that ever lived. The man who stood on top of the world at the side of Hillary late in the morning of May 29th 1953. They stood for fifteen minutes on the summit of Mount Everest and did what all climbers do when they reach their goal; shook hands, took pictures, looked at the view, and started down started down again for the world below. How the world must have changed for that humble man. We take pictures of this magnificent memorial then move on to Namche for lunch.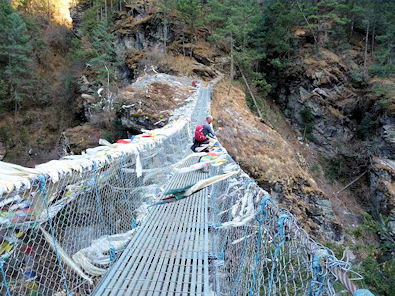 Joanne's favourite bridge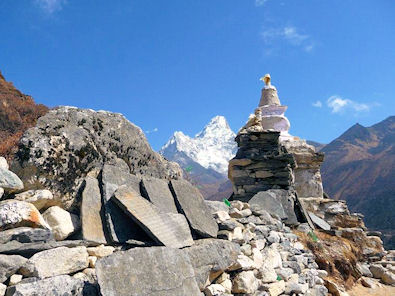 Tenzing Norgay's memorial
The descent down the valley is pleasant and warm. Eventually we arrive at the largest of the suspension bridges that cross the valley floor happily name Larja Bridge (apt and no kidding) and at this point it is the last glimpse of Everest, till next time. We cross the extremely wind ridden bridge and Joanne has lagged behind tying her boot laces and I realise the panic she has crossing the smaller bridges without any wind. I do the gentlemanly thing and go get her. With eyes closed and her hand held tight we make it to the other side to be greeted with ridicule. Banter has been rife on this trip. It is what has made such a strong team. There has been no malice and no falling out at all during the trek and for sixteen people in such a harsh environment I think that is a testament to the attitude of the group I was with. The remainder of the day goes without a hitch and we arrive at Phakding for our overnight stay. Good food and beer.....nice.
Copyright © 2003-2020 Walking Englishman. All rights reserved.