Mount Everest Base Camp Trek

Summary: This is a report of Neal Lever's spectacular trip and walk to Base Camp of Mount Everest, a trip he made in February 2012. During the journey of a lifetime Neal met many new friends, walked in the footsteps of explorers and experienced sights many people can only dream of. Follow Neal's personal report on these pages which includes a good selection of superb photographs. They are an inspiration to all of us who love walking and value the amazing natural world we have.
---
Day 7: Thursday 16 February 2012 - Kyanjuma to Tengboche
7.00 am. The cloud had lifted and with a morning tea in my hand (lemon of course) and in front of my eyes were the most majestic views I have ever seen. Ama Dablam was soaring into the sky with a plume of cloud and snow just streaming off its summit. My head was almost at full tilt backwards just to take in its 6814m of height. This is the mountain of all mountains as far as I have seen and is one of the most technical mountains to climb. Many have failed resulting in their loss of life and from the picture you can see why. After several camps along the ridge the last high camp, camp three, is just below and to the right of the hanging glacier, the Dablam. This glacial climb takes around six hours. As you have probably guessed it has not been summited quite as much as Everest.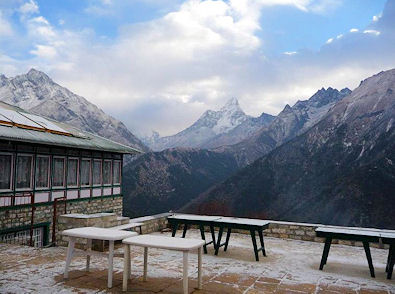 Stunning views from our accommodation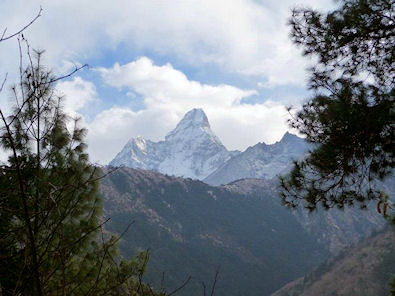 Ama Dablam
The trek today started with a long descent to the river. We cross it at the little settlement of Phunki Thangkha at 3,250m on another fine suspension bridge and then we climbed steeply through the forest to Thyangboche at 3,867m with the first large monastery we have seen close up. The mountain range has taken on a whole new vastness and we are now walking on a ledge type path and at points really exposed with over 5000ft drop straight down. Its not for the faint hearted. Soaring in the sky are vultures and they are massive with the biggest wing spans I have ever seen. They must have been eight or nine feet. Across the valley are some of the largest Rhododendron forests on the trek and I can only imagine how beautiful they would look in the summer months. The pace is slow because of the quick altitude gain but it is governed by the lack of oxygen in the air which is becoming more and more apparent as we climb. We arrive at Thyangboche which seems perched high on a ridge from below but is 1500ft across past the monastery to our lodge. In the background I can see Nuptse (7864m) and to the right is Lhotse (8516) slightly to its right is Lhotse Shar (8382m) and sneakily hidden behind is Everest peak but we can't see it today because it was covered by plume. These are the big boys but we are still four days away from standing beneath them.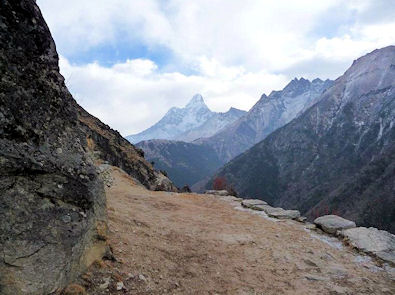 Ama Dablam straight ahead, dream rather than reality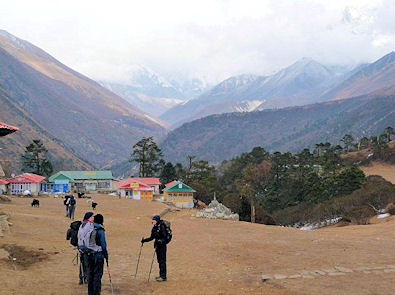 Thyangboche
Tea is poured, orange tea, sounds stupid but is hot and very refreshing. I may have to investigate more. Lunch is in an hour and then an altitude trek from 3860m up to 4000m and we have some weary trekkers here today, it will be hard as it seems to be a steep ridge on the west side. There is swirling cloud around and a bit of wind seems to be getting up. After lunch we trek for two hours and snow starts to fall once we reach 4030m a little further than we anticipated. We all eventually reach the goal and the cloud comes in and encroaches all around and there is a dramatic drop in temperature. There is a little concern as all visibility has gone also. Our lead Sherpa Dowa decides straight away to descend. Wise decision I thought and it is obvious to all the next four days are going to be tough.

Back at the lodge we all warm up and the mood is high. I feel that we will all get to base camp even though we have an age range from the twenties to the sixties, some strong walkers and some not so strong, some feeling well, some not so well. One thing has become apparent there are no longer sixteen individuals but a team of sixteen working together with the same goal. Jokes and micky taking, tattoos and scars have been shown and even Pasang is showing card tricks although like Tommy Cooper, not very well. Nima our lead Sadar has been left a nifty coin trick by some fellow trekkers and keeps us entertained for quite a while with much laughter because he is not particular good at it shall we say. This kind of trek holds no secrets amongst us especially with only one Asian style loo to share, nice.

Tomorrow we push up above 4000m, I hope the weather is conducive.
Copyright © 2003-2020 Walking Englishman. All rights reserved.