Hadrian's Wall National Trail
A personal record of my walk of Hadrian's Wall National Trail with written journal and photographs. Tracklogs for GPS units and for use with Google Earth are available for download for each stage.
---
Journal, Photographs and Download Files
Stage 6: Walton to Carlisle
Google Maps
Open Source Maps
Ordnance Survey Explorer Map (1:25,000)
Summary: Evidence of the stone structure of Hadrian's Wall are now behind us as we head west to Carlisle but the earthworks of the raised foundations and Vallum do show on occasions. This stage is predominantly farmland and open country with the River Eden also making an appearance. Apart from the distance to cover it is a straightforward stage of the walk.
---
The Walk: After the first three days of dry starts, day six was the third in a row of damp starts but this time the forecast promised us it would not last long. Despite the promise Dave decided to be prudent and wear his new and stylish keep me dry Poncho.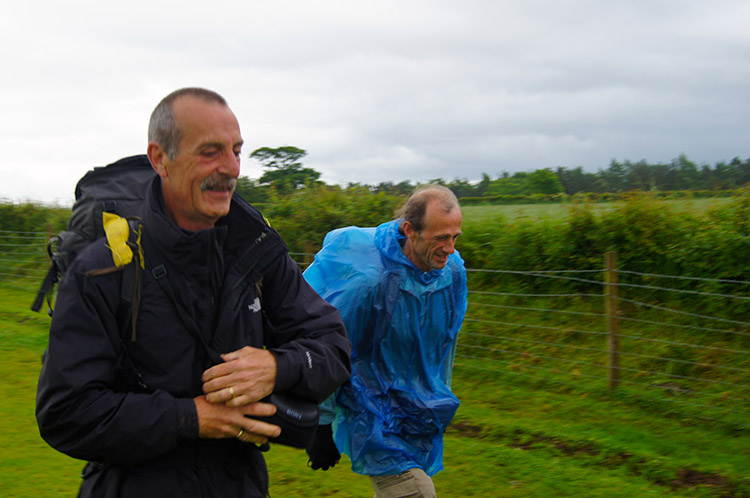 All smiles as we set off from Walton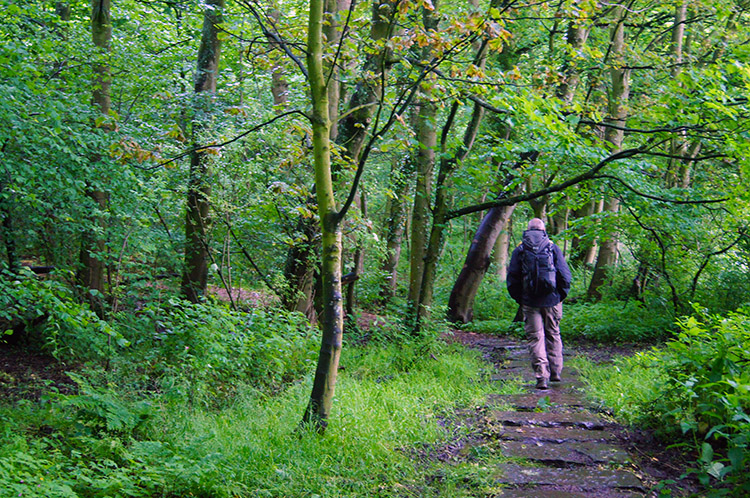 Steve walks through a small wood near Sandysike
Dave had bought his new Poncho in Haltwhistle only this morning and was keen to try it out. In his new attire we set off on the easiest of 11.5 mile walks in the Eden Valley and made off over fields from Walton to Sandysike. After just one field we tracked through a small wood and then over a small field to a road.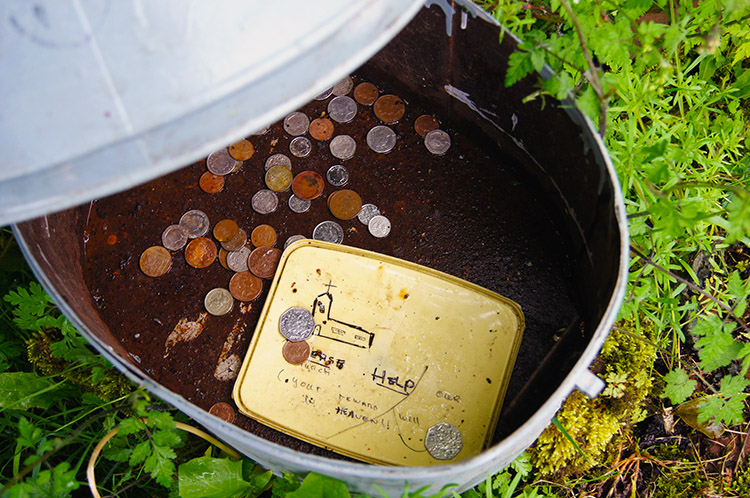 I made a donation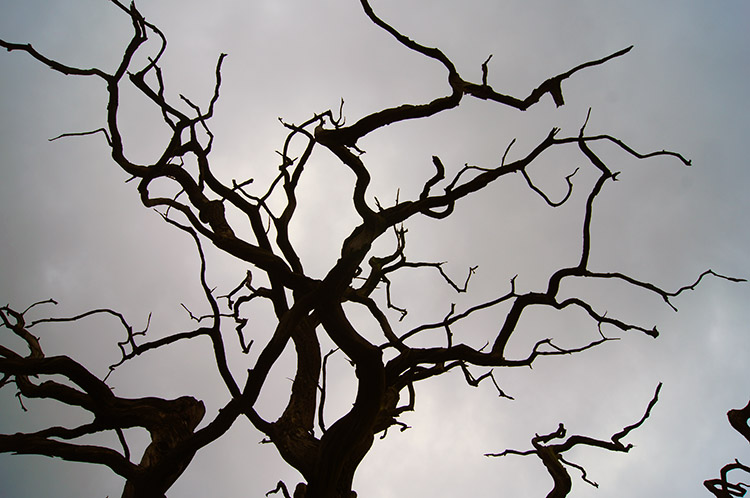 Sun rays try to penetrate the cloud
At the road near Swainsteads we came across a small milk churn with instructions to open it. Inside a message on a margarine top said "Please help our Church (your reward will be in heaven)" I left a small donation to the cause, presumably to the Church in Walton, a lovely building. After Swainsteads we tracked down a field to Cam Beck.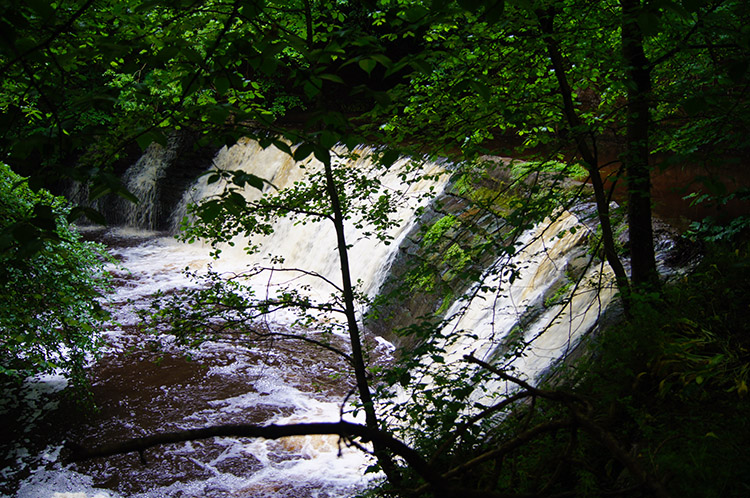 Weir in Cam Beck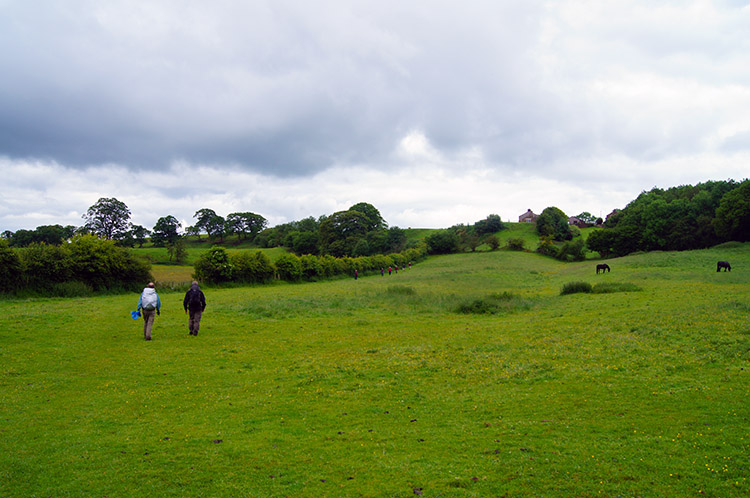 Walking through fields near Cambeckhill
Cam Beck was surrounded by a small copse where lambs were sheltering. The beck had a weir close to a footbridge which we crossed before climbing ever so slightly to Cambeckhill. As we did so, less than a half hour into the walk, the drizzle gave way to dry and Dave took off his new Poncho which was not to be seen again on the walk. The rain was on its way east and though cloud persisted things were now set fair.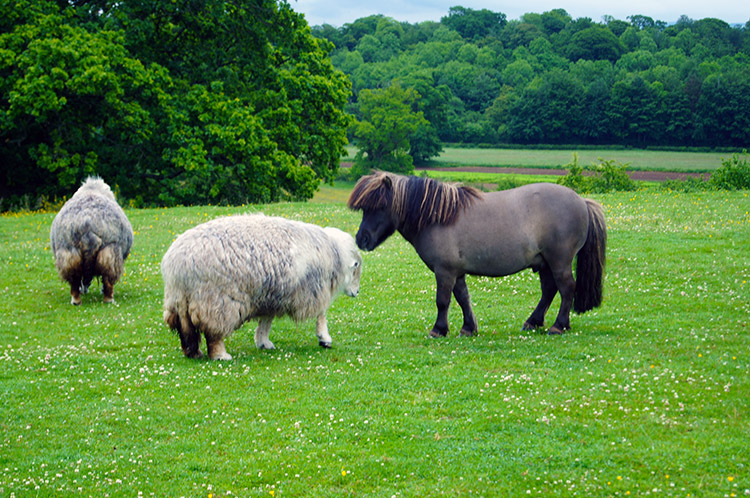 Friends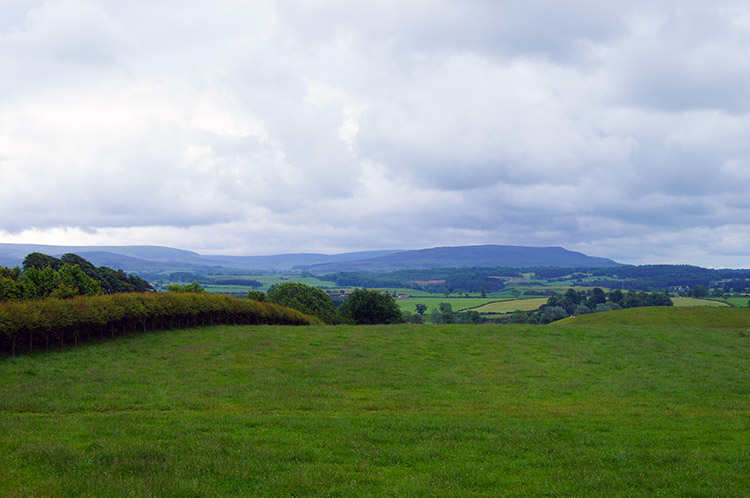 Northern Lake District Fells
At Cambeckhill and before The Beck Farm we crossed a field shared by horses of the usual size, of Shetland Ponies and also with Sheep. The ponies and sheep were pretty friendly with each other. The horses kept themselves apart from their neighbours. After The Beck Farm we continued on with our amble towards Newtown and then walked along the road through the long narrow village. It was now mid morning on Sunday and nothing stirred in the village as we walked through unnoticed.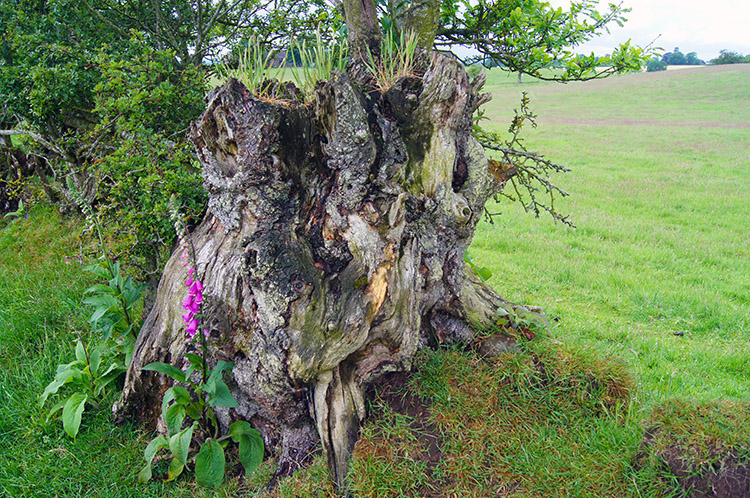 Flower and decay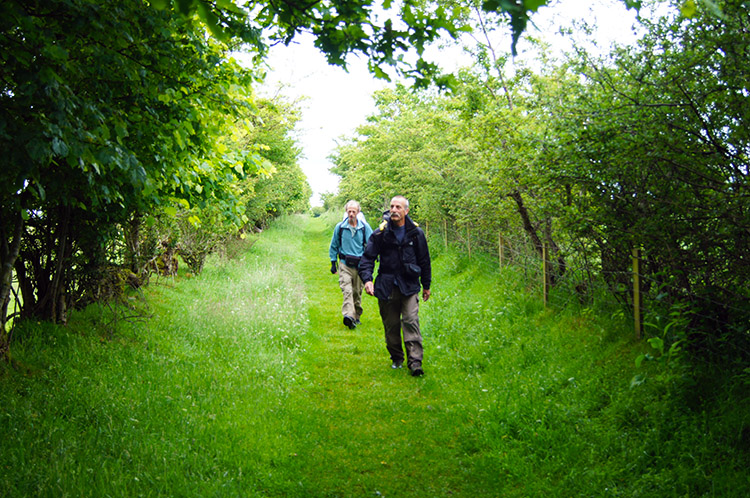 Avenue to Newtown
After walking through Newtown as if invisible the walk continued across a string of fields towards Oldwall. With the rain gone and the cloud lifting there were great views of the northern fells of the Lake District to be enjoyed. I imagined the walk on Back O'Skiddaw last year which I could clearly see now in the distance to the south. After the fields and before Oldtown we followed a long lane avenue with Hawthorn and other small native trees and shrubs.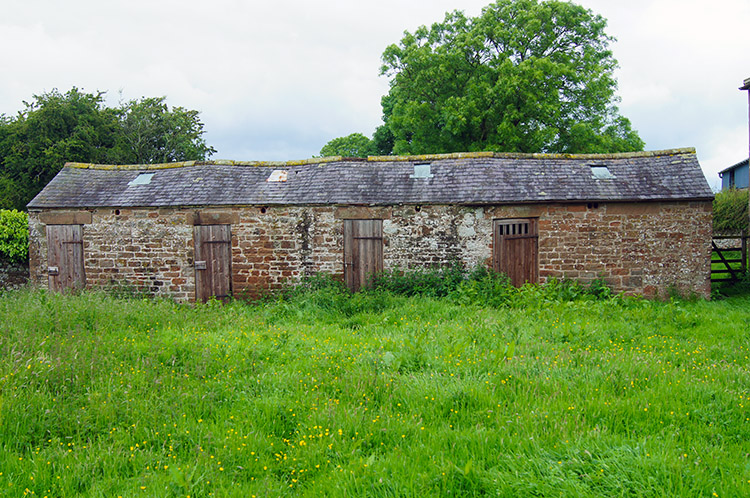 Though which door lies the treasure?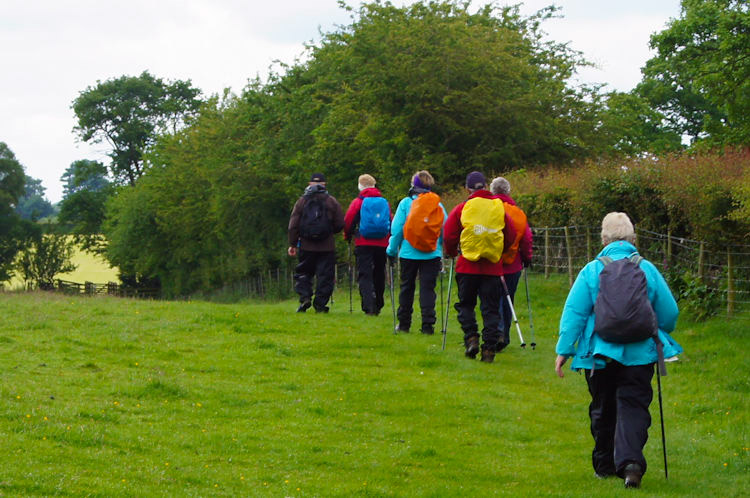 Fellow Hadrian's Wall walkers near Bleatarn
Just before Oldtown we passed the site of an old farm with an interesting long low building with four doors at equal intervals. Once stabling perhaps? At Oldtown which is just a few scattered houses, mainly bungalows, we crossed a road and then crossed fields towards Bleatarn. The map showed we were on the course of Hadrian's Wall again but all we saw was another group of walkers ahead of us, not a wall or ditch. The walkers, a group from Lancashire were a pleasant group of folk who we chatted to with for a while. At Bleatarn Farm we found a tarn, most appropriate given the name. Here we also made out the raised bank and Vallum of the wall, the first time we could make it out since before Banks yesterday.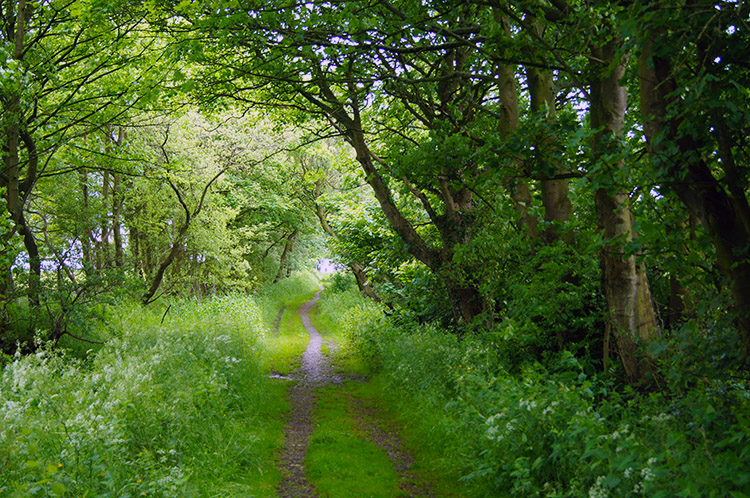 Walking along the avenue on Sandy Lane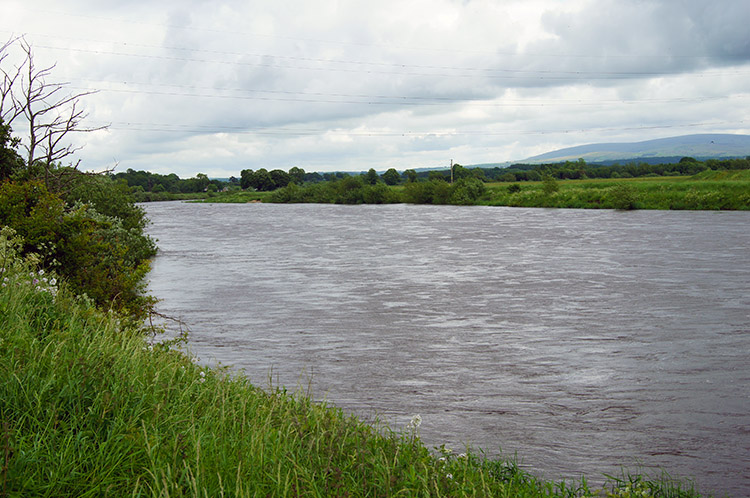 Alongside the river at Low Crosby
The line sight of the raised bank and Vallum did not last long, across one field, because after it we reached a road at Wall Head which we followed for a short distance before turning left (south) to follow Sandy Lane, a lovely tree lined avenue. The lane took us to the A689 which we crossed by bridge to Crosby on Eden, just a couple of farms and a posh house. From there we continued on into the village of Low Crosby and past the lovely looking Stag Inn before leaving the village to arrive on a track beside the River Eden. We then followed the river downstream for a mile before crossing fields at Park Broom and then along a muddy bridleway to Linstock. Like Newtown earlier, no one noticed us walking thorough, the village keeping itself to itself.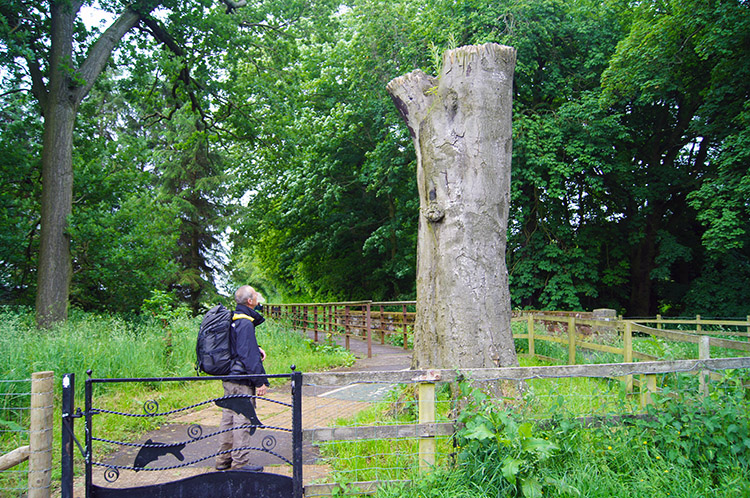 A tree stump impresses Steve at Rickerby Park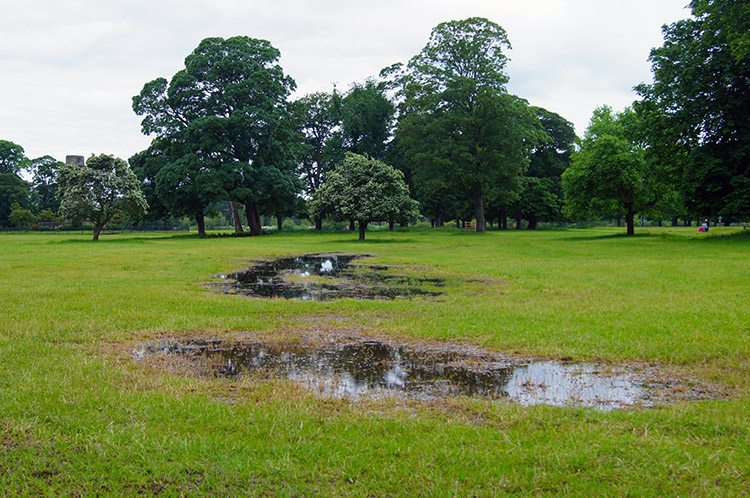 Evidence of the last few days rain in Rickerby Park
After Linstock we crossed over the M6 and followed a drab uninteresting road into Rickerby. After the boredom of the mile of road we were delighted to reach Rickerby Park, a lovely place and a delight to walk through. Evidence of the rain over the last few days was apparent as we walked through the park with puddles everywhere, some large and across paths which forced walkers off them and over squelchy ground.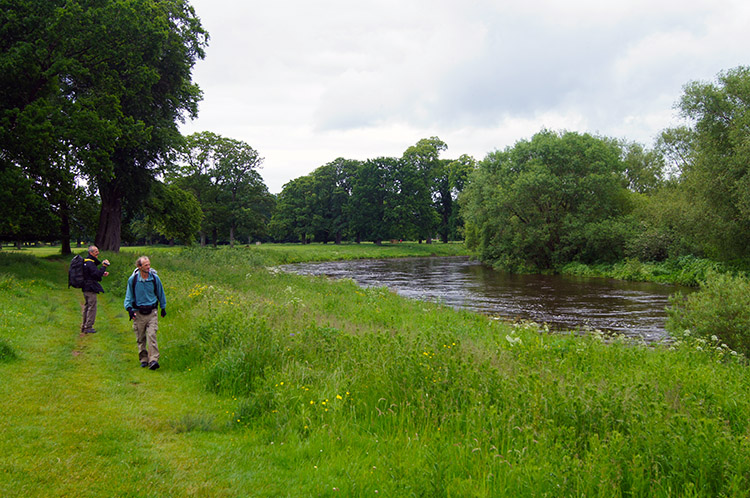 Beside the River Eden in Rickerby Park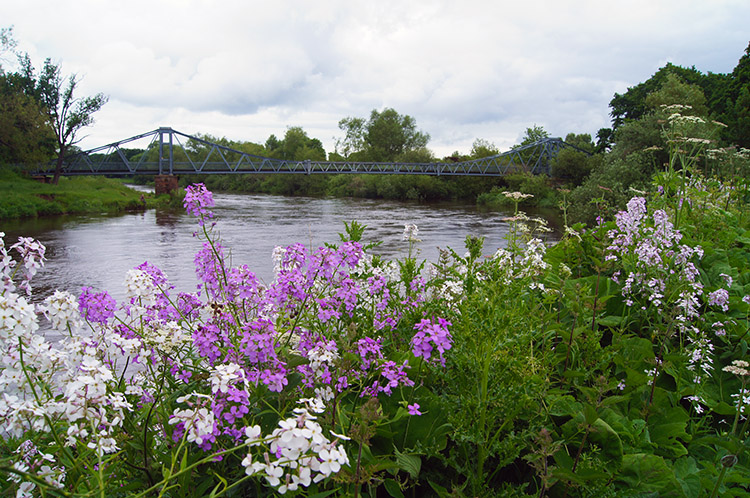 Footbridge to Carlisle
From the park we reached the bank of the River Eden once more and crossed a footbridge from north side to south side. At least this part of the walk was interesting as flowers by the bank presented beauty not seen for most of the day and birds also skimmed the water and went about daily business as we tracked to our finish in the centre of Carlisle. Overall, a nice walk, nothing spectacular, not enough wall and I have to say the least interesting day of the walk, even less so than the walk through Newcastle. Sorry but I hope tomorrow is an improvement.