Hadrian's Wall National Trail
A personal record of my walk of Hadrian's Wall National Trail with written journal and photographs. Tracklogs for GPS units and for use with Google Earth are available for download for each stage.
---
Journal, Photographs and Download Files
Stage 7: Carlisle to Bowness on Solway
Google Maps
Open Source Maps
| Statistics | |
| --- | --- |
| Start: Carlisle | Finish: Bowness on Solway |
| Distance: 14.5 miles (23.4 km) | Time: 6-7 hours |
| Climbing: 116 metres | Rating: Hard |
| GPX Route File | Google Earth File |
Ordnance Survey Explorer Map (1:25,000)
Summary: This final stage of our walk across northern England following Hadrian's Wall National Trail was a surprising delight. From Carlisle to Burgh by Sands we followed the River Eden and then crossed beautiful countryside. After Burgh by Sands we reached flood plain and this section of walking proved remarkably fantastic, albeit on the lovely day we had. A great day's walking altogether.
---
The Walk: After three great days weather to begin our weeks walk of Hadrian's Wall National Trail and three days of rain, drizzle and cloud we were blessed with a glorious day to finish the walk. It was the best of days for walking and we set off from Carlisle in hot sunshine, heartened by the weather and with a lovely day's walking ahead of us. the only disappointment was that we were coming to the end of a great week walking this special trail.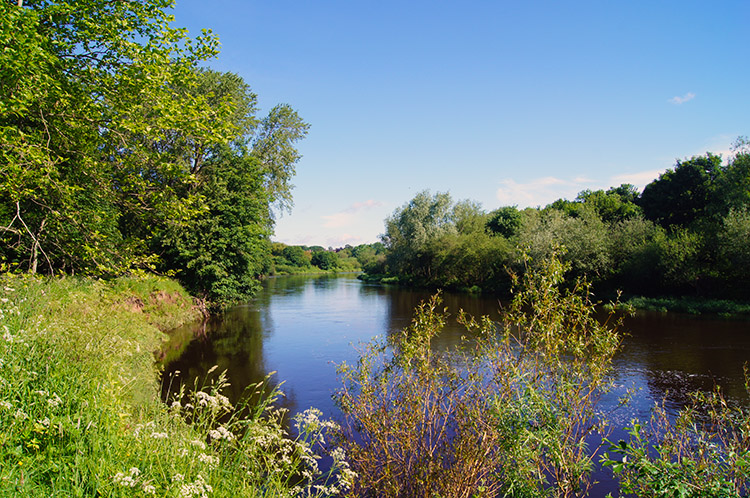 River Eden at Bitts Park, Carlisle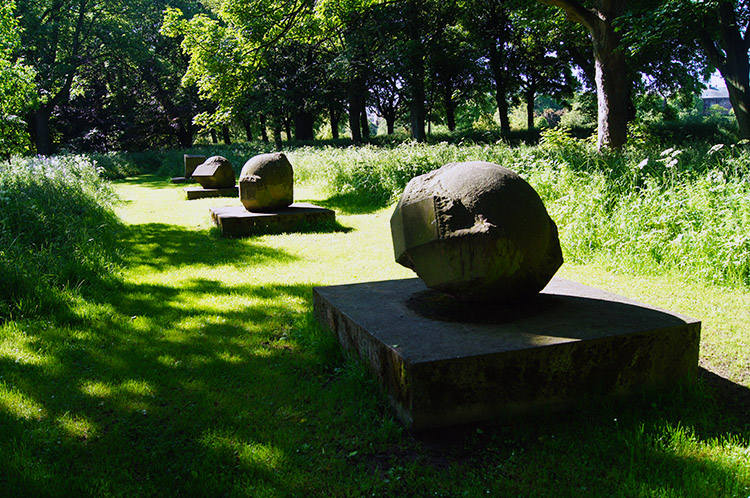 Interesting stones in Bitts Park
Starting out from Carlisle Castle we set off towards Bowness on Solway by first walking through Bitts Park to the south bank of the River Eden to follow it downstream towards to coast. Walking through the park and on the first stretch of river amidst beautiful parkland and woodland scenery was a delight. Dave, Steve and I were all smiles, in great spirits.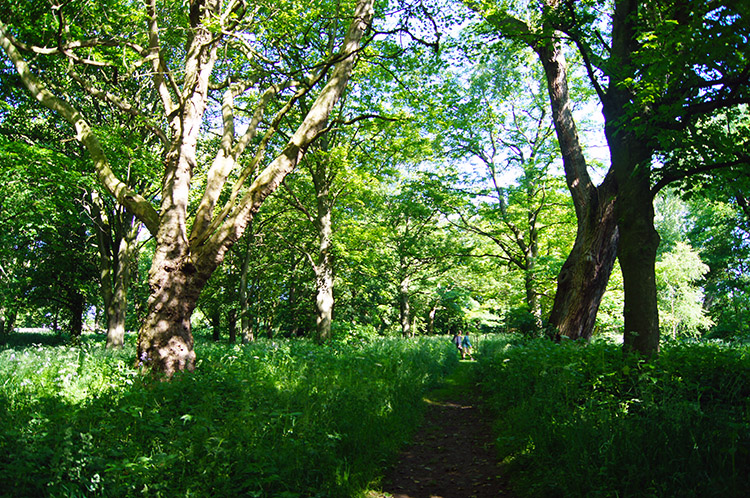 Beautiful woodland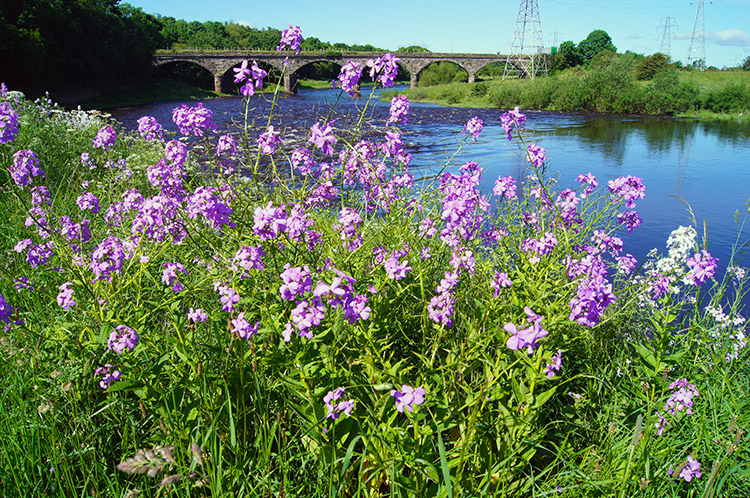 Pinks by the River Eden near Etterby Rail Bridge
From the boundaries of Bitts Park the scenery continued to impress. A local had told us we had a good chance of spotting a Kingfisher but alas I never saw one, have not yet seen this wonderful bird in the wild so my search continues. Despite the disappointment at not catching a sight of the bird I did enjoy colourful views of the woodland and flowers by the river bank. It was an impressive section of walking on the Hadrian's Wall Trail.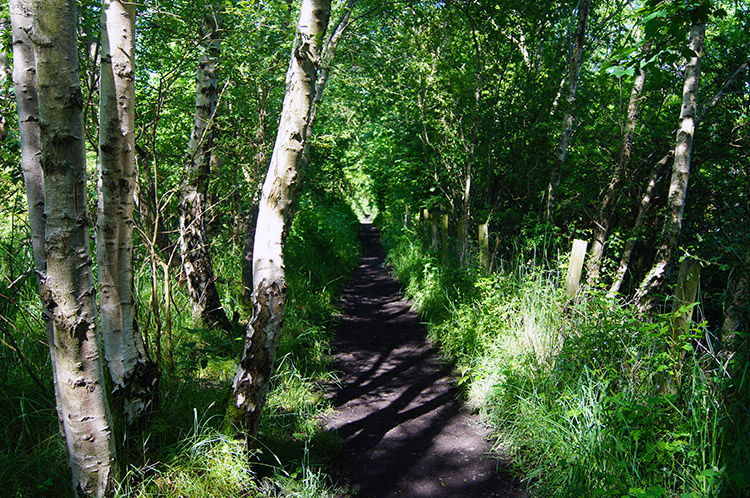 Walking along the Cumbria Coastal Way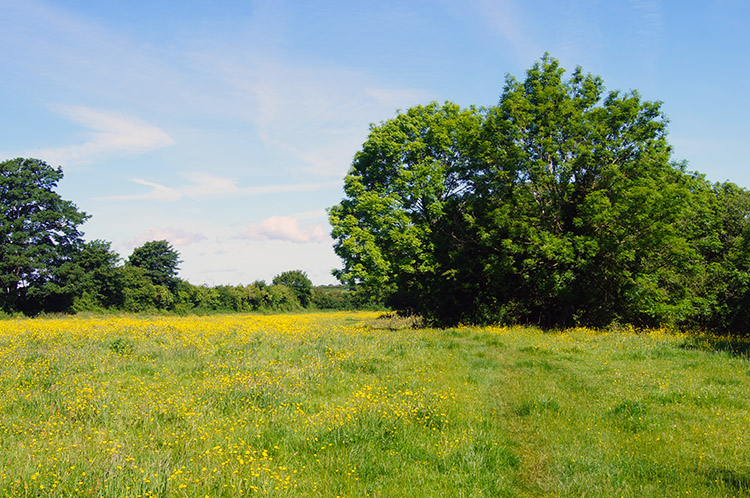 Buttercup glory near Grinsdale
We were also following the Cumbria Coastal Way, both LDP's running on the same path until we left the course of the Cumbria Coastal Way when we left the riverside near Grinsdale. The first field after leaving the woodland beside the river was lovely compensation for leaving the course of the river though, it being full of Buttercups in full yellow flourish. An exceptional sight to behold, among the very best of British countryside.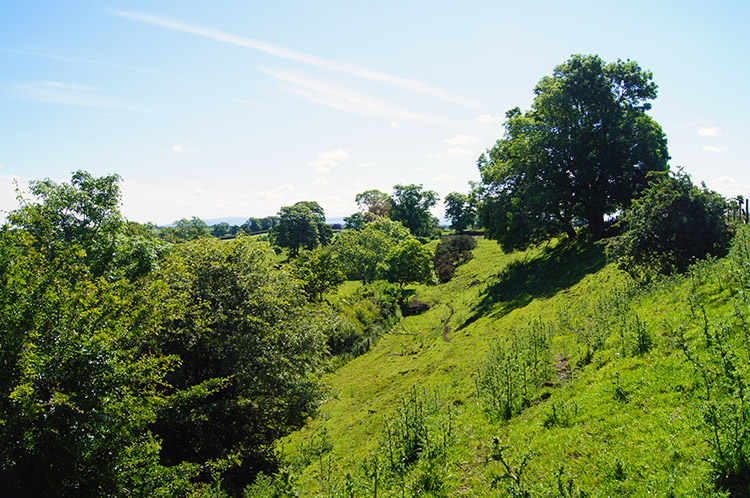 Approaching Kirkandrews-on-Eden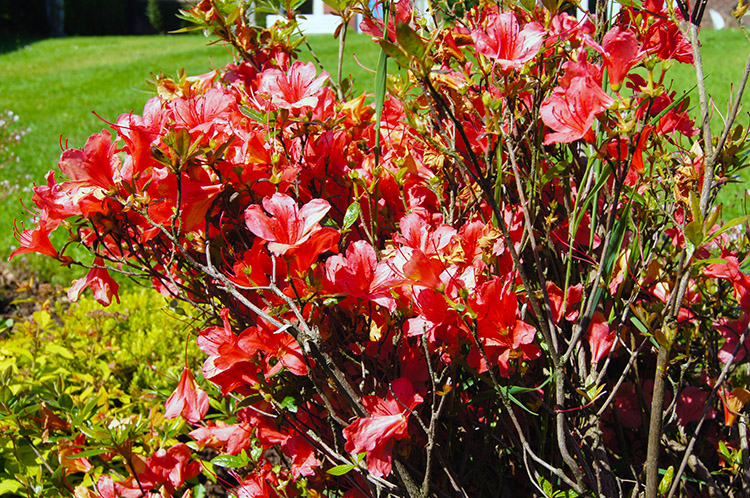 Gardens are full of beautiful flowers in Kirkandrews
From Grinsdale we crossed lovely meadow on our journey west over country towards the Solway Firth. Soon we came to a lovely quiet hamlet, Kirkandrews-on-Eden where we passed close to the edge of a series of gardens, all well looked after with lovely colourful shows of flower including some impressive Azaleas. After skirting the north side of the village we entered a copse beside the River Eden which was to be our last encounter with the river before it flowed into the Solway Firth after meandering for a further three miles.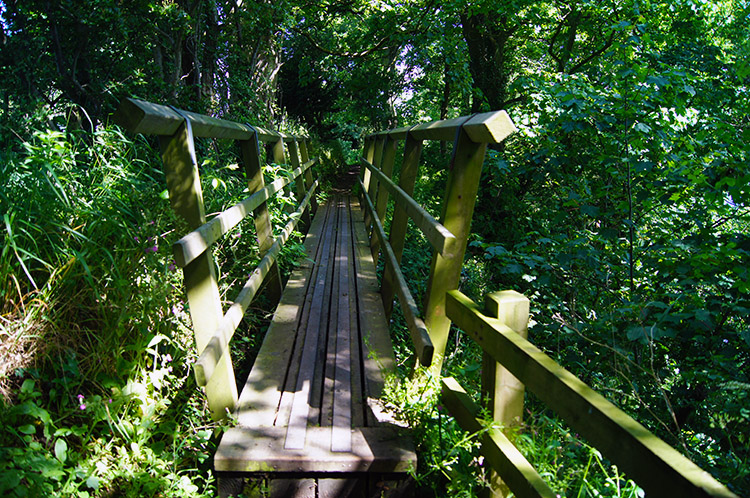 Footbridge near Kirkandrews-on-Eden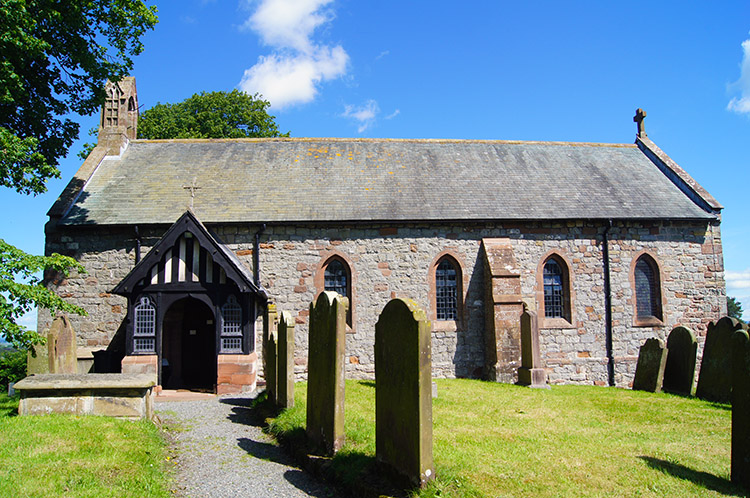 Beaumont Church
In the copse beside the river we undulated up and down on a narrow path which was fun to follow. At one point we crossed a narrow footbridge which has probably had queues of walkers travelling on the trail in either direction. Today there was just us so we crossed immediately on reaching it before leaving the riverside and walking into the small village of Beaumont. Here there was a small green with a tree in the middle and a circular bench around it where we sat for five minutes to take in the surroundings. I looked for a shop to find refreshment but there was not one to be found so we moved on.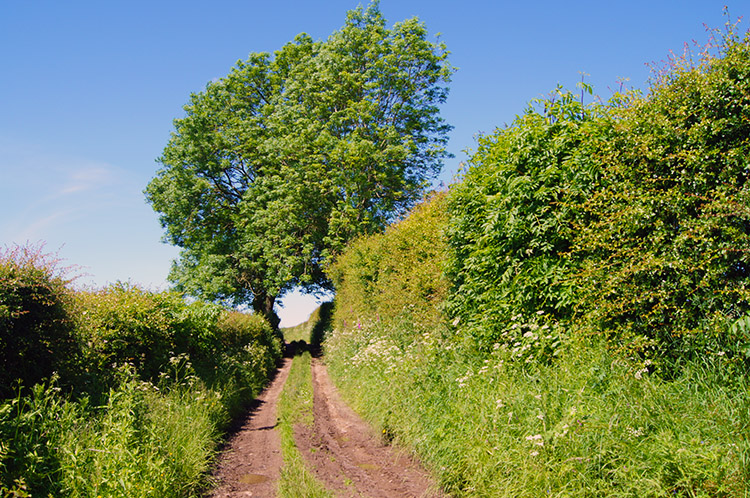 The track from Beaumont to Burgh by Sands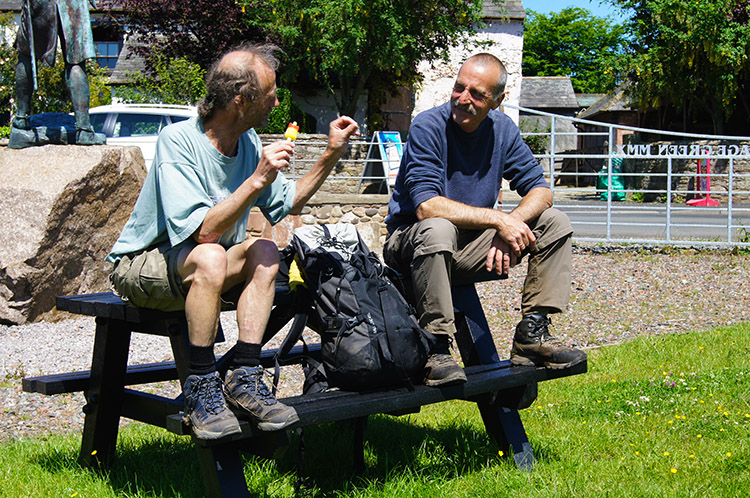 Taking a break in Burgh by Sands
From Beaumont we continued our walk in the most brilliant of sunny summers days and followed a hedge lined farm lane for a half mile before going through a gate and crossing a wide field towards Burgh by Sands. As Beaumont had not provided us with refreshments we were glad to find a tiny Post Office in the village. Being hot and sunny I treated us all to an ice lollipop each which we enjoyed on a park bench by a statue of King Edward 1, Hammer of the Scots and Braveheart fame. We sat for a while and talked while enjoying the refreshing iced lollipops.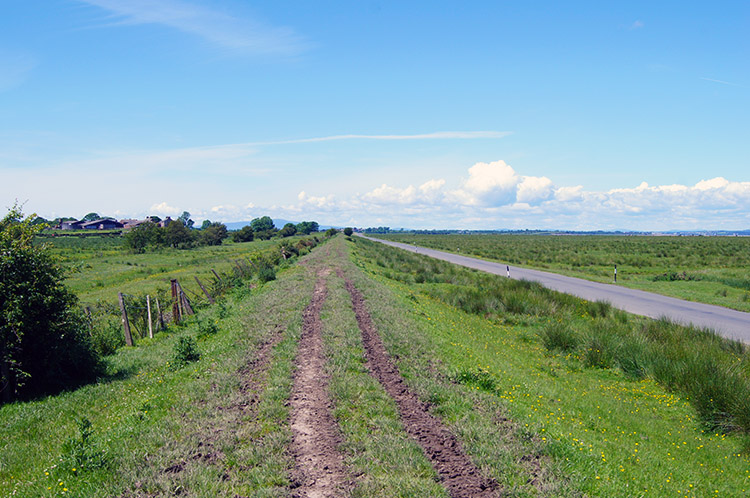 Along the raised bank beside the flood plain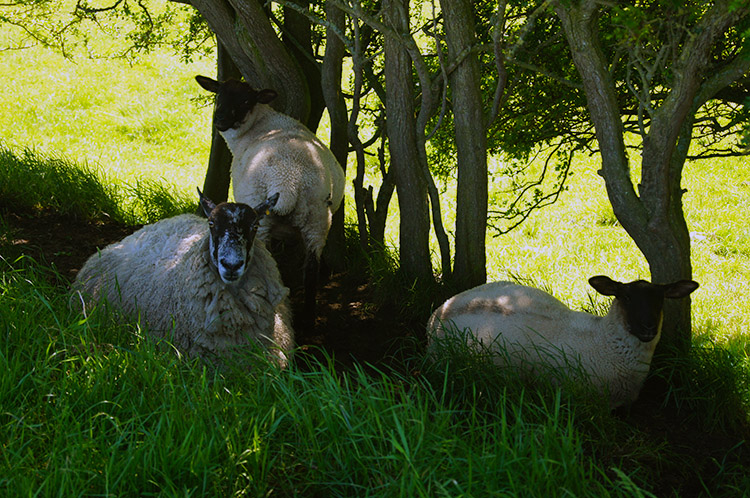 Sheltering from the midday sun
We left Burgh by Sands by walking along the side of the road running through the village and fifteen minutes later we reached Dykesfield. Here the scene changed completely for we had now reached the Solway Firth floodplain. The land was as flat as can be and footpath signs had added information reading 'This route has natural hazards' and 'WARNING Danger from fast flowing tides and quick sands. Take care'. As far a we could see the tide was well out in the distance to the north, a good 1.2km away. Following the footpath sign we could have crossed the floodplain to the channel of the River Eden but our course was along the road or on the raised bank to our left which I chose to walk along while Dave and Steve followed the road.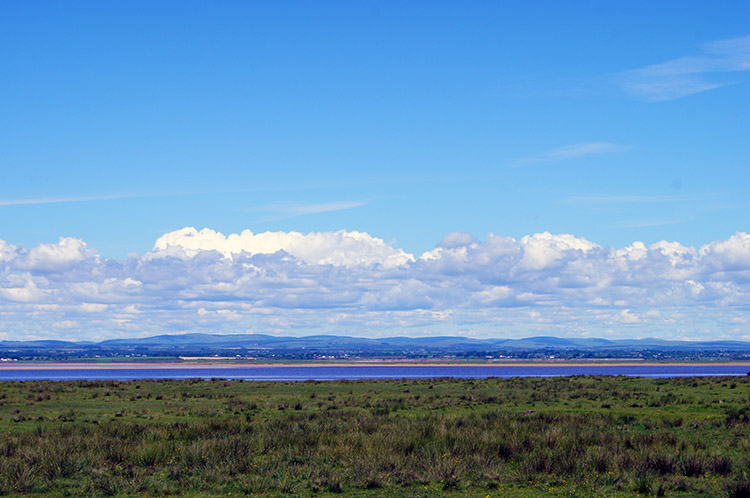 Looking north to Scotland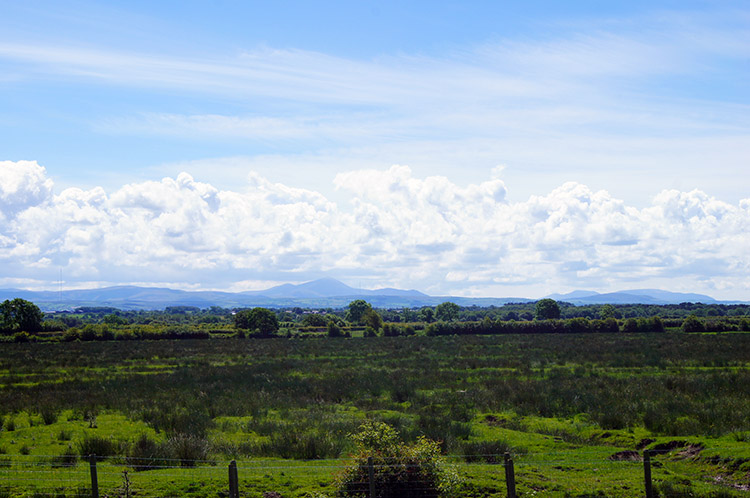 Looking south to England
I followed along the raised bank, originally the course of Hadrian's Wall and afterwards the course of a dismantled railway line in a true straight line for just over two miles until we reached the village of Drumburgh. As I walked along the raised bank looking out to the floodplain I imagined water rushing in over it at high tide. I guess it would be an impressive sight. On this section of walking the views north to Scotland over the Solway Firth and south across land to the Lake District mountains were brilliant. So glad we did this section on such a lovely day, being closed in by fog would have been such a bore.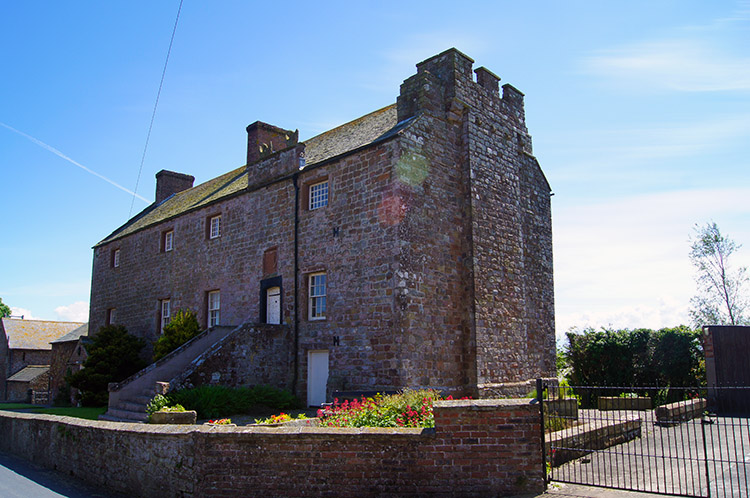 Drumburgh Castle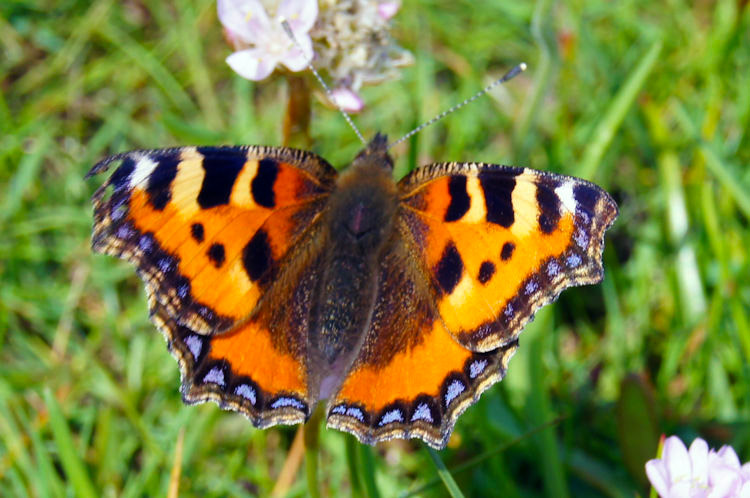 Tortoiseshell Butterfly on the Solway Firth
On reaching the village of Drumburgh we climbed from the floodplain height of 1-2 metres to a heady 10 metres. In the village my attention was captured by the impressive building which was once Drumburgh Castle which was built in the 14th century on the instruction of Thomas Lord Dacre. After walking past the castle I spotted a sign pointing to the right up a track into a farm which said 'Refreshments'. I found a wooden hut, no one inside, but with a list of products available with prices. I treated myself to a coffee from a vending machine and a bar of chocolate. This honesty outlet was typical of others we had come across in the western half of the trail and I can say we honestly availed of some. These enterprises are all are extremely welcome for weary travellers so from me 'Thank you'.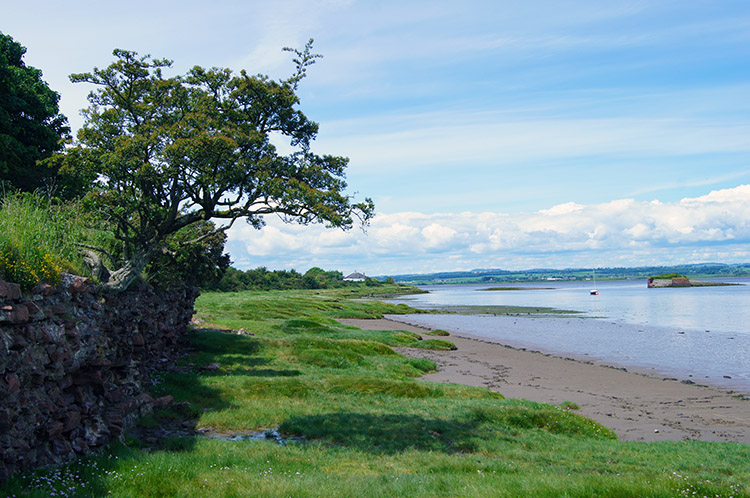 The Solway Firth near Port Carlisle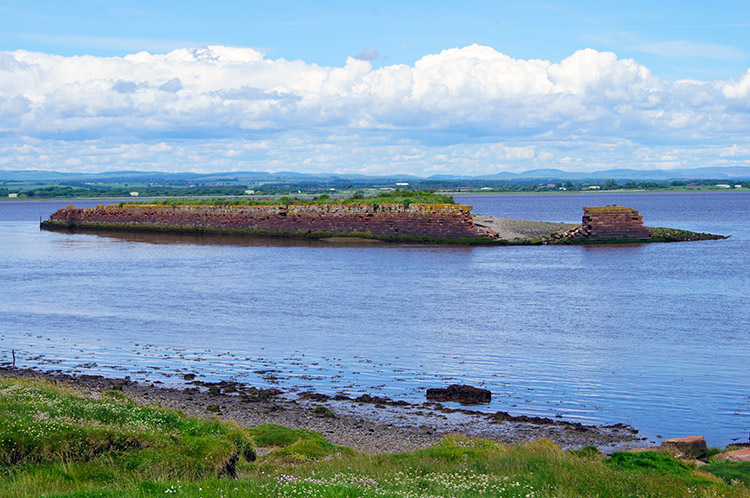 Port Carlisle Quay
From Drumburgh we should have followed the Hadrian's Wall National Trail on a dogleg south west and then north west along tracks beside fields until we reached the village of Glasson and then on to Port Carlisle but a local recommended we followed the road to the Solway Firth which we did. (NOTE - The trackfiles follow the true path and not our detour) We are personally pleased we did because walking along the firth to Port Carlisle was so enjoyable. We picked up the true course of Hadrian's Wall National Trail again just before Port Carlisle and found a bench to sit on for a final break near Port Carlisle Quay. The old docking quay and lock entrance silted up years ago rendering it unusable.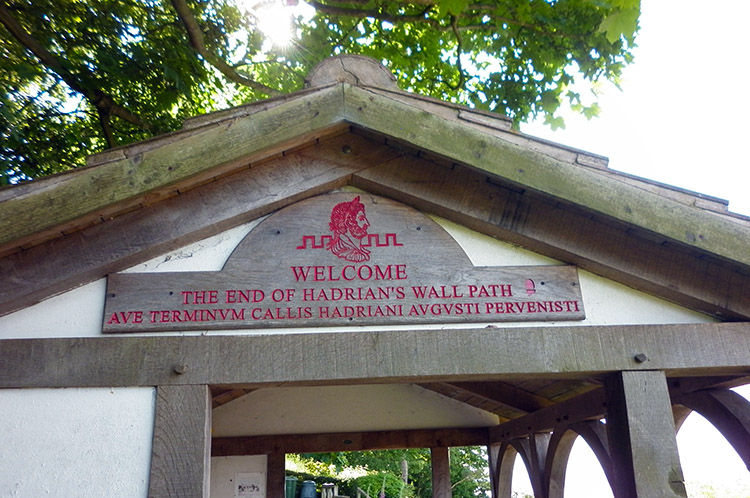 Sign over the finishing point of Hadrian's Wall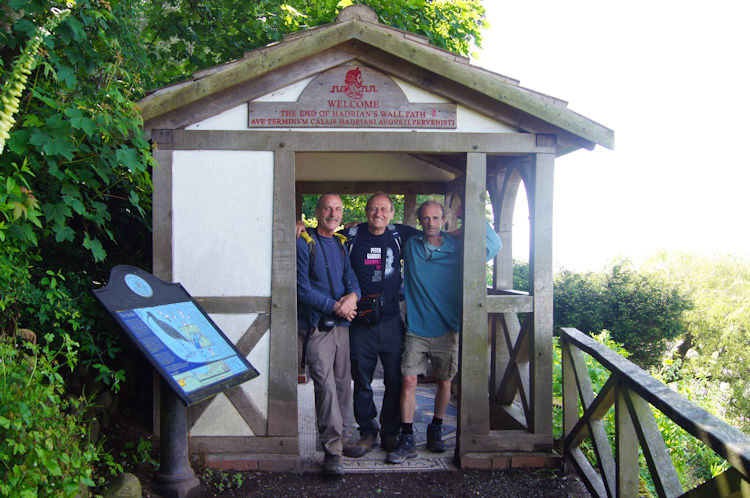 Proud
From Port Carlisle the final section of our journey was taken along the road linking it to Bowness on Solway. Once past the village sign we whooped a celebration and then followed signs to Rampart Head which marked the official end of our Hadrian's Wall journey. The sun continued to shine down as we reflected on our achievement.

In conclusion: Dave, Steve and I enjoyed a fantastic seven days walking from east coast to west coast along the remnants of Hadrian's Wall. Sometimes we couldn't make it out, often in the beginning and towards the end but unseen the spirit of Roman Britain was with us. And in the middle sections.. WOW, what spectacular sections of wall still remain. This is a walk to do. And if you do, then I hope you enjoy it as much as we did. Thank you.