The Great British Walk
A personal record of my three month walk of the full length of Great Britain from north to south with written journal and photographs. Tracklogs for GPS units and for use with Google Earth are available for download for each stage.
---
Stage 64: Compton Martin to Axbridge
Google Maps
Open Source Maps
| Statistics | |
| --- | --- |
| Start: Compton Martin | Finish: Axbridge |
| Distance: 9.3 miles (14.9 km) | Time: 4-5 hours |
| Climbing: 414 metres | Total Distance: 881.0 miles |
| GPX Route File | Google Earth File |
Ordnance Survey Explorer Map (1:25,000)
Summary
This was one of the outstanding days of my Great British Walk. While every day had something to offer, even the least interesting transition days and those when the weather let me down, this one had everything I had wished for when I had set out planning the route through Great Britain. During the planning I had flagged up long distance paths which had to be walked and a number of special places which had to be included on the way. Cheddar Gorge was represented by one of those flags and it was during this stage I that I would visit it. Little did I know then though about how much the walk to the gorge and walk from the gorge would contribute to the perfect walking day.
(Note: My walk of the County of Somerset is a part of my
Great British Walk
from the north coast of Scotland to the south coast of England)
---
Stage Report
Stunning; a most appropriate word to describe todays walk which I was confident would attract high praise from Strolling Steve. At just eight and a bit miles we would have time to take it easy and enjoy the walk. We certainly did that.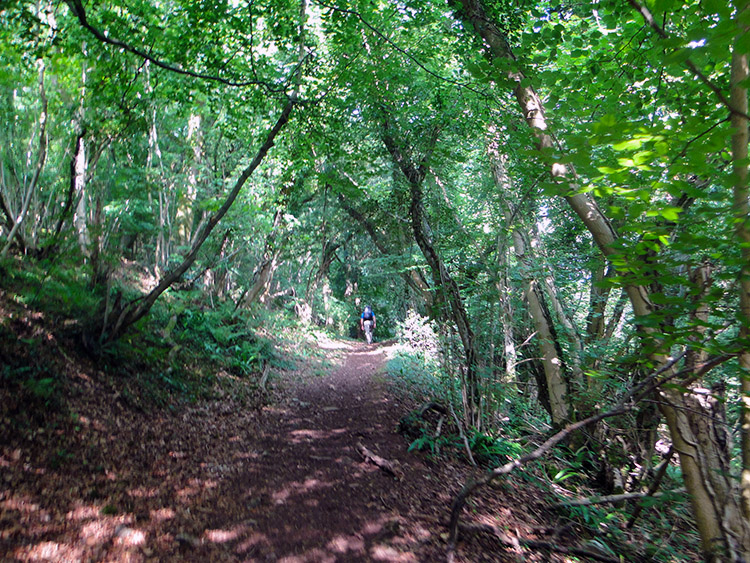 Compton Wood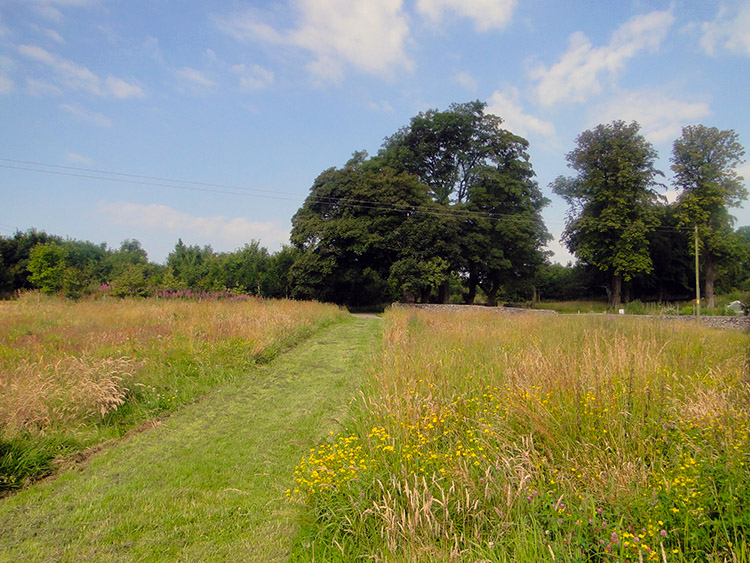 Hazel Park
After a lovely stay at the Ring O'Bells in Compton Martin we set off after 9.00am, an unusually tardy start but a reward for the extra work we had put in walking for over 20 miles yesterday. Despite the less than usual distance the start was as tough as any of my whole British journey as we climbed steeply from Compton Martin to Compton Wood and up still further to Hazel Farm in sweltering heat. It was certainly the hottest morning of my 64 walking days and I was in a real sweat when we levelled out after ascending for 150 metres. Phew, Strolling Steve agreed it had been a tough start as we continued on along a baronial tree lined avenue to Hazel Warren Farm.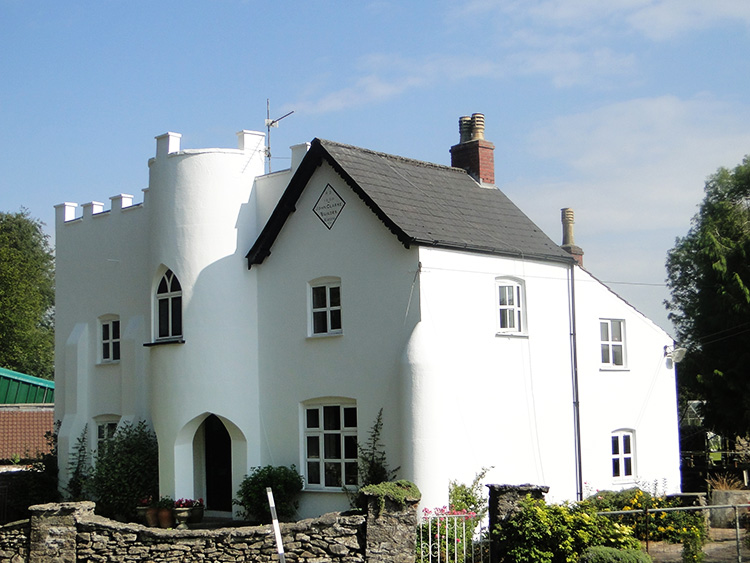 Built by John Clarke of Blagdon in 1869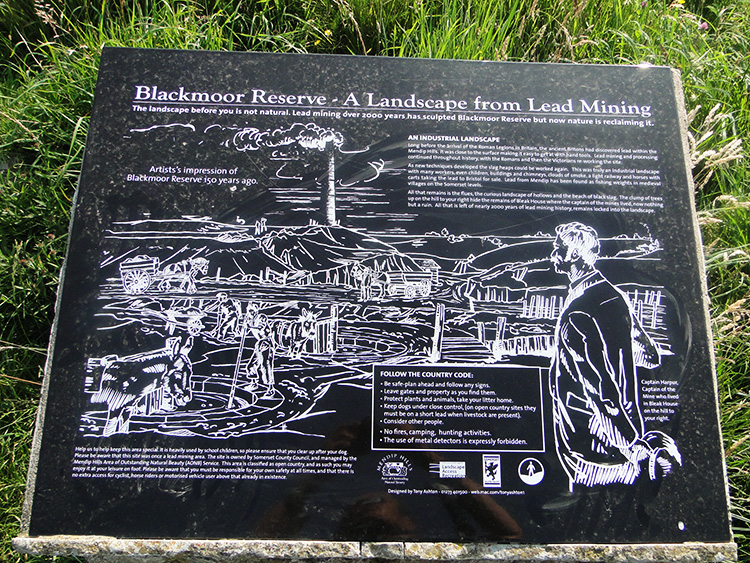 A Landscape from Lead Mining
Before I carry on to describe the treasures ahead I have to note there was one terrible interruption to our sublime day and it happened between Hazel Manor and Hazel Warren Farm. At Home Farm a huge Rotweiller dog with slathering teeth raged and threatened us with a fate not imaginable as we walked past. It jumped up at the high garden wall repeatedly and barked with seething anger. While high the wall was not quite high enough for our comfort but to our great relief the Beast of Home Farm stayed house side. If he had come over there would surely have been blood on the highway. Our blood.

After calming down from our fright at Home Farm and at the end of the road just past Hazel Warren Farm we reached a magnificent whitewashed house in the Gothic Revival style. A diamond plaque on the building said "AD 1869 John Clarke, Builder, Blagdon". We walked across the road from the stunning house to follow a lane which led us to a Nature Reserve. An information board told the reserve was also a site with an industrial past. It was a very quiet place.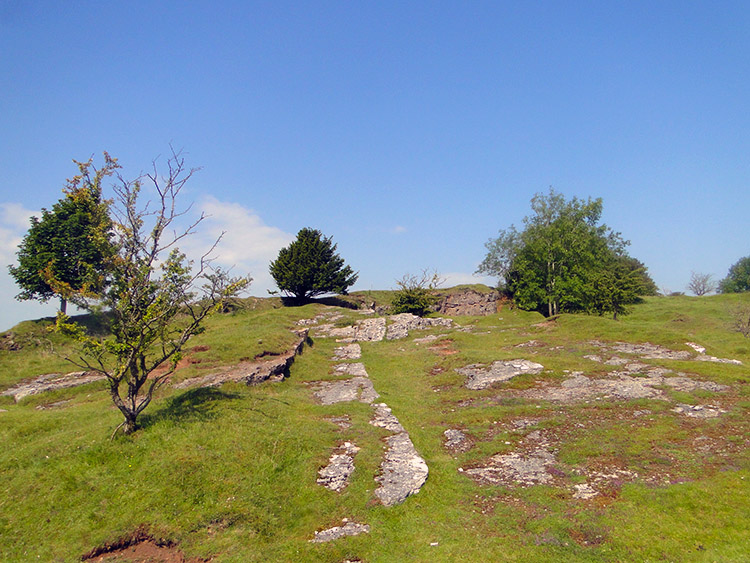 Blackmoor Nature Reserve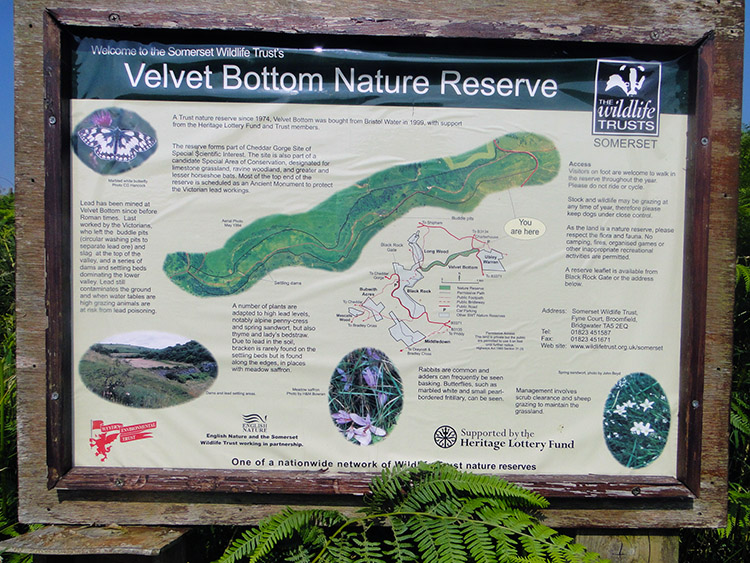 Gateway to more gorgeousness
We studied the sign and walked onwards. First we walked down a lovely tree lined lane which sheltered us from the baking sun to a place we anticipated with interest, a place called Blackmoor Reserve. It turned out to be a beautiful nature reserve, once a site of lead mining with evidence everywhere; humps, hollows, kilns, and with a heavy black shiny slag stone, unlike that of the Yorkshire Dales variety. Long since redundant, the mining areas were now covered in lovely short grass, perfect for walking. We continued on along the path at an amble rather than a march, ever looking and exploring the ground. Blackmoor Reserve ended and Velvet Bottom Nature Reserve began without us even noticing. The join was seamless.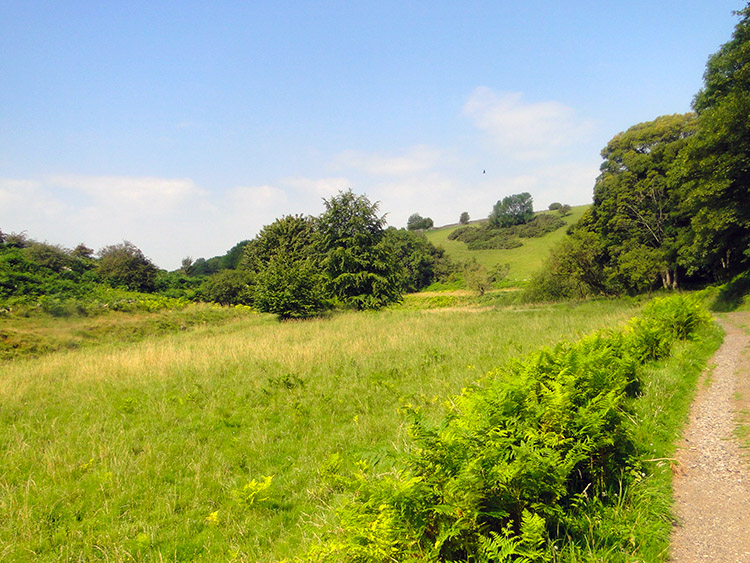 Velvet Bottom Nature Reserve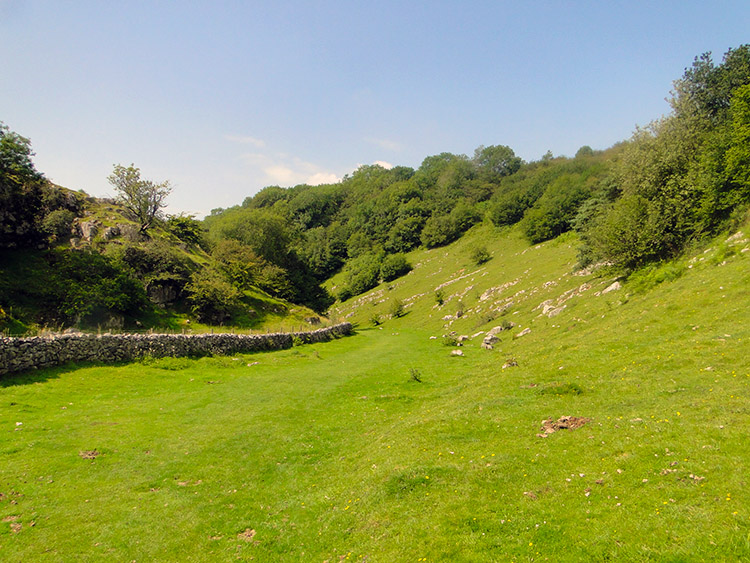 Velvet Bottom
On the fringe of paths were fern and heather. Butterflies flew in abundance and amongst them I saw a striking lime green butterfly I had never seen before. Wildlife was rampant. Apart from the Butterflies and other flying insects, none of which bit or annoyed us were Birds which flew low skimming the trees, shrubs and grass-line. Crows, Jays and Pied Wagtails were some of the birds we saw in Velvet Bottom. Higher in the sky were Red Kites circling. It was a remarkable lovely place and quiet too. There were no others there, just me and Strolling Steve enjoying the time with the local fauna and flora. We lingered for a little while before leaving Velvet Bottom with a tinge of sadness. On leaving Velvet Bottom we walked from the wildlife reserve of Velvet Bottom to the National Trust site of Black Rock.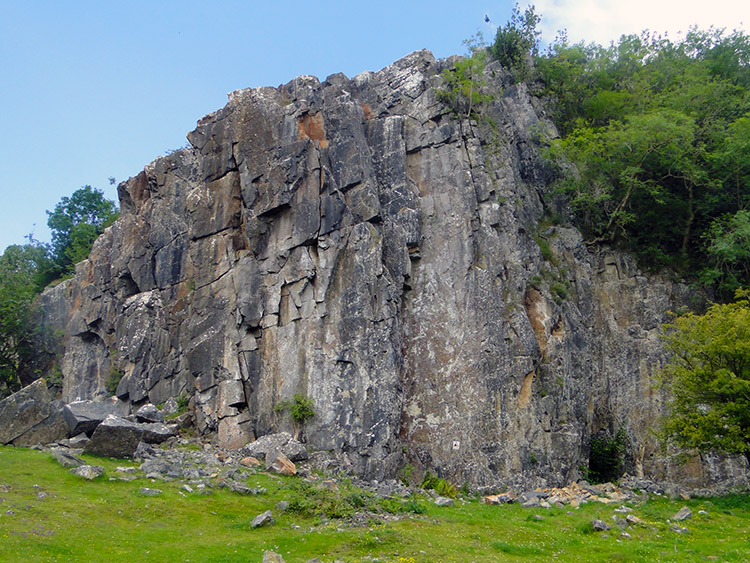 Black Rock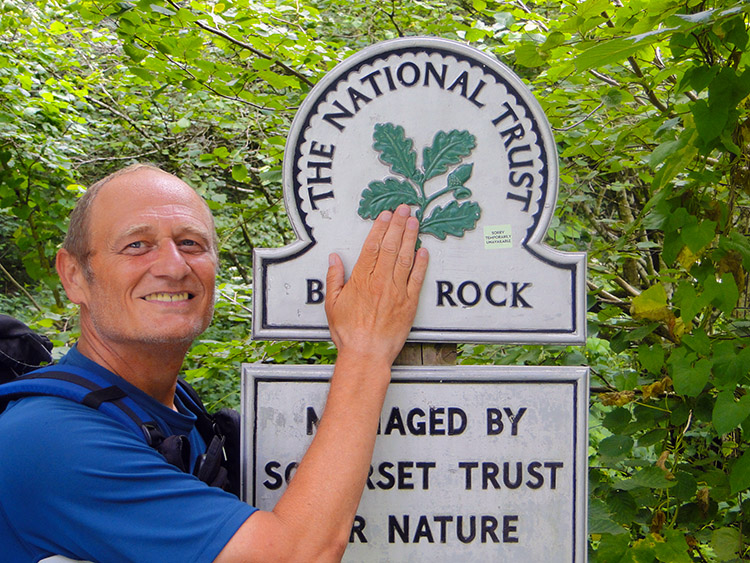 Brock at Black Rock
What was Black Rock? Another wildlife reserve? a dark rock or perhaps it was an area of dark stones? It was a curious thought in an area of limestone where the rick is commonly white. As it turned out Black Rock is both a Nature Reserve with an escarpment of unusual dark limestone as its central feature, a limestone significantly darker than that of Cheddar Gorge which lay ahead of us. After walking through the reserve which was as striking as the ones we had walked through just earlier and after viewing Black Rock up close we emerged from the reserve at the top end of the famous gorge. I anticipated much, Strolling Steve said "You are in for many surprises".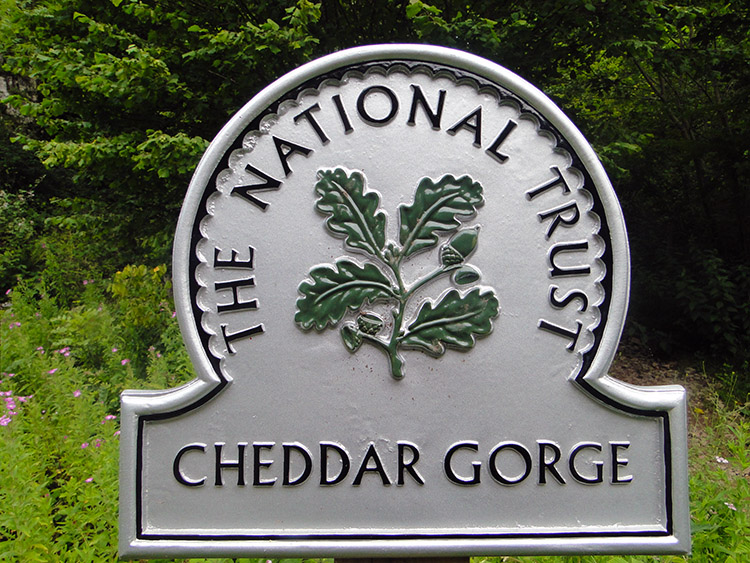 An exciting moment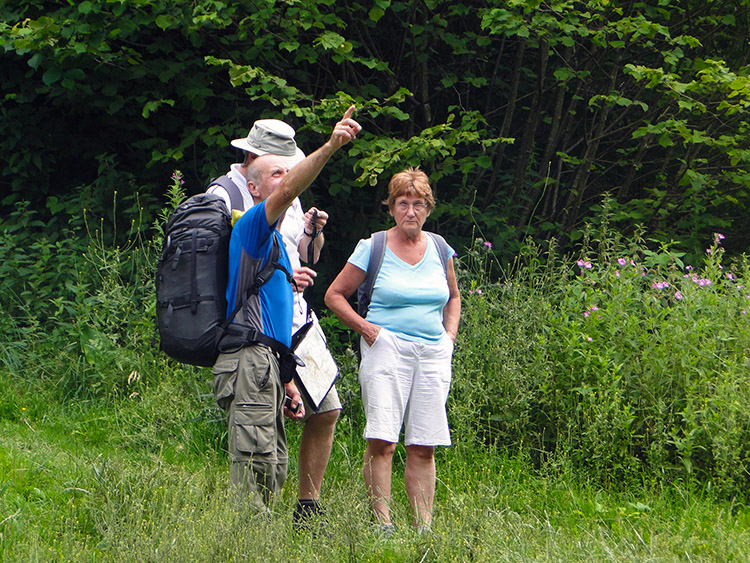 Steve helps the tourists
Almost as soon as we had passed the National Trust sign heralding us into Cheddar Gorge we met the first of many people we would meet walking through the gorge. Remarkably we had seen none in Velvet Bottom and Black Rock which made the walk through them all the more special. We had been privileged to enjoy the whole atmosphere of the reserves ourselves. These first people were a couple of tourists from the United States who were trying to circumnavigate Cheddar Gorge by walking up the centre and walk back over the gorge on the south side. As Steve knew Cheddar Gorge well he pointed them in the right direction.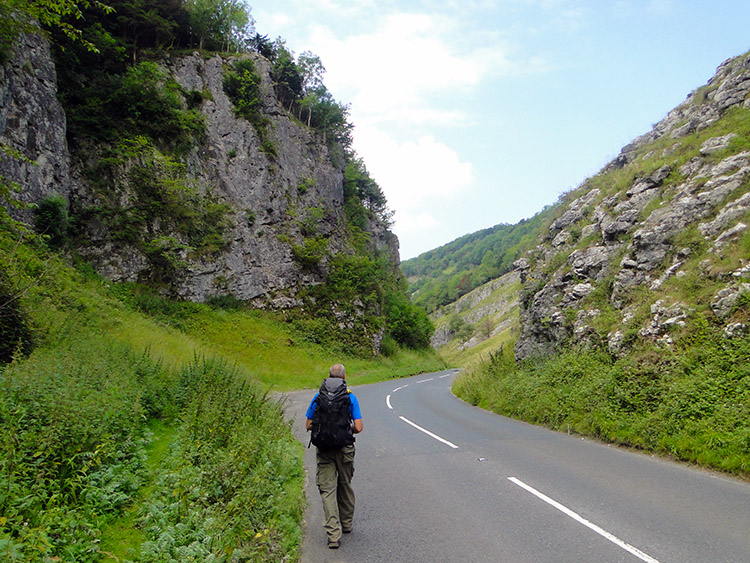 Steve in Cheddar Gorge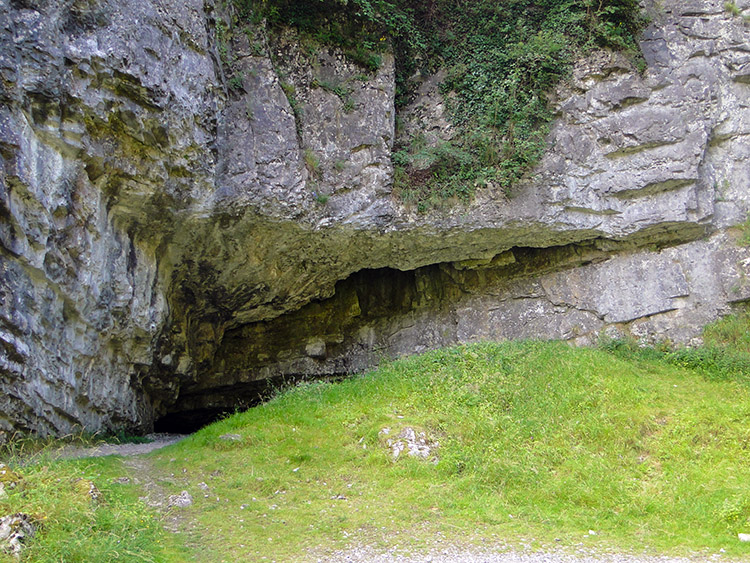 Limestone Cave in Cheddar Gorge
Cheddar Gorge is the site of the Cheddar show caves, where Britain's oldest complete human skeleton, Cheddar Man, estimated to be over 9,000 years old, was found in 1903. I passed some caves on the way down through the gorge and wondered if any old blokes had stopped in any of those. I would not blame them if they had. They would probably have been struck by the visual attraction of the gorge as much as I was. Rapt is an appropriate word to use.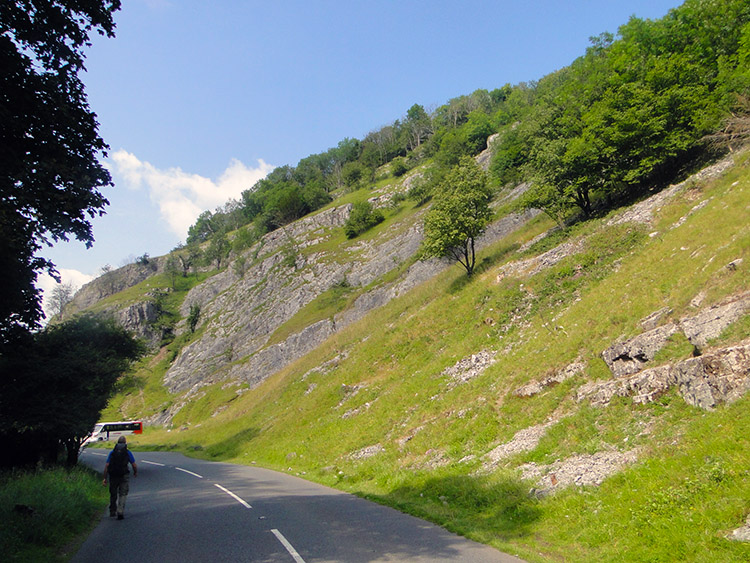 Following the road down the gorge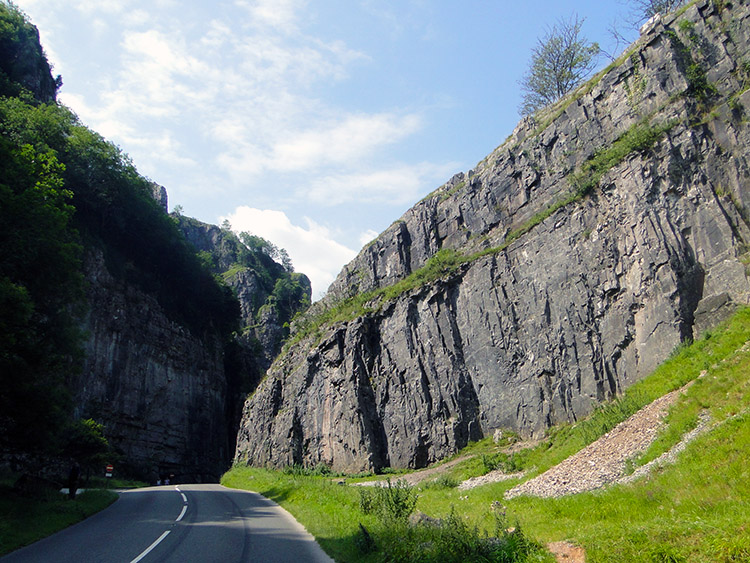 The beauty of Cheddar Gorge
For the next hour I was in paradise as I strolled down the gorge. It was brilliant from the start and it got better and better as I descended. Dramatic limestone cliffs and pinnacles captured my attention as I rounded every corner. The whole aura of the place was fantasy. At the top of the gorge we had been alone but as we descended more couples and small groups of people appeared.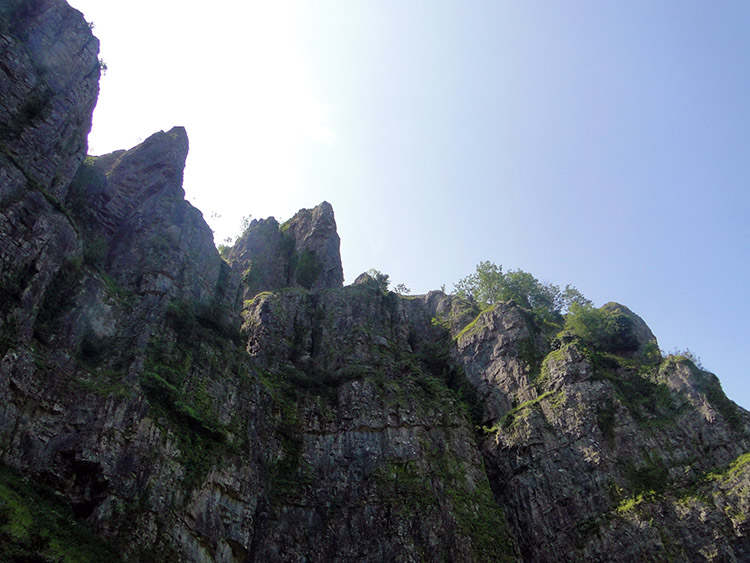 The Pinnacles of Cheddar Gorge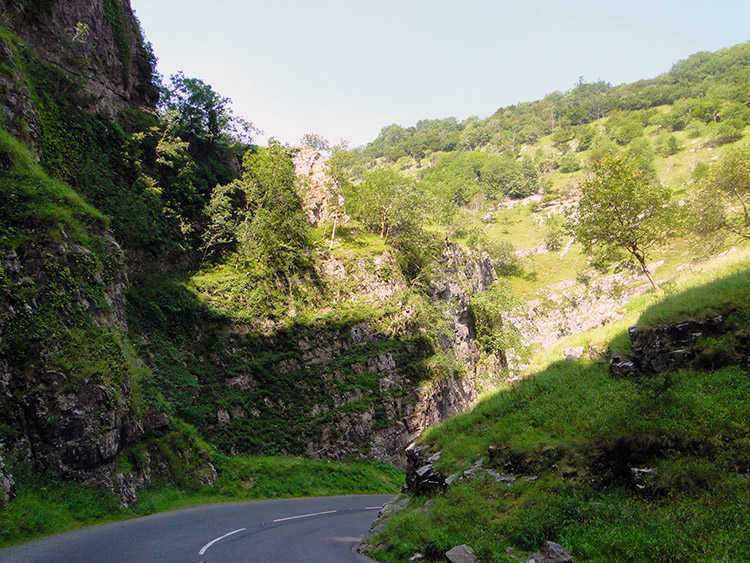 Horseshoe Bend, Cheddar Gorge
Towards the lower end of the gorge I stopped and watched a young man climbing up the face of one of the limestone cliffs on the north side. young lady watched studiously as he climbed while keeping a rope taut. If he slipped on his climb she would be there to arrest any fall. I was impressed while thinking "Not for me". I prefer to keep my feet on the ground and while I am partial to a good scramble up a rock face it is with hands and feet and only when I have clearly worked my way up in my mind before I set off. I learned the lesson of beginning a climb and aborting with fear half way up at an early age. Never again.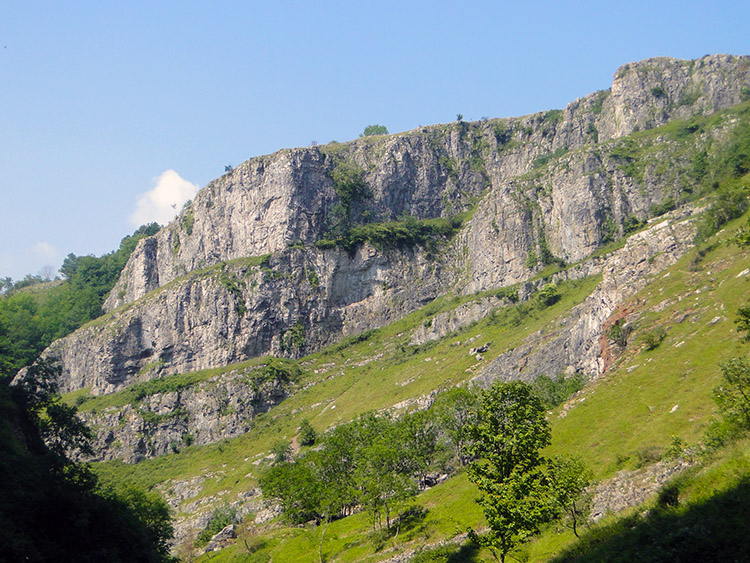 Cheddar Cliffs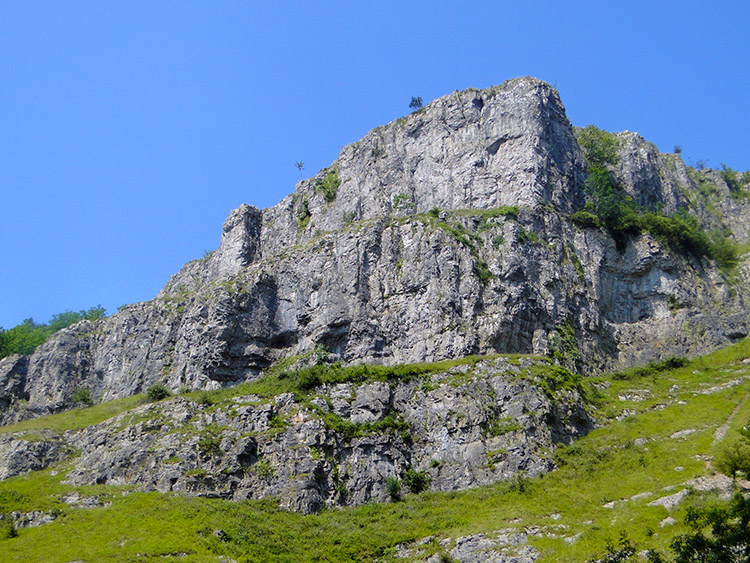 Stunning Limestone Cliffs
Walking further still into the deep of Cheddar Gorge there were larger groups and then as we reached Cheddar village the groups seemed to congeal together into droves. There were gift shops and cafes on either side of the road at the bottom of the gorge to satisfy their needs. I imagined with all the usual tourist distractions that many of the people at the bottom would venture far beyond their immediate surroundings. Those who did stay put were destined to miss out on the full glorious spectacle of one of England's great wonders. I had the advantage on those non-explorers and I was gob-smacked. WOW, WOW, WOW.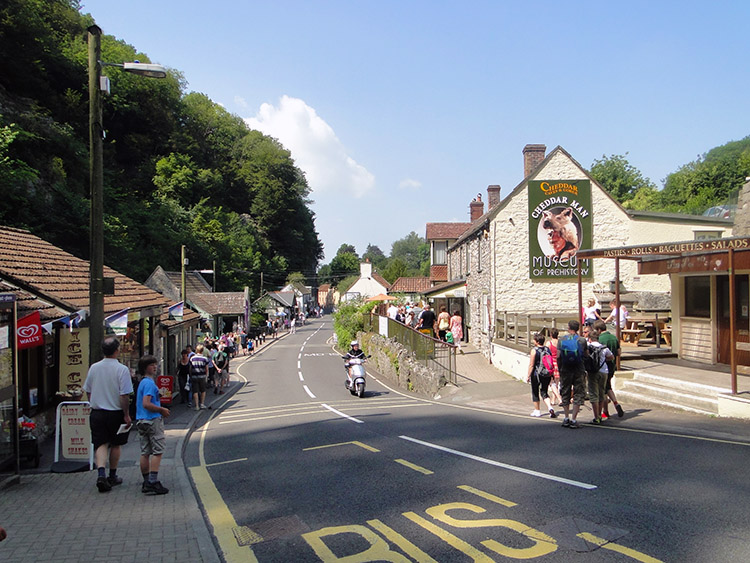 Reaching Cheddar village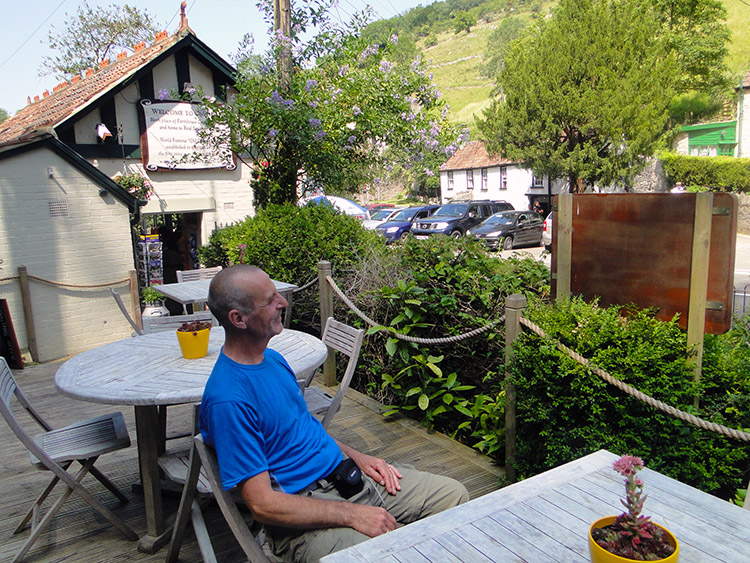 Chillling out over tea
At Cheddar we stopped at a cafe for a pot of tea and I caught my breath. As we took our break I thought to myself how relieved I was to have designed Cheddar Gorge into the Great British Walk. I further thought back to the previous 63 days of walking and of to many of the magical moments enjoyed so far. I hoped I would have more to come while thinking to myself that Cheddar Gorge would surely be one to stay in the top drawer of my thoughts. It was that good. Steve had promised me a spectacle when we had set off walking through the gorge and he was spot on with his promise.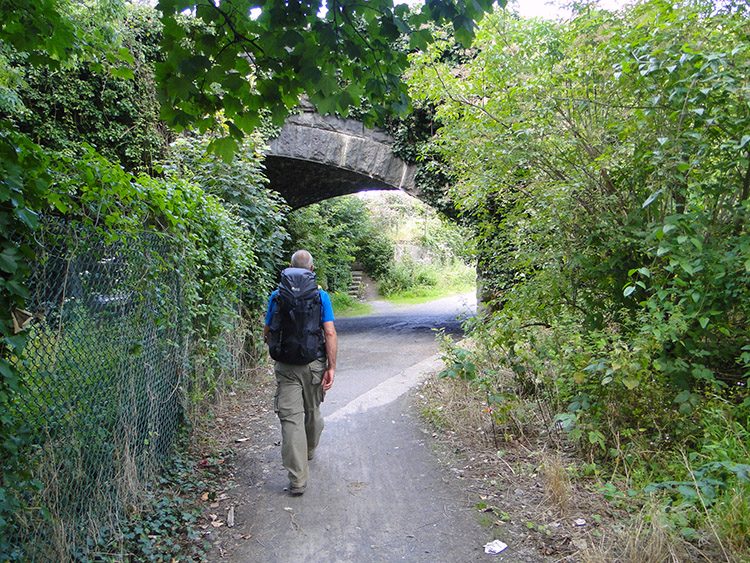 Walking the Strawberry Line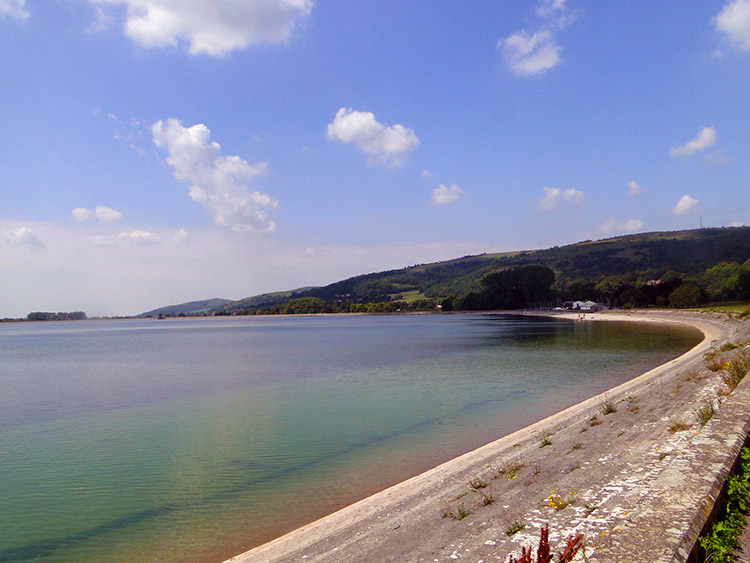 Cheddar Reservoir
From the village of Cheddar Steve and I continued on to Axbridge via the Strawberry Trail, an old disused railway line and via Cheddar Reservoir. We stopped for a final break at the reservoir. While sitting beside the artificial lake we observed the dramatic spectacle of an Air Ambulance flying low over our heads before landing in a nearby sports field. Ten minutes later it was up in the air again and away. (We found out later a parent had been injured, not seriously, during school sports day. Egg and Spoon races can be dangerous!)

After the drama we stayed at the reservoir a good while longer just to chill out and take in the afternoon sunshine while watching the antics of local wildfowl and trainee windsurfers. Later we walked into Axbridge in total euphoria from the thrills of the day and the tremendous sights seen, all the way from . Strolling Steve's marks will describe his day. My marks would be highs all the way.

Supercalifragulousexpealidocious!!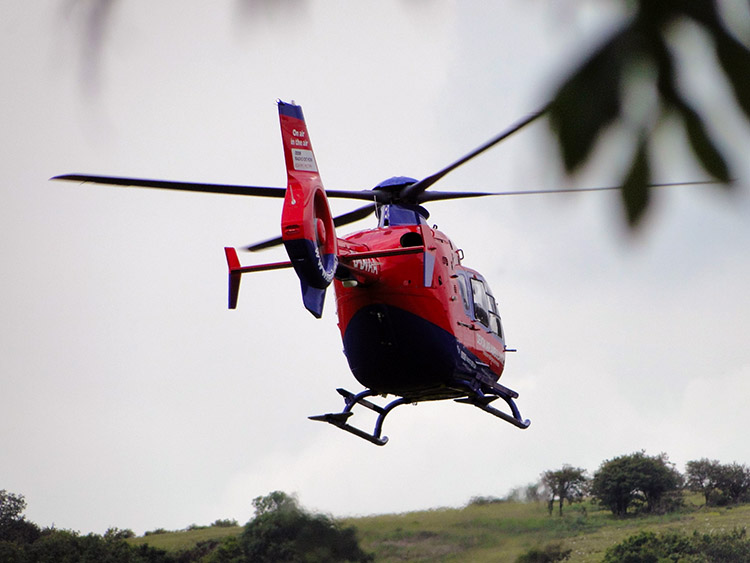 Air Ambulance in Axbridge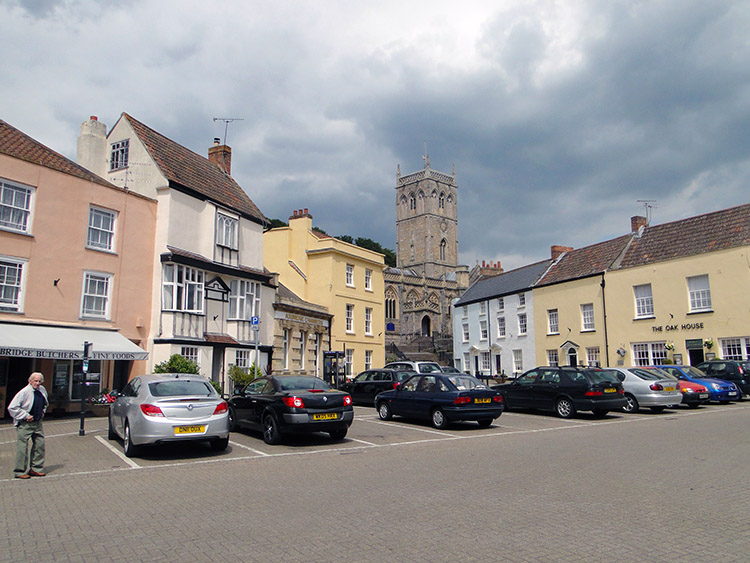 Axbridge
Steve summed up the day by creating a HITS parade. The categories of the HITS were History, Interest, Tracks and Scenery. His marks were appropriate and his comments short and to the point:
Scenery: 10/10 – Breathtaking.
History: 8/10 – Timeless.
Interest: 9/10 – Stimulating.
Track: 10/10 – Perfection.

My summary might have been put in the form of the question: Is this the most spectacular section of the Great British Walk? I would find it very difficult to answer as there were a number of contenders already including some of the early days on the wild Cape Wrath Trail, days walking through mountain scenery such as those in the Lake District and Pennines and days in the Yorkshire Dales and Peak District too. And what about those days to come yet? Whichever answer I arrived at it would surely be "One of them".
Continue the walk
Great British Walk