The Great British Walk
A personal record of my three month walk of the full length of Great Britain from north to south with written journal and photographs. Tracklogs for GPS units and for use with Google Earth are available for download for each stage.
---
Stage 67: Bridgwater to Wellington
Google Maps
Open Source Maps
| Statistics | |
| --- | --- |
| Start: Bridgwater | Finish: Wellington |
| Distance: 19.2 miles (30.9 km) | Time: 8-9 hours |
| Climbing: 457 metres | Total Distance: 926.8 miles |
| GPX Route File | Google Earth File |
Ordnance Survey Explorer Map (1:25,000)
Summary
This stage from Bridgwater to Wellington which took Steve and I through the heart of central Somerset was typical of rolling English countryside walking at its best. After clearing the Somerset Levels when a few miles south east of Bridgwater we climbed to upland woodland and to Owl's Hill at 185 metres high before descending to the village of Kingston St Mary. Afterwards we crossed beautiful Somerset countryside and visited more villages to the north and west of Taunton before reaching the Tone Valley which we then followed to reach a point near to the town of Wellington where we stopped for the night.
(Note: My walk of the County of Somerset is a part of my
Great British Walk
from the north coast of Scotland to the south coast of England)
---
Stage Report
I felt as if the final corner had been turned as Steve and I walked from Bridgwater in a south-west direction to the town of Wellington and near to the western edge of Somerset. Staying on this south-west line would lead me to my end goal at the Lizard in less than two weeks time. While I could not quite see the finish line as I still had over 150 miles to go I could at least sense it. The thought filled me with mixed emotions. On one hand I was so looking forward to achieving my goal of walking the length of Great Britain but on the other hand I did not want this incredible journey to end.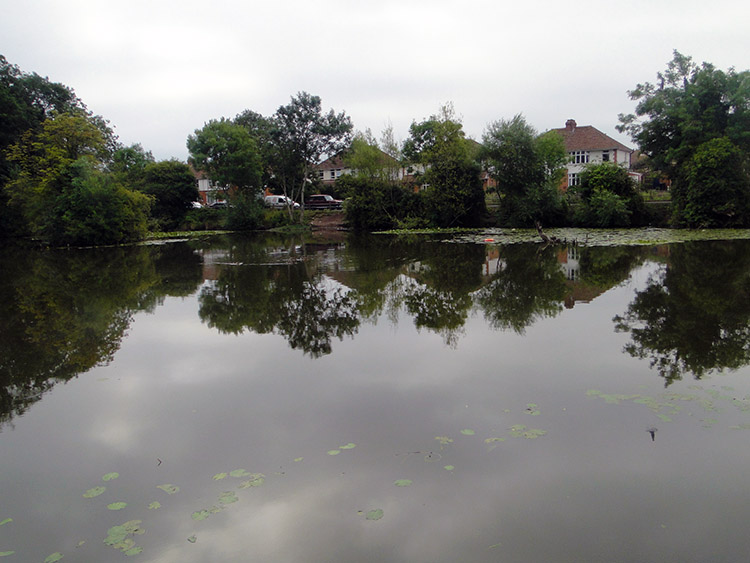 Browne's Pond, Bridgwater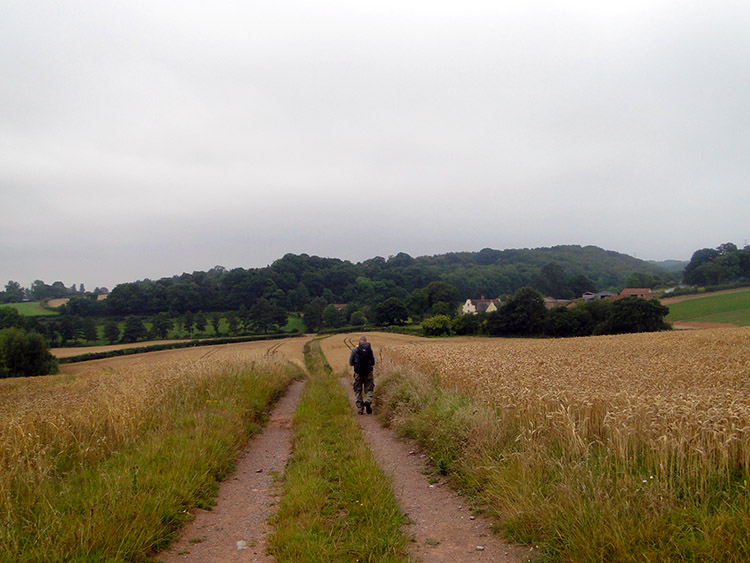 Approaching King's Cliff
To begin Day 67 on the trail Steve and I walked through the centre of Bridgwater, stopping only at Morrison's superstore on Broadway to pick up our provisions for the day. We were in and out of the superstore as quickly as we could before striding out of the sprawling town by crossing the Bridgwater and Taunton Canal and passing Browne's Pond and then following Rhode Lane which led us from the urban to the rural. Strange but there was not one car on Rhode Lane as we walked the mile from Bridgwater to where we left the road at Shortlands Farm from where we followed the road to Woolmersdon for another tarmac treading mile. Still no traffic, this was a quiet area just a mile or two from the noisy town we had left. From Woolmersdon we continued on tarmac road to Dancing Hill which at last led us up and away from the flatlands of the Somerset Levels which we had been crossing for two days. It was so nice to be climbing again. We had missed it. At Dancing Hill we were just a short distance from the lovely small Somerset town of North Pemberton but my route took us from the town and not into it. Instead we continued from Dancing Hill heading west and after another long stretch of road we finally left tarmac at 10.00am and at just over five miles into the walking day.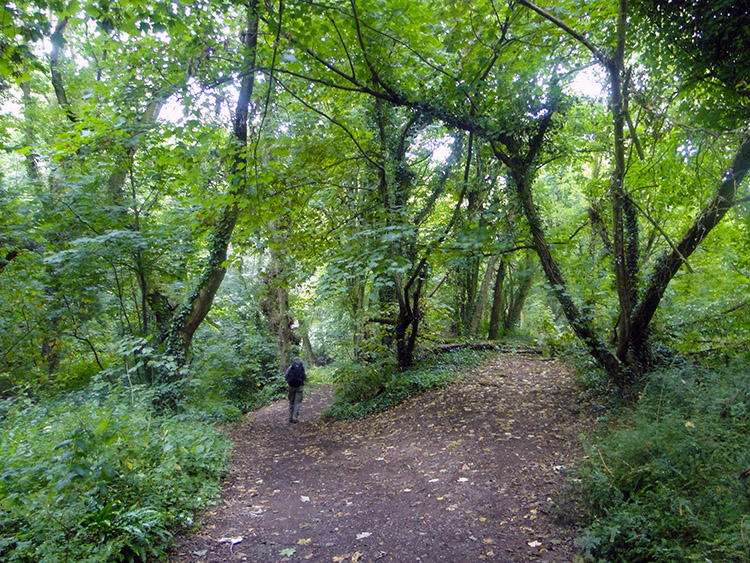 King's Cliff Wood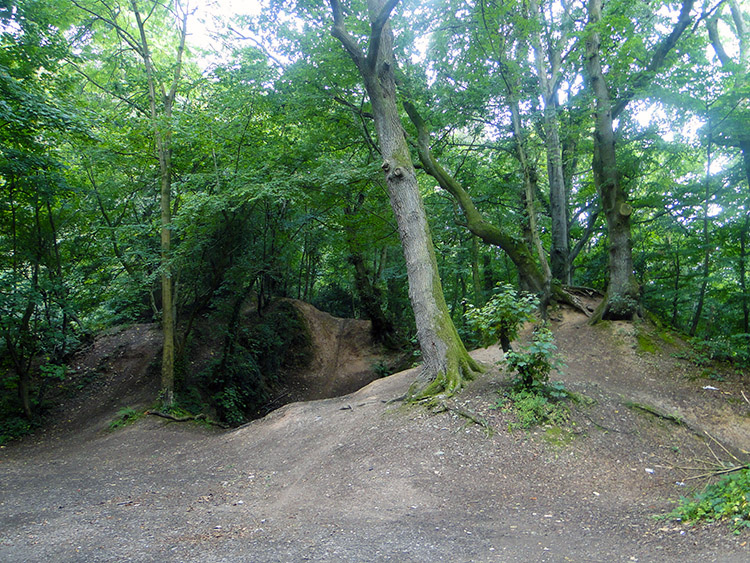 Rooks Castle Wood
With climbing again and with the tarmac foot-stomping behind us, for now at least, we enjoyed the walk on the edge of a couple of fields which led us into Kings Cliff Wood. The approach walk beside the fields actually dropped us 60 metres before making us climb all the way back up again but we did not care. The undulating walking was much better than what we had not enjoyed on the levels between Burnham on Sea and Bridgwater. And we were in woodland anyway, not looking at muddy river, drab town or monotonous tarmac. Kings Cliff Wood was gorgeous to walk through. It is a Forestry Commission of England mixed woodland of mainly native species and the path through it was a good one. This was not surprising to us as a board when we entered the woods welcomed us to the Quantock Hills and a waymarker showed us we were following the route of the Macmillan Way. The walk through the woods was exactly a mile which at half way changed from Kings Cliff Wood to Rooks Castle Wood. Different title, same wood.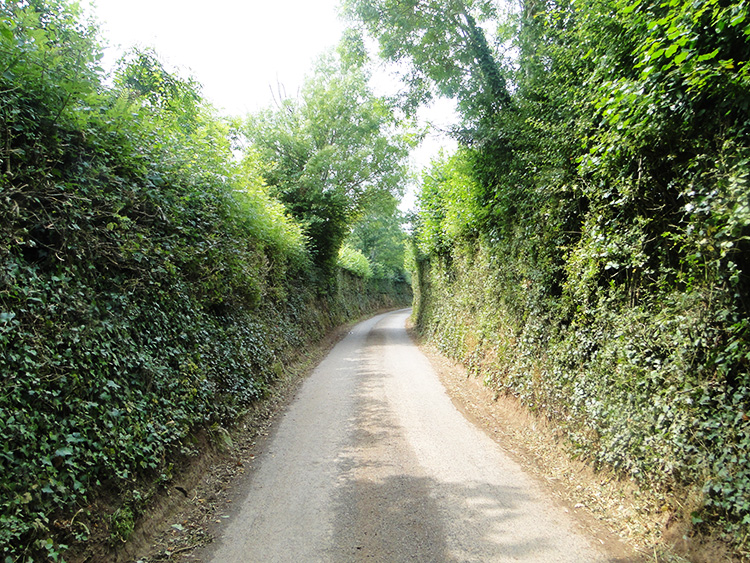 Holloway Road to Kingston St Mary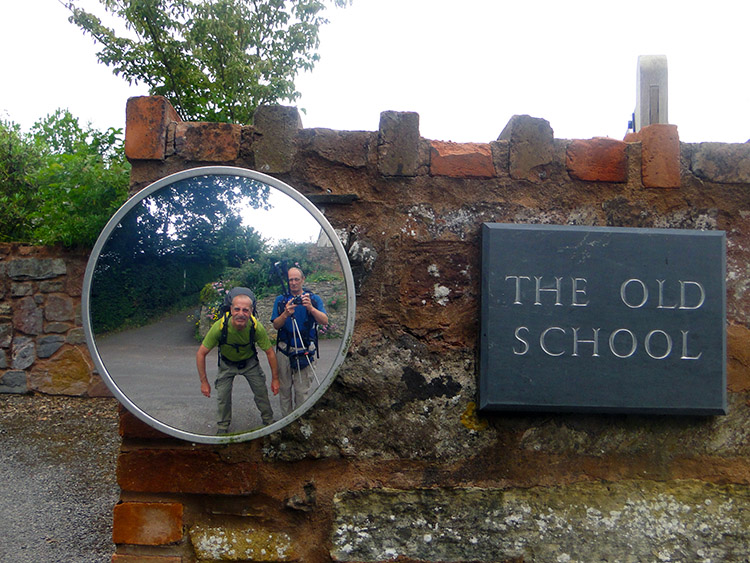 Back to school
After the enjoyable mile of walking through woodland Steve and I followed lanes and crossed fields of short grass pasture which led us up to the highest point of our days walking near Owls Hill Farm from where we began a steady descent towards the village of Kingston St Mary. Most of this was by road but much different to the road we had walked earlier. The roads from Owls Hill to Kingston St Mary via Volis Cross were all Holloways. In a sense we were channelled down the roads to the village, not being able to see beyond earth banks to our right or left. Constant traffic over lots of time had eroded the roads to about six feet below the neighbouring ground. The downhill walk through the blinkered channels brought us into Kingston St Mary soon enough.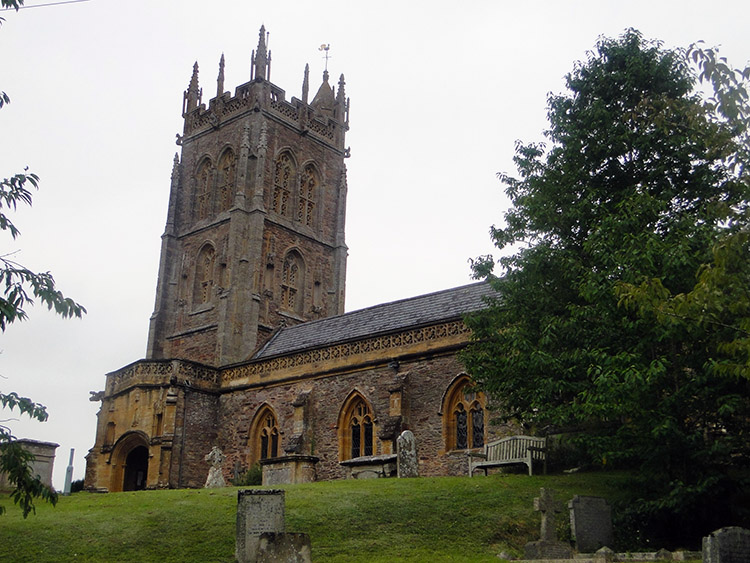 Church of St Mary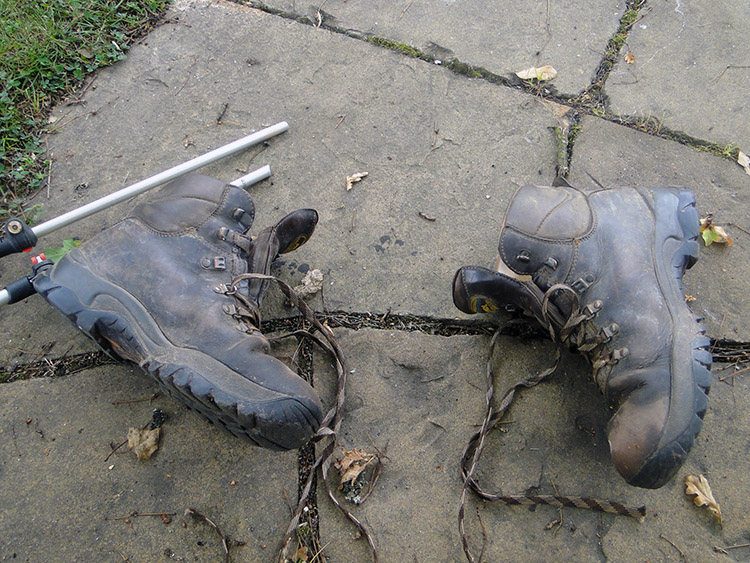 Giving them air
We both knew Kingston St Mary, Steve much better than I. He had friends living in the village and we used to pass through the village when travelling to Taunton while he had lived in nearby Enmore. It was near enough noon so we stopped in the village for our lunch, taking it on a circular bench set around an Oak tree on a small patch of village green close to the village church. We were just about half way distance into our day too. I took off my boots to give my feet some air and while we refreshed, chatted and rested an elderly lady walked close by. Steve asked her if she knew Tony and Liz. "Yes I do but you do know they are on holiday don't you" she said. "Yes thanks, I knew they had been away, I thought they might be back now" replied Steve. "I have not seen them" she continued. "Thank you" said Steve and off she went about her business. Tony was Steve's best pal during their army days and still close. Yet if he and Liz had been home I doubt we would have called. Steve and I always want to get on with walking when we have plenty of miles still to do. Unlike yesterday when our visit to his in-laws was planned and when we had plenty of time.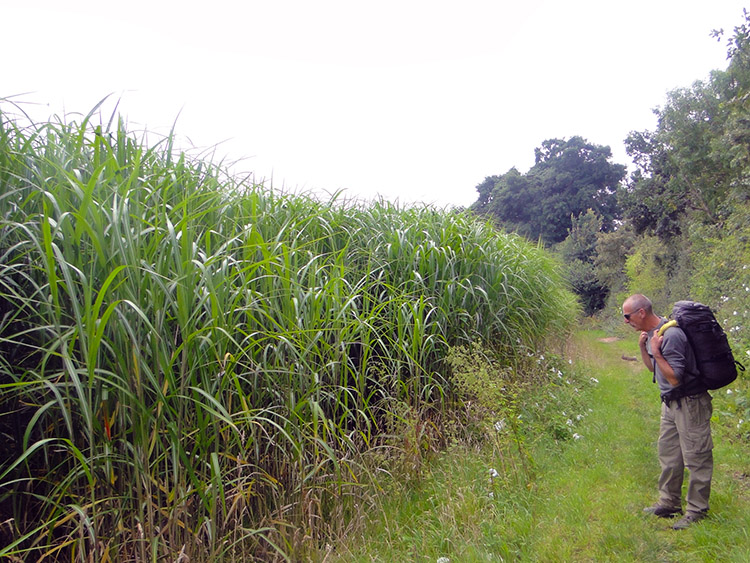 Hemmed in to the field side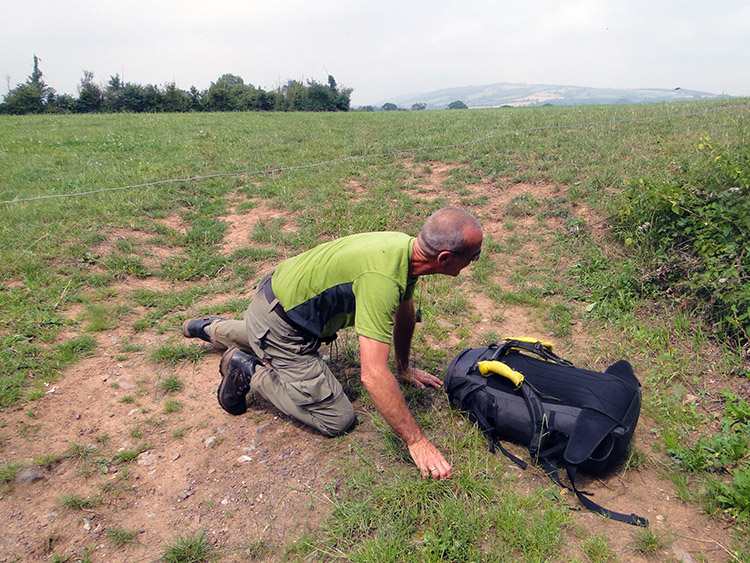 Avoiding decapitation
From Kingston St Mary we continued our walk across some fine Somerset countryside which included pasture fields, horse paddocks and one field of ten feet high Corn while passing through the hamlets of Nailsbourne and Dodhill to reach another short grassed pasture field, the crossing of which would lead us to a stretch of road walking. It was an easy crossing with a hidden peril at the end. Steve nearly walked straight into an electric wire which was difficult to spot, being set at waist height. Naughty it was. We were on a permissive path and indeed following the West Deane Way across the field with the electrically charged wire barrier. In a corner of the field near to the route of the path was a polythene pipe shrouding on the wire showing a safe place to hop over. We had not spotted that until Steve had nearly suffered the jolt. Nearly but not quite. Shock avoided.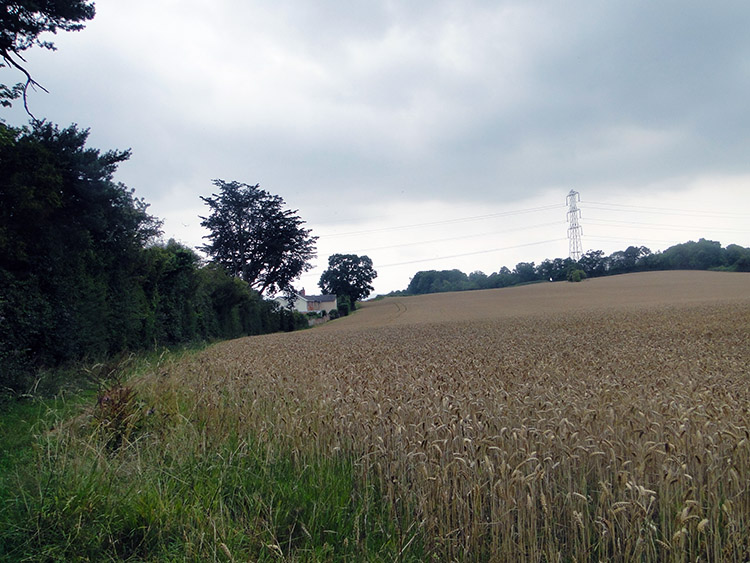 Climbing to Norton Camp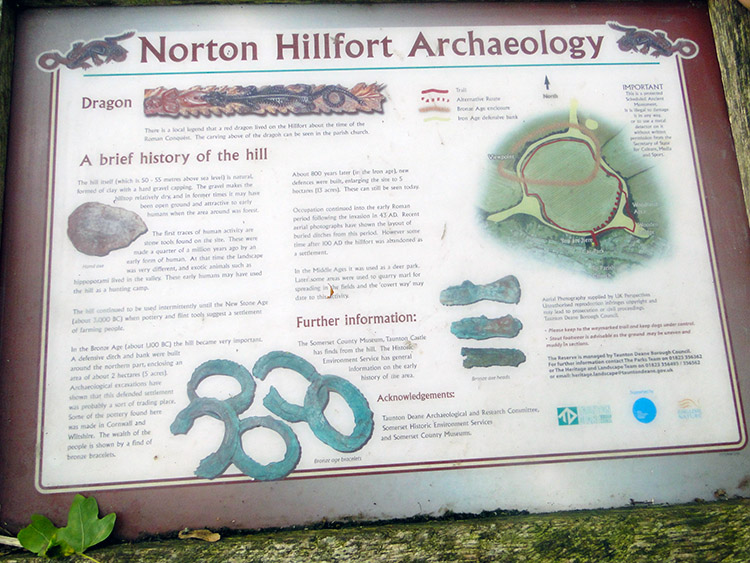 At Norton Hillfort
The stretch of road walking was quiet and much of it more delightful Holloway which led us towards the hamlet of Langford. Steve found a five pound note on the roadside next to a farm. "That's five lottery tickets tonight" he said. Fair enough I though. "Sharing the winnings are we" I suggested. "No" he said curtly. "I would have" was my response and we left it at that. After Langford we crossed the A358 north-west of Taunton and followed a field edge climbing to the site of Norton Camp, a Bronze Age hillfort. The ancient site is now a local nature reserve. The camp is set upon the pimple of a small hill and within a raised circular embankment with trees now protecting it all the way around.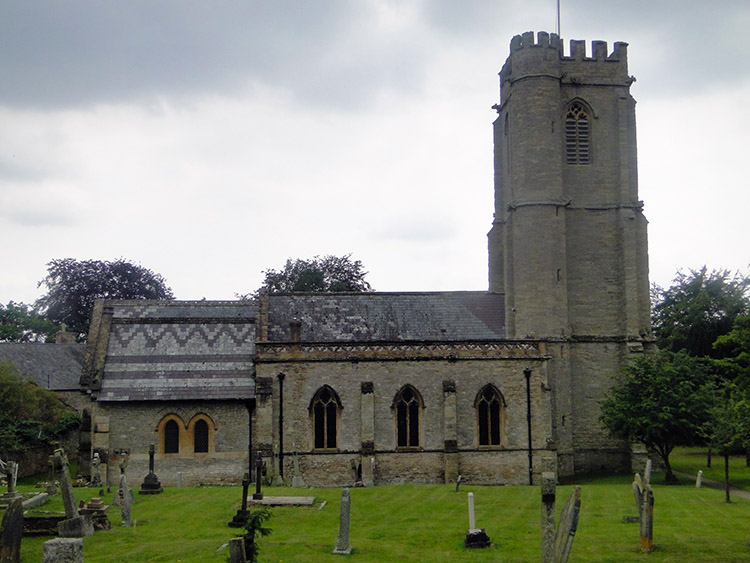 Norton Fitzwarren Church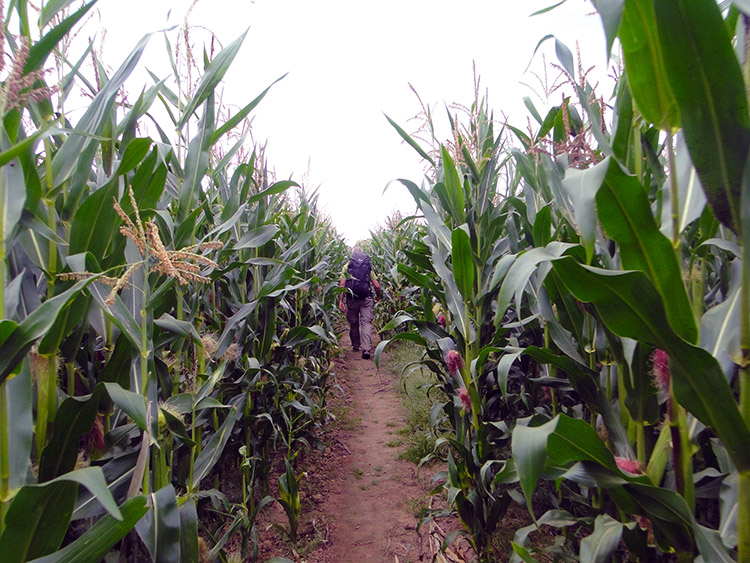 Between the Corn
From the hillfort we continued walking into the village of Norton Fitzwarren which was the site of a Prison of War Camp during World War Two. In its time the camp was the place of confinement for Italian prisoners from the Western Desert Campaign and German prisoners after the Battle of Normandy. We escaped Norton Fitzwarren by heading south past the site of a demolished factory and now a rather humdrum modern housing estate to cross a bridge over the Bristol and Exeter Railway line. A train whizzed past at tremendous speed as we crossed over the bridge. On the far side we came to another field of towering Corn. We had been through a few of these fields over the last few days and this time we treated ourselves to some fresh Corn on the Cob. Don't tell anyone but they were very tasty.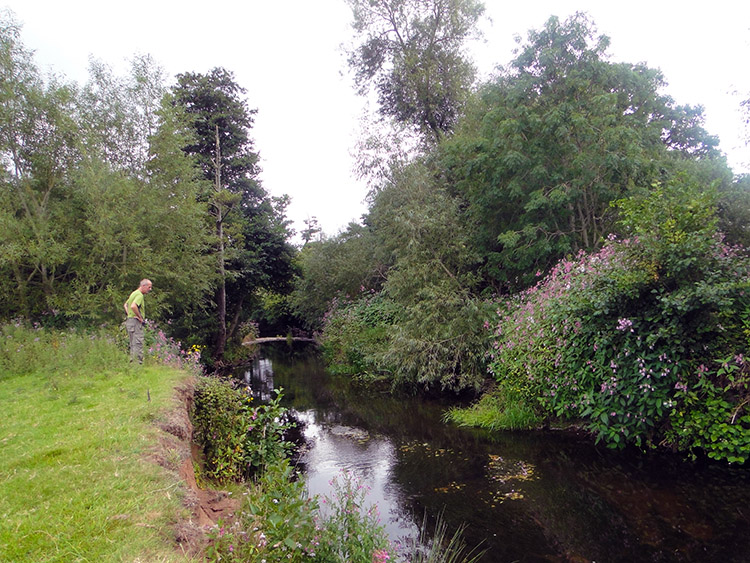 River Tone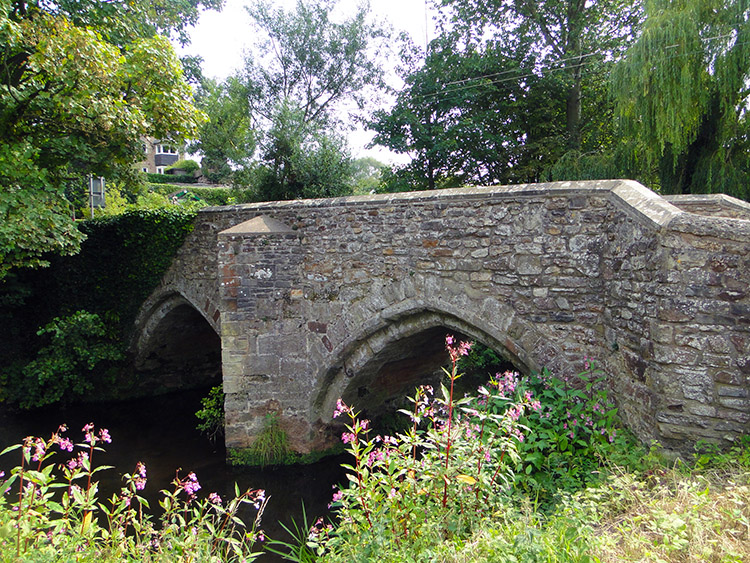 Bradford on Tone
Soon after our field treat Steve and I reached the banks of the River Tome. After a cloudy and dry morning the sun was trying to break through and sometimes in now did to make our mid-afternoon walking very pleasant. We were still on the good path of the West Deane Way and with the ending of the days stage in sight we had no need to hurry. So we stopped beside the River Tone just east of Bradford on Tone and sat ourselves down on the riverbank. We chilled out for a good half hour in while a few Dragonfly Darters passed by and sometimes hovered and while a family of Swans, two parents and three Cygnets passed sedately by. On resuming our walk another waymarker told us the West Deane Way had been joined by the Two Counties Way so we followed two long distance paths into Bradford on Tone. We popped into the village to find a shop in the small village square. The drink and the chocolate bar were delicious.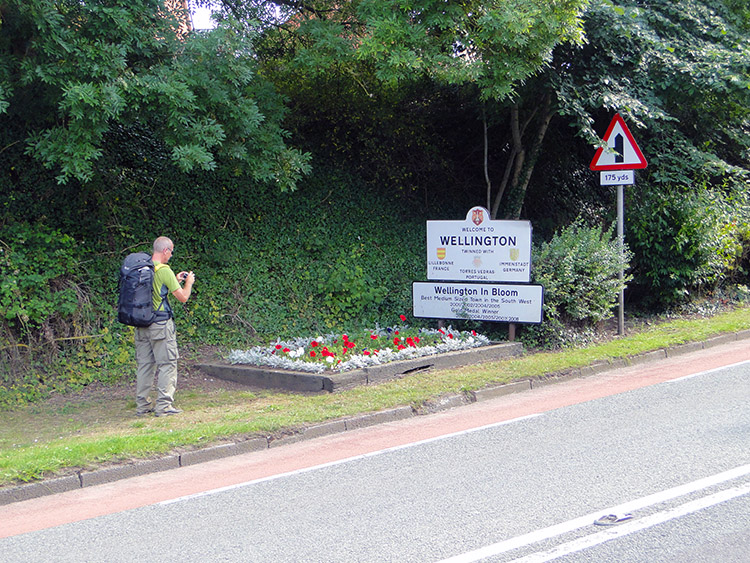 Arrival in Wellington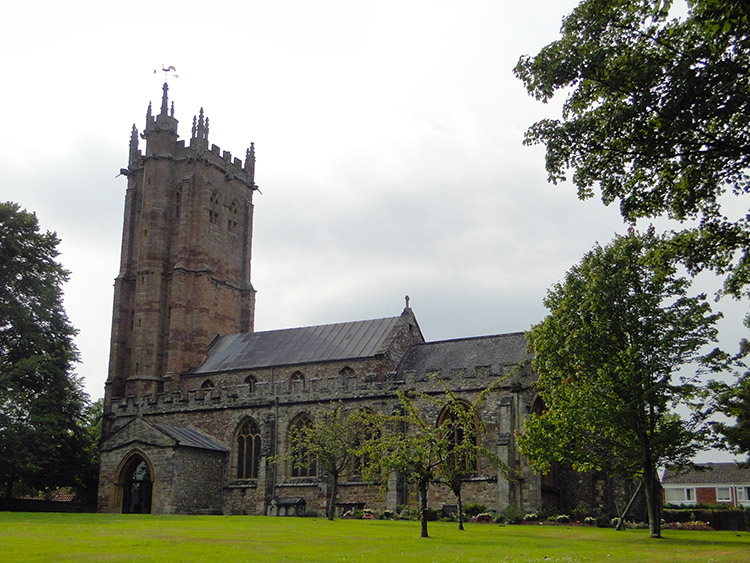 St John the Baptist Church, Wellington
We were so enjoying our walking in the Tone valley and we did not rush our end to the day. Ambling now we left the riverside after Bradford on Tone and followed the West Deane Way by road into East Nynehead. This took us back across the Bristol and Exeter railway we had crossed earlier, this time by way of a level crossing. At East Nynehead we left the road to follow a path across a number of field sides to reach Poole where we crossed the railway line for the third time and by a third method, this time a tunnel. Thus we had been over, on and under the railway in a single afternoon.

From Poole we left the West Deane Way which we would pick up again tomorrow and simply followed Taunton Road into the town of Wellington. It had been a lovely 15 miles of walking since leaving the Somerset Levels when five miles out of Bridgwater. Mature woodlands, Holloway lanes, lovely villages, an ancient hill fort and a meandering quiet river had all participated in our enjoyment of the miles which took us towards the edge of the third last county I would cross on this journey. I looked forward to the bit I had left before entering Devon tomorrow. And I looked forward to the good night Steve and I would enjoy in Wellington first. (It was a good night, being our penultimate Saturday of the walk. However we stayed at the Nags Head Inn and there was a live band on there who played well into the night. Would they keep us awake. No chance. "Keep on playing lads. You will not disturb our sleep, not after 20 miles of walking")
Continue the walk
Great British Walk