The Great British Walk
A personal record of my three month walk of the full length of Great Britain from north to south with written journal and photographs. Tracklogs for GPS units and for use with Google Earth are available for download for each stage.
---
Stage 66: Burnham on Sea to Bridgwater
Google Maps
Open Source Maps
| Statistics | |
| --- | --- |
| Start: Burnham on Sea | Finish: Bridgwater |
| Distance: 11.7 miles (18.8 km) | Time: 4-5 hours |
| Climbing: 59 metres | Total Distance: 907.6 miles |
| GPX Route File | Google Earth File |
Ordnance Survey Explorer Map (1:25,000)
Summary
I have to be honest and mention this up front. This was one of the least interesting stages of the Great British Walk. The weather did not help, a dull day throughout which contributed to the dismal atmosphere of the walk. Hardly any views were to be had at all on a day of traipsing along bays, estuaries and lowland plains between Burnham on Sea and Bridgwater. There was a lot of mud and sand to be seen in Bridgwater Bay and in the River Parrett and some got on the bottom of my boots. However, there were some bright glints through the gloom including sight of romantic wrecks and some rare birds as well as visits to a few nice villages. And Steve called in on family too. So there, it was not all bad.
(Note: My walk of the County of Somerset is a part of my
Great British Walk
from the north coast of Scotland to the south coast of England)
---
Stage Report
After a week of good midsummer weather the dark clouds had returned. It was a miserable sky which welcomed me and Steve to the outdoors as we left the Victoria Hotel and headed for the seafront promenade of Burnham on Sea for the walk to Bridgwater. At least it was not raining as we set off on our walk along the promenade southwards to where the River Brue and River Parrett outflow into Bridgwater Bay.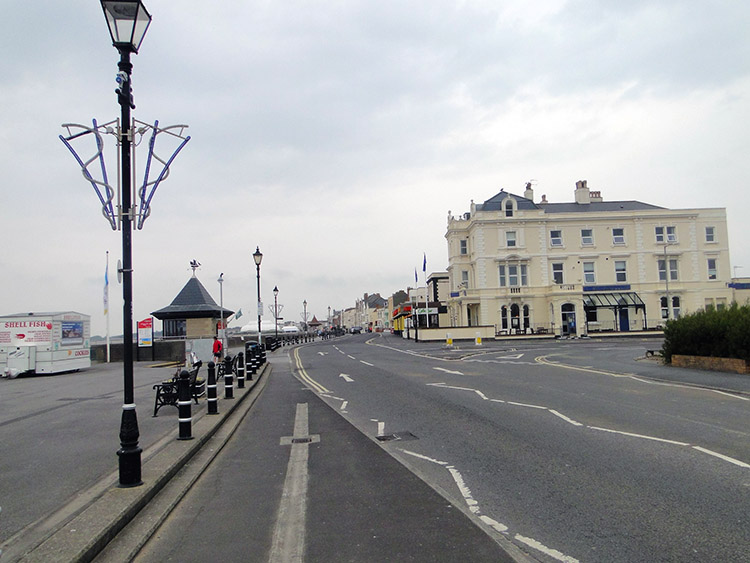 Walking from Burnham on Sea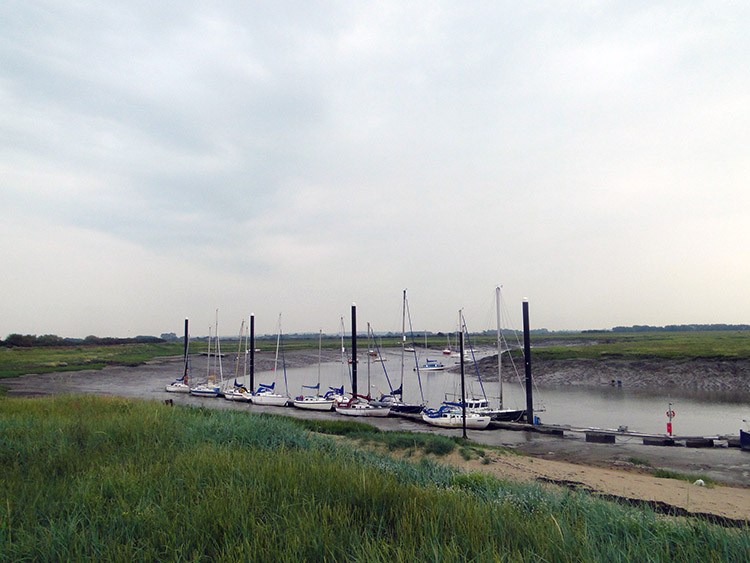 Estuary of the River Parrett
We passed the Bay View Cafe where Lil and me had enjoyed an afternoon tea with Steve and his wife Jan on an occasion while visiting them when they had lived nearby in the early 2000's. I recalled it had been raining then. Did the sun ever shine in Burnham? Of course it did, I had enjoyed a lovely afternoon of sunshine when arriving here on foot yesterday. Shame it could not last into today. We continued walking along the seafront footpath, looking out to Bridgwater Bay and just making out the difference between sky and sea. In the gray it was not easy. We reached the point where we would walk inland at the River Brue and looked out to the estuary of the River Parrett where boats were firmly moored in the mud of tide out. I looked across to Stert Island just beyond the river outflow. Nothing was going on there though in the water on the edge of Stert Point I stopped to watch a pure white bird pacing slowly in the water while out on a morning fishing trip. The white Egret is a beautiful bird and watching it provided the first bright moment of my day.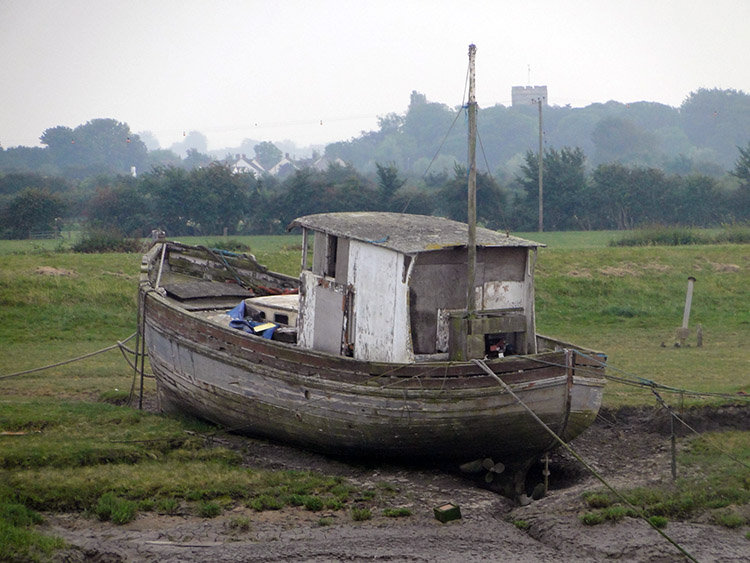 Abandoned boat in Bridgwater Bay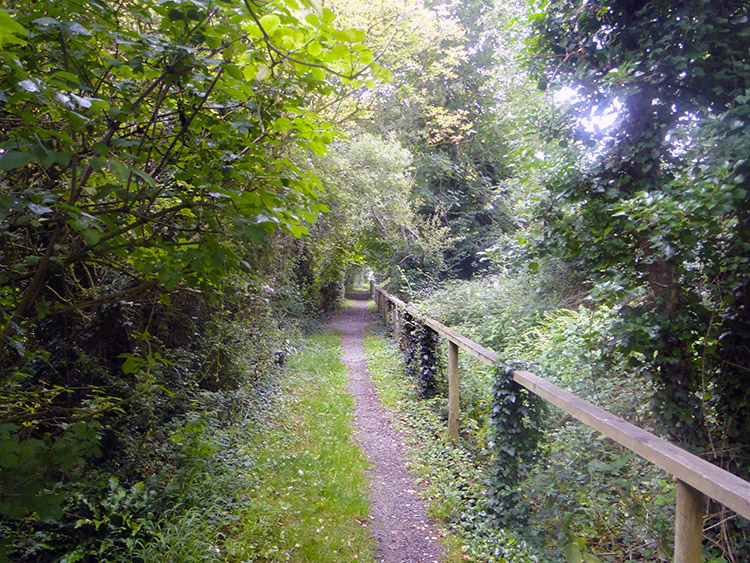 Path to Alstone
The scattering of boats on the banks of the River Parrett were a nice sight to take in too. Some were seagoing and others were abandoned wrecks. They decay of some neglected boats impressed me more than the ones newly painted for the season. After the view of the moored and beached boats which resembled many a painting I have seen we turned away from the coastline and walked inland by following a path parallel to the straight line of the River Brue. This led us east to Highbridge. At a roundabout in Highbridge the heavens opened and it started pouring down with rain. We took shelter under a tree and stood watching the goings on. A young lady dressed for work cowered in the rain and ran for cover under our tree too. We got chatting with her and after a while of talking about what we were all doing for the rest of the day she said "Your day sounds a lot more exciting than mine". She would be serving customers and we would be serving ourselves. I guess she was right.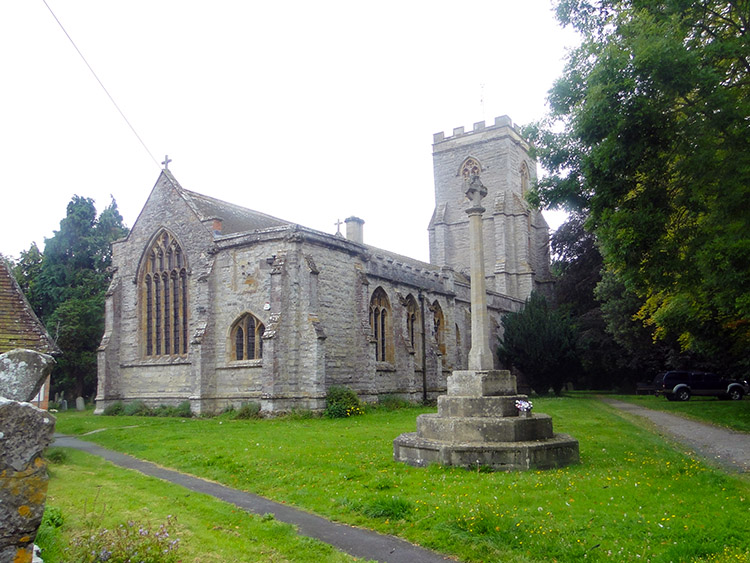 Church of St Peter, Huntspill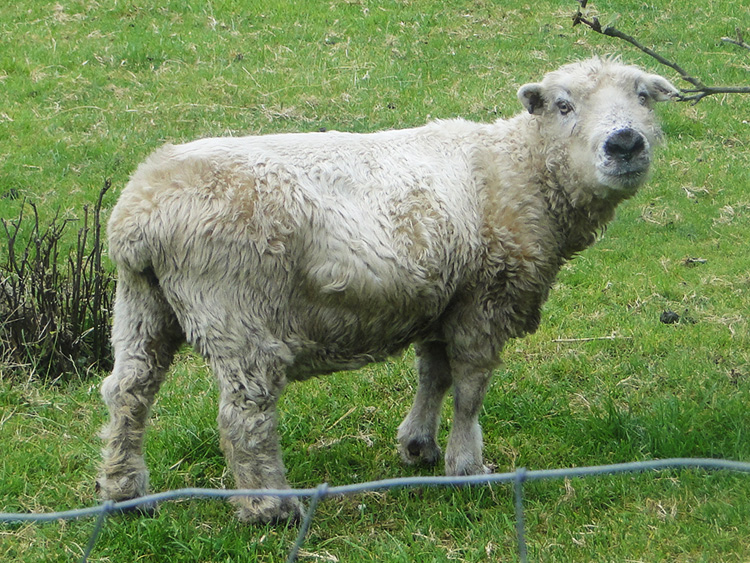 Woolly encounter near Stretcholt
After the rain had abated we left Highbridge by crossing Brue Bridge and following a lane to the village of Alstone which was followed by following another lane and crossing a few fields towards the village of Huntspill. A walkers sign pinned to a post told us it was "Installed by Sedgemoor Ramblers: Working in partnership with Somerset County Council". Well done to all concerned. We followed the local ramblers sign into Huntspill which proved to be a delightful small village. The church was pretty and the houses in the village were pretty too. We passed Balliol Hall while walking through the village to Sloway Bridge which led us over Huntspill River. From the bridge Sloway Road led us to Stretcholt It was a very quiet road and not one vehicle passed us as we walked the mile to the village. Even the sheep in nearby fields were quite which included some unusual ones. One watched us with curiosity as we walked by.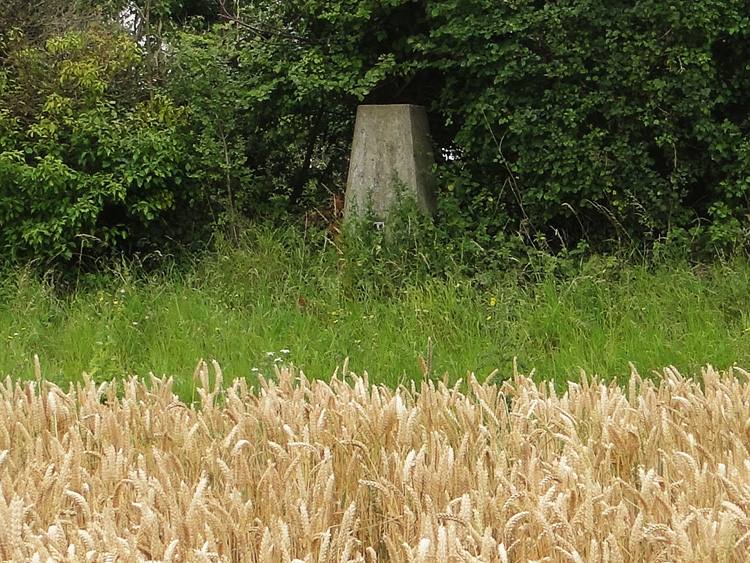 Secluded 32 metre trig pillar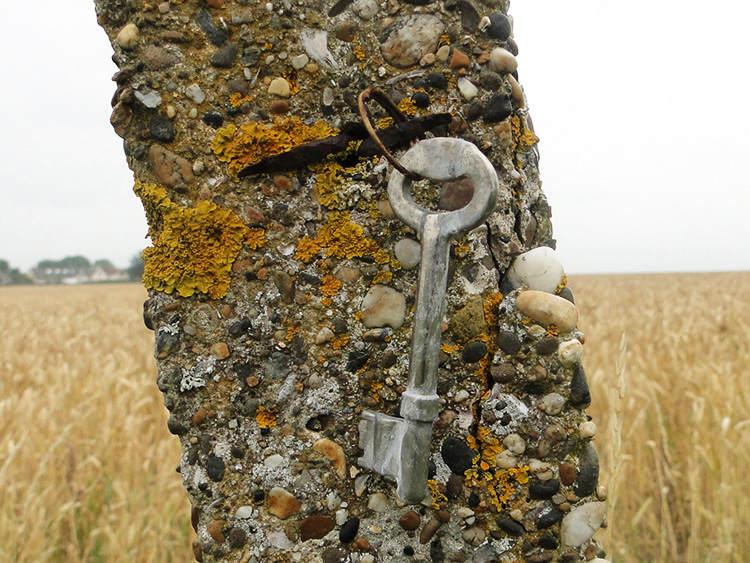 The mysterious key
It was a short transition day of walking and despite setting off from Burnham on Sea later than we usually did at just before 9.00am Steve and I reached the outskirts of Pawlett which marked half way on todays stage by 12 noon. We took a pre-planned detour and walked to a nearby farm. When we arrived Steve knocked at the door and we were accepted in for lunch. We were at the farm ran by some of Steve's in-laws and while they reminisced I enjoyed my lunch. How could I have known I would plan to walk right past some of Steve's relations. It is a small world sometimes.

After our lunch at the farm we followed a track beside a field of corn which passed just west of Pawlett. In the corner of the corn field was a trig pillar, probably one of the most neglected and least visited of all trig pillars. standing just 32 metres above sea level the concrete triangulation point was fast disappearing into a hedgerow. Given time it may never be spotted again. Near to the pillar I made a strange observation. Attached to a concrete post was a key. The post typical of those used in series as wire fencing had no friends. It was a solitary post with seemingly the single purpose of housing the key. Yet there were no gates, doors or indeed anything for which a key could be used. It was the mysterious key.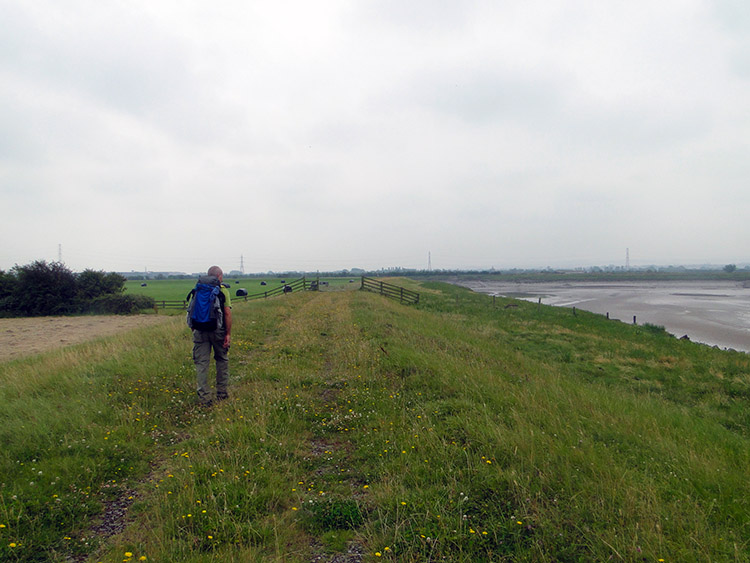 Following the River Parrett to Bridgwater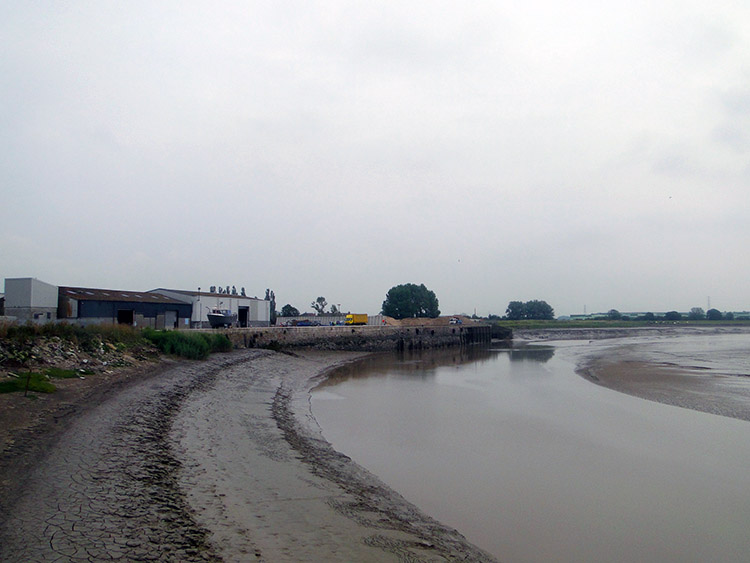 Dunball Boat Yard
The sky stayed dull matt gray as we continued from Pawlett to reach the River Parrett at Brickyard Farm. We followed the river upstream along Pawlett Reach to Old Works Reach where boat repair in Dunball Boat Yard provided a little light relief from what was a tedious stretch of uninteresting river. From Old Works Reach we continued along the riverside to Cut Flood Way Reach. We continued following the river from Cut Flood Way Reach past the Cut and past Pims Pill. Then we followed the riverside past Castle Field Industrial Estate to reach Bridgwater. More often than not I find riverside walks so pleasant but not this one. From Brickyard Farm to Bridgwater all the River Parrett had to offer was mud, mud, mud. It is a mucky tidal river between Bridgwater and Burnham. Even the birds ignored it. I shall in future.

In conclusion the walk had got me from Burnham on Sea to Bridgwater from where more exiting walking in Somerset was waiting. And despite the monotony of the final stage along the tidal River Pawlett there had been highlights on the walk. As there always is. The White Egret, the decrepit boat, the chance meeting with the young lady under a tree, the loveliness of Huntspill, the curious sheep, lunch at the farm, the forlorn trig pillar and the mysterious key. Hey, it was an eventful stage of my epic walk after all.
Continue the walk
Great British Walk