The Great British Walk
A personal record of my three month walk of the full length of Great Britain from north to south with written journal and photographs. Tracklogs for GPS units and for use with Google Earth are available for download for each stage.
---
Stage 21: Kinlochleven to Glencoe Mountain Resort
Google Maps
Open Source Maps
| Statistics | |
| --- | --- |
| Start: Kinlochleven | Finish: Glencoe Mountain Resort |
| Distance: 10.1 miles (16.2 km) | Time: 4-5 hours |
| Climbing: 750 metres | Total Distance: 245.2 miles |
| GPX Route File | Google Earth File |
Ordnance Survey Explorer Map (1:25,000)
Summary
After crossing a straightforward mountain pass yesterday and completing 7.5 miles in doing so this stage would be a truer test of my fitness. Although only a touch over 10 miles the walk would begin with an ascent of around 700 metres to the bealach of Stob Mhic Mhartuin and Beinn Bheag and then be immediately followed by a steep descent down the Devil's Staircase into Glen Coe. After two days of gradual recovery on shorter stages would my feet cope?
(Note: My walk of the West Highland Way was a part of my
Great British Walk
from the north coast of Scotland to the south coast of England)
---
Stage Report
As she had done on the previous stage Lil drove me back to the start of the walk at Kinlochleven from the Tarbet Hotel where we were staying. That was a 58 mile journey, all caused by me being a full three days behind schedule. At least I planned not get any further behind on this stage, should I make it, but I would not do any catching up either. This stage was about maintaining the distance I was behind schedule on and not extending it. I would have to make inroads to the deficit during later stages.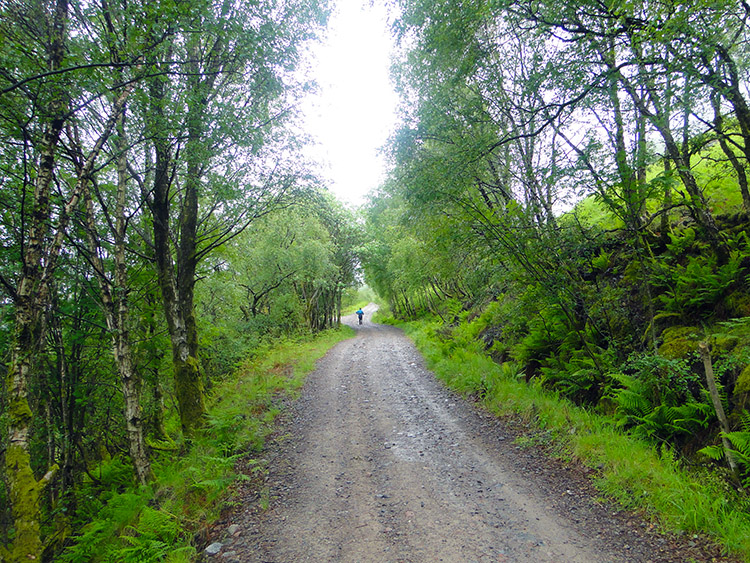 Following the Old Military Road from Kinlochleven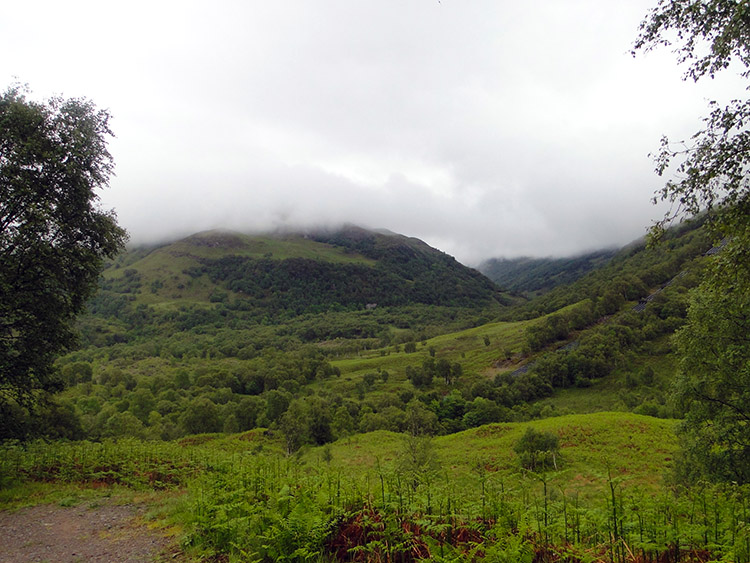 Cloud shields the top of Maell Ruigh a Bhricleathaid
After bidding Lil farewell and saying I would meet here on the other side of the mountains in Glen Coe I headed off from Kinlochleven on the Old Military Road and walked uphill alongside an above ground pipe line bringing water from Blackwater Reservoir. I climbed at a decent pace and soon caught sight of a walker in the distance. Was he a West Highland Way walker or someone out for the day? As I continued to follow the road up higher into the mountains and towards the cloud line which was hanging at about 400 metres I slowly closed on the walker ahead. I was also passed a few times by land rovers driving up and down the road, presumably to and from Blackwater Reservoir where the trafficked part of the Old Military Road headed. As I climbed, in heavy mist and a fine drizzle which had been with me from the start I continued to close on the walker in front.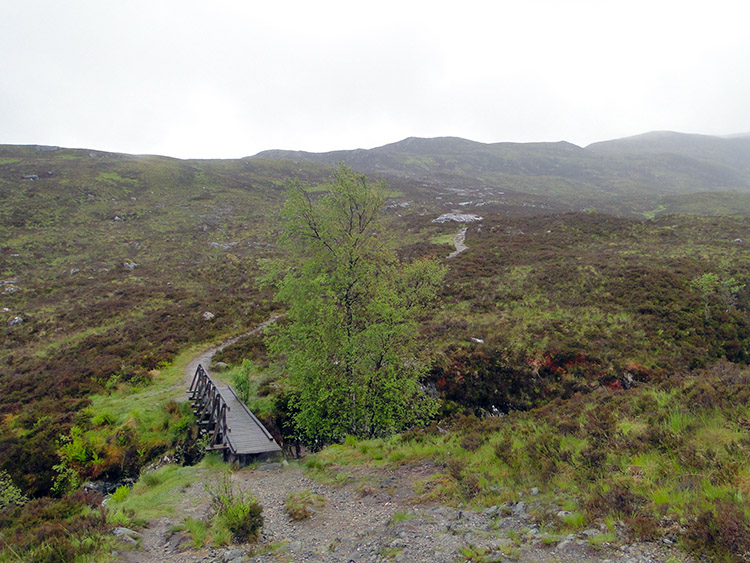 Footbridge across Allt a Coire Odhair-bhig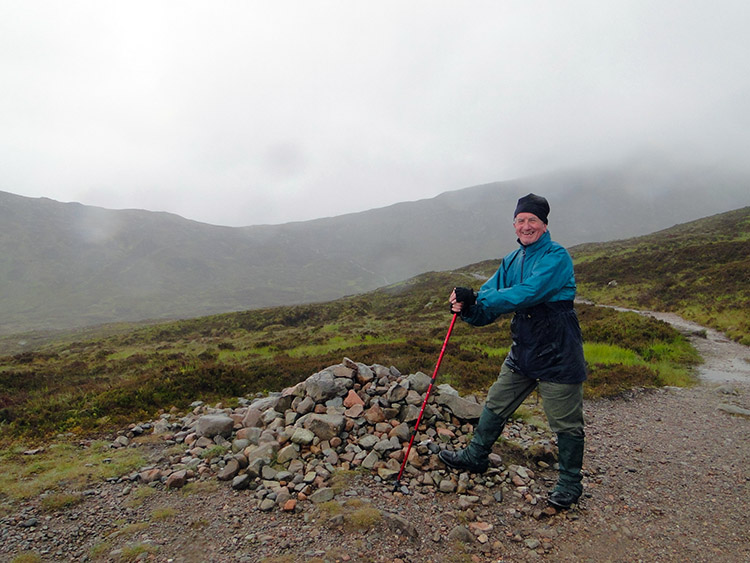 Ron Aubrey stands proud near Stob Mhic Mhartuin
My feet were not hurting at all, the limp I had left Fort William with was now less pronounced and I felt good on the climb into the cloud which was getting ever nearer. After a short while I came to a dam on a small reservoir at Allt Coire Mhorair where the walker ahead of me had stopped for a break. Here I met the remarkable Ron Aubrey. On meeting he asked if I minded him walking with me. "Not at all, I would be delighted" was my answer. And so we walked on together. He asked if I was doing the West Highland Way and I told him I was but only as part of a much longer walk down the length of Great Britain. I asked him what he was doing up here and he said "Just out for a walk. I am staying in Glencoe and this morning walked along the road to Kinlochleven before following the road round to Devil's Staircase before heading back to Glencoe down the pass". Once he had mentioned his plan I realised Lil and I had passed him walking the road from Glencoe to Kinlochleven earlier. Therefore he had already walked seven miles before passing my start point. I was impressed. We continued to talk as we crossed the moor, both of us now shrouded in cloud.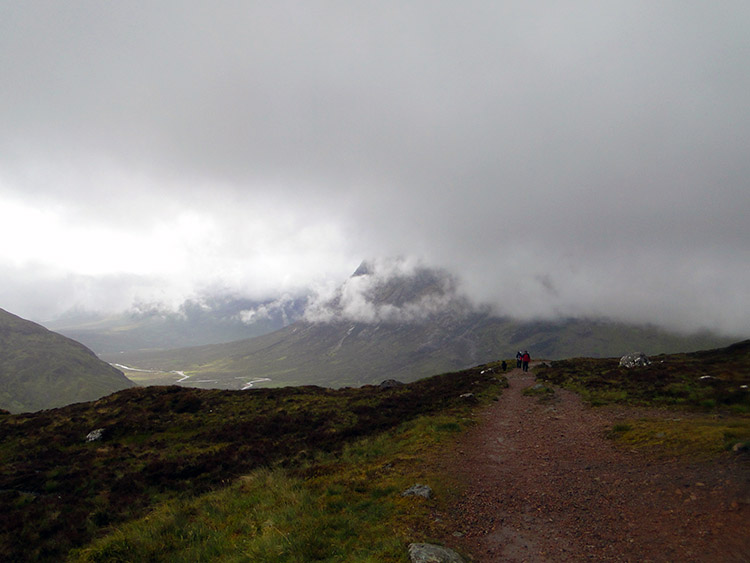 Over the bealach of Stob Mhic Mhartuin and Beinn Bheag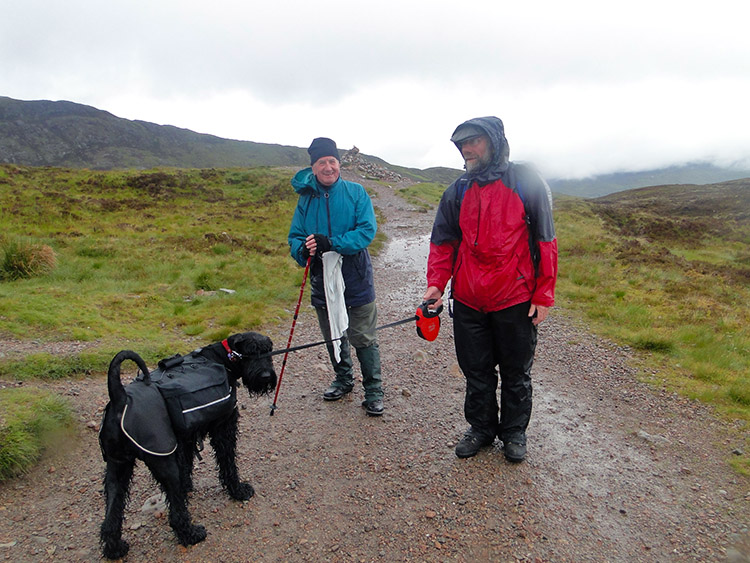 Hamish and master with Ron near Devil's Staircase
As our conversation continued time passed and the walk became so easy as walks generally do when one is engaged in the surroundings and the company. We passed the point where the road to Blackwater Reservoir and ours forked which prompted Ron to talk about the building of the reservoir and of the graves of workers who died during construction which are poignantly situated beside the dam wall. Our conversation then turned to walking. Ron was from England but moved to Edinburgh in his early manhood to work at a hospital where he met his wife and thus remained in Scotland. Whenever he gets the opportunity he heads to the Highlands and walks. He said to me "Only yesterday I climbed Ben Nevis to celebrate my 70th birthday". I was mightily impressed. Our conversation had taken us along the tops of the pass and over the highest bealach between Stob Mhic Mhartuin and Beinn Bheag without really noticing. On the bealach we met a gentleman and a wonderful dog called Hamish. The gentleman told us proudly that Hamish carried his kit so they could still enjoy the high places together. Brilliant! Hamish was a lovely dog and the two inseperable companions were a pleasure to meet.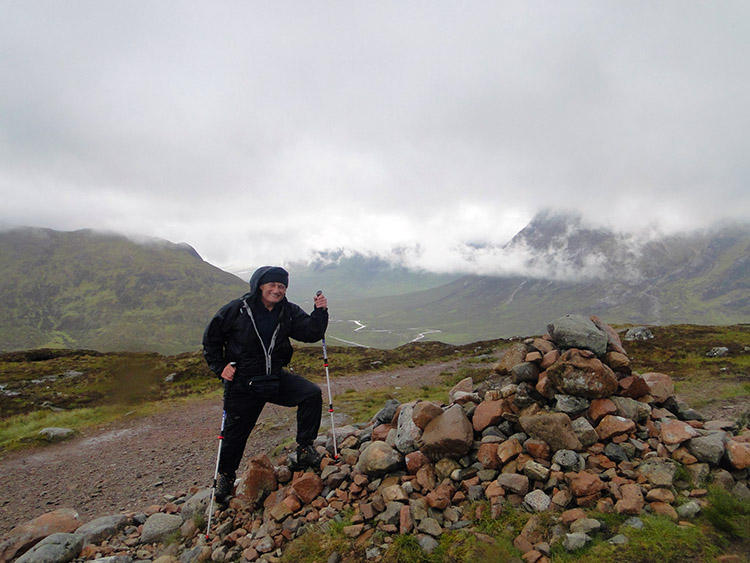 Walking Englishman near Devil's Staircase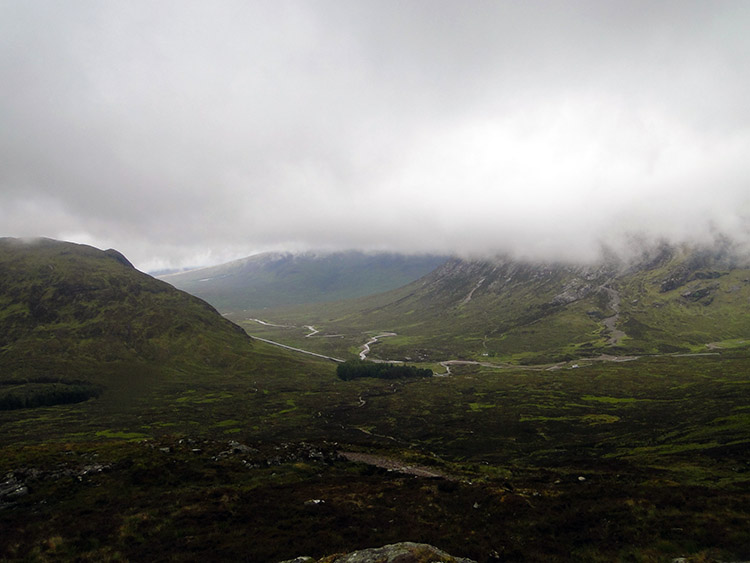 View from Devil's Staircase to Glen Coe
After the bealach Ron and I continued walking to a small cairn which beckoned the start of our descent of the Devil's Staircase. I never knew what to expect from a stretch of walking on a way so ominously named but the descent started steadily enough down a zig-zag path just as yesterday descent into Kinlochmore. No trees to shelter the path this time though, we were in the open elements but the Devil's Staircase continued to be a decent walk down and nothing like the Hammer Horror Movie its name suggested.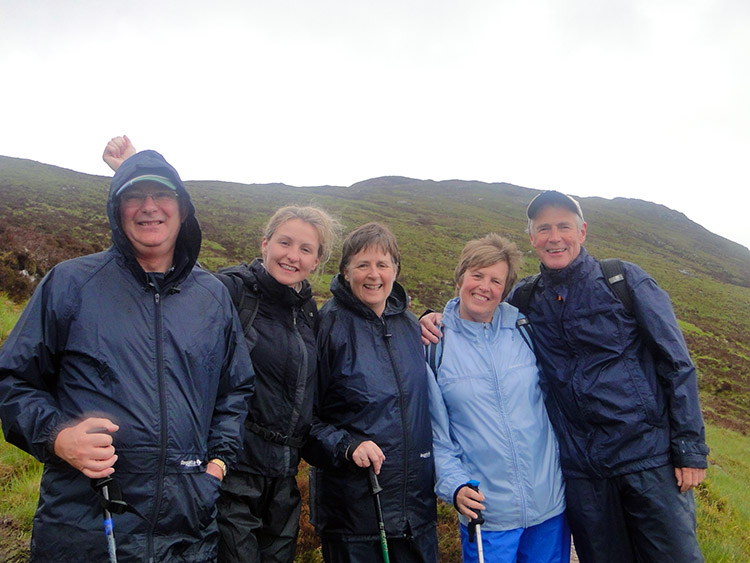 A lovely family of walkers on Devil's Staircase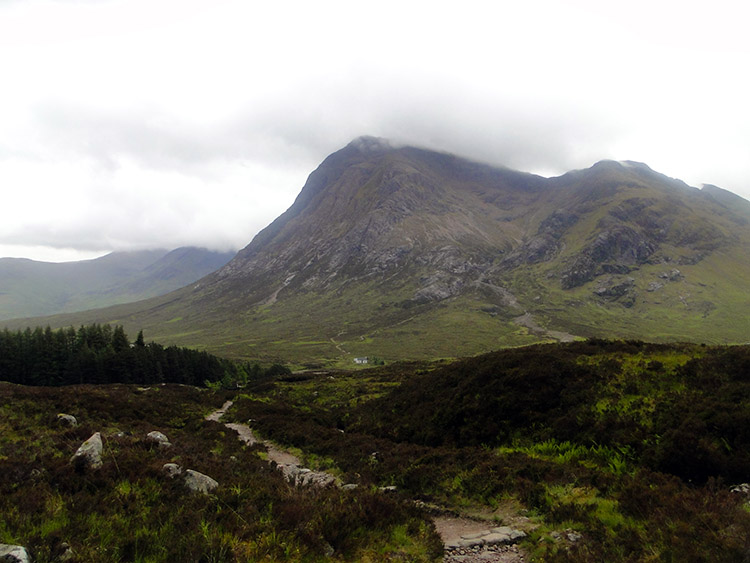 Buachaille Etive Mor as seen from Devil's Staircase
While negotiating our way down the track we met several groups of walkers and one group in particular stopped for a good chat with us. They were a two generation family from the south of England with the youngest being accompanied by mum, dad, uncle and aunt. It is always a pleasure meeting such spirited folk on walks such as this. I was having a good day. And it got better soon after our meeting with the family for I spotted my car below with Lil waiting with refreshments. Well needed they were too after the mountain crossing.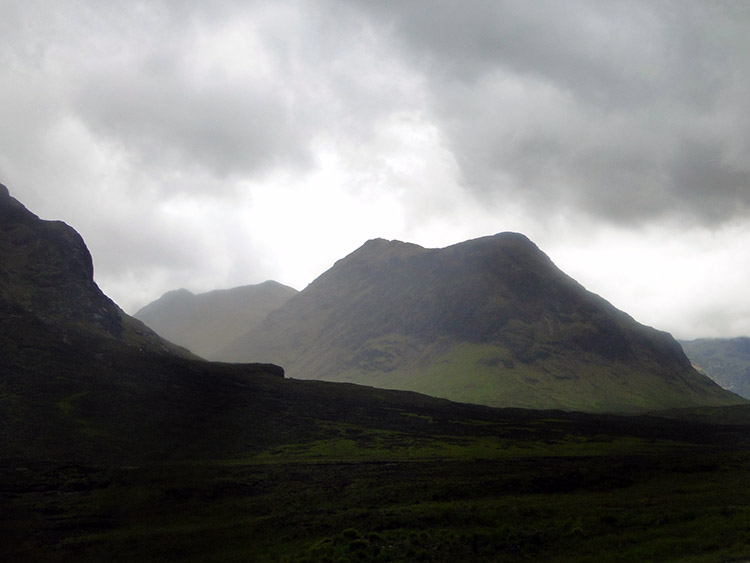 Stob Dearg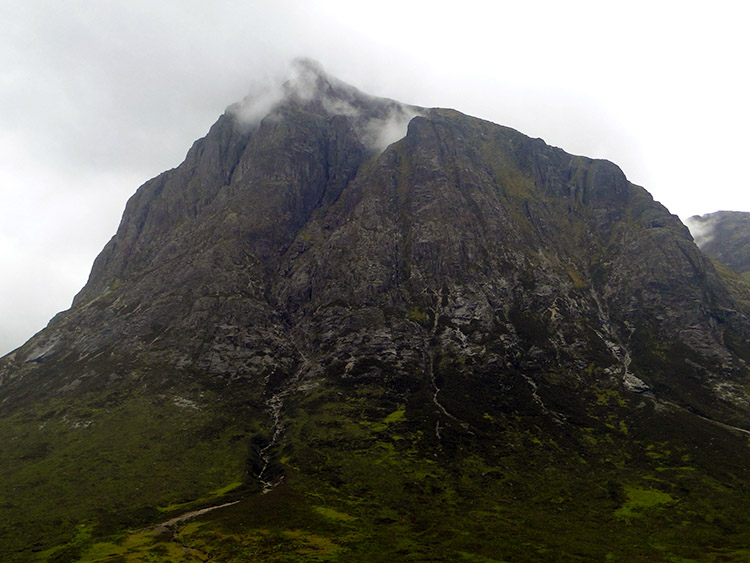 Buachaille Etive Mor
As I descended down the lower part of the Devil's Staircase towards Altnafeadh Bridge I noticed the cloud was lifting. The impressive mountains of Glen Coe were beginning to show themselves in their true glory, iconic mountains like Buachaille Etive Mor, Stob Dearg and Creise. It was beautiful and transfixing as the mood and light changed constantly with the shadows under the shade of fast moving clouds overtaking the traffic on the pass.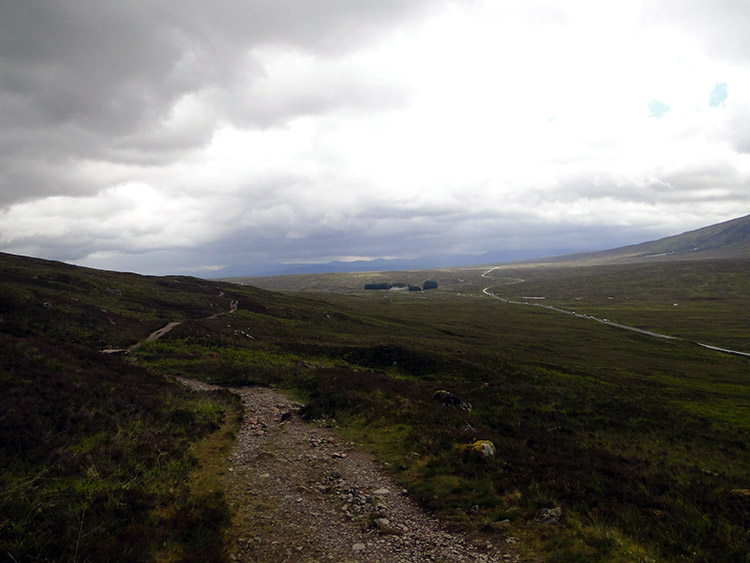 Walking from Altnafeadh to King's House Hotel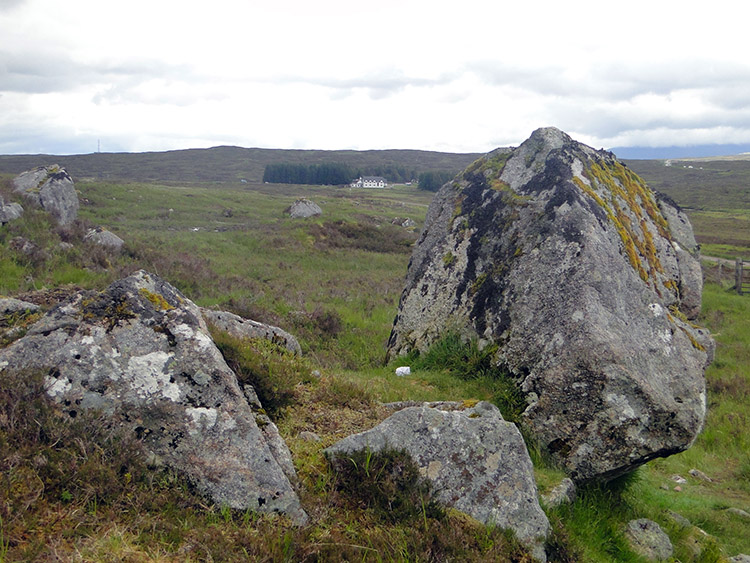 Scattered rocks in Glen Coe
At Altnafeadh Bridge I stepped off the West Highland Way track and made my way to the car where Lil was waiting. I invited Ron to join us for a sandwich and the three of us had a good chat while the mood of the weather outside continued to change. It was brightening up. After refreshments it was time to say farewell, a fleeting meeting on a mountain being the only time Ron and I would probably meet. Ron headed west and I headed east.

I had not decided to walk any further after Altnafeadh Bridge; it was the planned stop but my recent injuries were not causing any pain and with only the slight limp which still dogged me being evidence of the past week I continued on towards the King's House Hotel. The hotel was three miles away, not that it looked that far away over the open moor but I made progress over the ground better than I expected and covered the distance in just over one hour. As it was now a dry afternoon and brightening all the time I resolved to walk as far as I possibly could.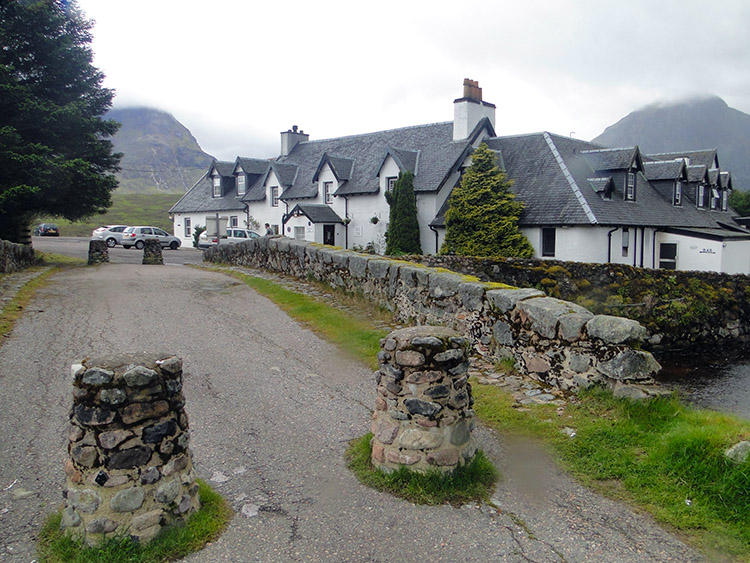 King's House Hotel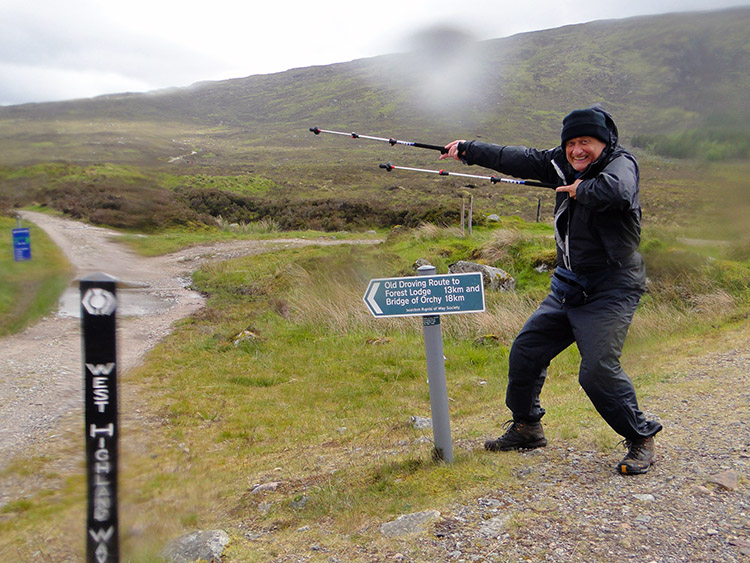 Felling good and pointing towards Rannoch Moor
I reached King's House Hotel, a very famous hotel to the walking fraternity and one with a colourful past. I passed a campsite at the back of the hotel, no doubt base to many walkers doing the Munroe mountains in the area. On looking at my map I noted I could walk a further mile to Glencoe Mountain Resort before calling it a day. And so I did. Once at the point where the West Highland Way intersected the road to the mountain resort I stopped. Beyond this point lay Rannoch Moor, my first point of interest on the onward journey. Feeling good with myself, I was now spirited enough to know I could continue with vigour and hopefully make up time in the days ahead. Now I could not wait for Rannoch Moor. It had been a good day on the West Highland Way, a really good day. I met some lovely people, not least the remarkable Ron Aubrey. All in all, it was another of my special walking days.
Continue the walk
Great British Walk