The Great British Walk
A personal record of my three month walk of the full length of Great Britain from north to south with written journal and photographs. Tracklogs for GPS units and for use with Google Earth are available for download for each stage.
---
Stage 25: Milton of Buchanan to Hillfoot
Google Maps
Open Source Maps
| Statistics | |
| --- | --- |
| Start: Milton of Buchanan | Finish: Hillfoot |
| Distance: 16.1 miles (25.8 km) | Time: 7-9 hours |
| Climbing: 448 metres | Total Distance: 313.8 miles |
| GPX Route File | Google Earth File |
Ordnance Survey Explorer Map (1:25,000)
Summary
After the superlatives of the previous days on the Great British Walk and West Highland Way this stage was very ordinary. It proved to be a case of getting from the start at Milton of Buchanan near Drymen to at least the finish of the West Highland Way and perhaps a little further into Glasgow. Due to still being behind schedule and the awful weather I was faced with I chose to follow the A809 road from Drymen to Craigmore rather than follow the West Highland Way. From Craigmore I left the road and followed the West Highland Way to its conclusion in Milngavie and from there I walked a few more miles through northern Glasgow to Hillfoot.
(Note: My walk of the West Highland Way was a part of my
Great British Walk
from the north coast of Scotland to the south coast of England)
---
Stage Report
After two days walking in gorgeous weather along the east side of Loch Lomond I was faced with a very miserable wet days walking to conclude my West Highland Way journey. Still, I was in very good spirits as I had hauled back more than half of my three days deficit caused by the enforced prolonged stay in Fort William. And the weather was not going to stop me getting back on track before Lil had to leave which would mean walking with my heavy backpack once more. With the weather offering no hope of improvement any time soon I decided to follow roads for a while and make decisions as I went along, hoping for an better afternoon. The forecast was not good though and heavy rain was set in as Lil drove me from Glasgow to Milton of Buchanan to resume my walk. It poured and poured as we drove through the north of the city and into countryside on our way to Drymen. Once in Drymen a heavy storm persisted so we stopped off at a cafe opposite the Buchanan Arms. I needed a strong coffee to prepare for the walk ahead. While having coffee we chatted to the proprietor and while talking we found out she had moved to Scotland from Halifax to run the business. It was a nice interlude talking to a fellow Yorkshire Tyke. As Lil continued to talk to the lady I looked glumly out of the window. The rain was not going to relent anytime soon so I beckoned Lil to take me on my way to the start.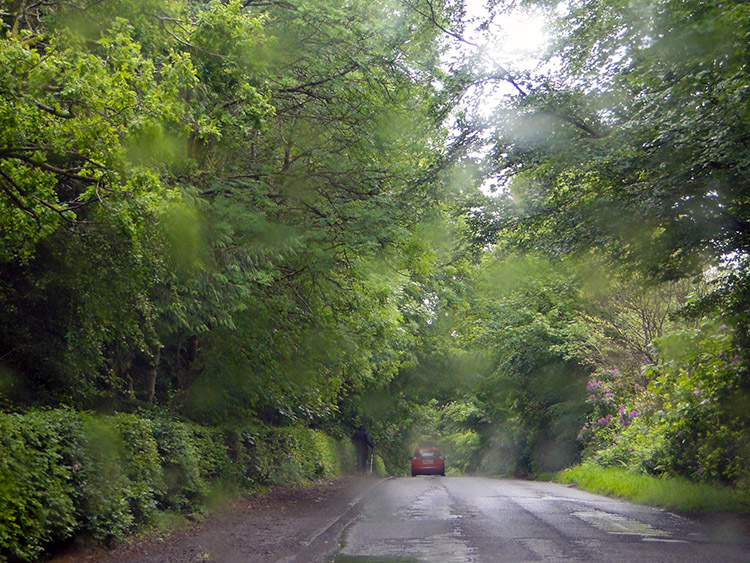 A miserable start to the walk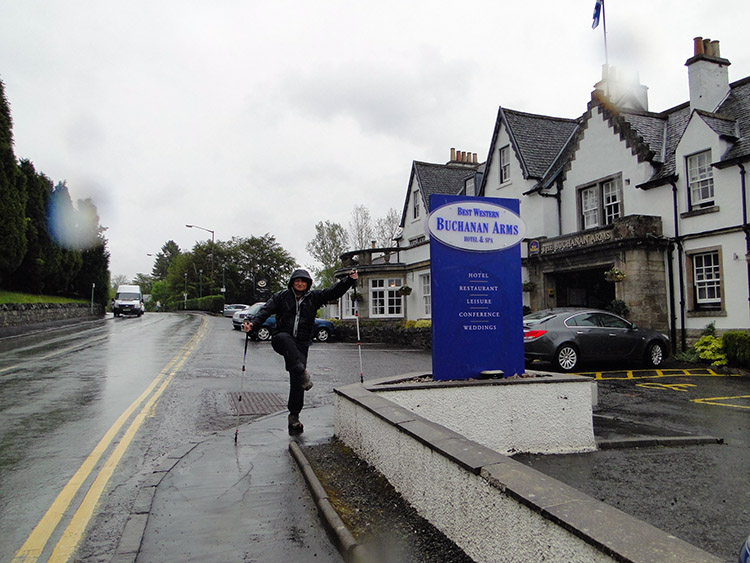 All enthusiastic in Drymen
Planning the rearranged route was easy, just follow the road to Glasgow. Once Lil had dropped me off at the spot I had finished yesterday I marched off and got soaking wet. With Lil driving off to wait in Drymen for an evaluation on progress and planning I continued plodding along footpaths, verges and roadside of the B837 towards Drymen. There was little traffic to worry about. Who would want to be out in the devilish conditions anyway. I marched steadfastly and without interruption. As happens with rain pouring down while walking I kept my head as low as possible but still the drips made their way from my hood onto my face and down my nose causing an irritating itch with the dewdrops. I was often compelled to raise my hands and poles to wipe the drips away. As I cleared one away another one formed. It was an irritating inconvenience.

One point of interest on the way to Drymen was a row of terraces which are all that is the hamlet of Buchanan Smithy. At the first terrace I came to workers were engaged in renovation. They were doing interior work this day. After Buchanan Smithy I carried on walking in Drymen, met Lil, and then dived back into the cafe we had been in just one hour earlier. I had another strong coffee and made a futile attempt to dry out. I would have needed all day, so after the warming drink I resumed on my way. In Drymen I passed the Buchanan Arms for the last time on the walk, a lovely home for three days while approaching a walking along Loch Lomond. It had not rained in Drymen while Lil and I stayed there but it certainly was now.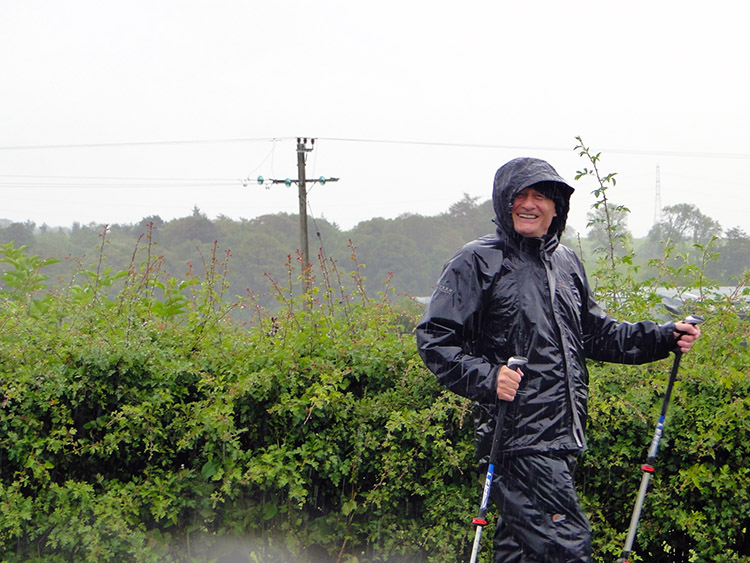 Wet walking at Croftamie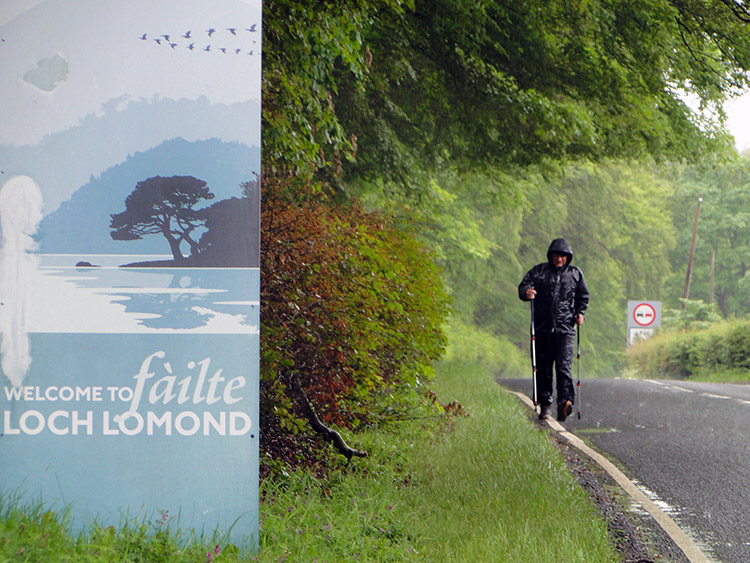 Leaving Loch Lomond National Park
From Drymen I made the short trip south on paths beside the B858 to meet the A809. Once I reached the A road there was a noticeable increase in traffic. First there was not a problem as a path and good verges took my sodden self to Drymen Bridge and if I was not wet enough a white van saw me, aimed itself towards the deepest part of a puddle beside the bridge, and gave me a thorough washing! Both driver and I knew the game but I was so wet I could not care less and rather than halt my progress I let it happen anyway. The horizontal wash I took merged with the natural vertical rainfall and dropped off my overloaded wet gear as one. Still I smiled, the consequence of long walks with itineraries is that distance walkers have to accept there will be days like this. And I was making good progress which cheered me. The rain continued to pour down as I passed through the small village of Croftamie and out of the boundaries of Loch Lomond National Park. I continued to step out at a good pace, on the tarmac when traffic was distant and in the grass verge when traffic was close.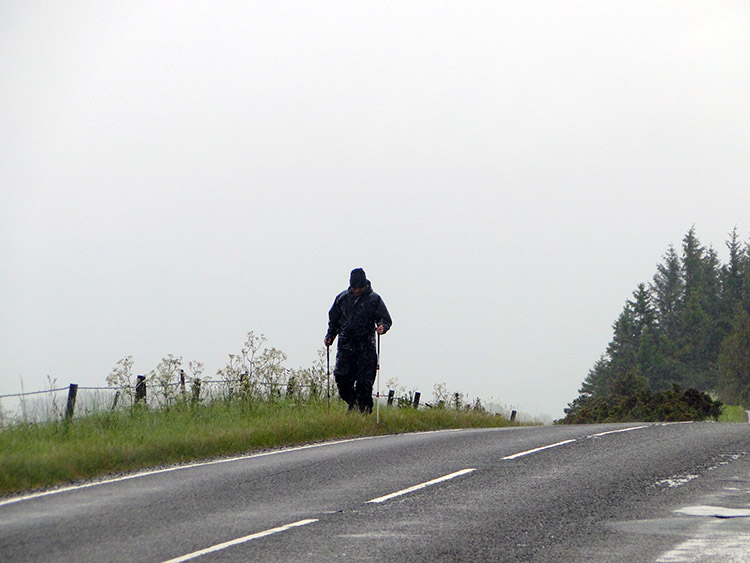 The loneliness of the long distance walker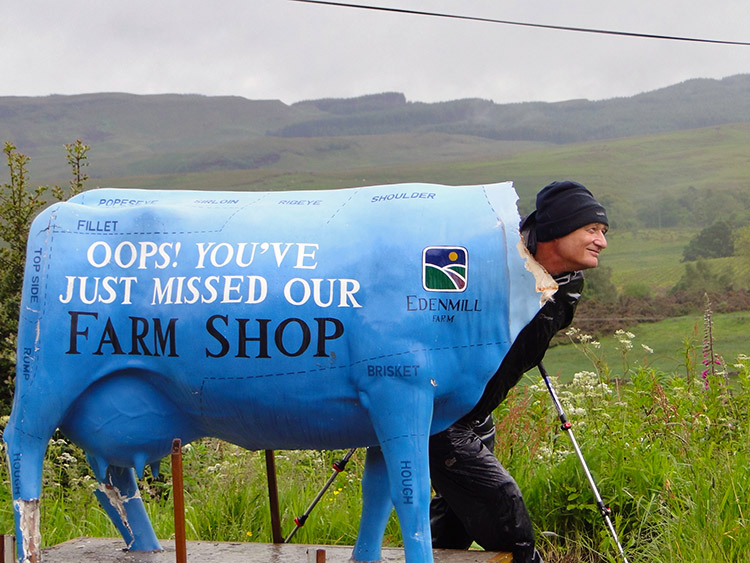 It was a cow of a day
I walked on relentlessly. There was no need to drop my pace as there was nothing to see in the misty conditions apart from immediate roadside diversions. I passed by Knockhaglish Wood and soon after I crossed Finnich Bridge. As I did so I looked into Finnich Glen which caused me to pause my walk temporarily as Finnich Glen was a little gem in an otherwise drab setting. I then marched past Craighat Wood and Stockiemuir and headed towards an interesting feature on the map, that being Queen's View which included a viewpoint marked on the map. Around this time I noticed the incessant rain which had accompanied me all day was beginning to relent. The telltale sign were the nasal dewdrops. They were still forming but now over increased spells of time. As I approached Queen's View I also passed the entrance to a farm shop. A headless cow was there to remind me just in case I had missed it. Soon after, and with the rain relenting to become a drizzle I reached Queen's View. There were three empty cars parked in a vast car parking area. They must have been walking to Auchineden Hill which was a short walk away. If only I had the time or the knowledge beforehand I would have detoured to Auchineden Hill which looks a super little walk. Instead I continued along the road a little further to Craigmore where I turned to follow the B821 for a couple of hundred yards to resume my acquaintance with the West Highland Way.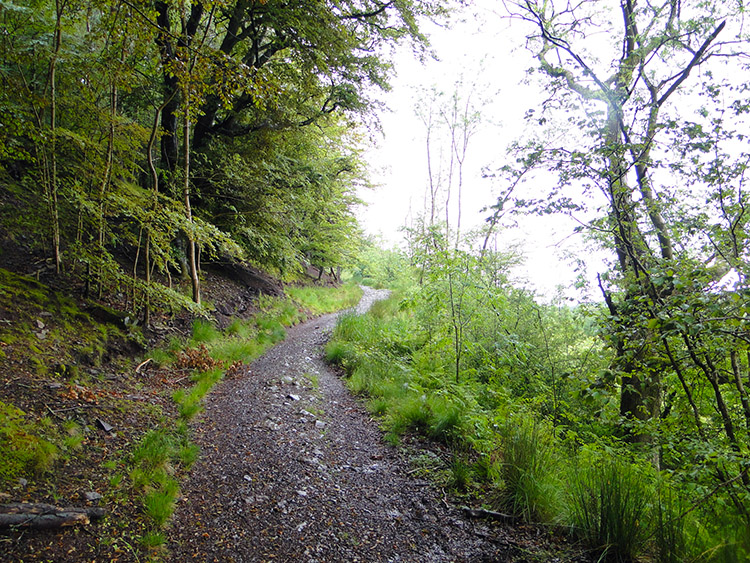 West Highland Way at Carbeth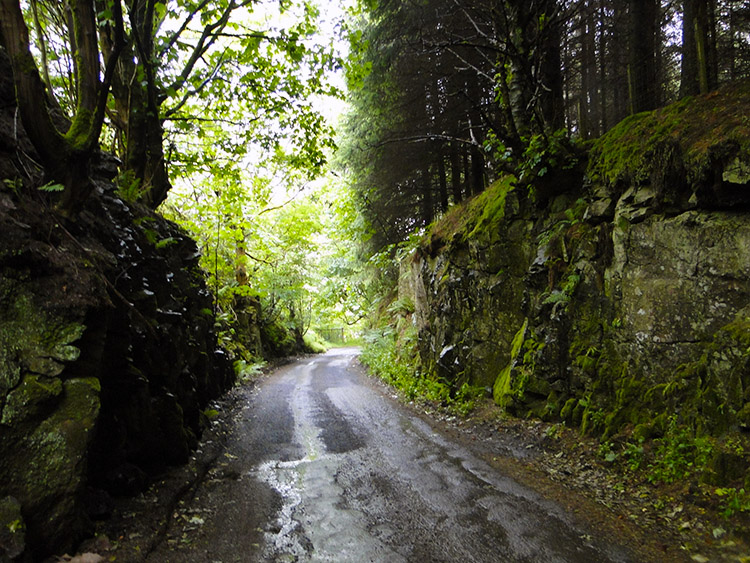 Kyber Pass
All day, Lil had kept me close company by shuffling the car up and down the road to allow me moments to jump in and dry off but this was no longer going to be an option so after taking a break for lunch in the comfort of the car and after arranging to meet her in Milngavie I continued on my walk by following the West Highland Way footpath past Carbeth Loch and Craigallian Loch to Scroggy Hill which was not to be climbed but edged past on its eastern flank. The rain was stopping which was a relief but there was not much hope of a sunny ending to my West Highland Way. It remained dank and misty. Soon after Scroggy Hill I came to a road at Craigallian Bridge and saw a sign pointing up the road to the Kyber Pass. I was intrigued by the name as I knew it to be in Asia so I walked up to the Scottish version. It turned out to be a cut in the road through a narrow rocky gorge. Quiet interesting, worth the small effort I thought as I walked back to Craigallian Bridge and into Mugdock Wood.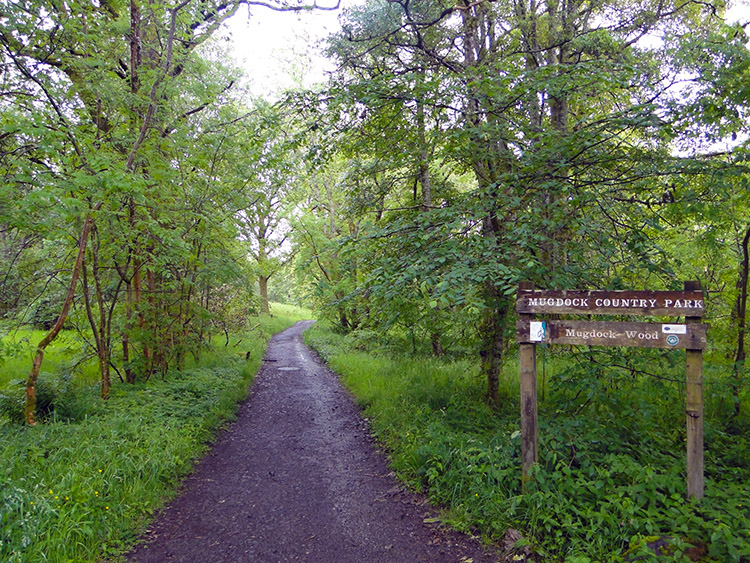 Mugdock Wood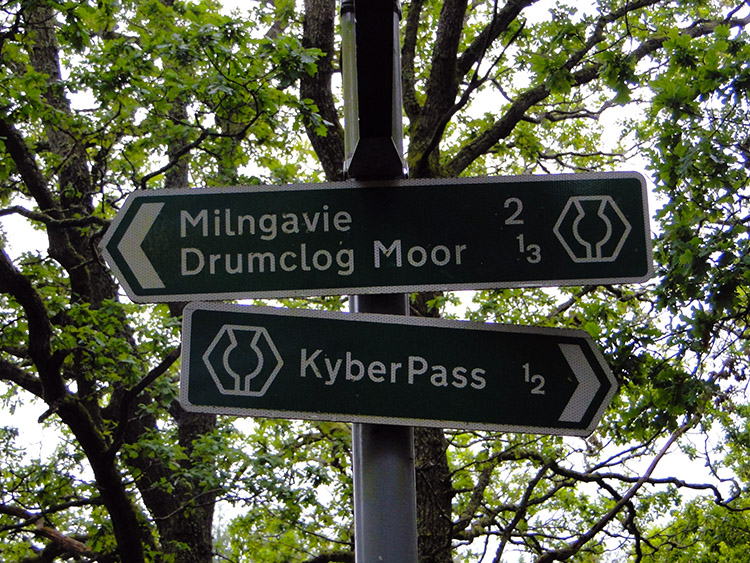 Nearing Milngavie
The walk through Mugdock Wood, part of Mugdock Country Park was delightful. Perhaps because it had finally stopped raining I felt invigorated and marched on through the park at quite a pace. At times I could hear water, I was walking parallel and close to Allander Water through nice parkland and sensing it was the best of scenery I was going to see for some time I especially enjoyed it. I was also drawing close to my completion of the West Highland Way stage of my walk of Great Britain, my second significant milestone after the Cape Wrath Trail. With these thoughts in my mind I had a revived sense of achievement and proudly walked on through Mugdock Country Park into Allander Park.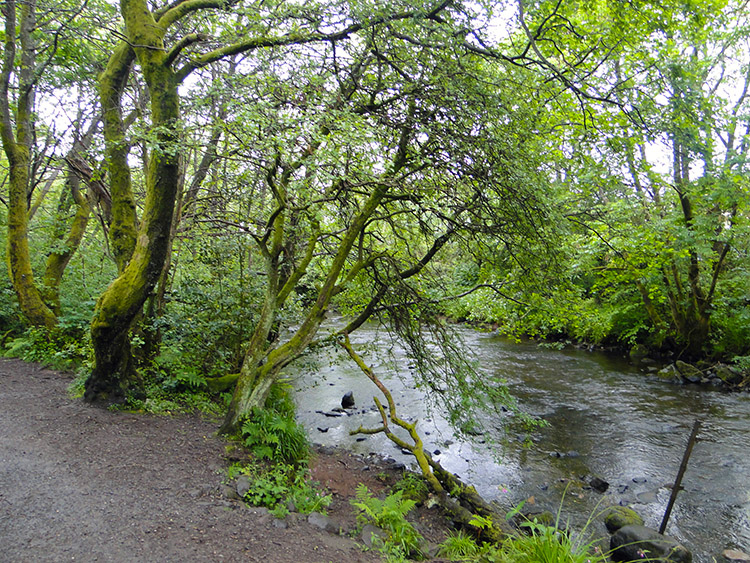 Allander Water near Milngavie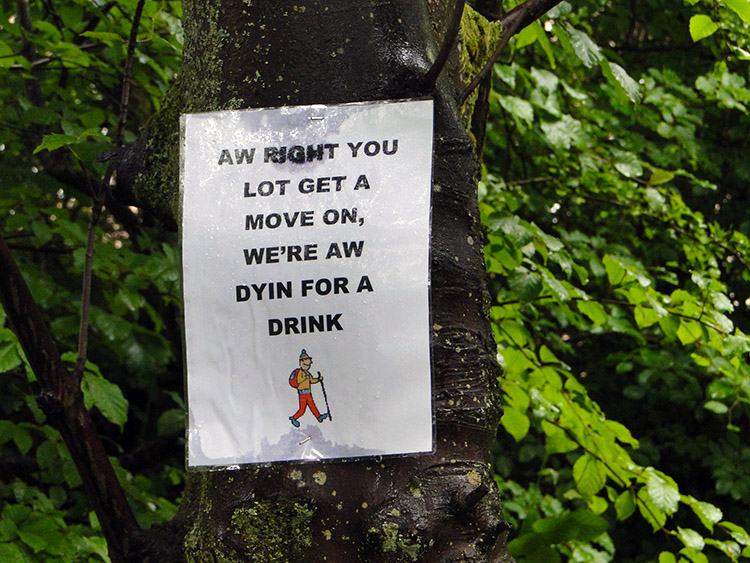 Someone has their priorities mixed up
The last couple of miles on the West Highland Way were good in terms of sense of achievement but I also an ominous sense about what was to come beyond the trail. The first sense was noise; I was now leaving countryside and reaching the fringes of built up areas. After the noise came birds, particularly Gulls and Pigeons. I had not seen Gulls since Fort William and I think it was the first time I had seen Pigeons at all on the walk. After the birds came the people, first leisurely walkers in Allander Park and then shoppers with bags as I passed the northernmost estates of Milngavie. After the people came the litter and with that despair and disappointment. I had been tracking alongside Allander Water and at first it had been pure, clear of debris and litter. As I walked into Milngavie Allander Water showed signs of being a dump, litter became more profuse the further I entered the town with tyres, white goods, paper and general litter strewn in the water. I do not want to paint too bad a picture, there was nothing intimidating in Milngavie, I just saw more and more litter on my final mile of the West Highland Way. Hearteningly I also saw evidence of Scottish wit like the sign in the photograph above.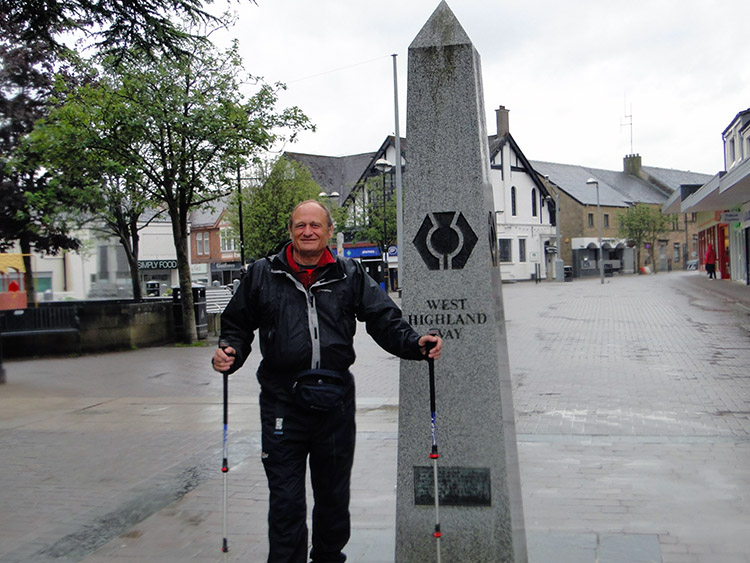 West Highland Way start/finish in Milngavie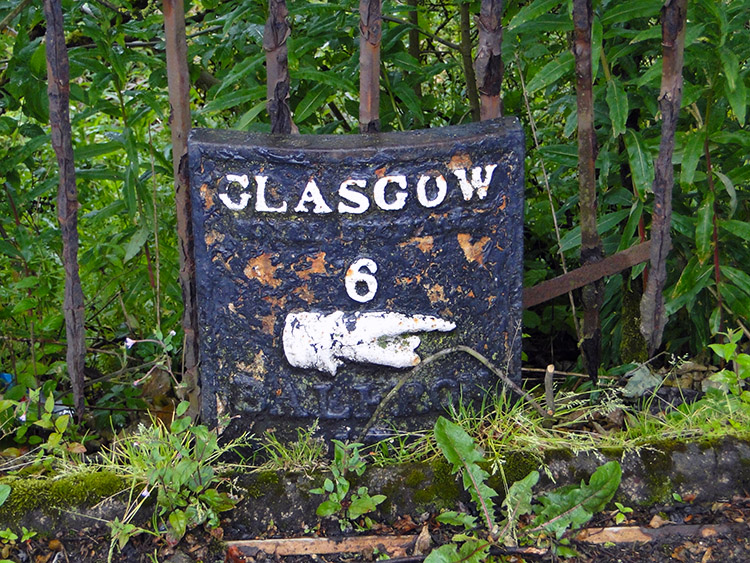 Pointing the way
I came to the end of my journey on the West Highland Way. Fittingly the rain had stopped and thus it allowed my to finish as I had started during those first painful and tentative steps which I took on my walk out of Fort William. I celebrated the conclusion to this part of my long journey by meeting up with Lil and in her company we celebrated with coffee and cake in a local cafe. While taking refreshment I resolved to walk a few more miles along the route we would have to take by car to our hotel in central Glasgow. I checked the map, looked at places of interest and convenience along the route into the city and walked two more miles south alongside the A81 to Hillfoot Railway Station. A sign pointed my way ahead, six miles further to Glasgow City Centre. I stopped for the day and wondered what sights and events tomorrows stage of my Great British walk would bring.
Continue the walk
Great British Walk