The Great British Walk
A personal record of my three month walk of the full length of Great Britain from north to south with written journal and photographs. Tracklogs for GPS units and for use with Google Earth are available for download for each stage.
---
Stage 22: Glencoe Mountain Resort to Auchtertyre
Google Maps
Open Source Maps
| Statistics | |
| --- | --- |
| Start: Glencoe Mountain Resort | Finish: Auchtertyre |
| Distance: 19.5 miles (31.4 km) | Time: 8-10 hours |
| Climbing: 611 metres | Total Distance: 264.7 miles |
| GPX Route File | Google Earth File |
Ordnance Survey Explorer Map (1:25,000)
Summary
A wonderful stage, just short of 20 miles. It was a day full of delights in which I walked in beautiful weather. I guess it would have been entirely different in bad conditions. I was on a roll because my recovery was well under way and I was keen to cover as much distance as possible and catch up some of the miles lost from my schedule. I had been warned about the difficulties which could be encountered on Rannoch Moor yet I found it a benign friend which inspired me to keep going further than I had in a single stage since the stage 16 walk from Cluanie Inn to Invergarry.
(Note: My walk of the West Highland Way was a part of my
Great British Walk
from the north coast of Scotland to the south coast of England)
---
Stage Report
I felt as good as the weather. After spending the last of three nights in Tarbet on the bonny western bank of Loch Lomond Lil and I were moving on to spend the next three nights in Drymen on the south east side of the loch. As per my original schedule I should have now been walking on the east shore of the loch and thus making Lil's driving minimal in getting me to start points and picking me up from finishing points. It was now time for some serious catching up. Fortunately after dismally covering less than 30 miles in the last six days which had put me a good 30 miles behind schedule I was now determined to make inroads into lost ground. It was a case of having to, Lil would support me for seven days more and then she had to return home leaving me to resume acquaintance with my 30 kilo backpack. While travelling light I resolved to make up the miles lost.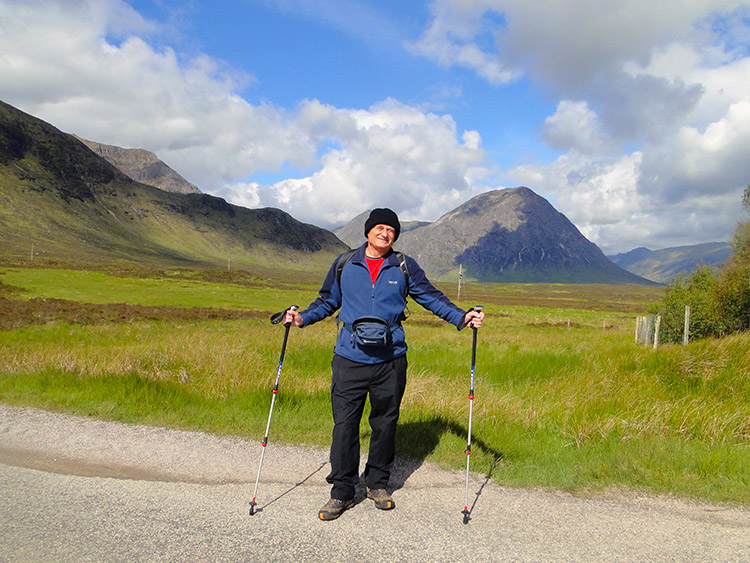 Raring to go at Glencoe Mountain Resort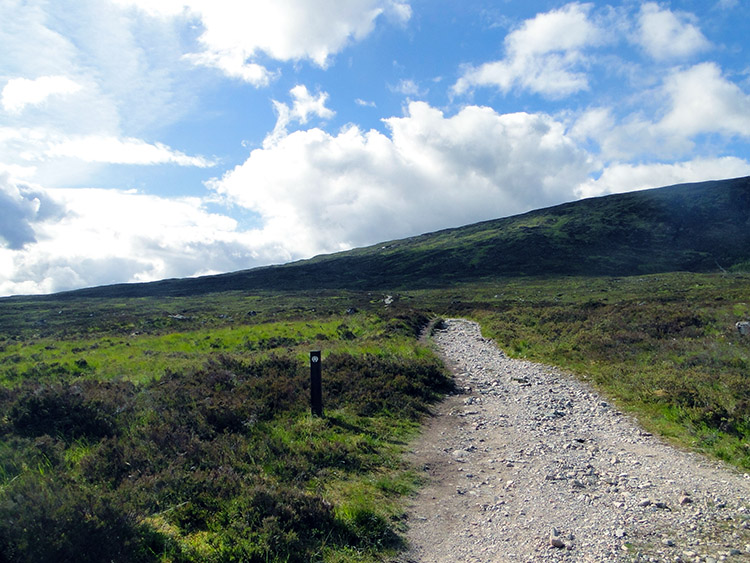 The track leading to Rannoch Moor
Yesterday's crossing of the mountains from Kinlochleven to Glen Coe in cloud and light rain had got me back into the swing of things. I finished the 10 mile walk with my feet in not too bad a condition and today the sun was shining brightly to hearten me further and to help me cross Rannoch Moor. I had been fed with foreboding thoughts about the moor, friends likening it to hells playground, a place of malevolence with voracious midges in summer, featureless terrain and grim weather throughout the year. Surely they were wrong? I appeared to be walking into paradise. As I set off after arranging with Lil where to meet for lunch and with no plan on today's distance, just to 'see how it goes' the sun beamed on me like a spotlight and the backdrop of Buachaille Etive Mor in the sparkling light was such a fillip that I walked off briskly following the track on a slight uphill gradient and not knowing what to expect once I reached the brow of the hill. "What lies beyond".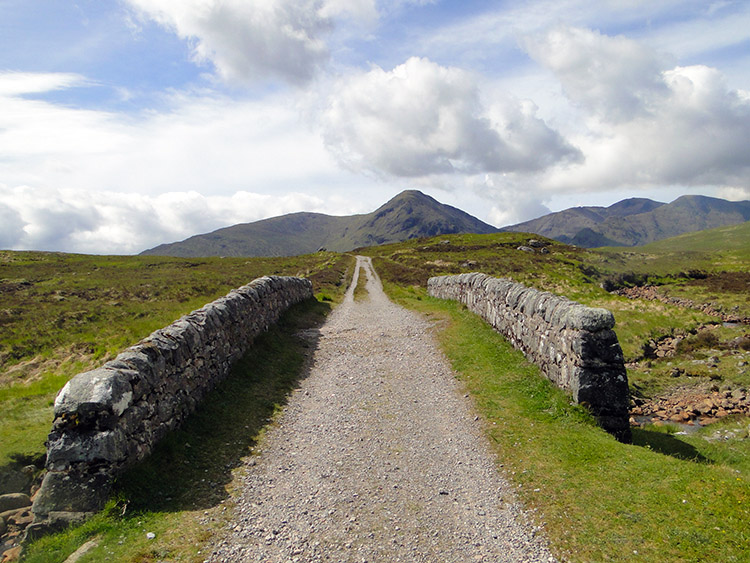 Ba Bridge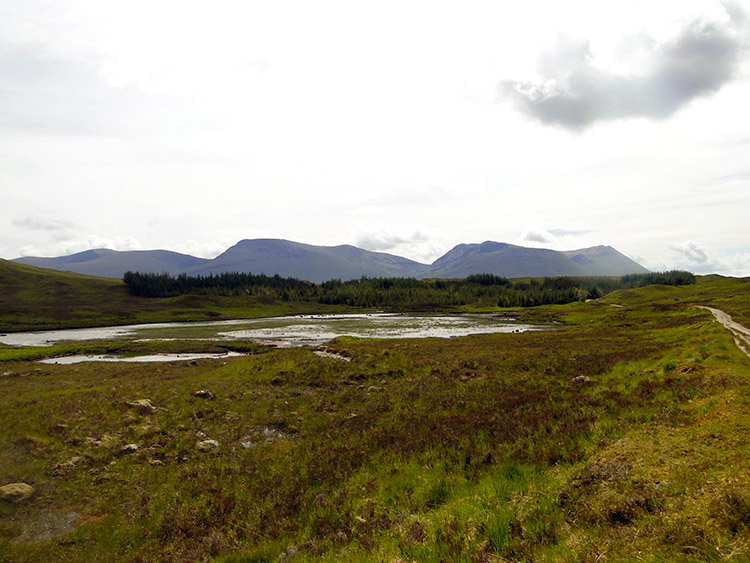 Lochan Mhic Pheadair Ruaidh
One and a half miles of gradual climbing took me to the first hilltop and when I crested it to see what there was on the other side it provoked me to stop and look in awe. "Wow, this is spectacular. How lucky am I" were my immediate thoughts. The beautiful morning graced me with the most sublime widespread views across the entire southern sprawl of Rannoch Moor. Immediately on the edge of the moor and directly ahead of me on the long straight track was Black Mount (Am Monadh Dubh) and Stob a Choire Odhair with many more majestic peaks in the distance. Rannoch Moor itself was jewelled with lochans, the most prominent in my vicinity being Loch Ba, Lochan na Stainge, Loch Buidhe and Lochan na h-Achlaise. The scene was so inspirational I continued on with quite a spring in my steps.

It was a joy walking on the good track following the West Highland Way across Rannoch Moor and looking out to the left, right and straight ahead while I covered the ground at a good walking pace. After about an hours walking I reached Ba Bridge and took a short break for a drink by the bridge on the bank of the River Ba. I had covered 3.4 miles and after the drink I was full of walking, setting off again as briskly as before the stop. The next point of interest was Lochan Mhic Pheadair Ruaidh and near the lochan I stopped to talk with four walkers heading in the opposite direction.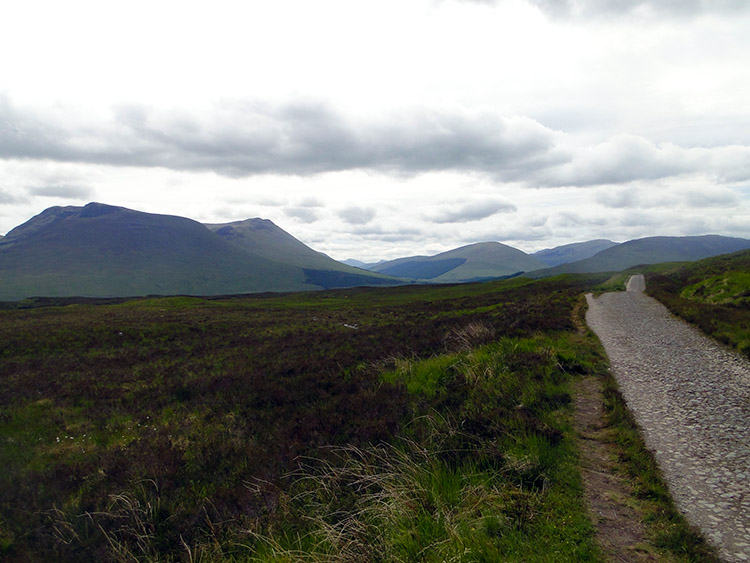 Looking across Rannoch Moor to Beinn Achaladair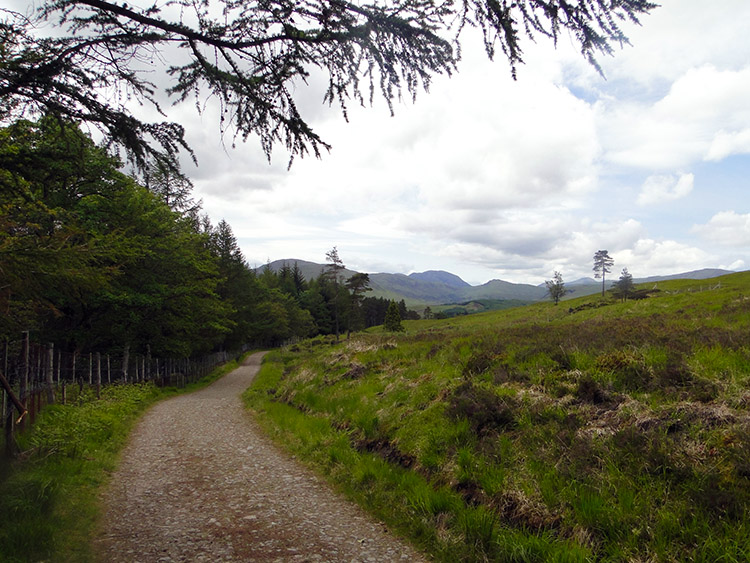 Plantation near Black Mount
Two of the walkers were a mature couple from Australia who told me of their enjoyment walking the Pilgrim's Way in Spain in 2010. The other two walkers were two young girls doing the West Highland Way as their first long distance walk. We all agreed we were so lucky and privileged to be crossing Rannoch Moor on such a brilliant day. After bidding each other well we parted and went our separate ways. Since before Ba Bridge I had been steadily descending from Glen Coe and soon after Lochan Mhic Pheadair Ruaidh I passed a couple of small plantations, the first on my left and the second on my right.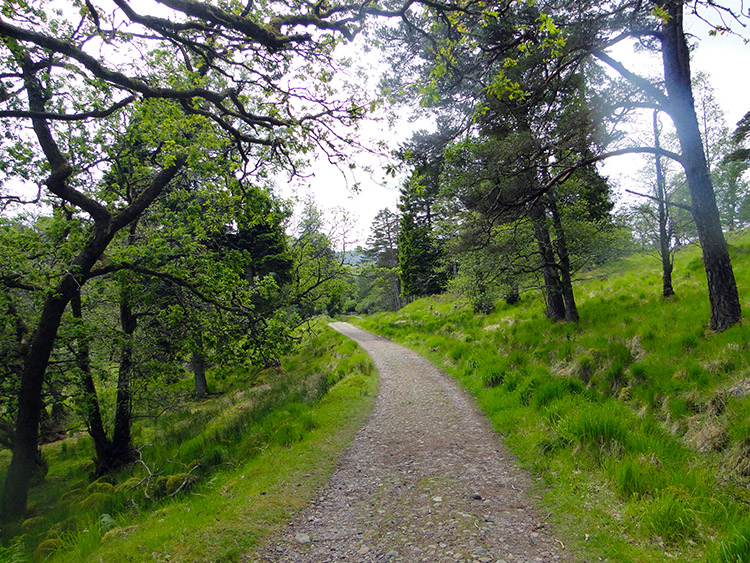 Leaving Rannoch Moor near Victoria Bridge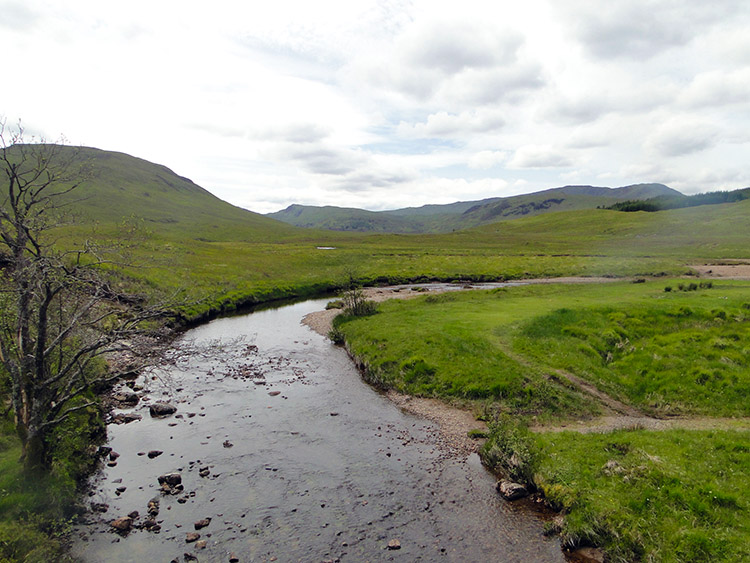 Drochaid Tolaghan
I was practically clear of Rannoch Moor and heading downhill towards Victoria Bridge. I came to another plantation, this one at Drochaid Easain Duibh and while walking through I was passed by two cyclists. I watched them continue down towards Victoria Bridge until they were out of sight. I walked on through the plantation past Forest Lodge and then when leaving the plantation I spotted the two cyclists sat on Victoria Bridge. I approached them and we began a conversation. The couple were Tom and Gail Mills from Dundee, a lovely couple who were enjoying a few days in the highlands. As we talked we were abruptly interrupted by a low flying jet screeching at low height on a north to south course from Glen Coe towards Loch Lomond. Going in relatively the same direction as the jet plane I could not keep up so on bidding Tom and Gail farewell I ambled off following its vapour trail. Soon after Victoria Bridge and by following a road I came another bridge, this one at Drochaid Tolaghan.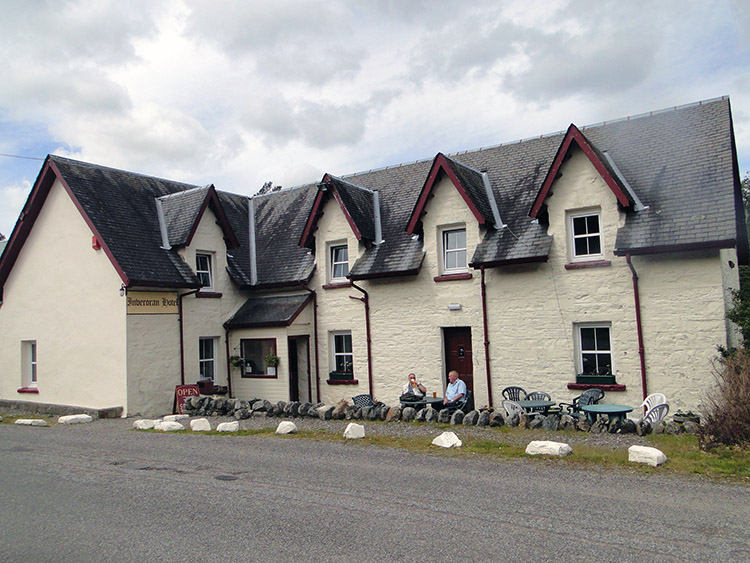 Inveroran Hotel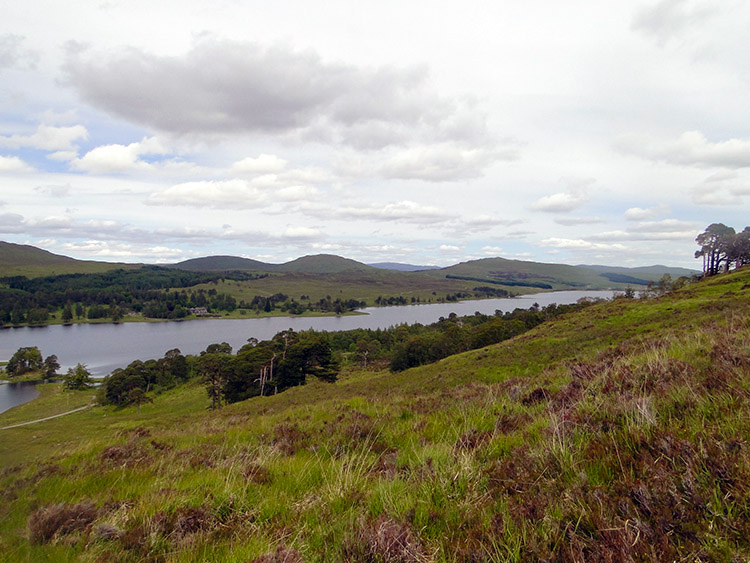 Loch Tulla
After the bridge I soon reached Inveroran Hotel. The hotel was a stopping point on one of my original stages but with me now being three days behind schedule it was no longer a stage end point. And as I had now covered just eight and a half miles on a glorious summers day I walked on without reservation or any thought of stopping. It was getting towards midday and though clouds had filled in the blue sky they were high. It was warm and muggy so with aid of a towel to wipe my brow I began the climb from the Inveroran Hotel to Mam Carraigh. The climb was a telling 150 metres of height in less than a mile but I found it easy. As I gained height I gained great views of the surrounding countryside with Loch Tulla to the north east of Mam Carraigh providing a lovely sight.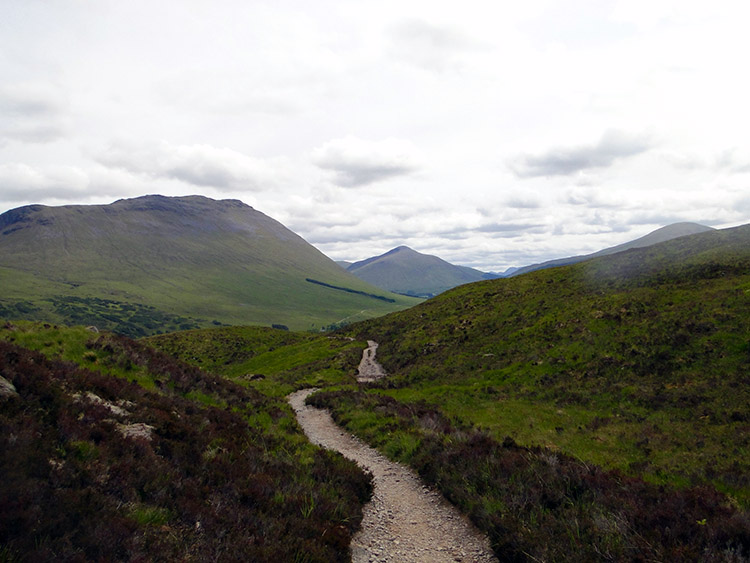 Beinn Dorain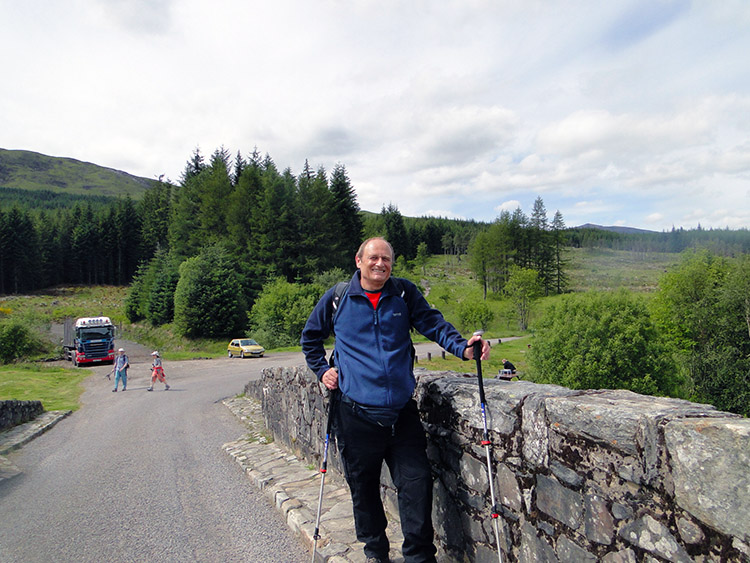 Still fit to carry on at Bridge of Orchy
On cresting Mam Carraigh I started descending, gently at first then more steeply towards Bridge of Orchy. The first gentle descent had been exposed with a light breeze providing welcome relief. However, the lower and steeper part of the descent was through plantation, heavy in parts and with a closeness that encouraged flies to bother me. I swiped at them vigorously as they attempted to land on my face. Some succeeded but only for a fleeting moment as their irritation was too much to bear for any more than a nano second! I scampered through the forest to Bridge of Orchy as quickly as I could to escape the insects. Once out I had double relief; first to be free of the flies and second to see Lil waiting by the bridge. It was time for lunch. We had tea and sandwiches in the palatial splendour of the Bridge of Orchy Hotel and while doing so I looked at the map. Having done 11 miles, more than any single distance for six days I felt my legs could still give a good deal more. There and then, while taking lunch at Bridge of Orchy I resolved to reach Tyndrum, a further seven miles on.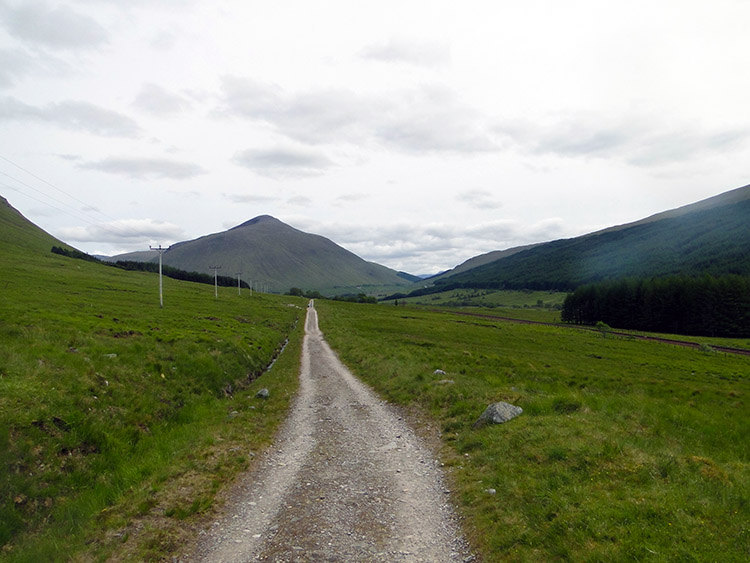 Straight ahead towards Beinn Dorain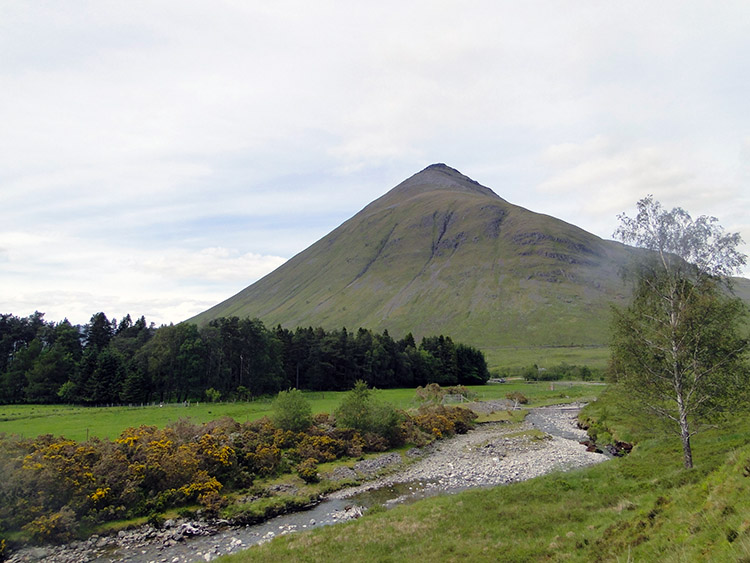 Looking back to Beinn Dorain
Bidding Lil farewell for another few hours and after arranging to meet in Tyndrum at the Green Welly Stop I walked off from Bridge of Orchy in a course south with the magnificent peaked profile of Beinn Dorain providing a magnetic draw. I was constantly drawn to look at the immensely beautiful mountain, always admiring its graceful, steep grassy pyramid. Beinn Dorain is one of those mountains like Quinag, Suilven, Stac Pollaidh and Buachaille Etive Mor which will stay in my memories long after other thoughts of this immense walk have been forgotten. It is lots of things in my mind including beautiful, powerful, mighty, sublime, thought provoking and stunning. I looked it over as I approached, as I passed by and kept looking back when leaving it behind. Wow.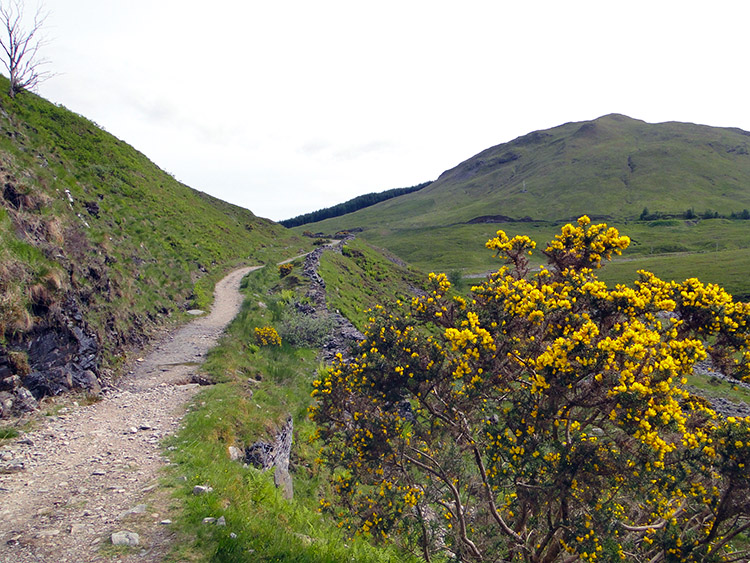 On the track towards Tyndrum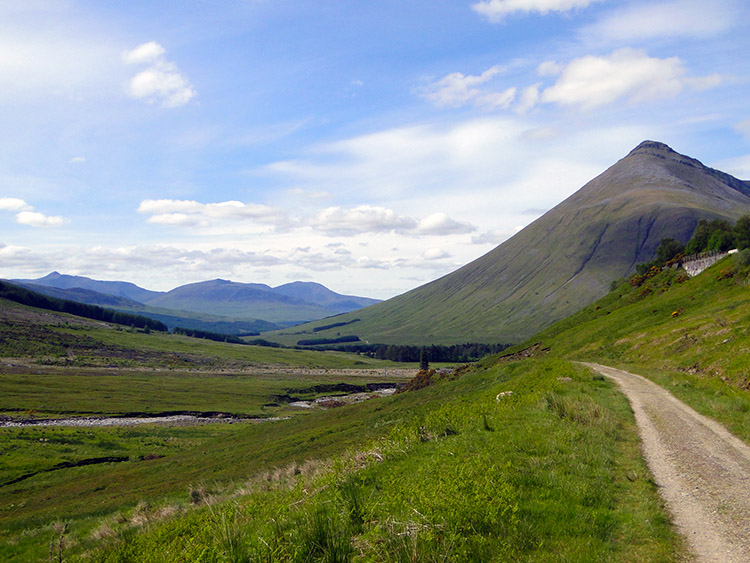 A final look back to the mountains
Beinn Dorain made miles eleven to sixteen walked on this stage an effortless experience including a 150 metre climb on the mountains lower west facing slopes to Sron Gharbh which I simply did not notice. From Sron Gharbh where Allt Slochd an t-Seipine flowed close by I followed the track which rose slightly from the river and narrowed towards Crom Allt. As I progressed south I noticed the sound of traffic travelling along the A82 north of Tyndrum. Soon I was beside the road and a railway line, the track running close and parallel to the other two transport routes through a narrow pass.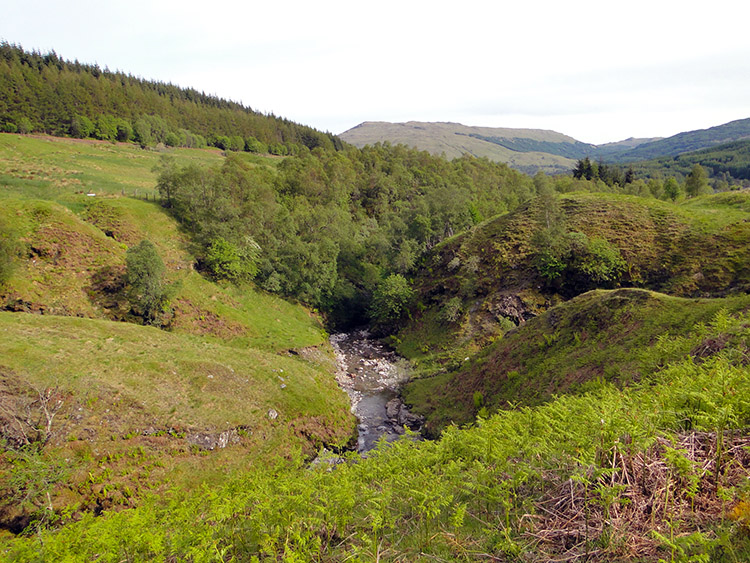 Crom Allt, north of Tyndrum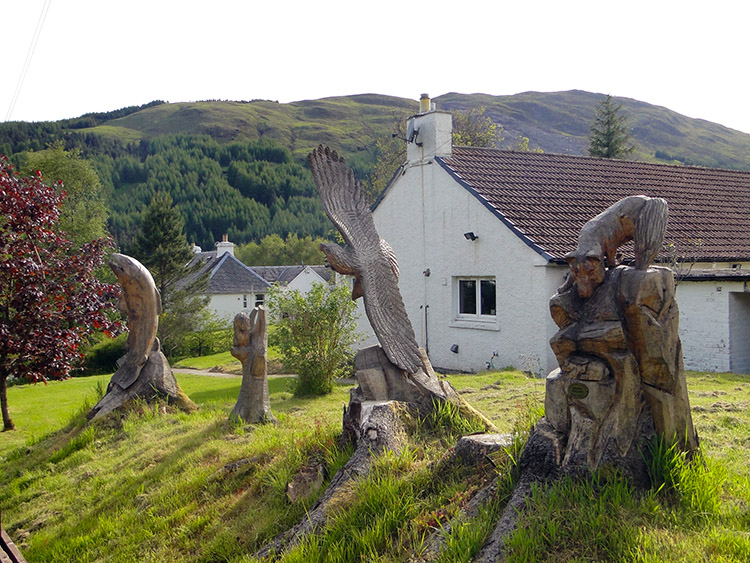 Wood sculptures in Tyndrum
From Crom Allt I walked down a track to Tyndrum and passed a white bungalow on the north of the village which had the most splendid wood carved sculptures in the garden. They were proudly on show to all passers by. Continuing down the track I reached the centre of Tyndrum and having done 17.5 miles I met up with Lil at the Green Welly Stop. Taking a break in the lovely conditions with an ice cream each we chatted. I determined to do a little more. Looking at the map I saw the West Highland way crossed the A82 at Auchtertyre. So I went on and walked a few miles further to Auchtertyre. My feet were now feeling tired and so I decided enough was enough. I had accomplished almost twice as much distance as I had yesterday and almost three times as much distance as the day before. I had also caught up nearly a full day on my deficit. I was now just over two days behind schedule. I felt good, today had been another remarkable days walking.
Continue the walk
Great British Walk