The Great British Walk
A personal record of my three month walk of the full length of Great Britain from north to south with written journal and photographs. Tracklogs for GPS units and for use with Google Earth are available for download for each stage.
---
Stage 70: Morchard Bishop to South Zeal
Google Maps
Open Source Maps
| Statistics | |
| --- | --- |
| Start: Morchard Bishop | Finish: South Zeal |
| Distance: 17.1 miles (27.5 km) | Time: 7-8 hours |
| Climbing: 590 metres | Total Distance: 974.5 miles |
| GPX Route File | Google Earth File |
Ordnance Survey Explorer Map (1:25,000)
Summary
Stage 70 of my Great British Walk led me from the heart of Devon to South Zeal on the northern edge of Dartmoor. It was another cloudy day in the county but at least this time it stayed dry. And it was another day of ups and downs. Nothing was flat about the Devon I was walking through. From Morchard Bishop Steve and I followed paths and some trails which included the Two Moors Way, Devonshire Heartland Way and Tarka Trail across typically lush Devon countryside. On route we walked through a few lovely villages too which included Down St Mary, North Tawton and South Tawton. It was a good day out in Devon.
(Note: My walk of Devon and Cornwall is a part of my
Great British Walk
from the north coast of Scotland to the south coast of England)
---
Stage Report
After a good nights sleep and the perfect cooked breakfast the resourceful Doris Snell sent us off on our way with a wave and a smile. It had been a privilege to be her guest for the night. We walked from the rear of her house to the Polson Hill road where Bob Davies was waiting who had arranged for us to meet the eccentric Webber brothers. The village forge was on our route out and we went there to meet over eighty years old Harold and Mervyn Webber who were still working the forge in the same manner as their parents and their grandparents.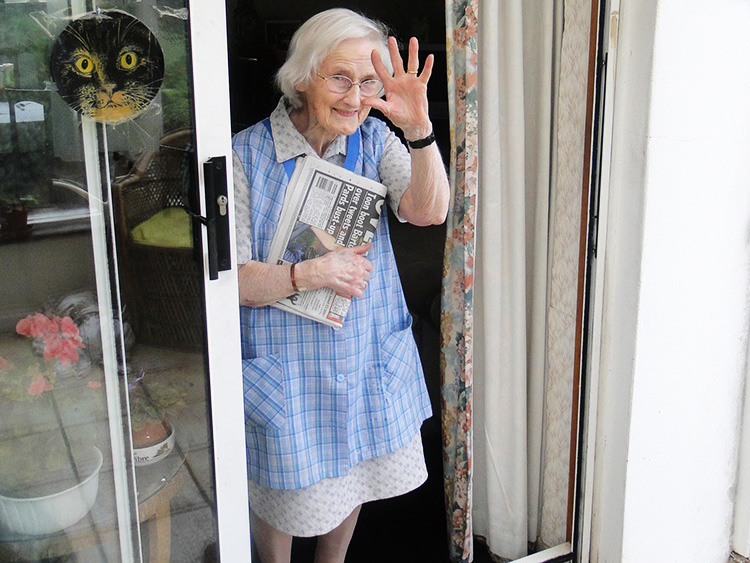 Wonderful Doris Snell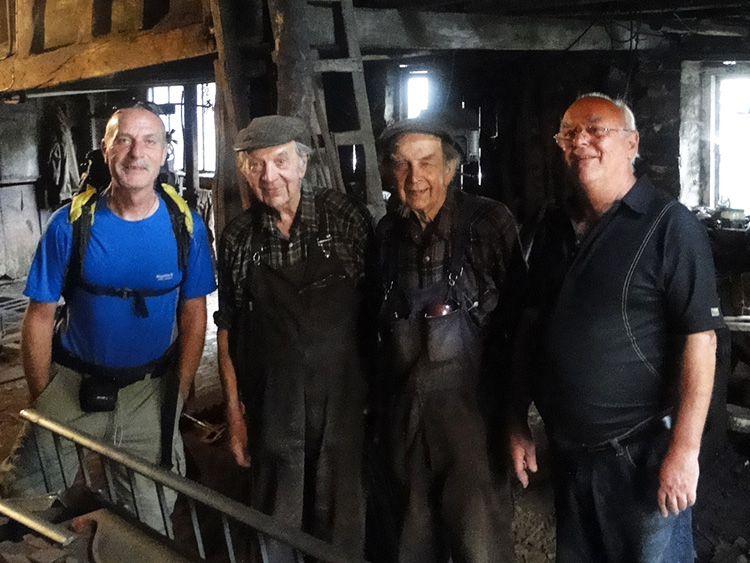 Steve, Harold and Mervyn Webber, Bob Davies
The forge had been in the Webber family for over 200 years. The two brothers who worked in the forge still worked a 5.5 day week, starting promptly at 8.00am with cooked breakfast at 9.30am, cooked lunch at 1.30pm and evening meal at 6.30pm, all courtesy of the third brother Horace. All three were bachelors. The outside of the forge had piles of ironwork everywhere we looked and it was all arranged in groups and stacked neatly. Inside the forge was in a time warp, much as I remembered by grandfathers workshops on his smallholding in the early 1960's. There were acetylene burners but there were forge bellows too. They still used the old with the new. The brothers were so courteous and showed us around. They were proud of their work. It was a bonus to the walk by visiting them.

After we had left the Webber brothers Bob said his goodbye. A passing remark of his was "It does make you wonder what is in the water in these parts with all these octogenarians working and surviving as fit as can be". He was right. The Webber brothers, landlady Doris Snell and barmaid Vera Gillbard were all well into their eighties. And all were such pleasant people. I shall remember my visit to Morchard Bishop with very special thoughts.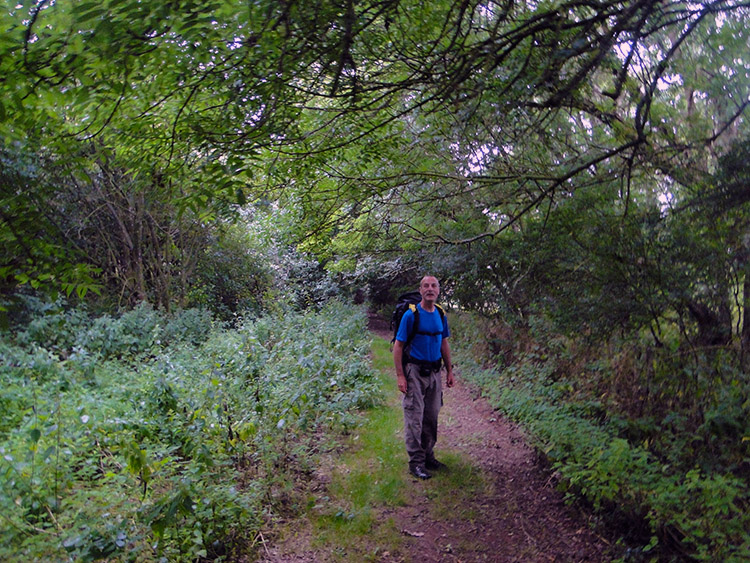 On the Two Moors Way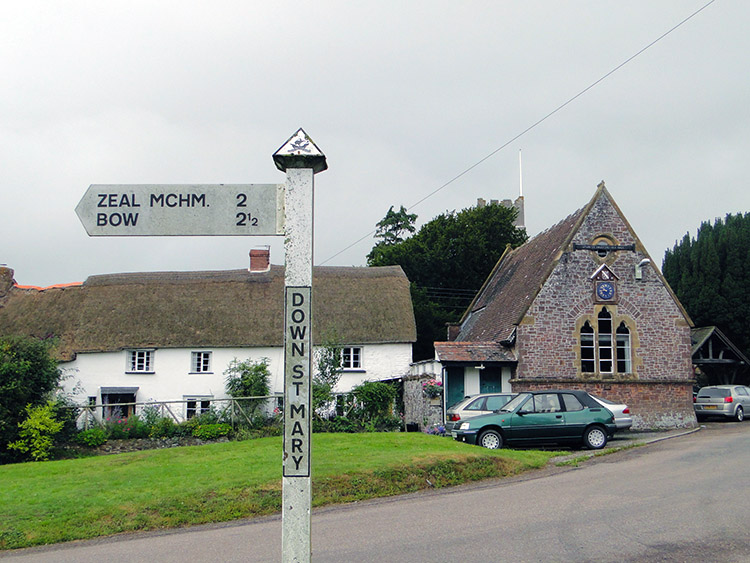 Down St Mary
Initially we followed the Two Moors Way by way of a narrow lane from Morchard Bishop, the lane hemmed in by two eight foot high hedges and the path being invaded by stinging nettles. Our legs itched quite a bit by the time we got through the narrow section, cross a field and follow a wider stretch of hedged in lane which at least kept the stingers away from us. After a couple of miles alternating walking along lanes and walking alongside or across fields we reached Shobrooke Bridge where we crossed over the Tarka Railway Line. Soon after crossing the railway we climbed over a stile with nine steps, more like a ladder really, to cross the A377 road. We picked our moment using both the Tufty Code and Green Cross Code we had learned as children to cross the busy road safely and soon later we followed a minor road into the village of Down St Mary. There was a bench beside the village green in the centre of the small village so we took ten minutes out to sit, relax and take in the peace of the early Tuesday morning.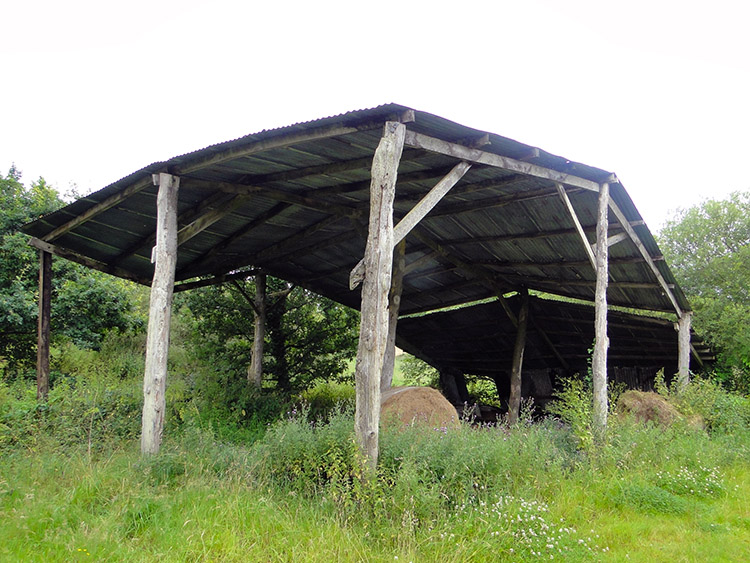 Still standing at the Old Mill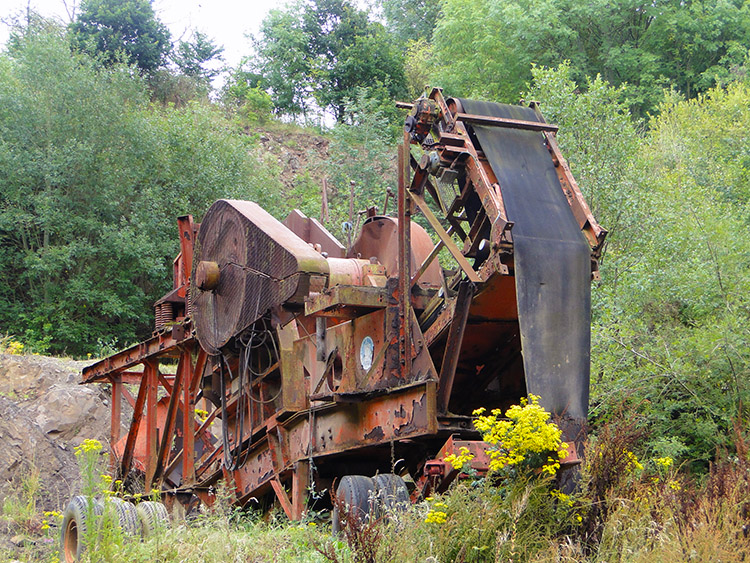 Redundant machinery at Tuckingmill
We had left the Two Moors Way as we had approached Down St Mary. It had continued south while we had continued west. Soon after Down St Mary we met another Devon long distance path, this one being the Devonshire Heartland Way, a 43 mile route in the county. Steve and I would follow it for around seven of those miles until we reached North Tawton. The first part of our Devonshire Heartland Way walk was by road to the Old Mill and then by path along the River Yeo valley to Tuckingmill. At the Old Mill I noticed an open sided barn with a wooden roof which at first glance appeared to be defying collapse. A more circumspect look showed me it was in fact sturdily supported by thick tree trunks and possibly naturally warped rather than structurally unsound. At Tuckingmill there were some large farm machines in the corner of an unmanaged field. They were not going anywhere.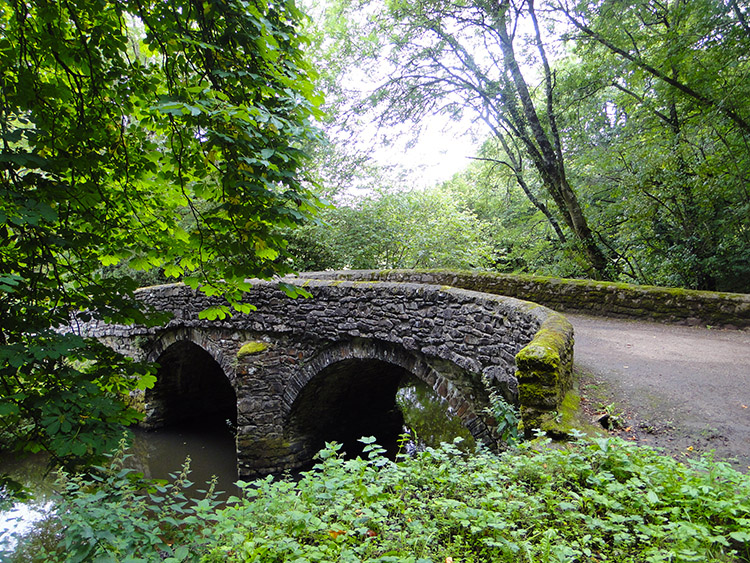 Tuckingmill Bridge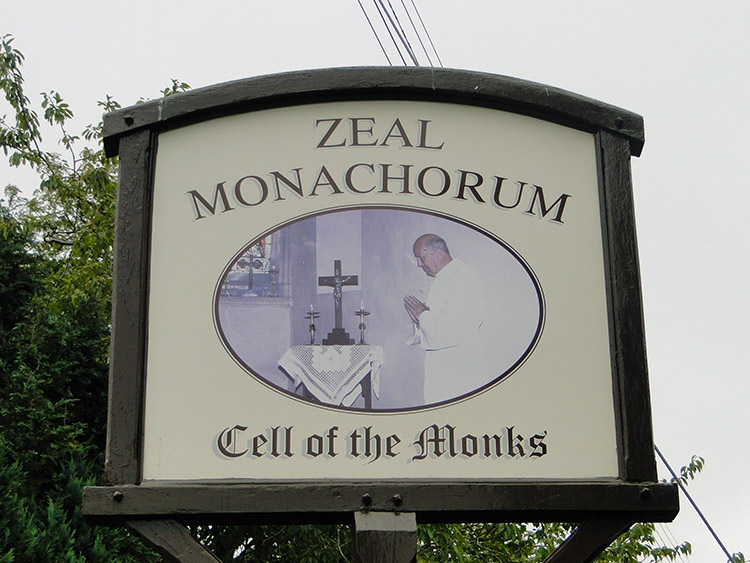 Zeal Monachorum
Apart from the unsightly farm machinery it was lovely down in the valley of the River Yeo. Tuckingmill Bridge was a stunning picture, a cobbled and brick double arched bridge which had clearly been built by a craftsman or craftsmen who knew how to do a fine job. It was an immaculate build. Crossing Tuckingmill Bridge led us along a road and up to the village of Zeal Monachorum, translated in Latin as the Cell of the Monks. The village dates back to Saxon times, well before the Norman Conquest.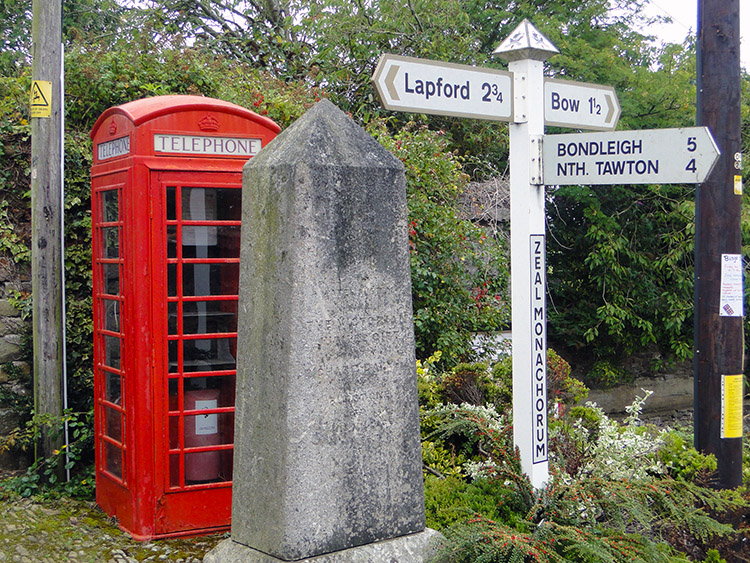 Call box, memorial and signpost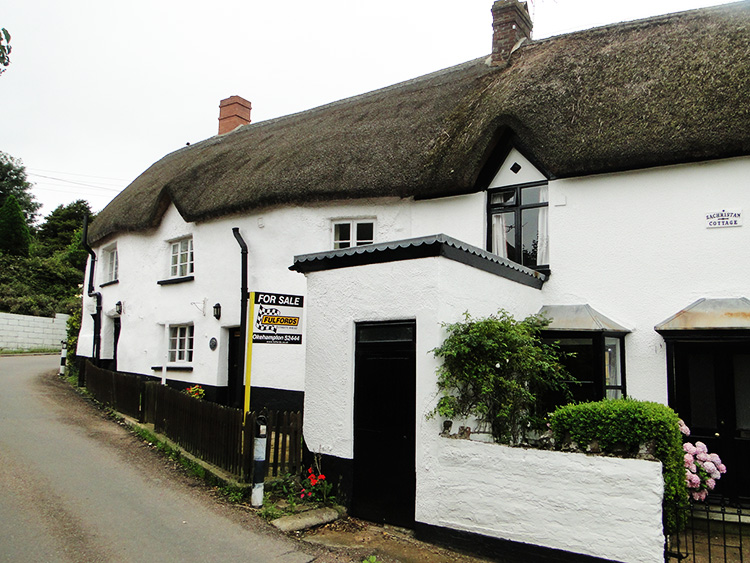 Beautiful cottages of Zeal Monachorum
Zeal Monachorum was spotless, the only unsightliness being For Sale signs on cottages which I would certainly bid for should I wish to live in the area. Most of the cottages were freshly washed in brilliant white and the thatched roofs complemented them perfectly. The cottages had names such as Sachristan Cottage and Monks Cottage. Perhaps the names were a bit too pious for my taste but I could not fault the beauty. The village even seemed to keep the essential necessities and services of village life neatly packed together. The public call box, memorial and sign post all embraced each other on a postage stamp piece of land.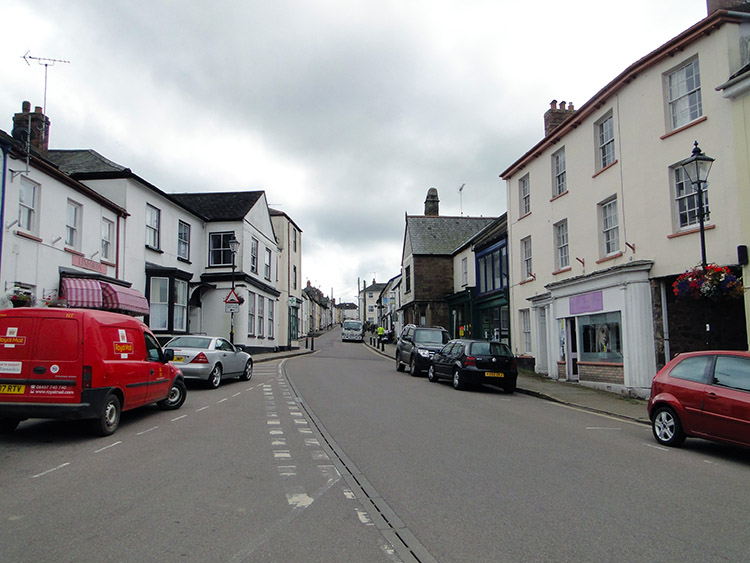 North Tawton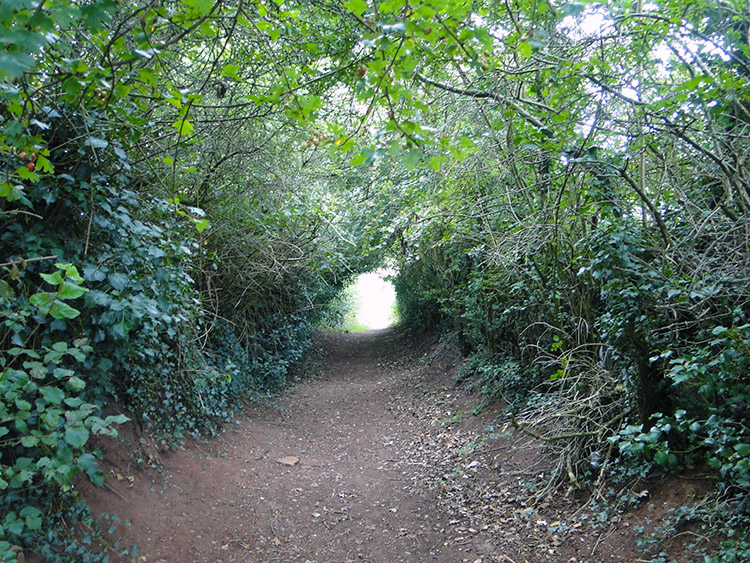 On the Tarka Trail
From Zeal Monachorum we continued westwards on the lanes, bridleways and roads of mid Devon towards the small Devon town of North Tawton, all by continuing to follow the Devonshire Heartland Way. A sign told us North Tawton was four miles distant by road and it was about the same by going our way. We had the better of it though, less demanding on the feet by walking on forgiving ground though managing the feet was not a problem now. we arrived in North Tawton at 12.10pm. The church clock told us so. With it being lunchtime we found a shop and bought some light provisions. Having packed nothing in Morchard Bishop we found a shop in the town centre and treated ourselves to sandwiches, a bar of chocolate each and soft drinks which was not usually practice. With stores in hand we walked from the town centre to the park which was conveniently on our route out of town. We tucked in while children exercised in the nearby play area. I left my crust on the sandwich, it was too much. The chocolate would wait until later.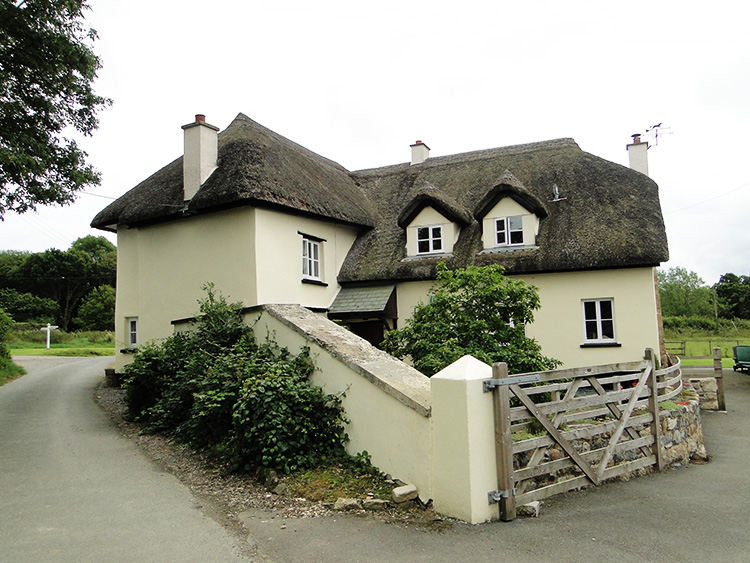 Lovely house at Taw Green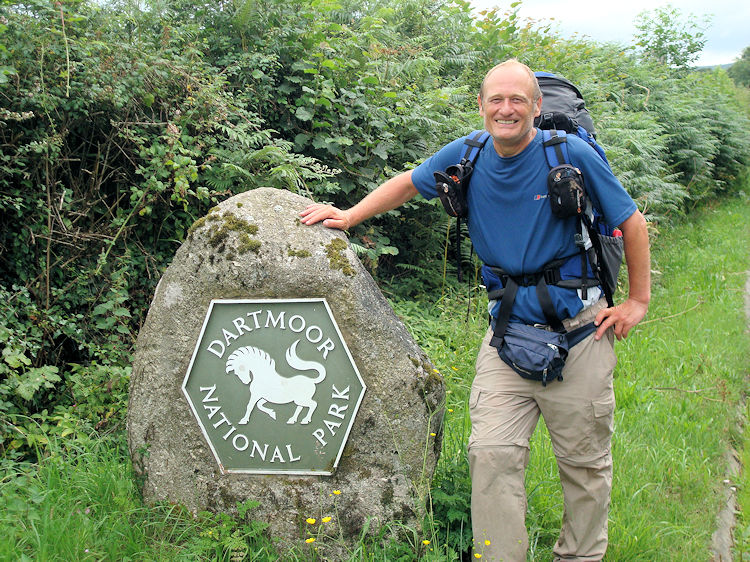 Arrival in Dartmoor
From North Tawton we took a change of direction. We had been walking west since Morchard Bishop but it was south all the way now to Dartmoor. First came the walk on the edge of a long field to Newland Mill, a historic mill which was disused as we passed and destined for conversion to private dwellings. Sympathetically no doubt as it was listed for its special architectural or historic interest. It looked like an ordinary mill to me. Next we followed road to Iron Bridge Cross and here we met the Tarka Trail which by crossing Greenslade Bridge led us from the busy road to a very quiet and dead straight minor road leading south and directly towards Dartmoor which we could now see looming large ahead of us. I thought "I will be climbing up there tomorrow". It looked high, a stiff climb was no doubt waiting. We continued walking along the traffic free lane to Taw Green and to cross over the A30. Immediate on the far side of the road bridge we arrived at the Dartmoor National Park.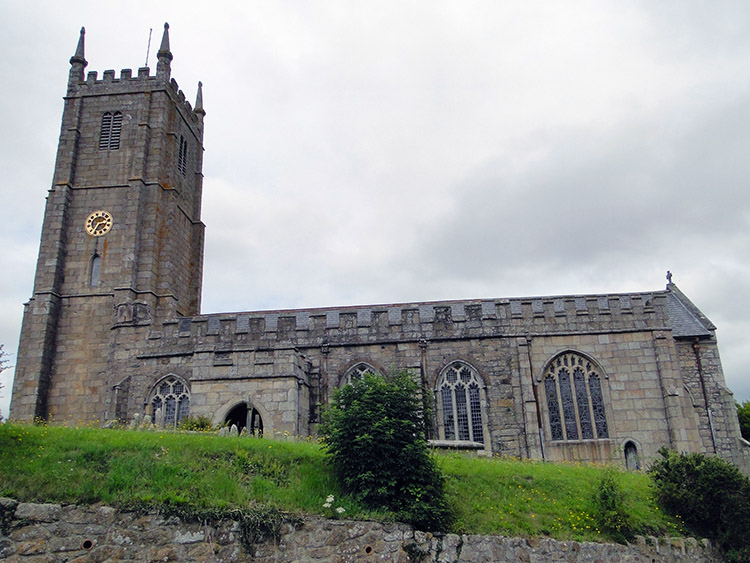 South Tawton Church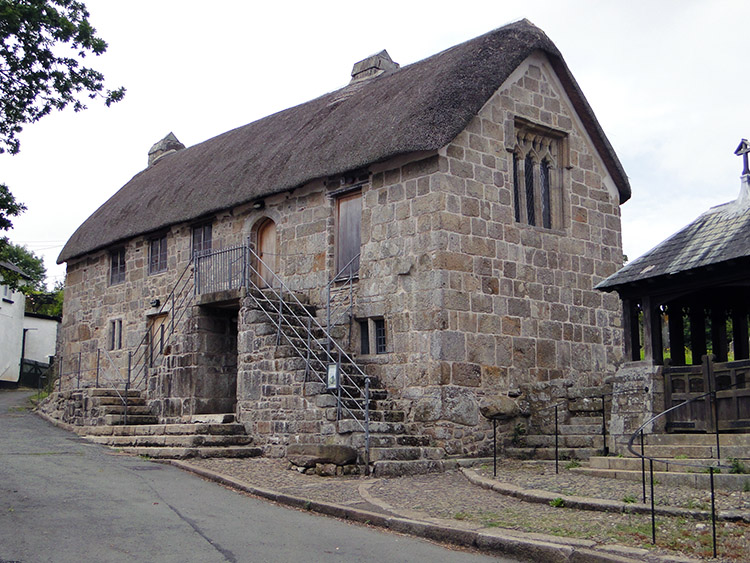 The Church House, South Tawton
I looked forward to the crossing of Dartmoor tomorrow. For now we had the small business of finishing today's stage in South Zeal. In between was the small and tidy village of South Tawton which had a pretty church and a much prettier church house to enjoy feasting the eyes on. The Church House was of granite construction and thatched roof was built in the 15th century. At the Seven Stars Pub a few people were enjoying an afternoon drink. We could have easily joined them but we had a walk to finish and our accommodation to find. we nominally finished the stage halfway along the main street of South Zeal where we could pick up in the morning. Now here is another story.

Steve had booked our home for the night at a house close to the village of Throwleigh. What he had not told me was that it was a two mile walk from South Zeal, all the way uphill to get there. I was not pleased but having failed to find a taxi and as I always do, I followed him up the hill. I grumbled while he kept on walking and I was not a happy bunny when we arrived at our accommodation. But my mood soon changed, the accommodation was fantastic. It was a big house in private grounds with a super garden on the edge of Dartmoor with a stream running through the garden. Indoors was a large library room available which was full of walking and outdoors orientated books. Our twin room was spectacular too. Add in the fact that our host was happy to drive us into South Zeal in the evening and pick us up on 20 minutes notice which came as part of the good deal Steve had struck then all was good. We had to go into South Zeal as we were meeting up with John Lister and his wife in one of the pubs. John had walked with Steve and me in the Lake District and during a Yorkshire Dales stage too and was to walk with us across Dartmoor. That was the plan anyway. Let us see what happens in the morning. Dartmoor calls.
Continue the walk
Great British Walk