The Great British Walk
A personal record of my three month walk of the full length of Great Britain from north to south with written journal and photographs. Tracklogs for GPS units and for use with Google Earth are available for download for each stage.
---
Stage 77: Gweek to Lizard Point
Google Maps
Open Source Maps
| Statistics | |
| --- | --- |
| Start: Gweek | Finish: Lizard Point |
| Distance: 14.5 miles (23.3 km) | Time: 6-7 hours |
| Climbing: 908 metres | Total Distance: 1,086.3 miles |
| GPX Route File | Google Earth File |
Ordnance Survey Explorer Map (1:25,000)
Summary
'All good things must come to an end' is a proverb which dates back to about 1374 and sadly it is true. This 77th stage of my Great British Walk brought the curtain down on the greatest walk in my life. It is the most notable achievement in my walking career, the 1,086 mile route my personal tribute to walking in Great Britain. I was delighted to have good friends with me to share this final stage of my long walk including my best walking pals Dave and Steve and especially my wife Lil who made the effort to travel over 400 miles to meet with me and walk the final few miles along the south coast. The walk took me from the village of Gweek at the head of navigation of the Helford River in a southwest direction to reach the coast at Poldhu Cove. The finale followed, an eight mile coastal walk to Great Britain's southern extreme at Lizard Point.
(Note: My walk of Devon and Cornwall is a part of my
Great British Walk
from the north coast of Scotland to the south coast of England)
---
Stage Report
The final morning of my long walk had arrived. A little over 1,070 miles done and just under 15 miles to go. I could not believe the weather which greeted me as I walked out of the door from my accommodation in Gweek. It was blazing sunshine. I could not believe the weather forecast either which told me it would stay this way. Pigs might fly. Dave, CJ, Callum and Matt had arrived in the village to meet with Steve and me for this celebration walk. I coerced a gentleman from the village to take a group photograph before he collected his morning newspaper. Picture taken, we were off.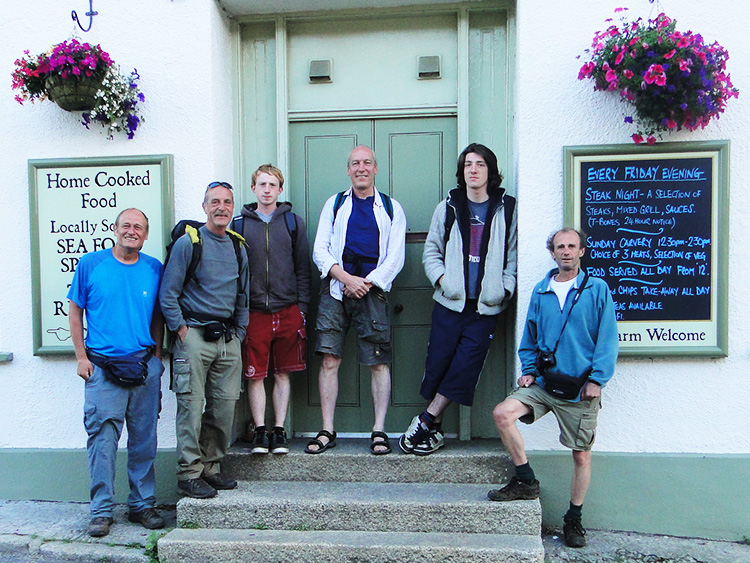 Me, Steve ,Matt, CJ, Callum and Dave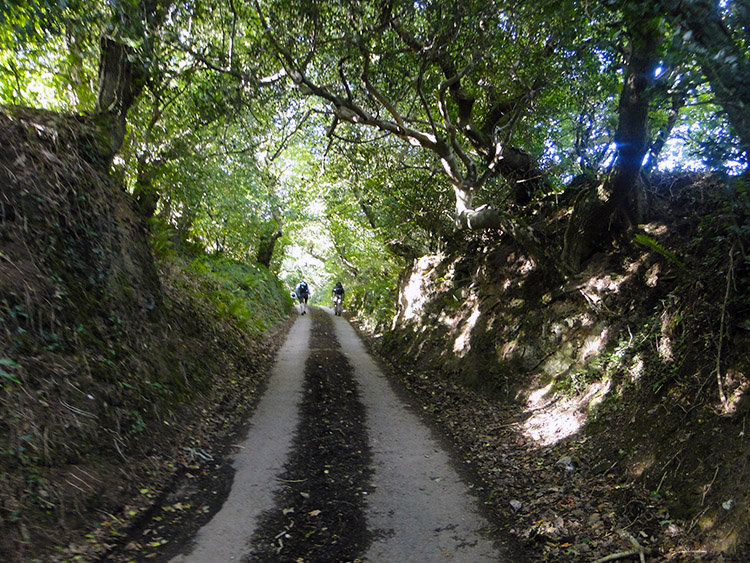 Holloway road through Treverry Wood
We walked through the village and past Gweek Quay at the head of navigation of the Helford River at a full 1.0 metre above sea level. From the river we began the first climb of many short climbs through the day, an inevitable feature of coastal walking which was coming in the second half of the walk. This first climb was of an inland one of 66 metres in just a half mile before we lost most of the height gained by descending to Little Australia Farm at Ponson Tuel. Then we climbed again through Treverry Wood on Holloway road to Rosevear.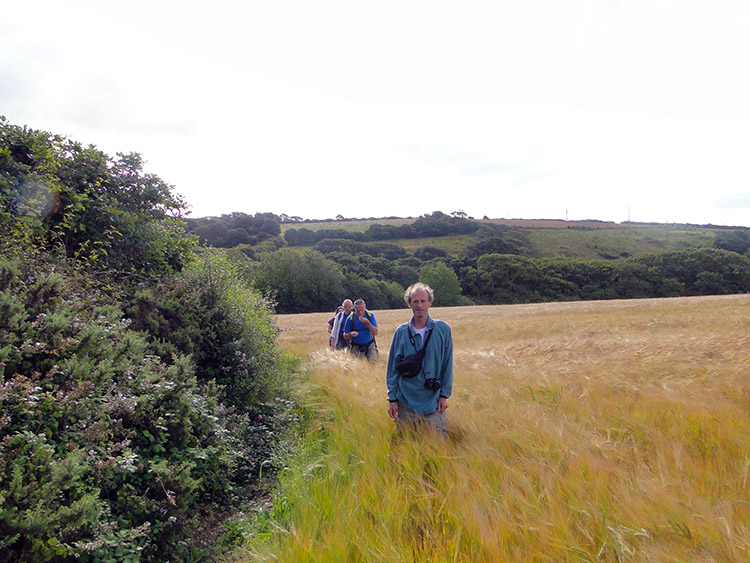 The field with the hidden path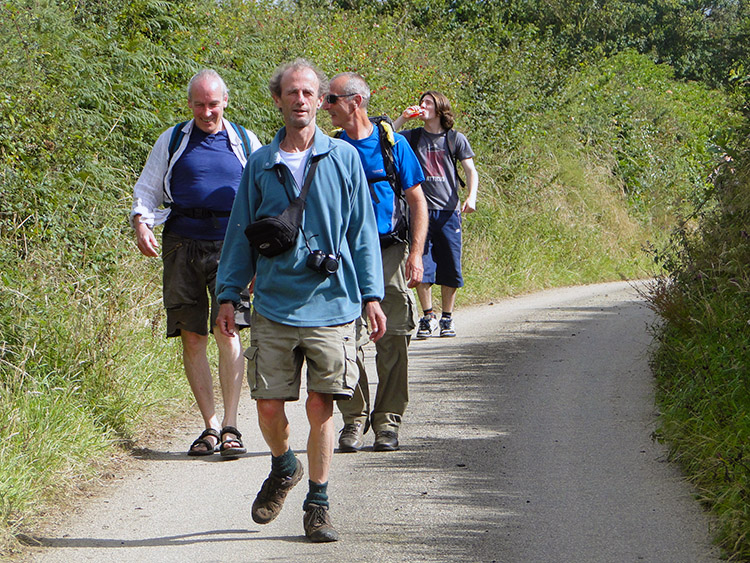 Road to the sea
From Rosevear we crossed the B3293 to follow a path marked as permissive on Ordnance Survey mapping. It was marked as a dashed green line on the map which denoted it should be visible and maintained. We could not find it at all, instead looking across a field of golden Barley to Tregoose where the path showed on the map. Our goose was cooked so we edged around the field as best we could for a while before when halfway around we got narked and walked straight across the rest of it. Not one of us felt guilty as the farmer should have maintained the path across between the cereal crop. And we did keep a straight line to minimise treading the cereal down. I easily found the stile at the far side of the field. Where it should be. Naughty farmer. The next few miles was uneventful walking along road to the coast. We were hemmed in by high hedges so just kept the line of walking. We passed the village of Cury with its pretty church and continued down the road towards Poldhu Cove.
Poldhu Cove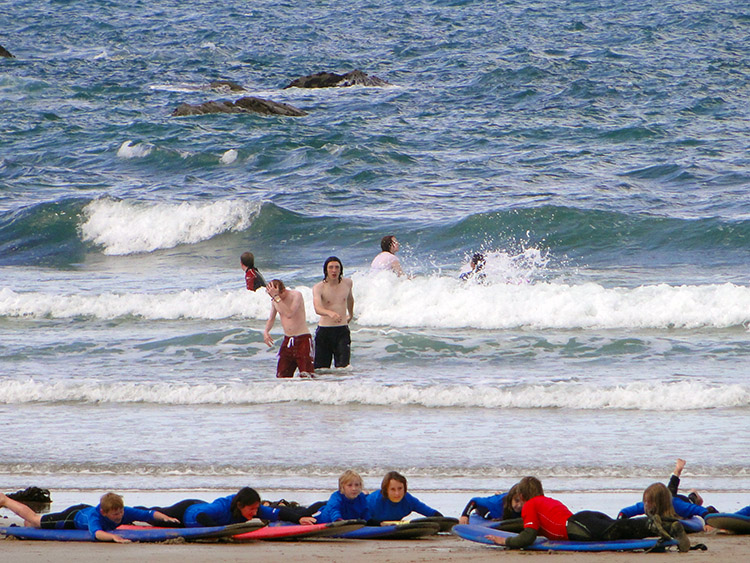 Callum and Matt test the water
Around a corner we went and walked along the road by the side of Mullion Golf Course. I was leading and saw it first. The south coast was in sight and in the centre of the real life picture frame an inviting beach which was already occupied by quite a few people. It was spot on 11.00am. I led the line off the access road and down to the sand with Dave, CJ, Steve behind me and the young two bringing up the rear. That order changed immediately as Callum and Matt ran past the older generation. They ran across the sandy beach of Poldhu Cove and threw off their footwear. Then came off their tops. Without pausing they then rushed into the sea. The boys spent five minutes in the water and then 20 more minutes recovering. We older and wiser four sat on a bench on the south side of the cove enjoying the view and the stirrings of the beach people while patiently waiting for Callum and Matt to dress and rejoin the walking party.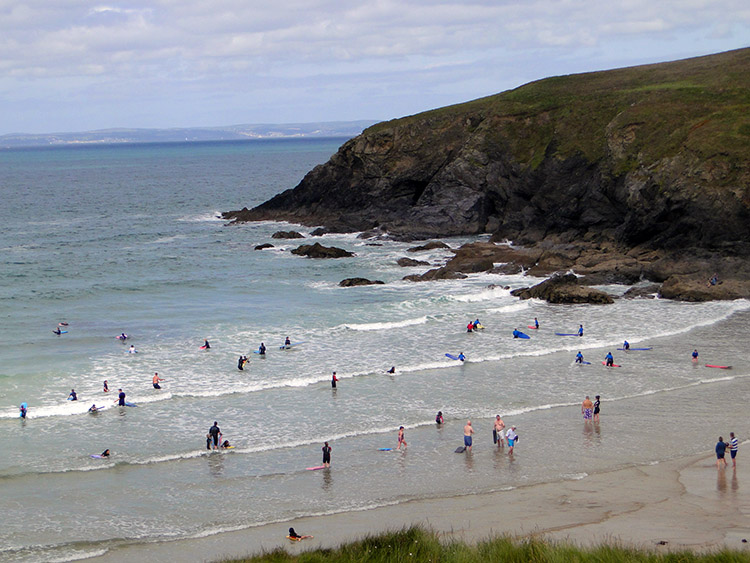 Having fun at Poldhu Cove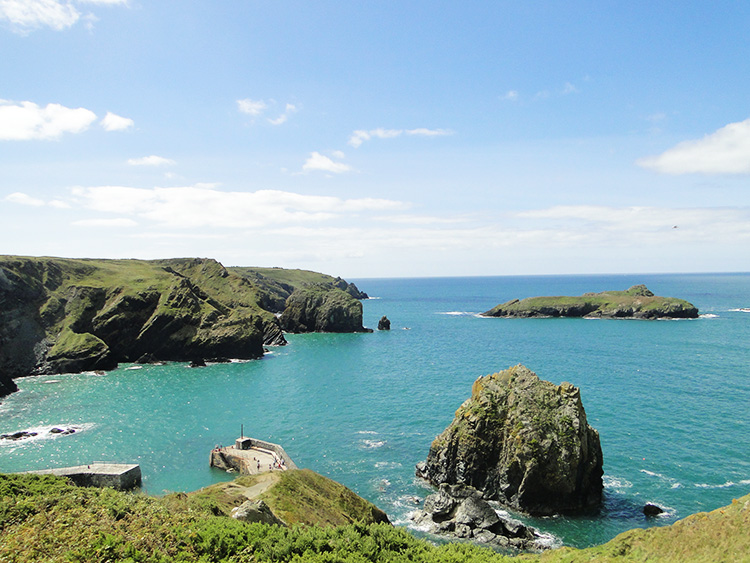 View to Mullion Island
I thought to myself "it could all be over now". Seventy seven days of walking 1,082 miles could be finished if I had walked directly in a straight line from Gweek to Lizard Point. The memories of my Cornish Coastal Path walk in 2002 with Dave and Steve had persuaded me to add a bit of the Lizard Peninsular coastline to the finale though. Note that Wainwright did not head straight to Robin Hood's Bay in my native North Yorkshire on his Coast to Coast Walk either. I was following a precedent. Furthermore I knew from the experience of 2002 that this part of the Cornish Coastal Path was full of magical moments and therefore deserving as the final approach to the conclusion of the Great British Walk. The concluding section began with a walk from Poldhu Cove to Mullion Cove where someone very special to me was waiting.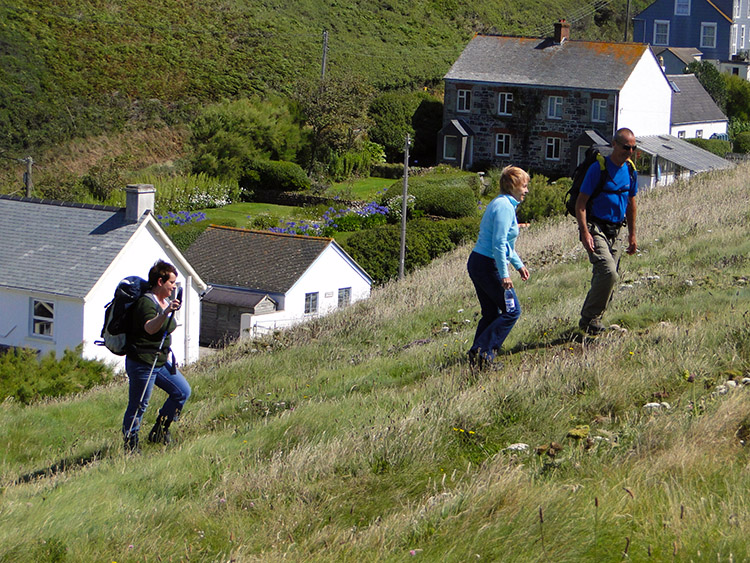 Lil and Jan join the walk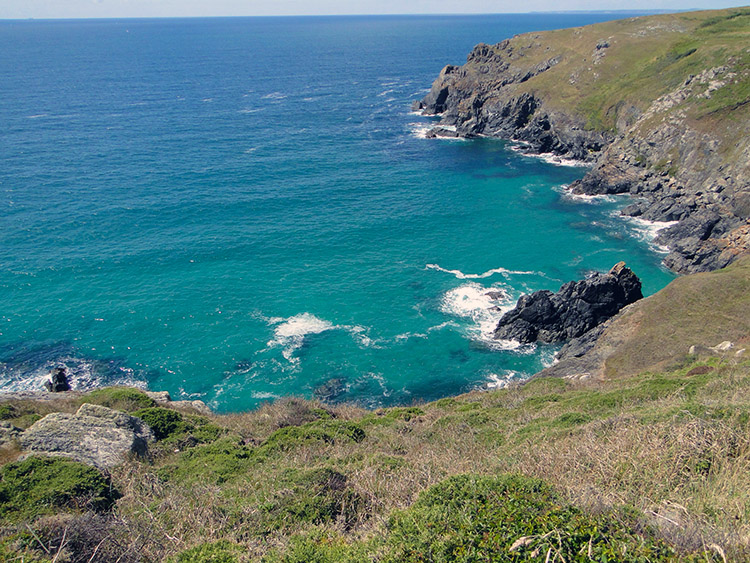 George's Cove
The walk was all ups and downs now, as coast walks along cliff tops and into coves generally area. We walked across the undulating top edge of Angrouse Cliff to reach the Mullion Cove Hotel where Lil was waiting. My darling wife was going to walk with me to Lizard Point. It had been arranged and we meet at 12.00 noon. Steve's wife Jan had accompanied Lil so he had his partner to share the journey to the end too. After meeting and greeting the girls we all set off from the Mullion Cove Hotel scaling down and climbing back up from Mullion Cove and walking across Mullion Cliff to continue along Higher Predannack Cliff, cross by up and down over Ogo-dour Cove to Lower Predannack Cliff. Then we sat down and took a rest. The sun was shining brightly, the sun glistened a beautiful blue and soft white surf broke over rocks in gentle waves of sound. It was the perfect setting for just sitting and looking out to sea.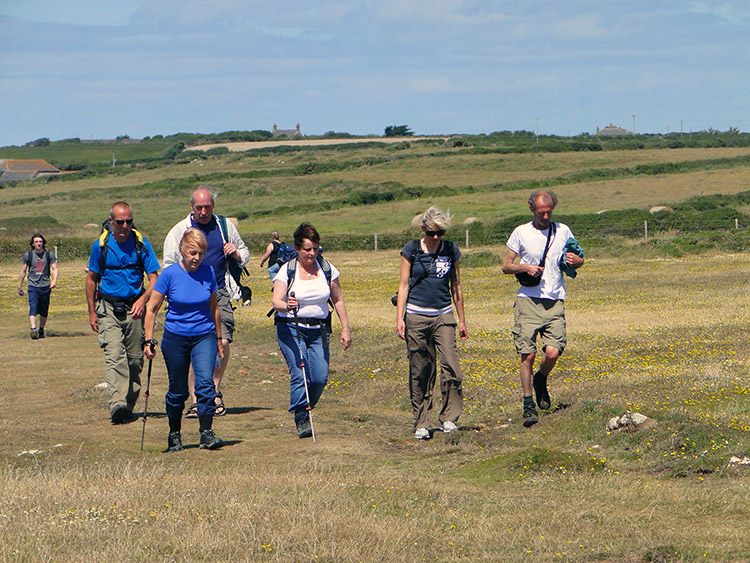 Crossing Lizard National Nature Reserve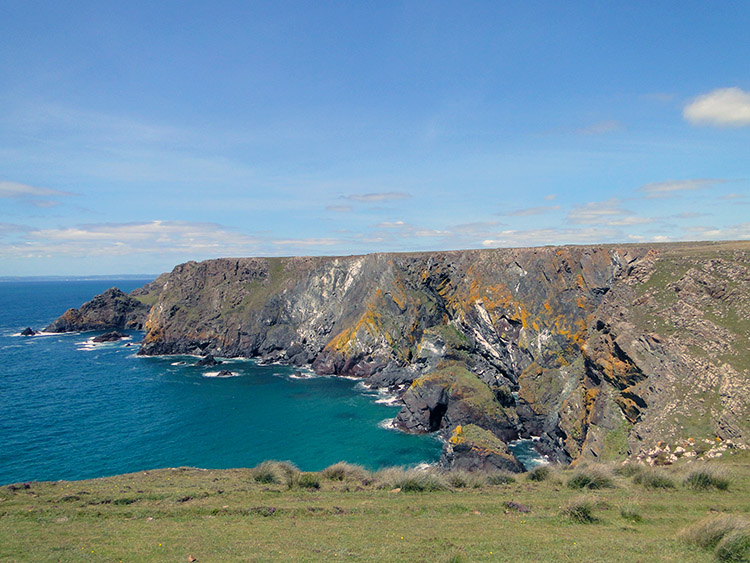 Colour in the cliffs
We took 15 minutes enjoying the break before walking on to reach the Lizard National Nature Reserve. The walking was easy across the nature reserve which is set on Lower Predannack Downs and Lizard Down. It was all so nice and gentle, a walk across flat land which led us all to Rill Point on the western tip of Kynance Cliff. The view from Rill Point was just brilliant, with Kynance Bay in all its glory laid out before us.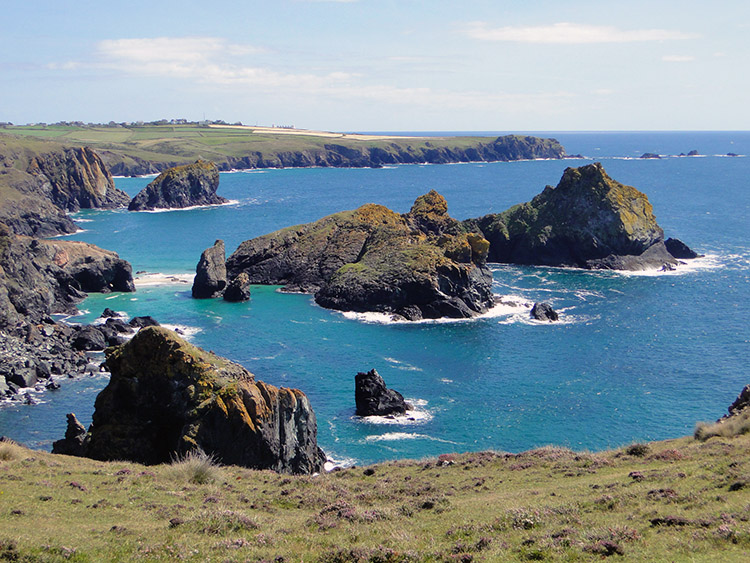 Gull Rock, The Bishop and Lion Rock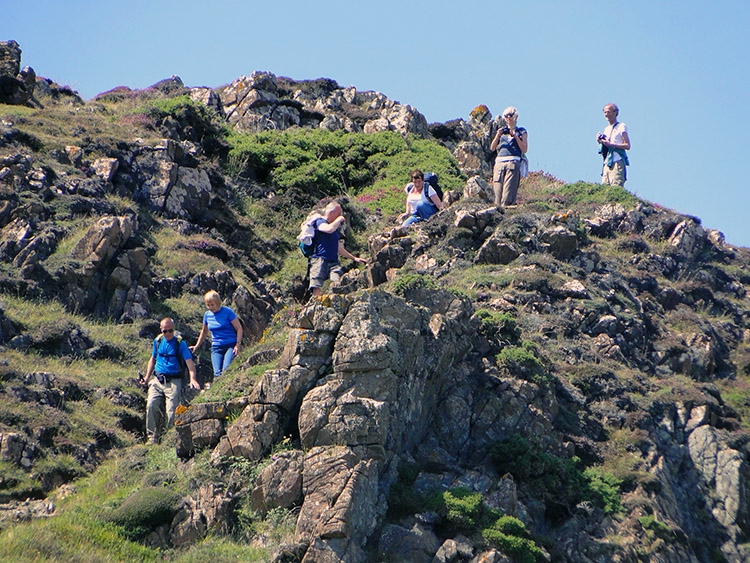 Carefully does it
By looking across Kynance Bay we could see all the prestigious islands of Kynance. Asparagus Island was closest. Partly hidden by the island were Gull Rock and the Bishop. Further away was Lion Rock looking out to sea proudly. I had always figured in my minds eye how beautiful Kynance Cove was the first time we had seen it on that Cornish coast Walk over a decade ago. I was not disappointed, the feeling of how beguiling Kynance Cove and the islands which inhabit are was amplified now. Beyond the cove I could sense the end of my special journey was nigh at Lizard Point. I had to do something first before we got there though. First I rushed across Kynance Cliff to descend Tor Balk as quickly as I could while staying safe. I then ran over to the cafe near the beach of Kynance Cove and queued for ice-creams. By the time my troupe had arrived I was just about at the serving hatch. a few gestures, waves and confirmations later and the order was made.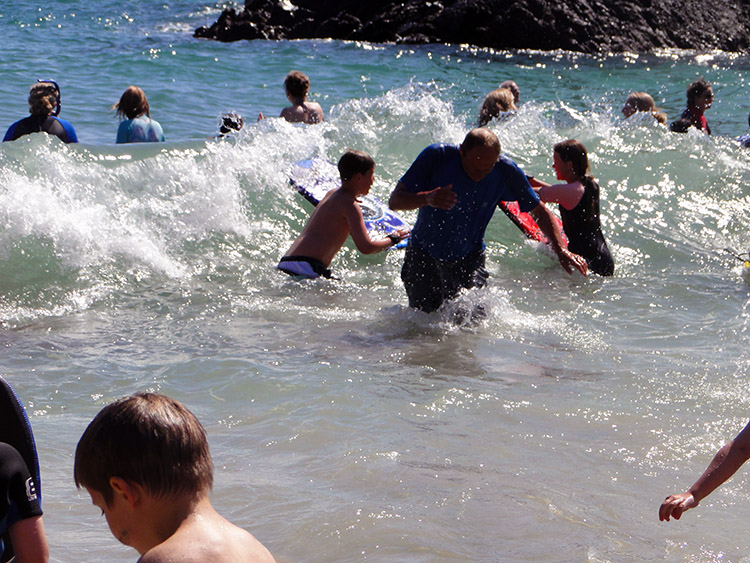 The dipping ritual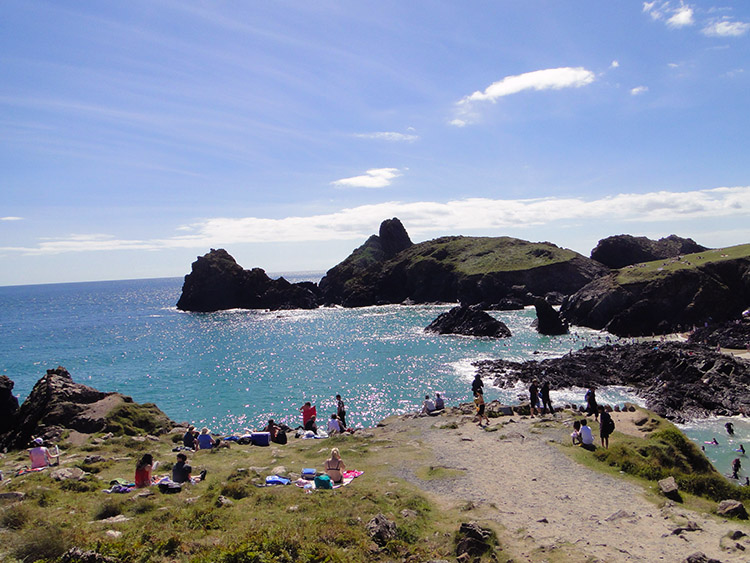 Kynance Cove
While my walking chums enjoyed their refreshments at the cafe I did what I had to do. I walked down to the beach and took off my walking boots and socks. I then walked straight into the sea. It was lovely and cooling and even though I had kept my walking trousers on I knew they were light enough to dry off quite quickly when back out of the water. I had now reached thew south coast and I had now walked into the sea. All I had left to do was stand on the southern tip of my home mainland. I walked from the water and onto the sand. After brushing sand grains from my feet I put my footwear back on and readied to go the final two miles.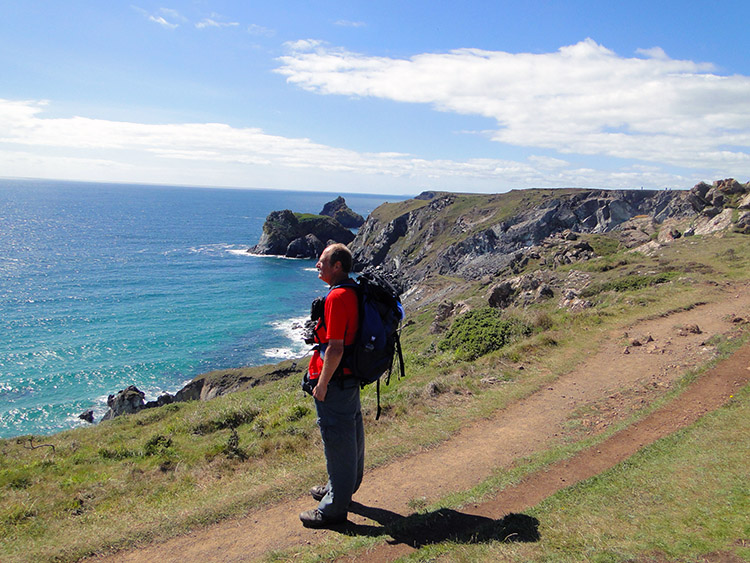 Contemplative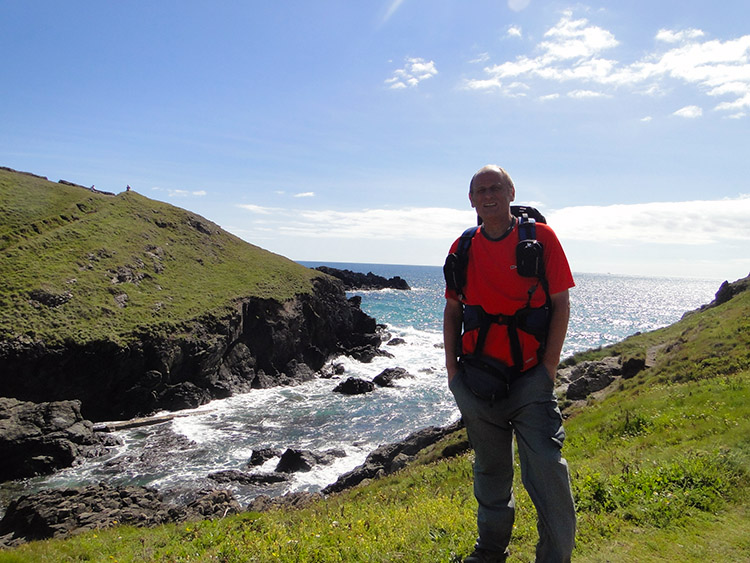 Caerthillian Cove
Walking that last two miles from Kynance Cove to Lizard Point was very poignant. As soon as I had set off walking from the cove and on the cliff top around Pentreath Beach I felt the need to be alone. It was a strange feeling of sadness which hit me but I could not shake it off. I gulped to contain the emotion and I have to admit I nearly burst into tears. The fact is I was realising for the first time that it was really nearly all over. I would have to stop walking. While everyone else walked on, except Lil who stayed with me, I looked out to sea and composed myself while thinking about many of the good things the Great British Walk had bestowed on me. Setting off walking again I reached Caerthillian Cove, setting for the last descent and last climb of the walk. So it seemed.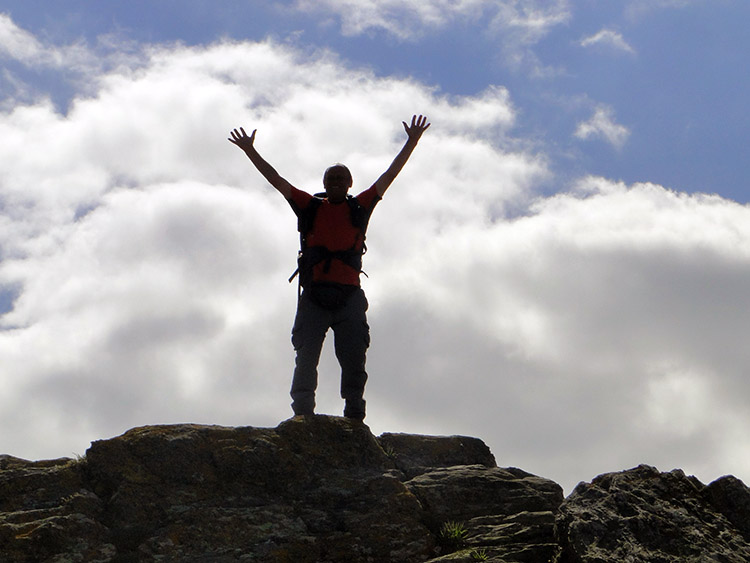 The last summit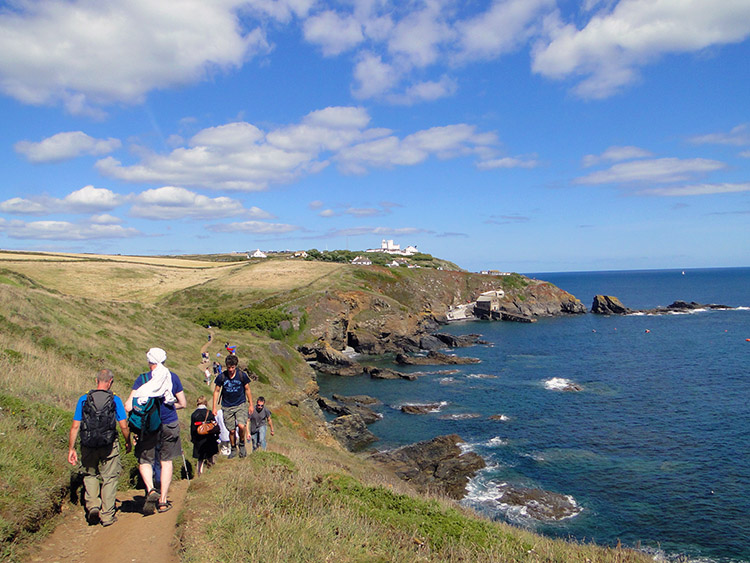 Lizard Point in sight
I had one final climb on the walk, just one to a rock outcrop standing near to the edge of Venton Hill Point. I ran up to the top and thought to myself "I am on top of the world". It was a time to celebrate. Having rejoined the company of the group we rounded Lizard Point which I suppose meant my walk was over. Done and dusted. The promontory of land at Vellan Drang near the Lizard Lighthouse marked the true southern tip of mainland Britain though so I would walk to there.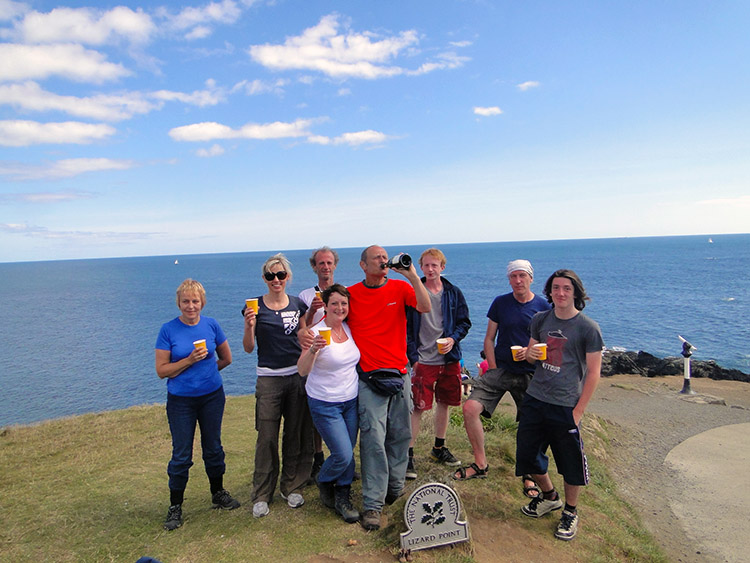 Journey's End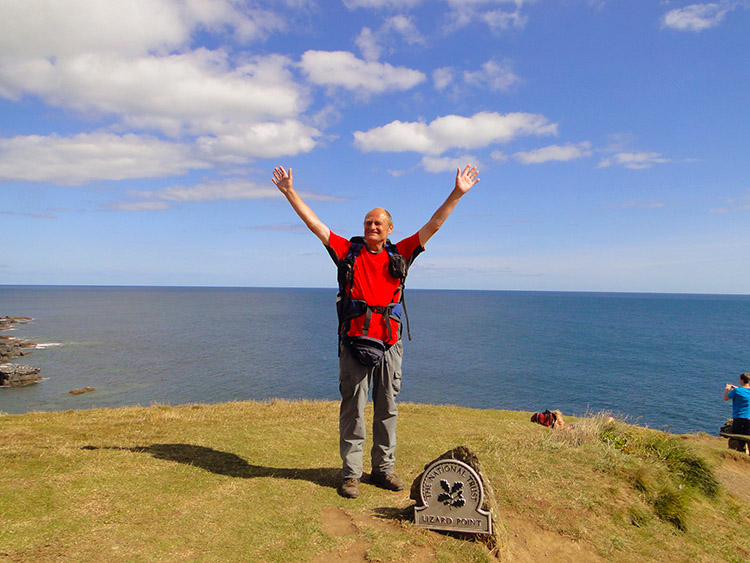 Thank you
And then it was all over. I had reached the Lizard Point National Trust marker on that most southern spit of British mainland. My Great British Walk was finished. Lil took out the bottles of Champagne from the backpack she had carried and distributed the plastic mugs. We all toasted my success. I had walked the full length of Great Britain. In doing so I had walked 1,086.3 miles and I had climbed 41,811 metres. I had lost two stones in weight which was a super bonus prize. But most of all I had captured so many special memories in 77 stages of walking in just under three months. I had enjoyed many fantastic moments and I had walked many great stretches of walking over a variety of landscapes. I had visited many towns and villages, some which I knew and many I had never been to before. I had met lots of lovely people too and I had made lots of new friends. It was my Great British Walk and I shall forever treasure it.