The Great British Walk
A personal record of my three month walk of the full length of Great Britain from north to south with written journal and photographs. Tracklogs for GPS units and for use with Google Earth are available for download for each stage.
---
Stage 73: Five Lanes to St Breward
Google Maps
Open Source Maps
| Statistics | |
| --- | --- |
| Start: Five Lanes | Finish: St Breward |
| Distance: 9.6 miles (15.4 km) | Time: 4-5 hours |
| Climbing: 476 metres | Total Distance: 1,021.0 miles |
| GPX Route File | Google Earth File |
Ordnance Survey Explorer Map (1:25,000)
Summary
Bodmin Moor was the last major upland of my journey and this stage of the walk took Steve and I all the way across from the east to west side. From Five Lanes we walked to the neighbouring village of Trewint before climbing to the moor via Trewint Downs and Westmoorgate. We crossed Bodmin Moor via Leskernick Hill, Brown Willy, Little Rough Tor, Rough Tor and Maiden Moor before leaving the moor and walking to St Breward. I was a shorter day than usual but a very enjoyable one all the same.
(Note: My walk of Devon and Cornwall is a part of my
Great British Walk
from the north coast of Scotland to the south coast of England)
---
Stage Report
I had a sense I would miss the evenings almost as much as the daytime walking when all this was over. I had fixed memories of good times on most nights and of some special ones in particular. Many were of nights spent visiting pubs and chatting with the local population during the time I was walking through England with Steve at my shoulder but there were plenty of thoughts from nights spent in Scotland during the early days. Even the solo ones in the tent while in the middle of nowhere such as when Deer startled me near Loch Stack and the when the thunder of the Falls of Glomach and the eerie cackle of an unidentified bird kept me awake for a time near Loch na Leithrich. The night Steve and I had just enjoyed in the Kings Head at Five Lanes had just been added to the list of positive nights which were winning by a score about 70 to 2 against the negatives, the two that were spent bed bound in Fort William when my feet were crying out for help. Those failing times were well in the past, I had no had a twinge for weeks. Bodmin Moor, here we come.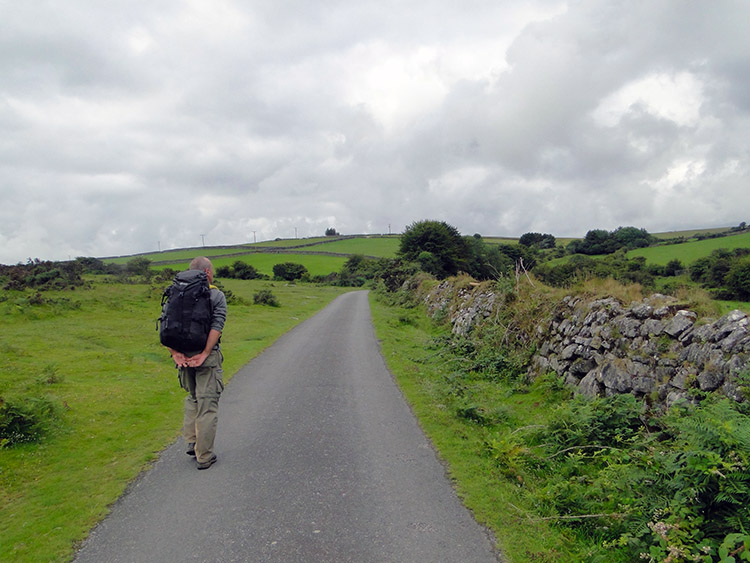 Trewint Downs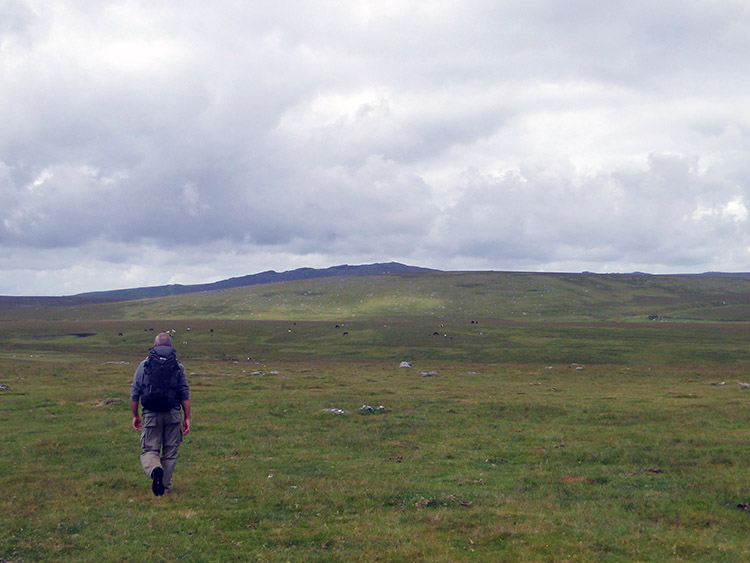 On Leskernick Hill
It was an overcast morning when Steve and I set out from Five Lanes. We hoped the weather forecasters had it right, they promised an improvement as the day progressed. Despite the early morning gloom I was in good spirits, Bodmin Moor had always been one of those places I had flagged up on the original walk plan as 'must visit' and now I was just about to do just that. We make a steady climb to the moor from Five Lanes along a quite country road to the village of Trewint and then on to Trewint Downs. From the downs the tarmac section of the moor access road continued towards the farm of Westmoorgate. As we walked along the metalled way we met a lady out walking her two dogs. They were clearly enjoying the exercise, scampering her, there and everywhere with wagging tails. We waved to her as we passed and just after we had left the lady and her dogs behind our eyes were fixed skywards as we watched a group of crows ferociously mobbing a Buzzard. First four gave the chase, then three, then two and finally just one who persisted in the harassment until the Buzzard disappeared from our sight. The aerial dogfight had kept us entertained to the end of the road when we reached Westmoorgate. We made our way on to Bodmin Moor.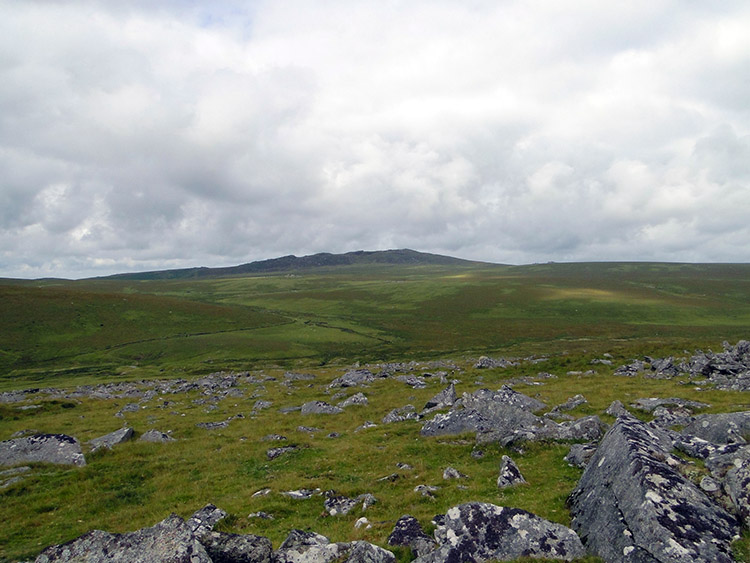 Near the source of the River Fowey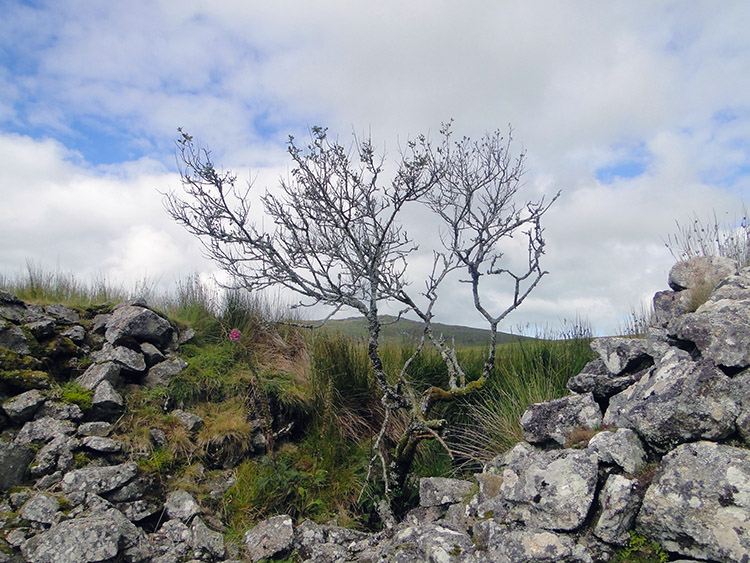 Remains of Settlements on Bodmin Moor
On reaching Westmoorgate the walking proved to be much easier that I had expected. The grass was cropped short by sheep that were left to roam and graze on the moor. The only hurdle was stepping over areas of scattered shattered granite, at first not a difficult task at all. My first Bodmin Moor landmark target shown on the map was Leskernick Hill which I easily made out, shaped like an upside down cereal bowl. The hill was fully grassed all around with granite rocks dispersed like hundred and thousands on the rounded top. We enjoyed negotiating our way through the easy maze. From Leskernick Hill we set our sights on crossing High Moor to Brown Willy. The first real obstacle we faced on the moor was a stream running southwards off the moor which I saw was the source of the River Fowey. Hurdling the River Fowey here was easy. A few more miles south we would have to swim it! Near the Source of the Fowey were the dogged remains of old settlements. They are grouped together, on the south side of Leskernick Hill. The walls of some of their enclosures are still in place, some still standing and others collapsed to just lines of rocks. Who on earth lived up here? I can imagine in tough in the milder winters of present times. How about when it was much colder. After I had taken a good look around the area of settlements we tracked across the moor directly towards Brown Willy.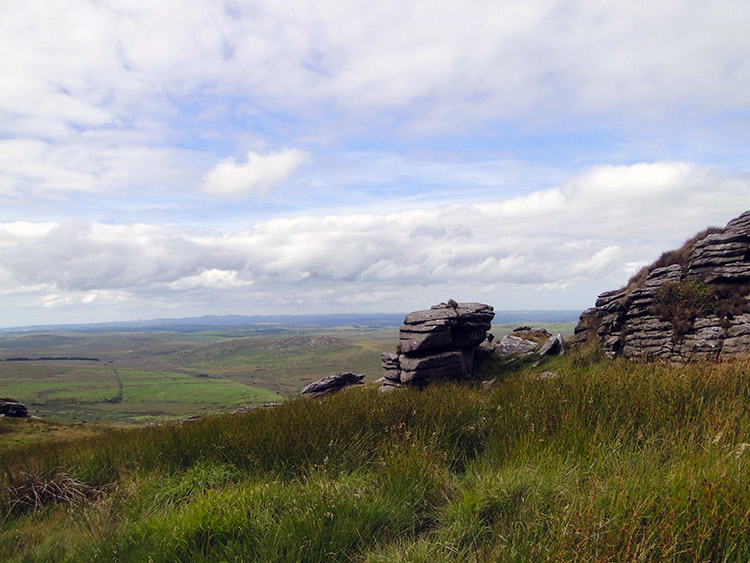 Near Fowey Well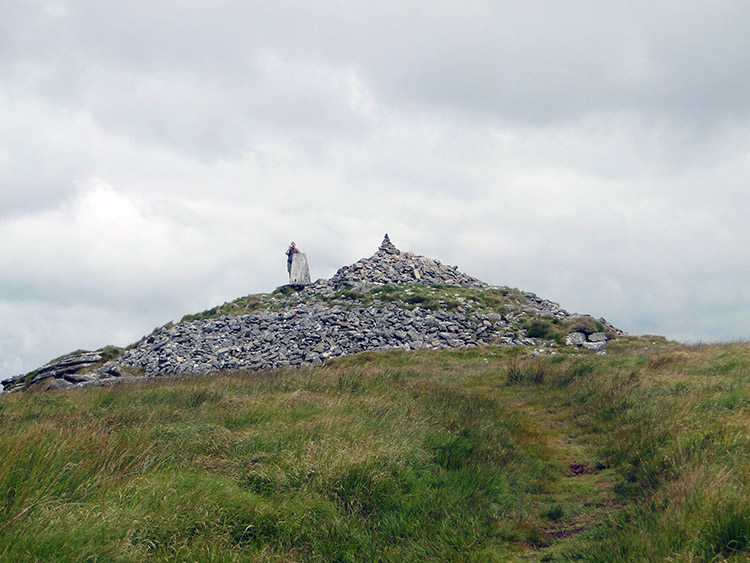 Brown Willy
The sky began to present blue patches and glints of sunshine which brightened our day and improved visibility at just the right time, just before my Bodmin Moor highpoint viewing time. In the improving conditions I made the final walk to the summit of Brown Willy with only the final three hundred metres of ascent being hard work. The final gradient to the rocky hill top steepened. Both Strolling Steve and I huffed and puffed to the trig point at the summit. The work was well worth it though as we could clearly see the north Cornwall coastline in the not too far distance and looking round parts of the Cornish south coast too. Indeed, practically all of east Cornwall was visible to us. Parts of west Devon could be seen too including Dartmoor where we were two days ago.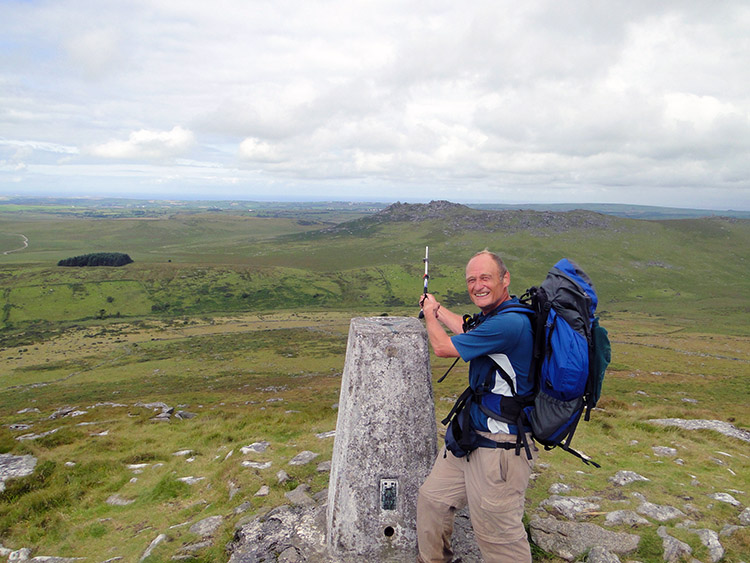 View from Brown Willy to Rough Tor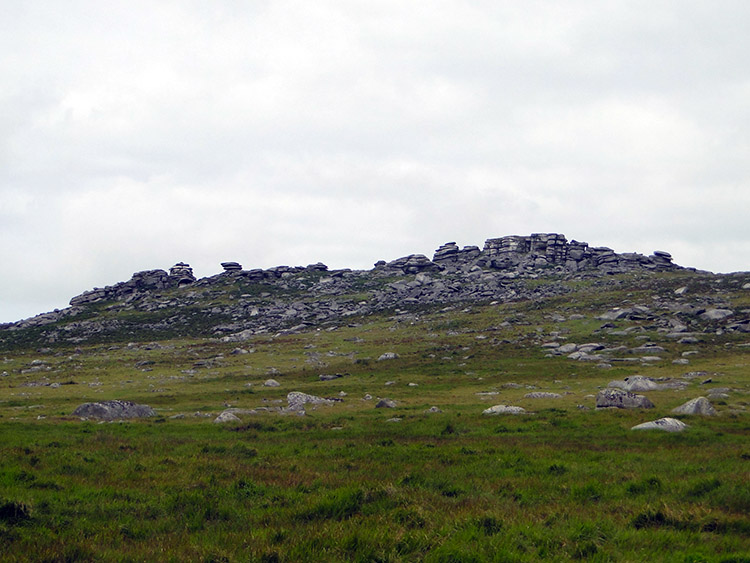 Rough Tor
Brown Willy and Rough Tor were the last significant hills of my epic journey and despite being lower than many, particular those of Scotland and the Lake District they did not disappoint. The climbs to each from the flat moor around were significant, each around 100 metres of quite steep climbing. That made them deserving of respect. The prize for the effort of the climbs were clear to see. The views were tremendous, far and wide in all directions. Steve and I could have stayed on each summit for much longer than we did. However we had a journey to continue and so with reluctance we descended from Rough Tor and headed south-west to Louden Hill.

An observation I made on the tors of Bodmin Hill is how they differed to those I had come across on Dartmoor. Here the tops of the tors were much more devastated by erosion with the granite much further broken down the geological timescale. Where Brown Willy and Rough Tor had granite accumulations on the summits which much resembled scree sized rocks of the Lake District then Yes Tor and Rowtor on Dartmoor had much larger granite boulders, some still sat in layers as when they were formed. In fact I could have picked up the rocks on Brown Willy and on Rough Tor and rearranged them. I could not do that kind of Antony Gormley art on Yes Tor or on Rowtor.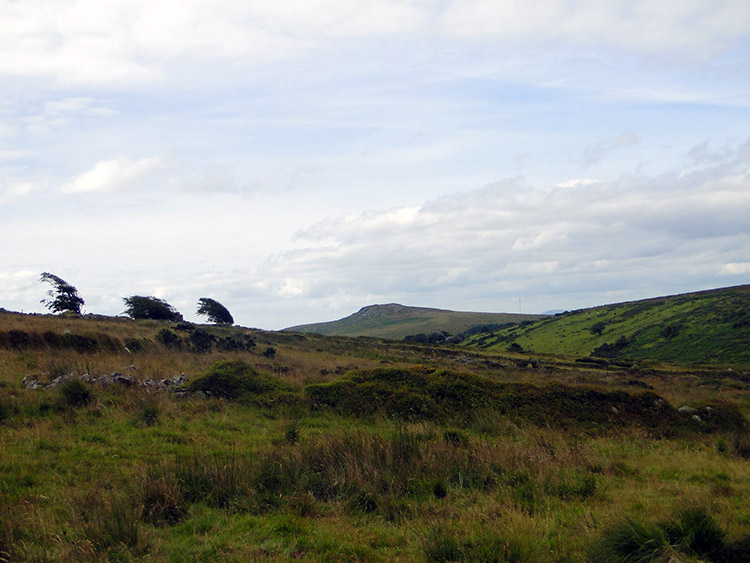 Wind shaped trees on Bodmin Moor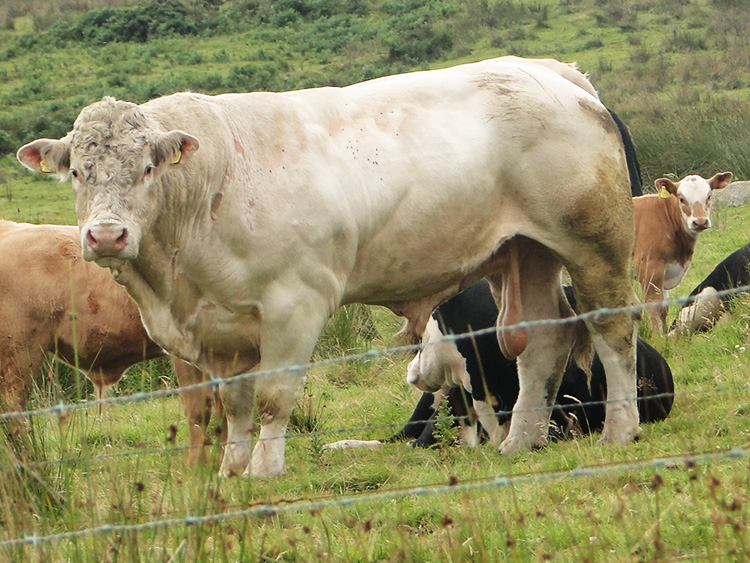 Beast of Bodmin Moor
I have mentioned how austere it must have been for the people who had lived in the settlement we had passed on the moor. They would surely have been constantly bombarded by the prevailing wind, a keen south-westerly. The trees stooped down on the moor showed the effect of that, all permanently bent and facing north-east. The wind was not blowing much at all while we were on the moor but the trees looked as if they enduring a full on gale.

The story began to gather pace when I was a young man in the 1980's. Some times it reached such hysterical proportions that what began as a local story became national headline news. Tongues wagged, sightings were reported and from these myths grew. I am of course talking about the Beast of Bodmin, a wild cat which roamed the moor and savaged the animals on Bodmin Moor. I had to look for evidence of its existence while I was up here. Apart from a few sheep skulls which I can find on any moor there was nothing to support the fact there was a beast running amok. One of the stories which percolated the legend is that animal trainer Mary Chipperfield released three Pumas into the wild following the closure of her Plymouth zoo in 1978.

However while I did not find evidence of the big-cat Beast of Bodmin I did find my own character. He was in a fenced enclosure near the site of more settlements, these being on Roughtor Moors. As we passed by his field where he tended his harem he watched us closely. The magnificent Bull was my very own Beast of Bodmin.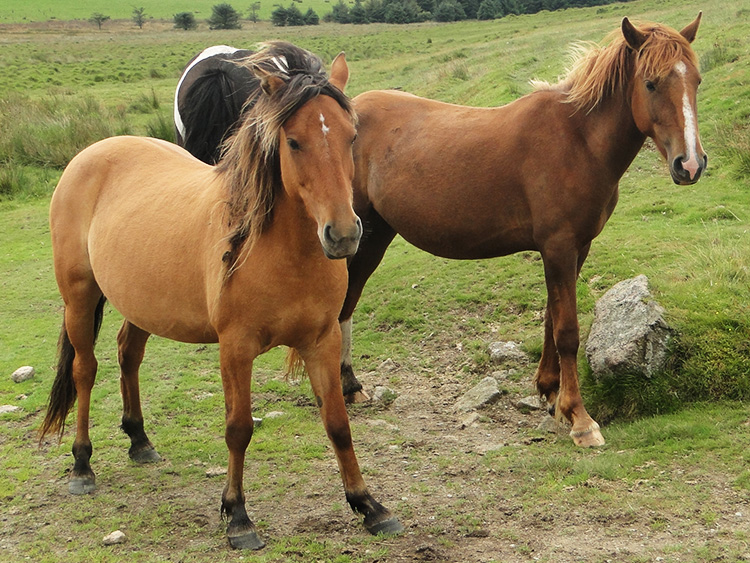 Wild Ponies of Bodmin Moor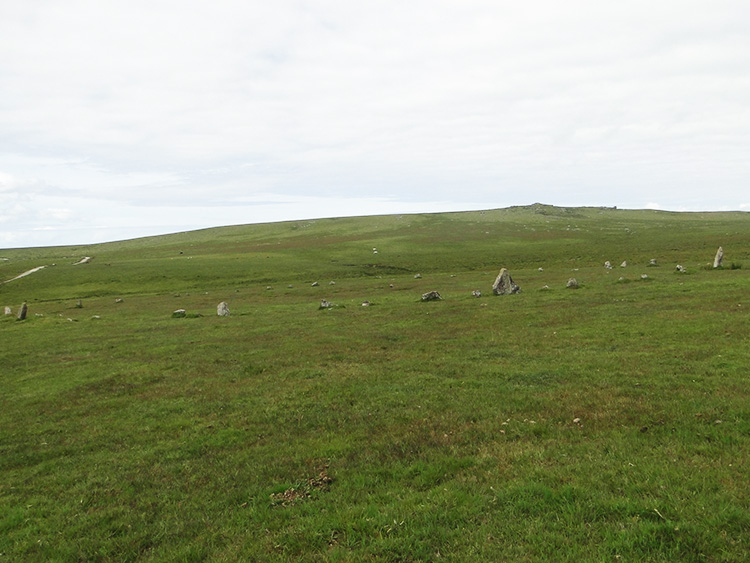 Fernacre Stone Circle
Steve and I walked from Roughtor Moors to Louden Hill and towards the site of Fernacre Stone Circle. In this area we came across the beautiful wild Ponies of Bodmin Moor. Like my impressive Beast of Bodmin they too watched us closely as we approached. We got very close to the horses, through wild they appeared quite friendly and were probably used to people walking to admire them while on the moor. They were not spooked at all as we walked right past them on the way to the stone circle which was a little surprising as there were foals in the herd.

A point of note from observations I made while crossing both Dartmoor and Bodmin Moor. Where were the people? The walkers, hikers, historians, naturalists, etc. I had seen no one on Dartmoor apart from those John Lister and I came across near the access roads of Meldon Reservoir. And on Bodmin Moor Steve and I saw not one person at all. We saw the lady walking her dogs on the approach road but nobody on the actual moor. I found it quite remarkable but there it was, the moors were deserted.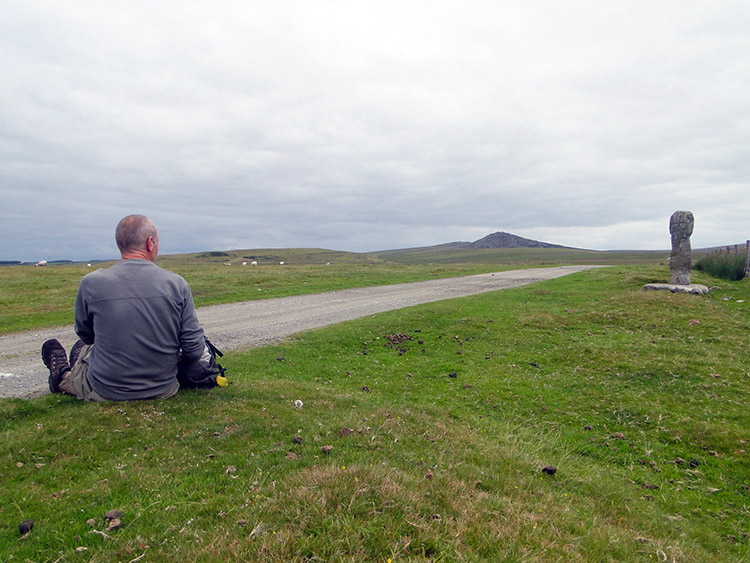 Break time near Middle Moor Cross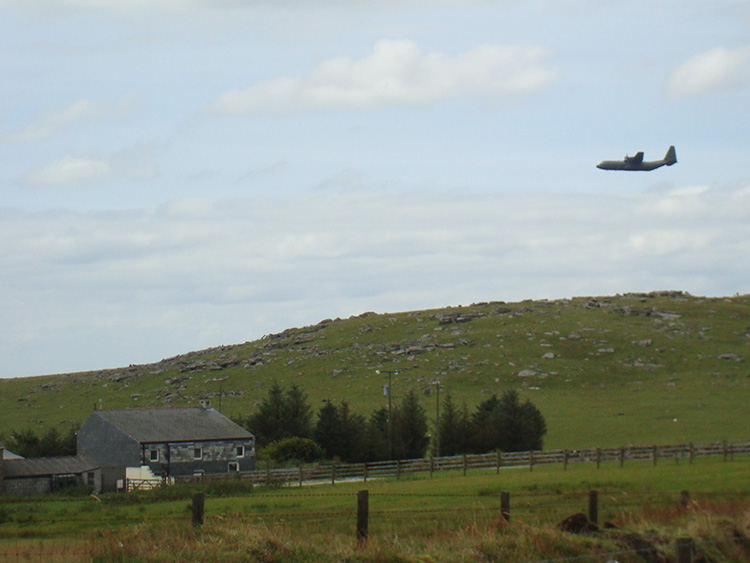 Hercules over Bodmin Moor
It was still morning when Steve and I reached Dinnever Hill on the western edge of Bodmin Moor. We had not far to go at all before our finish in St Breward and so we found a spot to site down near to Middle Moor Cross and took an extended break. Middle Moor Cross is a wayside cross, one of several types of Christian cross erected during the medieval period, mostly from the 9th to 15th centuries. So that is what it was for, an ancient signpost long before the roadside ones we are familiar with today and a very long time before GPS.

In conversation during our break I said "So that's it, my final upland done before heading down to the finish". Steve replied "What will you do with yourself?". My reply to that was "Not to worry, I am already planning the next one in my head". The conversation was interrupted by our personal Bodmin Moor air show. The first performance was by a Binder Aviatik CP301S Smaragd, registration G-BSVE which was easily readable as it flew overhead. Next was a military Hercules. We could not spot any identification marks on that one. It may have had none.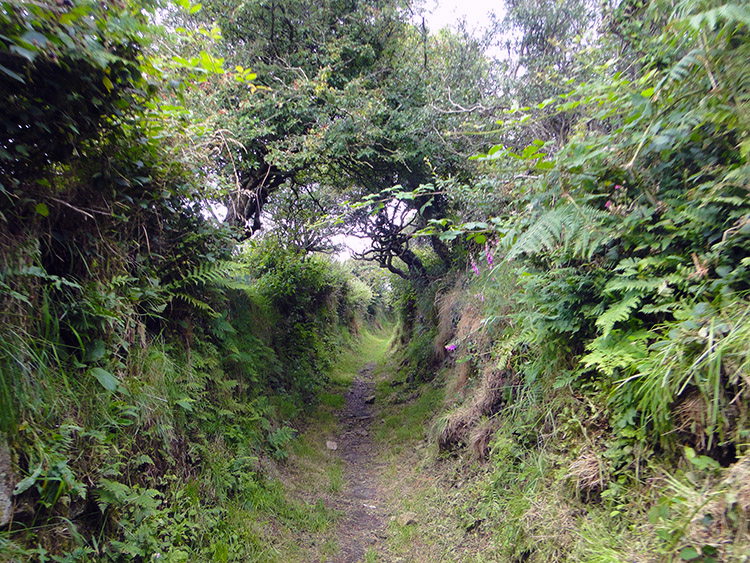 Holloway near St Breward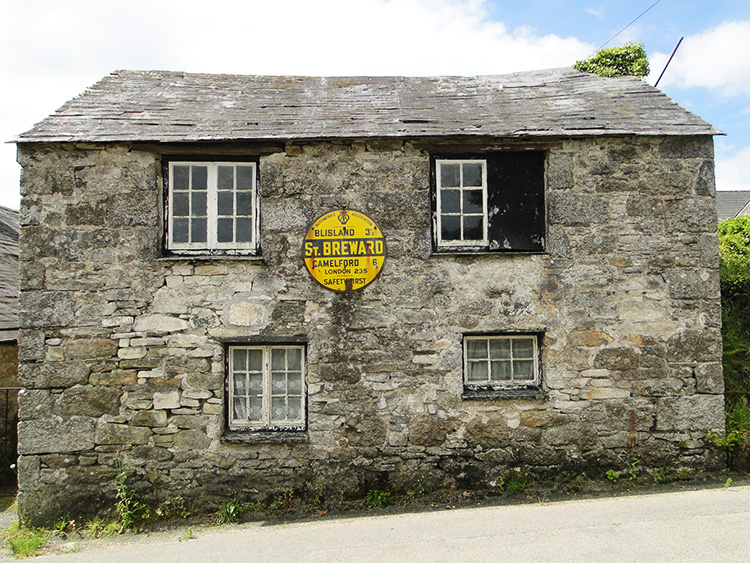 Old house, old sign
As we left Bodmin Moor it was turning into a very fine afternoon. We walked seamlessly from moorland unmade bridleway to tarmac access road and past the farmstead of Shallow-Bridge to walk by through a gorgeous old woodland avenue with old Ash and Oak trees leaning over the road to form natures own guard of honour. The trees were much more protected than those wind battered ones we had seen earlier on Bodmin Moor and they showed it. All were lushly covered in foliage and looking healthy. Just north of our finishing point for the stage we joined the paths of the Camelford Way and Moorland Walk, two local routes which appear on Ordnance Survey maps. While the Camelford Way went off in one direction we followed the Moorland Walk into St Breward and thus ended the 73rd stage of my walk.

It was not even 1.00 in the afternoon so after checking out where our accommodation was we walked down into the neighbouring village of Row to find a shop. The holloway lane we used was the finest example of a holloway I had ever seen. As we walked down the narrow lane we could sometimes just peer through the hedges into the fields at either side. They were just about six feet higher that the holloway and so we could stand normally and look at the grass in the fields as if we were laid down. It was a super view of grass meadows with clovers, buttercups and other hayfield flowers at ultra close up. Bees and Butterflies hovered and landed close to where we peered through the hedge. Not knowing we were there it was an undisturbed joy watching the show. I know I was there ages because when I looked around Steve was gone. I had to run to the shops in St Breward to catch up with him. We got the Telegraph to do the crossword and with sun now shining we treated ourselves to ice-creams.

At the start of this report I had mentioned how I would miss the nights as well as the days of my Great British Walk. Well, we stayed in a lovely bed and breakfast which was near the Old Inn where we enjoyed one of the very best nights of all. It was a Friday evening so we got in early to make sure we had a table for dinner. After our lovely meal it was still quite early so we got a stool each at the bar with the plan to enjoy two or three drinks while doing the crossword at the bar and to retire before 10.00pm. That was the plan. As we did our crossword and enjoyed our drinks the pub began to fill up. By 8.30pm it was quite bustling and at 9.00pm the pub quiz began. A team of three stood near us at the bar were answering the questions and when they got stuck on questions they would muse about whether they had an answer or not. Of course Steve and I would whisper the answer if we were sure of it. So a team of three became a team of five. And with additional resources the team won! What a day we had on the natural majesty of Bodmin Moor and what a night we had with our new friends in the Old Inn. It could not have been better.
Continue the walk
Great British Walk