The Great British Walk
A personal record of my three month walk of the full length of Great Britain from north to south with written journal and photographs. Tracklogs for GPS units and for use with Google Earth are available for download for each stage.
---
Stage 74: St Breward to Indian Queens
Google Maps
Open Source Maps
| Statistics | |
| --- | --- |
| Start: St Breward | Finish: Indian Queens |
| Distance: 21.0 miles (33.8 km) | Time: 8-10 hours |
| Climbing: 627 metres | Total Distance: 1,042.0 miles |
| GPX Route File | Google Earth File |
Ordnance Survey Explorer Map (1:25,000)
Summary
The last of the long stages of the Great British Walk was an engaging walk in undiscovered Cornwall countryside. From St Breward Steve and I walked south to meet the Camel Trail at Tresarrett which we followed along countryside paths and through areas of gorgeous woodland to Boscarne Junction. While the Camel Trail continued northwest to the Cornwall coast at Padstow we continued on a southwest course across more delightful Cornwall countryside and to a series of quaint small villages to reach Tregonetha. Here we switched back to a southeast course over Tregonetha Downs before turning to southwest and heading to the finish of the stage in Indian Queens. After Belowda we did hit a stretch of difficulty due to neglect which caused problems, a minor irritation to end a super day out.
(Note: My walk of Devon and Cornwall is a part of my
Great British Walk
from the north coast of Scotland to the south coast of England)
---
Stage Report
Steve and I looked across to the Old Inn with good thoughts of the great night we had in the pub last night. To win a pub quiz during the walk was an unexpected bonus though our winning prizes of a meal in the pub each had to be given away. I am sure whoever we gave them to appreciated it. Sadly it was our last night as a twosome on the walk, more friends including my brother Dave would be joining us tonight and for the concluding stages and evenings of the walk.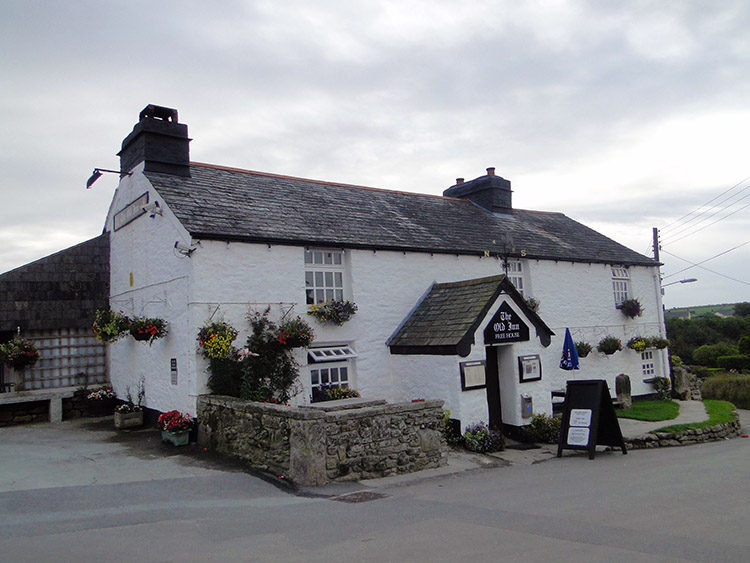 The Old Inn at St Breward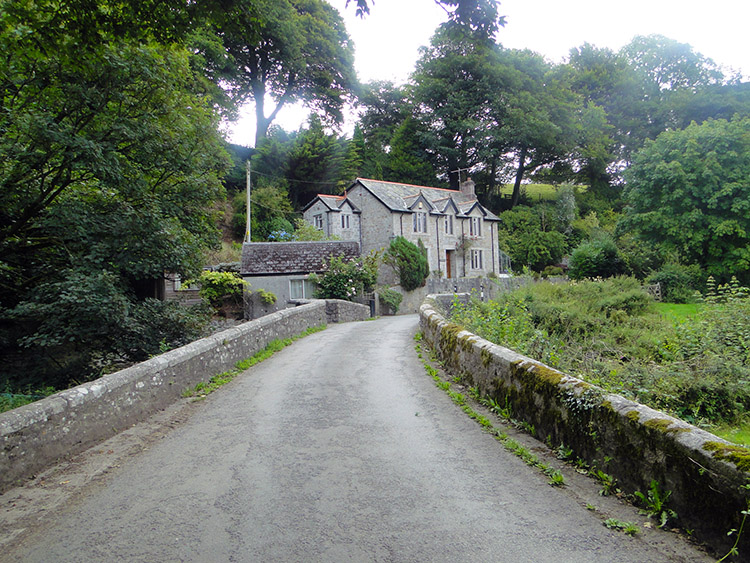 Lower Lank
We walked the familiar trail downhill and through the superlative holloway we had walked through yesterday and downhill by road to the shop we had called in at Row for an ice cream yesterday afternoon. From the shop all the walking we had to look forward on the walk today was new. We continued walking downhill by roadside from Row towards Higher Lank. The first ten miles of this long 21 mile stage were all downhill which we appreciated as it would give us a good start. At Higher Lank we came to a crossroads and went straight on, continuing downhill to Lower Lank. As with many of the country roads we had followed in the southwest these were extremely quiet too. Seldom did we have to step in to the side to let a vehicle past, we were the actual traffic on the roads for the most part. By the time we reached Lower Lank we had covered just over two miles and had descended 80 metres. We humped over a bridge under which a stream from Pendrift Downs took its water into the young River Camel at Wenfordbridge. After our slight hump up and over the bridge it was more downhill for us by road to Penpont.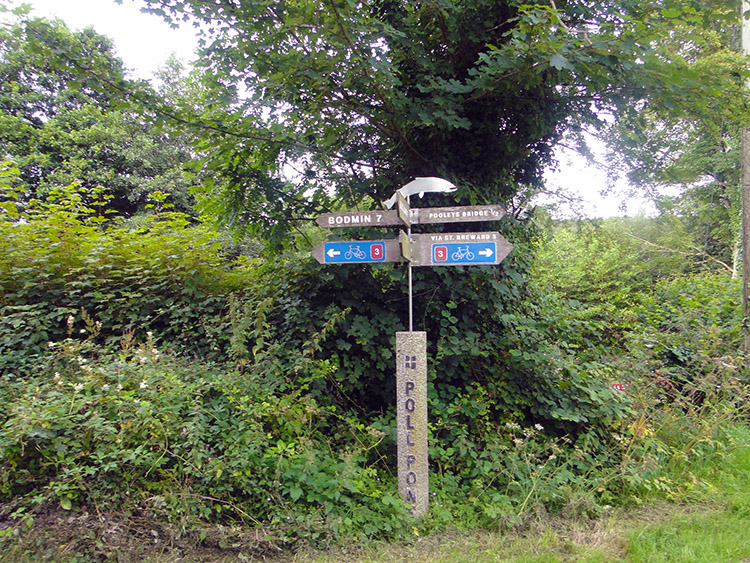 Signpost at Wenford Dries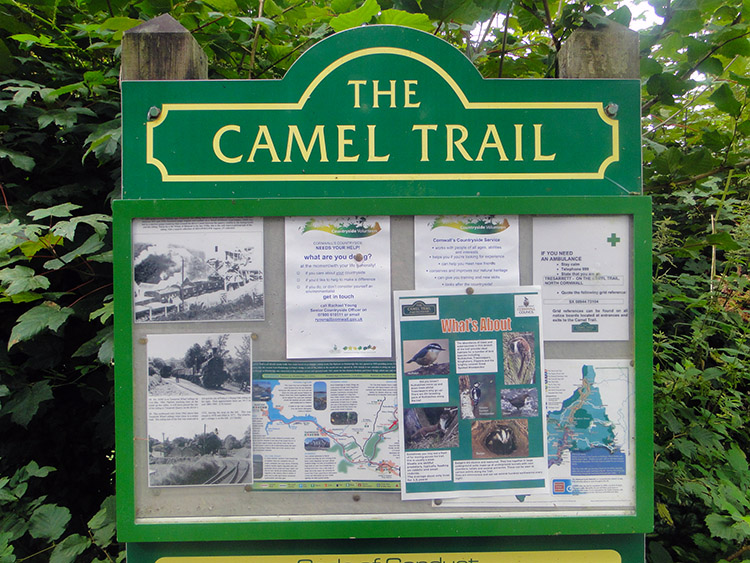 The Camel Trail
On the quiet road walk from St Breward to Penpont we had passed lots of properties by the roadsides. I noted how well tended all the gardens were and how smart the houses were kept. This quiet part of rural Cornwall had great pride in itself. Continuing by the road from Penpont to Tresarrett we came across a house with a table set by the roadside. On it were Fruit and Vegetables. "Please put the money in letterbox on gate post. Thanks a lot". "Courgettes 90p, Mange Tout 80p, Swiss Chard 80p, Tomatoes £1, Apples £1". "Flowers 2.50 a bunch". Plastic bags were provided for free. We reached Wenford Dries where I was fascinated by the signpost. It was set on a central steel rod fixed into a square concrete post with Poll Pont written onto the concrete. On top of the directions signs for Bodmin and Pooleys Bridge was a fish. From Wenford Dries we continued by road to Tresarrett where we came to a notice board which indicated we had joined the Camel Trail. We had walked three miles and here we left the tarmac road.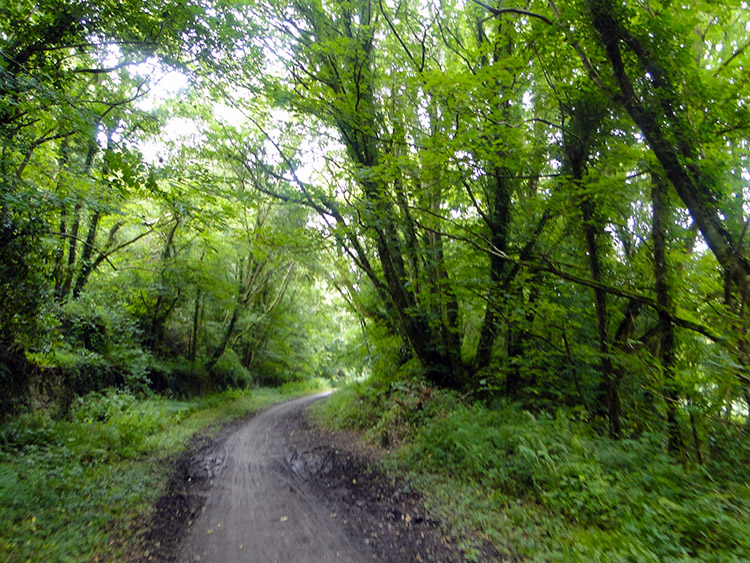 Shell Woods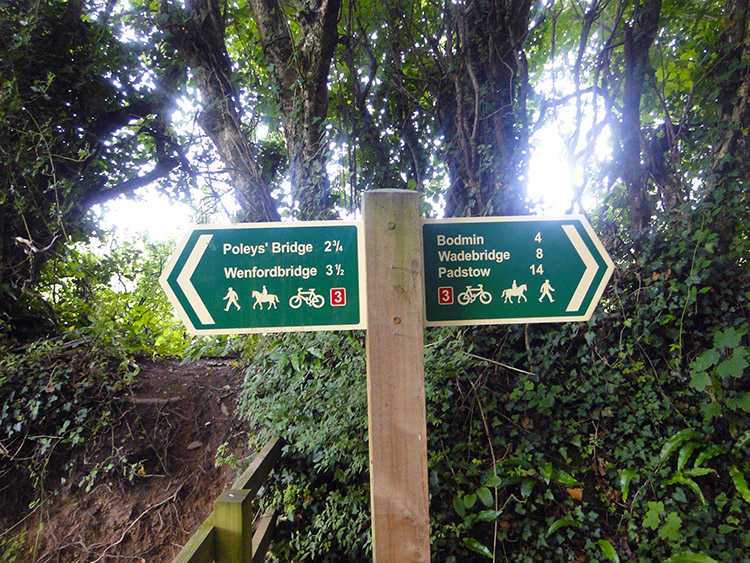 Camel Trail signpost
It had been a cloudy start to our walking day but by the time we had joined the Camel Trail the sun began to break through the cloud. It was around 9.45am, an hour and a quarter after we had set off. We followed the Camel Trail into Shell Woods and followed a curving line through the woodland, staying parallel to the course of the River Camel which we could hear flowing just below us and to our right. We made good time and signs often helped us gauge our progress. It was strange though for us to notice Bodmin was still a little way in the distance ahead of us while Bodmin Moor was now well behind us. It seemed a long time ago since we had crossed the high moor, especially as we were still walking downhill and in the depths of a wild wood.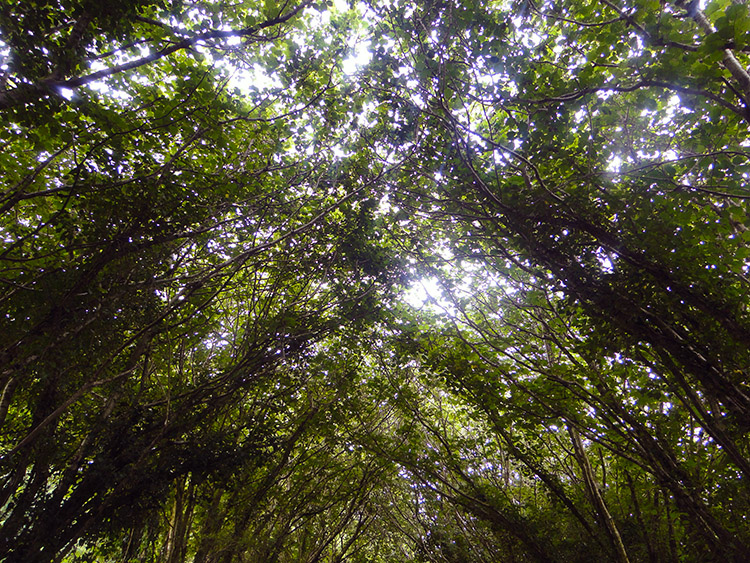 Woodland canopy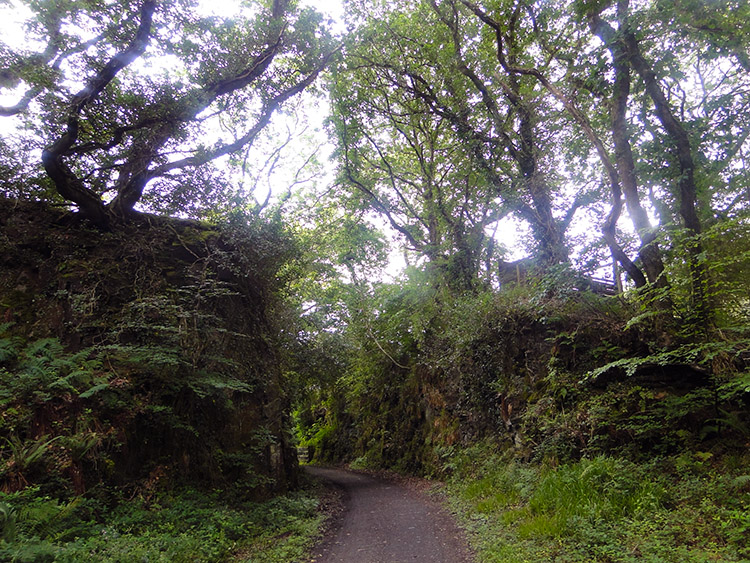 Camel Trail near Dunmere
The sunlight which had naughtily stayed behind cloud when we had walked along the open roads earlier in the morning was now out in full mid morning shine. The slight shame for me and Steve was that we were now shrouded by the high canopy of our woodland avenue path-line. I could see it dappling us with sprinkles of sunshine as we walked though and that was a very nice light show to have on our walk through the woods. The Camel Trail was great. It went on and on for what seemed ages at the time but it was never boring. The shapes of the trees and shafts of light in the woods always changed as we walked the five miles of them. And for all of those five miles the River Camel kept us in good company company, the soft noise of the flow of its water being the perfect accompaniment to the gentle rustle of the trees. It was a shame when it ended.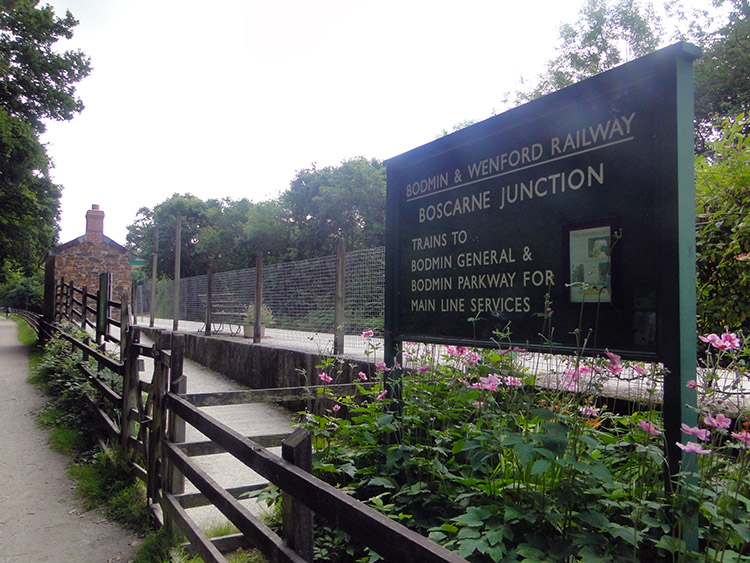 Boscarne Junction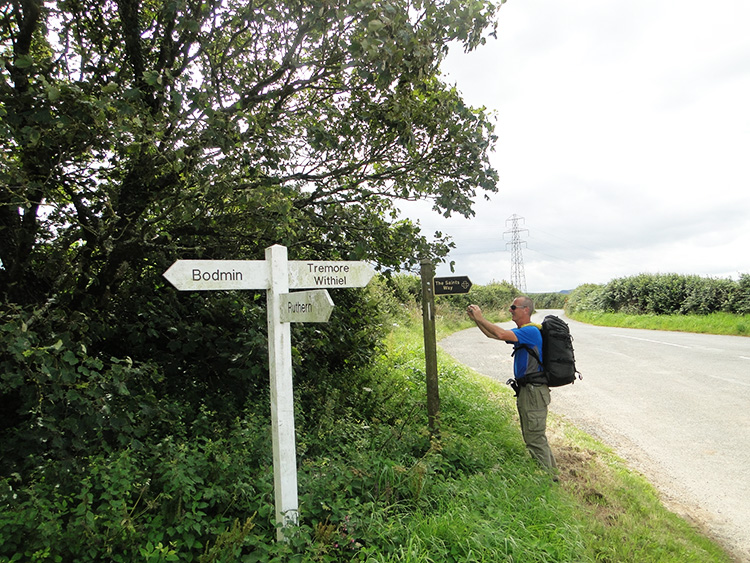 Saints Way near Tremorebridge
It was nearly time to leave the River Camel and the walk along the Camel Trail when we left the long path of woodland and arrived into the full light of day at Dunmere. First though we stayed with the river to reach Boscarne Junction railway station. A notice board at the station said the railway station was on the Bodmin and Wenford Railway which is "a great atTRACKtion". I am sure it is. After our inspection of the railway station which was neat and tidy we left the river. It would continue west and north to Padstow. We were heading west and south which began by walking by road through the village of Nanstallon and then by a long five mile stretch of unavoidable tarmac road to Demelza. At least the beginning of the road walking to Tremorebridge was quiet. As earlier in the day all the road traffic was hiding from us. At Tremorebridge we met up with the Saints Way and though that soon went in another direction to us it too followed a road. A lot of the paths were around here. Oh, since Boscarne Junction we had been climbing, for the first time since we had climbed to Bodmin Moor. From Nanstallon to Tremorebridge we had climbed over 120 metres. I had not noticed it.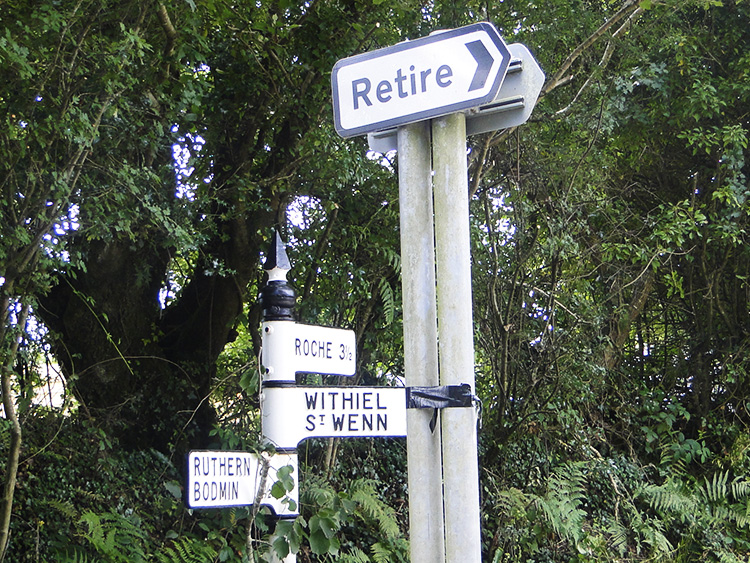 No retire for us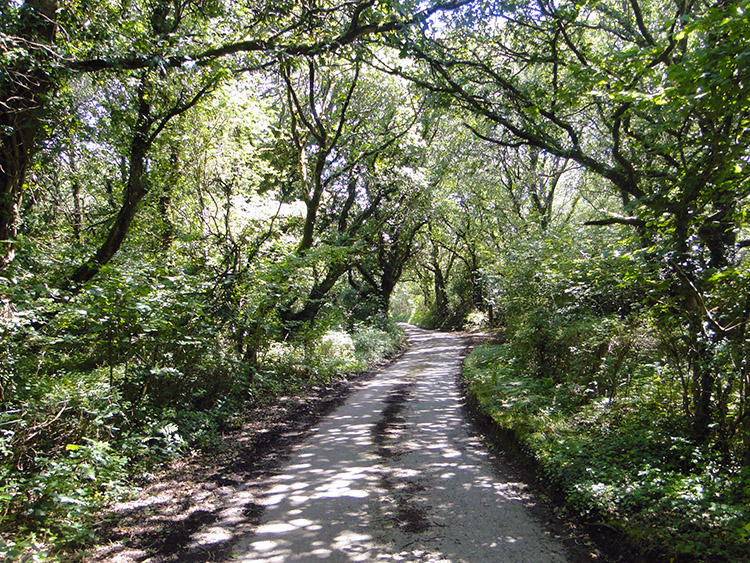 Road to Demelza
We had a diverting and funny event on the road from Tremorebridge to Demelza. At a road junction there was a Post Office van parked and the postman was just walking back to his van after making a delivery. I noticed the road junction sign pointed to 'Retire'. I asked the postman "Is there really a place called Retire?". He replied "Yes there is and if you walked down there you would see why the name is so apt. Nothing ever happens in Retire. Most who live there are retired anyway".

After the walk I had find out a bit more about the village of Retire. A web page said "If you are thinking of moving to Retire or just want to know a what the area is like, the statistics on this page should give you a good introduction. They cover a range of socio-economic factors so you can compare Retire to figures for Cornwall and nationally. These statistics can tell you if Retire is an economically deprived area and how hard it might be to get a job". From what the postman had said few in Retire were looking for one.

After the fun diversion we continued along our long straight tarmac road to Demelza. It was one of the most inviting roads to walk on, narrow so only one vehicle could pass along at any one time, we only saw the post van, and guarded on either side by trees forming a guard of honour. Much like the trees in the woodland on the Camel Trail had done earlier.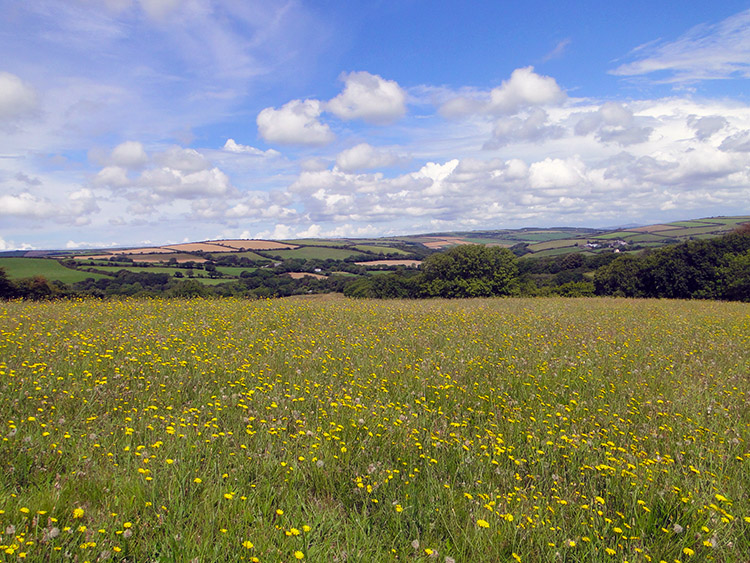 Hay meadow near Tregonetha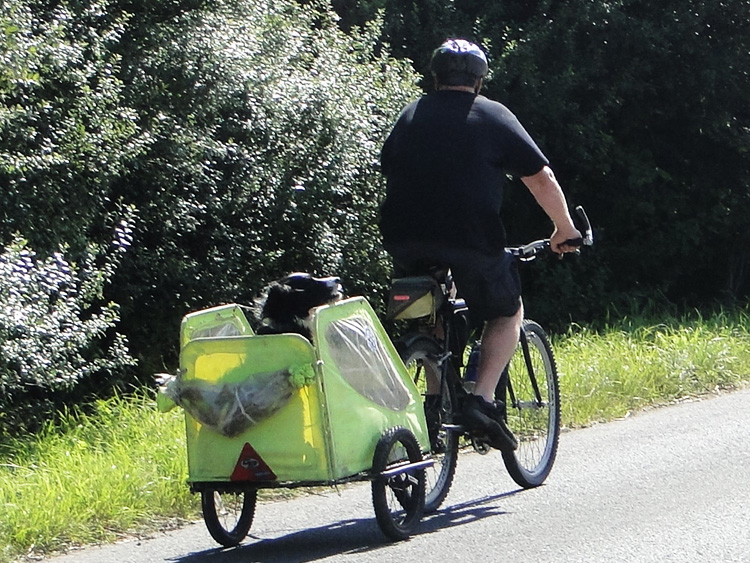 Looking after the old boy
Steve and I reached the village of Demelza which showed the site of a fort on the map but I could see no evidence of it on the ground. From Demelza we left the unforgiving tread of tarmac to cross some of the loveliest Cornwall countryside one could imagine. Some of the fields we crossed were more Cornish hay meadows filled with beautiful flowers. Some seemed to have a flower for every blade of grass. It was an amazing sight. Beyond the fields the countryside rolled in perfect form. It was utterly gorgeous walking from Demelza to Tregonetha.

It was not so good from Tregonetha to the finish in Indian Queens though. I had designed the route to cross Tregonetha Downs to Castle an Dinas Fort but when we reached the roadside path crossing Tregonetha Downs it was just impossible to follow. Scrub had been allowed to invade the path with overgrown Bramble making it impossible to walk. We were forced to stay on the road and climb to Belowda Beacon instead. At least we got to view the site of the old tin mines and a bonus trig pillar as compensation for missing out on the hill fort. We were also at our highest point of the walk today and with over 220 metres of elevation the views were very good. For the first time we could see the eerie man-made white hills and white landscapes of Indian Queens caused by industrial China Clay works. It was a surreal sight to see large tracts of land moonscape white and devoid of life.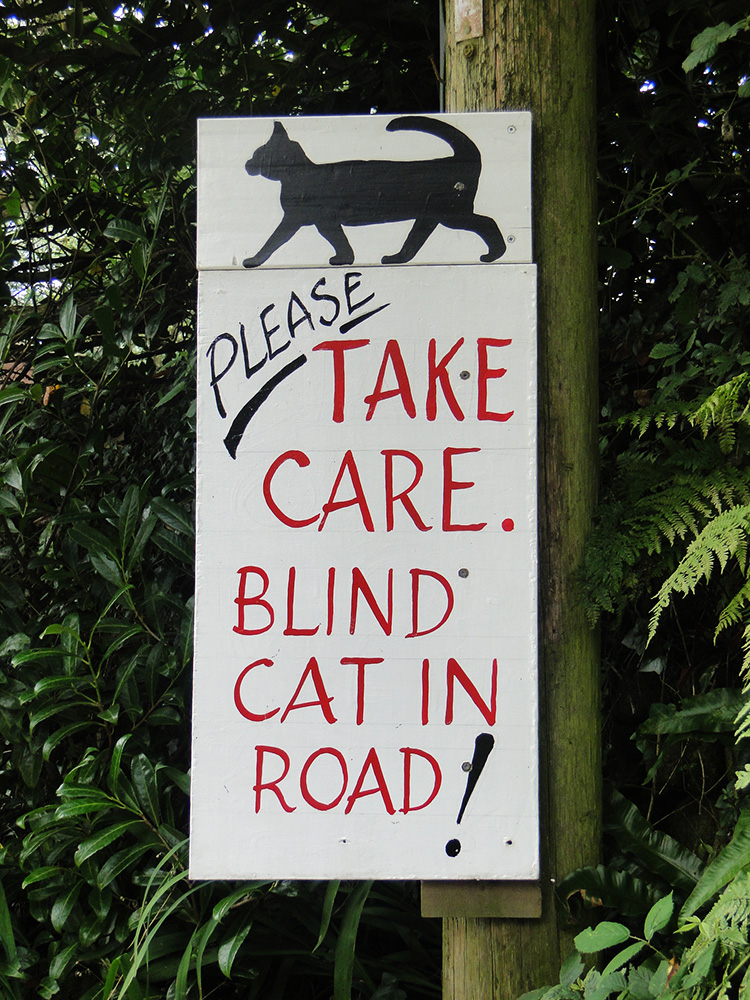 Blind Cat in Road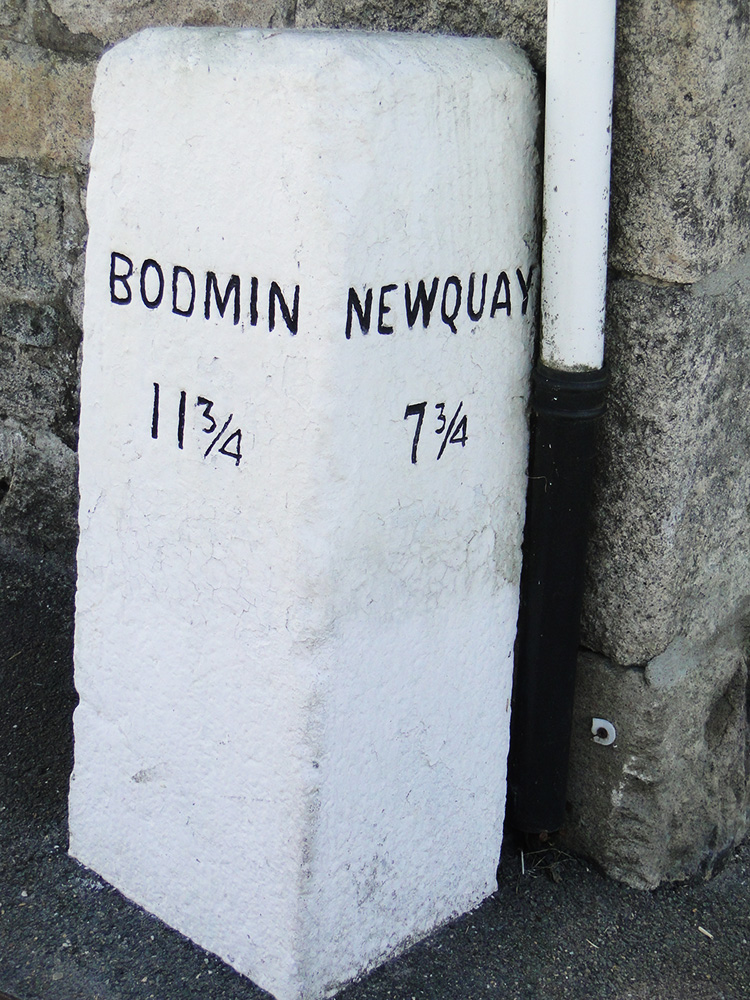 Milepost in Indian Queens
We had more trouble with unmaintained paths walking into Indian Queens which made our last few miles a chore and no fun at all. After walking through the village of Belowda the path followed the road towards Providence, leaving the road at Royalton. We followed it and just as we did earlier we hit a path which was overgrown in scrub and Bramble. It was impossible to pass. We were forced back to the road which we followed all the way into Indian Queens. It was an unsatisfactory end to what in the most part had been a wonderful walk.

Incidentally the diverted walk through Belowda did bring a smile to our faces when we passed a sign saying "Please take care. Blind Cat in road!". So we had a little compensation of light relief for all the ills of trying to fight our way through the impassable thickets. We finished in Indian Queens spot on eight hours after we had started. In Indian Queens we found a phone box and called for a taxi which arrived half an hour later. It took us to Bodmin where we were staying for the night. In the evening we were joined by the friends and my brother Dave who would share my walk all the way to the finish in three days time. Flipping heck, this brilliant adventure is drawing to an end.
Continue the walk
Great British Walk