The Great British Walk
A personal record of my three month walk of the full length of Great Britain from north to south with written journal and photographs. Tracklogs for GPS units and for use with Google Earth are available for download for each stage.
---
Stage 76: Truro to Gweek
Google Maps
Open Source Maps
| Statistics | |
| --- | --- |
| Start: Truro | Finish: Gweek |
| Distance: 15.9 miles (25.5 km) | Time: 6-7 hours |
| Climbing: 547 metres | Total Distance: 1,071.8 miles |
| GPX Route File | Google Earth File |
Ordnance Survey Explorer Map (1:25,000)
Summary
There is no getting away from the fact that the penultimate stage of my Great British Walk involved an awful lot of walking by road. It could not be helped and the fact it was road made it into more of a route march than one of the better days of walking on my journey. At least the roads I walked were quiet and the surrounding countryside was a pretty picture too. And the company was great with Steve and I being joined by Dave and CJ at Ponsanooth, just before half way into the stage and just before the big climb over 170 metres to Longdowns. This 76th stage of much road and a few miles off the tarmac roads took me from Truro to Gweek on the head of the Helford River and thus on the cusp of the Lizard Peninsular, scene of the glorious finale.
(Note: My walk of Devon and Cornwall is a part of my
Great British Walk
from the north coast of Scotland to the south coast of England)
---
Stage Report
Our accommodation at the Townhouse Guest House, a stylish Victorian house with lovely gardens to compliment it was lovely. Our hosts were very nice and the twin room Steve and I stayed in was first class, fitted out with all the usual things you would find in a guest house including hair dryer which neither Steve nor I needed and tea which we did. Every morning when we stayed in a guest house or hotel we had the same routine. When we had waken one of us had the first task of making the tea. It was an alternating arrangement though I tended to make the tea more often than not. I was often the first to wake. Another thing we found at the bottom of our clothes wardrobe in the guest house were weighing scales. "Go on, weigh yourself" said Steve and adding "you will be surprised at what you weigh". I have to admit I had not thought anything about losing weight during the walk. Surely I would have lost some weight, I thought a few pounds to half a stone maybe. I stood on the scales "Bloody hell, twelve stones and three pounds. I cannot believe it. WOW" Steve replied "I did say you would be surprised". I had lost a full two stones having being a little over fourteen stones in weight when I had set off from home to make the journey up to Scotland for the start of the walk. I was shocked. I was ecstatic.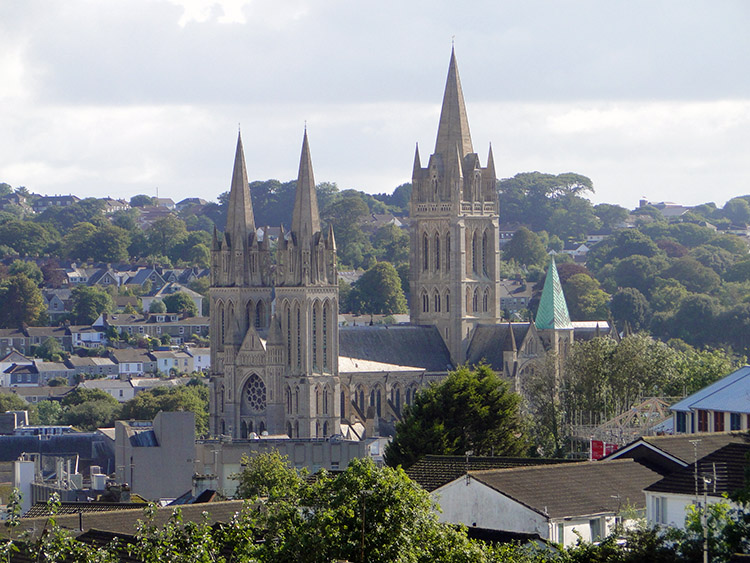 Truro Cathedral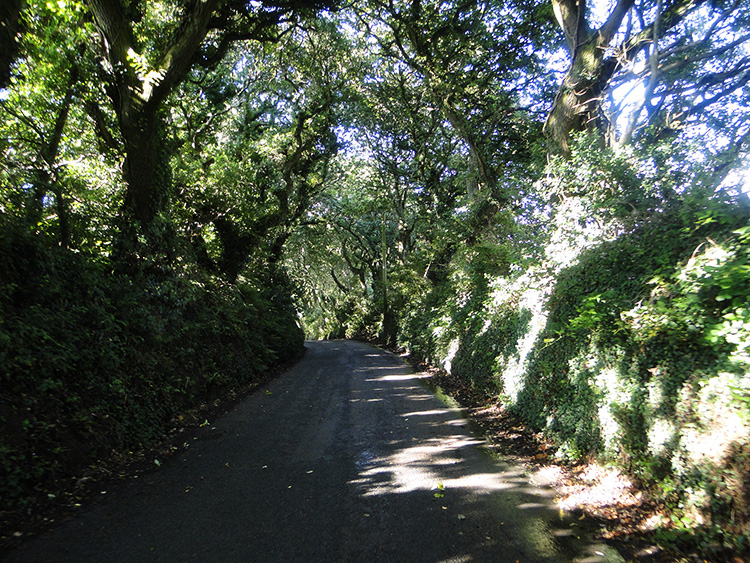 A long road ahead
Steve and I left our first class accommodation after a first class breakfast, stepping out to a lovely sunny morning. Our course took us on the Falmouth Road, southbound out of Cornwall's only city. We climbed as we walked to cross the A390 near County Hall which gave us a great view back down to the city centre and to the towering spires of Truro Cathedral. It was an impressive sight.

After crossing the A390 we started our walk along a long road to Penwethers and Pound Lane Farm two miles down the road. We walked vigorously along the road, putting the two miles behind us as quickly as we could. The quite road, more like a lane, was pretty enough. It was typically festooned with trees on either side and providing us with the complementary dappled overhanging canopy we had become used to in the quiet country lanes of the southwest. We did come across one out of the ordinary sight on the walk though. some joker had walked a shopping trolley about a mile out of Truro and left it on the road. We pushed it to the side.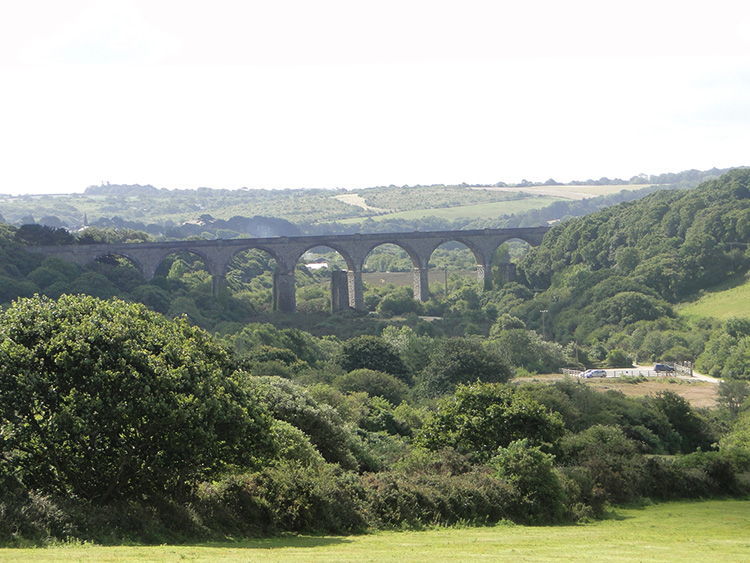 Carnon Viaduct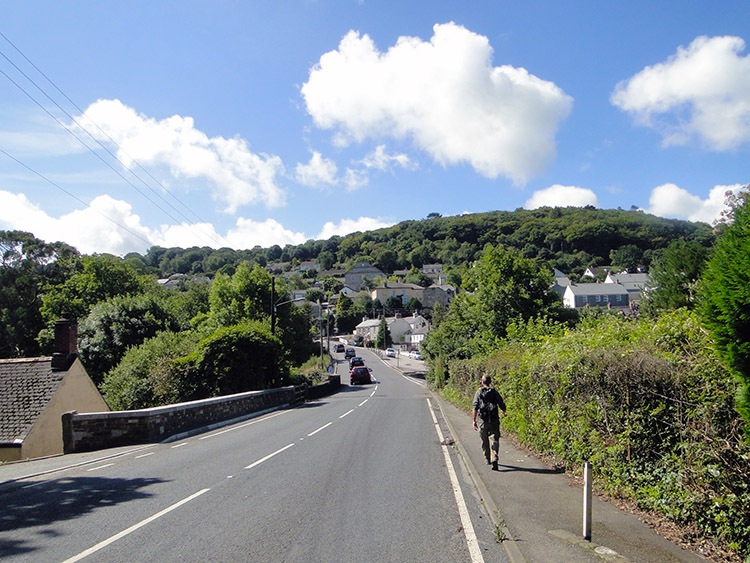 Walking into Ponsanooth
Near to Pound Lane Farm we had a great view to the Carnon Viaduct which supports the Truro to Falmouth Railway Line. We had followed a parallel line to the railway from Truro and at times we could see it alongside us while walking along the road. It is known as the Maritime Line. After reaching Pound Lane Farm we left the tarmac road for a short while to cut through an unmade avenue to reach a road leading past Tailings Dam. The dam is an earth-fill embankment dam used to store by-products of mining operations at Wheal Jane, a disused tin mine. At least our walk along roads was showing us plenty of local industrial heritage. So far we had seen a railway line, a viaduct, a disused tin mine and a dammed slurry pool. We descended the road to cross the Carnon River before climbing back up the road on the south side of the river to Coldwind Cross. Another two miles of walking the lanes and the roads of Cornwall led us to Ponsanooth.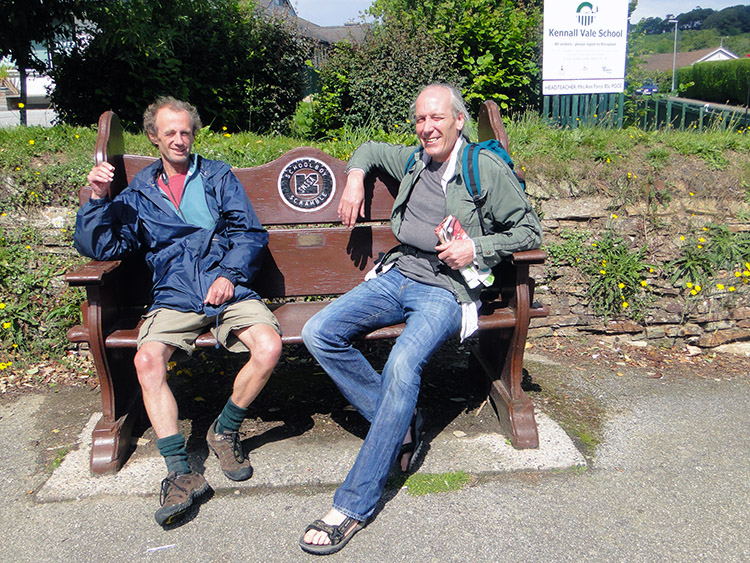 Dave and CJ were waiting patiently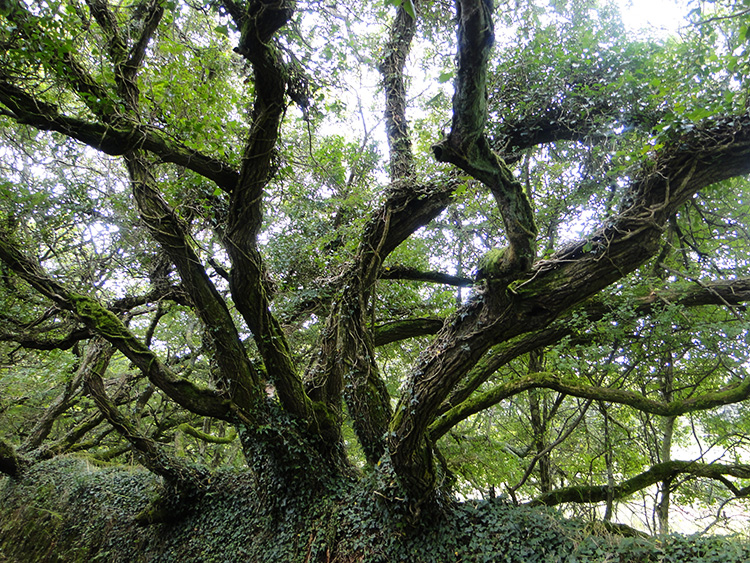 Characterful tree
It had been 9.00am when Steve and I had set off from Truro. It was 11.30am when we walked into Ponsanooth where CJ and Dave were waiting for us. They were sat on a bench outside of Kennall Vale School and they greeted us with a smile. Or was it a smirk? We had walked seven fast miles in two and a half hours to rendezvous with them. They had done no walking at all so far today. At least though they had met us just before the serious work of the day. A good climb was required to get us from Ponsanooth towards Gweek.

The next three miles of walking was all uphill and the first half mile a steep climb of over 100 metres up Cot Hill. After Tregoose House we reached a junction in the road and left the tarmac to follow an unmade lane towards Tory Farm. After the farm the lane became quiet fairytale with ancient trees, mainly Beech, writing their limbs in all kinds of fantastic shapes. What kind of conditions cause the trees to make such intricate contortions up here?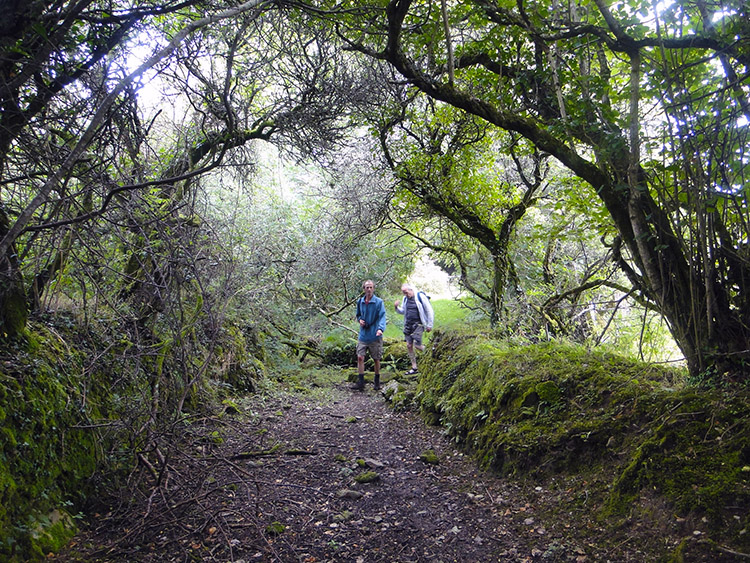 An ancient lane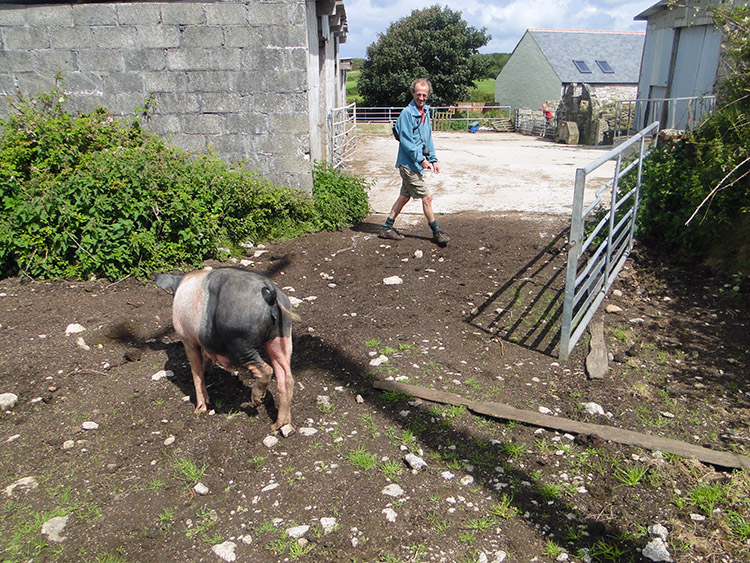 Dave's friend the Pig
We continued along the ancient unmade lanes from Tory Farm to Roseath where we crossed another of the country roads which criss-crossed the countryside in this part of Cornwall. There seemed to be a road linking every farm with its neighbour, rather than having the long private access lanes between farms which I am familiar with in the north. After crossing the road we did walk along a farm access lane though, to Trevales Farm. The path took us through the farmyard where we met a friendly Saddleback sow pig. It was so friendly that it took a particular liking to Dave. As we walked through the farmyard it decided to follow him. As we walked from the farm it continued to follow and despite Dave saying "Go back, shoo" and any other pig command he could think of it made no difference. The sow clearly fancied him. He took the only course of action remaining and turned back, leading his new friend back to its farm yard. He must have distracted it then as he returned to us alone.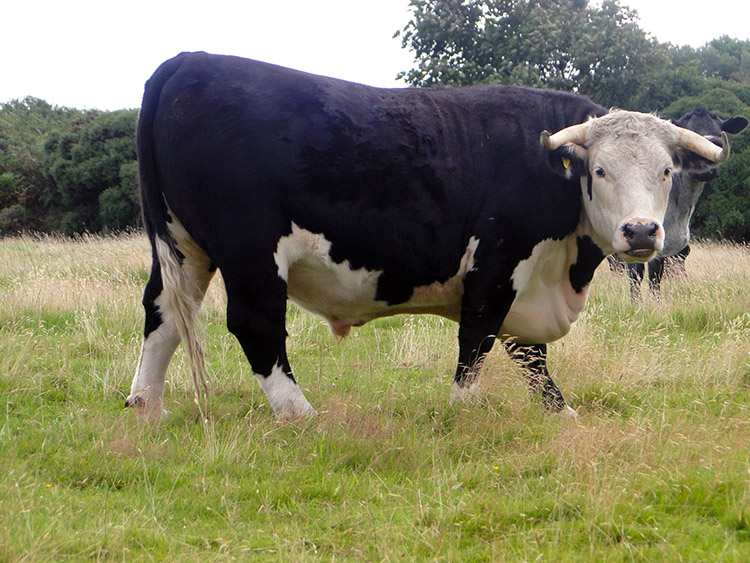 Keeping a close eye on us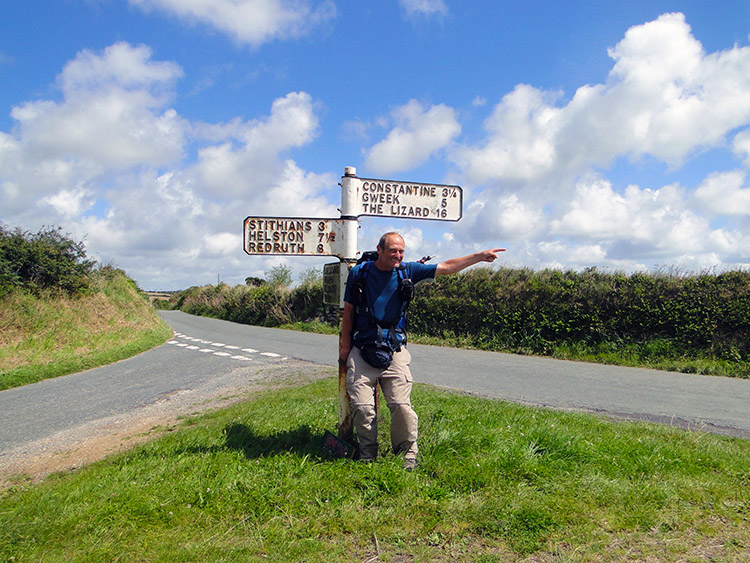 Sixteen miles to go
In the next field we met another animal, this time a Black Hereford Bull. Fortunately he was about 30 metres away towards the middle of the field and attending his cows. He kept a close eye on us as we walked the short lane across the field edge while keeping a close eye on him. From the field we reached another stretch of road which we followed due south to Polkanuggo. I could not think these names up. At Polkanuggo the road forked eastwards while we left it to continue southwards on an unmade lane for half a mile to Polkanuggo. Yes, you read that correctly. We walked from Polkanuggo to Polkanuggo. It could only be in Cornwall. We crossed the A394 just west of Falmouth and climbed by minor road to the site of disused Kessel Downs Quarry which marked the high point of our walk, 190 metres high. Apart from a small up and over hump we had six miles of downhill walking to enjoy before reaching Gweek now. A mile down the road we came to a road junction telling us Gweek was five miles away. It also said Lizard 16". For the first time I had seen a physical indicator pointing to the end of my journey. It was quite a moment.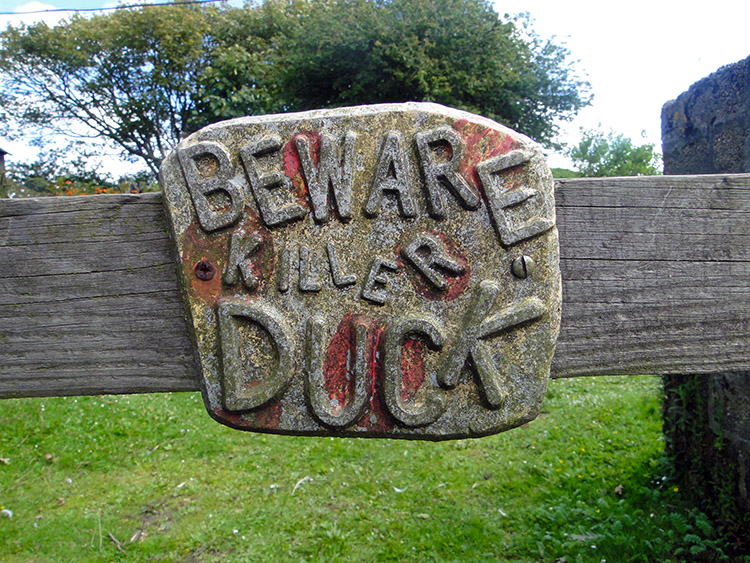 Beware Killer Duck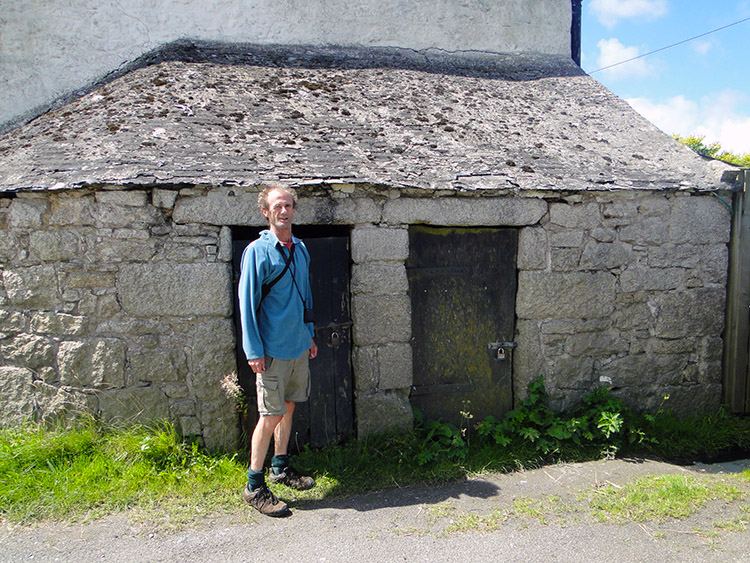 Duck your head to enter
The sunshine which Steve and I had enjoyed when walking from Truro had been blocked by cloud around the midday hours but now at 1.30pm it was shining brightly again. The morning fast walk which Steve and I had made to meet CJ and Dave was now an amble. The four of us were in no hurry at all, strolling along the lanes on a sunny afternoon. Everything was bright, it was a lovely Monday afternoon. Even the sight of a warning sign at Halvosso Farm did not shake our joie de vivre. "Beware, Killer Duck" was posted on a gate at the farm. We sneaked past the terror. At the other end of the farm was an outbuilding fixed to the main house. The residents must have been small.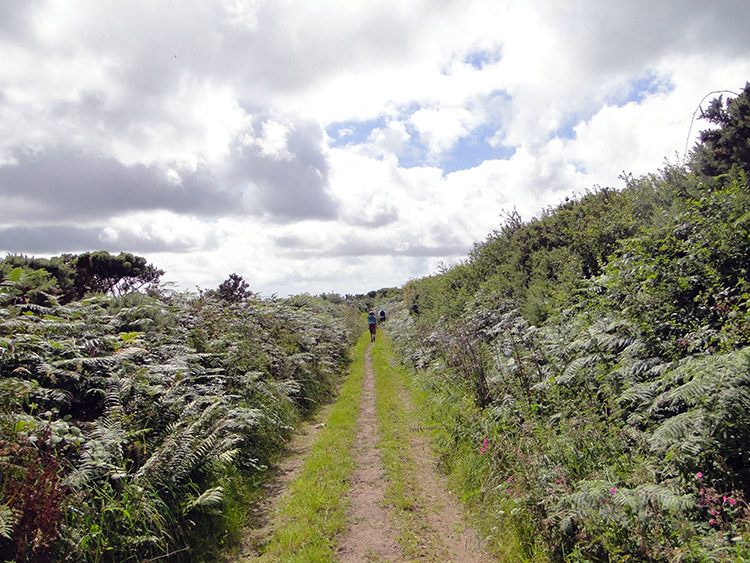 The lane near Job's Water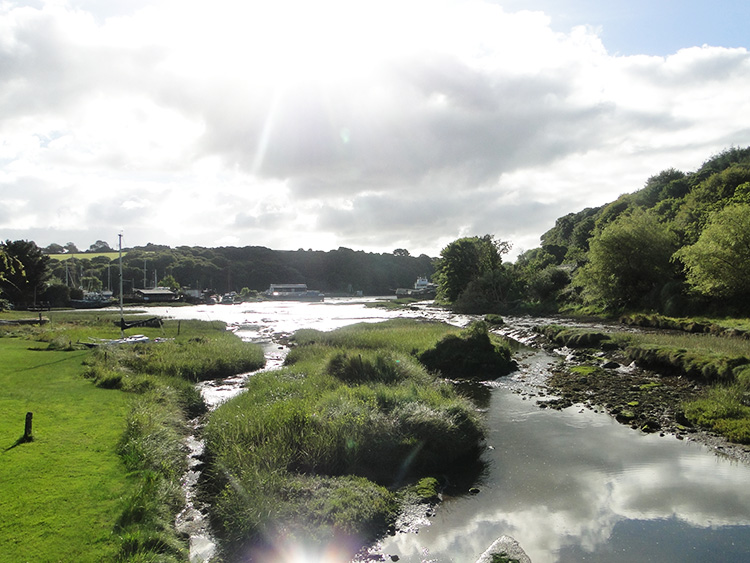 River Helston at Gweek
After following an unmade lane from Job's Water to Maen Cottage we walked the final few miles of the stage to Gweek by road. On the way we passed a Medieval Wayside Cross near Trewardreva Mill and Trewardreva Cross, another old road marker before reaching the village of Brill. There were lots of old stone markers in the area, probably needed by all the old pilgrims and merchants to find their way on these roads which criss-crossed each other. Not to mention the smugglers bringing contraband from the coast. We were not far away from it now. After passing one more junction at Carwythnack Chase we soon arrived in Gweek. Stage 76 was over, just one more to go.

To celebrate reaching the starting point of the final stage of the Great British Walk we had a night out in Falmouth. CJ, Dave, Steve and I made our way from Gweek to Flushing on the east side of Falmouth Bay where CJ and Dave were staying. On arrival at their accommodation we found Callum and Matt still recovering from the walk and long night of yesterday. While we had walked in the light of today they had slept in a darkened room. Oh, how remember days like that. They were sufficiently recovered to join us in the evening though. After evening tea we crossed Falmouth Bay by the Flushing Ferry and then enjoyed a good night out in the town. It was a fitting prelude to the very special and memorable day which followed.
Continue the walk
Great British Walk