The Great British Walk
A personal record of my three month walk of the full length of Great Britain from north to south with written journal and photographs. Tracklogs for GPS units and for use with Google Earth are available for download for each stage.
---
Stage 72: Stowford to Five Lanes
Google Maps
Open Source Maps
| Statistics | |
| --- | --- |
| Start: Stowford | Finish: Five Lanes |
| Distance: 17.0 miles (27.3 km) | Time: 7-8 hours |
| Climbing: 581 metres | Total Distance: 1,011.4 miles |
| GPX Route File | Google Earth File |
Ordnance Survey Explorer Map (1:25,000)
Summary
Stage 72 saw me to the end of my journey through Devon and to the beginning of my walk through Cornwall, the final county of all. I could not go any further, my journey of Great Britain would end at the sea in a few days times. Coincidentally and most remarkably the point at where I entered into Cornwall at Polson Bridge on the River Tamar was almost exactly at the point when I passed the landmark of 1,000 miles walked. The day started in Stowford and led me via Lifton to Polson Bridge from where I visited Launceston, Tregadillett and Polyphant to finish at Five Lanes and within sight of Bodmin Moor.
(Note: My walk of Devon and Cornwall is a part of my
Great British Walk
from the north coast of Scotland to the south coast of England)
---
Stage Report
Steve said "What are you going to do when you're finished. You might be flat for a while". I had not even thought about how I would feel when it was all over. After over ten weeks on the Great British Walk I was so used to walking for miles every day and the honest truth was I did not know how I would feel when it was all over. I would deal with that in seven days time which would be the first in a long time that I would not be putting the walking boots on. For now though I was and so much looking forward to walking into Cornwall, the most south-westerly county of England. The one with the funny place names.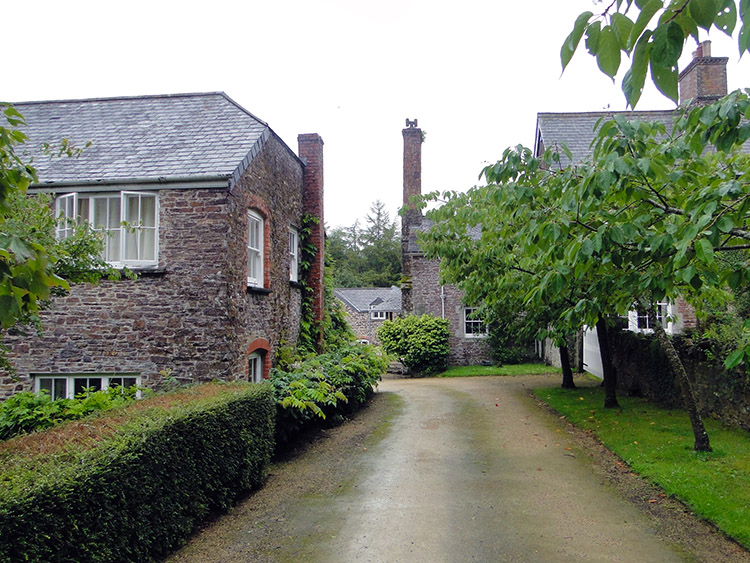 Townleigh Farm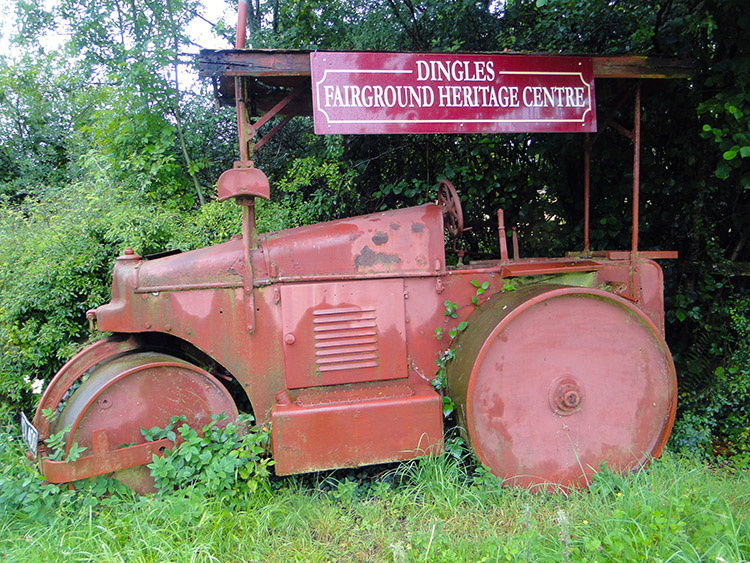 Dingles Fairground Heritage Centre
We left Townleigh Farm near Stowford and retraced our way back to the Two Castles Trail which we had picked up after coming off Dartmoor yesterday. We would use the trail to lead us all the way to where it terminates at Launceston Castle in Cornwall. First it had to lead us out of Devon. The weather was grotty, low cloud and persistent light rain. I thought to myself "Glad I got that window of great weather on Dartmoor yesterday". I would have been so disappointed to be up there now. Steve had put his Poncho cum bin-liner back on. I had missed it. We followed lanes and road to pass the River Thrushel and Hayne Bridge and from there we followed a lovely green lane to Milford where were came across Dingles Fairground Heritage Centre. If you like fairgrounds or are nostalgic about the history of them then this is the place to come. It promises exhibits, vintage engineering and stunning artwork displays. My childhood favourite were the swings which could be controlled by how much effort was put in by me and the other person on the swing. The harder you pulled the swing rope, the higher you went. More often or not I was the daring one, pulling the rope hardest.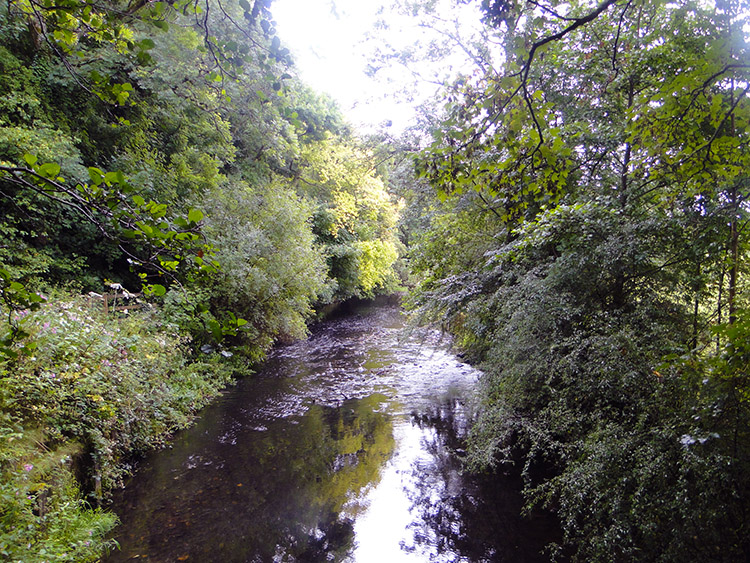 River Wolf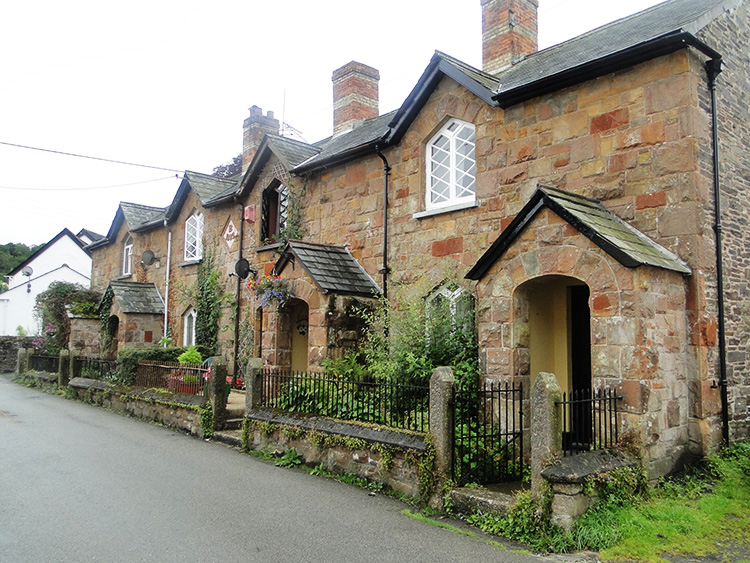 Lifton
After passing the Fairground Heritage Centre at Milford Steve and I walked through a stretch of woodland and then crossed the River Wolf by way of a footbridge. Soon after passing the river we came to road again, this one leading us all the way into the village of Lifton. It was not the first time we had called in the village, that had been last evening when our host at Townleigh Farm had driven me and Steve there to pick up supplies for our evening dinner and drinks at the village shop. There had been no inns within walking distance for us to use last night and Lifton was the nearest place with a shop. It had been good of our host to do so and even better when he and his wife had invited us into their home for drinks and a chat last night. They were a lovely couple and so accommodating. In fact I had quite a view evenings of good conversation with my hosts throughout the journey. In the main the people who took care of me were exceptionally nice. While we were walking through Lifton I saw a plaque pinned to the wall of a building. It read "The Trafalgar Way, Lifton". It went on to explain how news of the Admiral Nelson's victory was dispatched to London after first news was brought to English shores at Falmouth.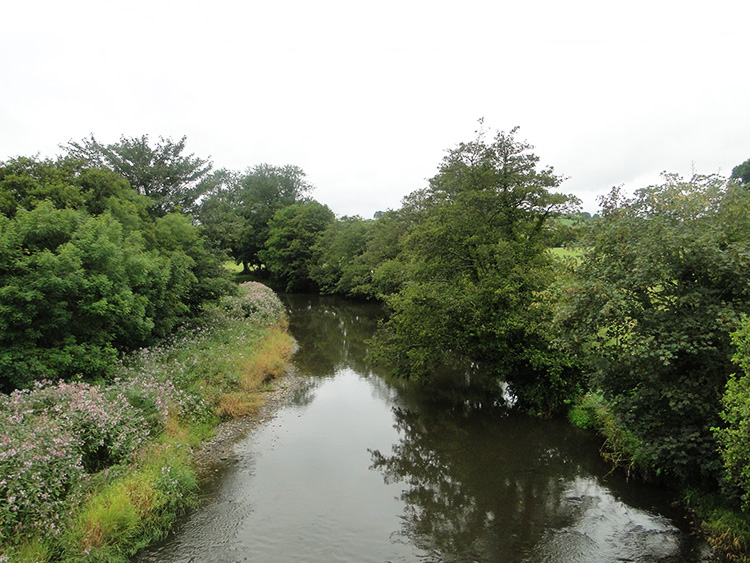 River Tamar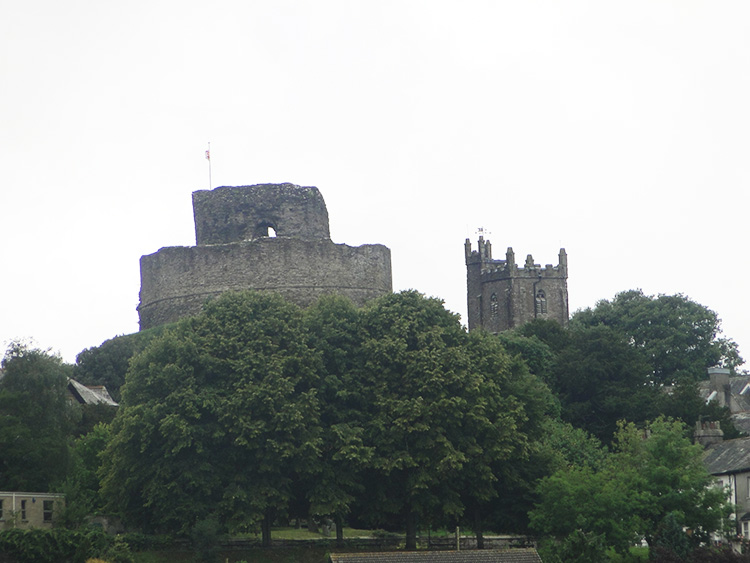 Launceston Castle
From Lifton we crossed the A30 and then walked along the side of the A30 through Liftondown, the last Devon village on the walk. We continued on the side of the A30 which was thankfully very quiet of traffic to reach Polson Bridge which spanned the River Tamar and this the bridge which marked the end of our walk through Devon and the beginning of our walk through Cornwall. However Polson Bridge had much more significance for me, a major and celebratory significance. Standing on Polson Bridge was the point where I reached the 1,000 mile mark on the walk. ONE THOUSAND MILES. WOW. I was so chuffed that the milestone I knew I would reach towards the end of my walk had been reached. When I had been first planning the walk and measuring the miles it would cover I had intended to call the venture "The 1,000 Mile Walk". In fact it was originally called the 1,000 Mile Walk but in retrospect I changed the title. I had wanted to celebrate all of the great places I had visited in Great Britain and so later amended the title to Great British Walk. That is it for explanations of reasoning, let us move on. Every mile was a bonus from now on! The first bonus was the approach to Launceston and the view of Launceston Castle which stood proud over the town with just an attentive church tower to keep it company. It was a fantastic sight welcoming us into our first Cornish town.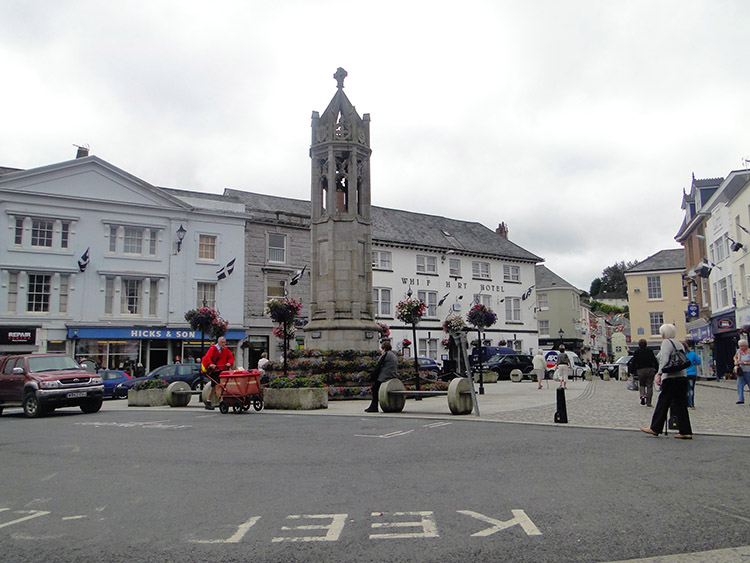 Launceston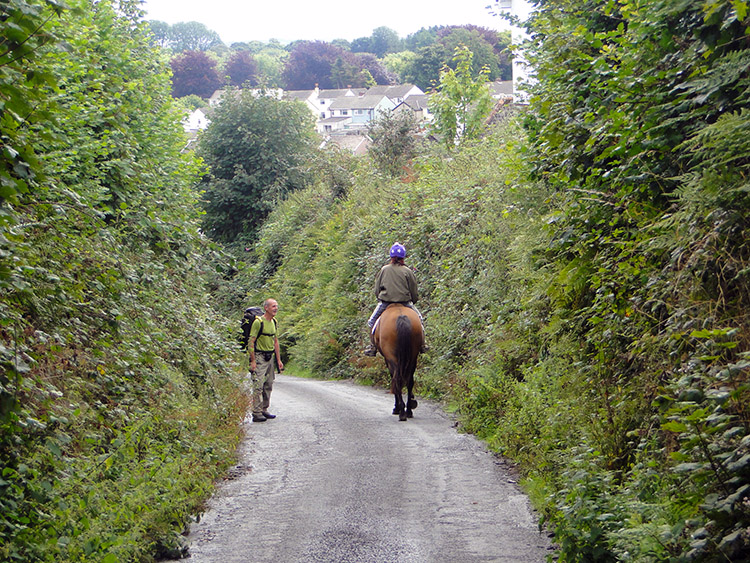 Riders pass Steve near Tregadillett
The rain which had persisted during our walk from Devon had stopped by the time we reached Launceston. It was 11.30 am, two and a half hours after we had set off from Townleigh Farm. With the rain having stopped there were quite a few people bustling about in the centre of Launceston going about their daily business. A postman was pushing a box trolley in the town centre. A lady was sat on the edge of a bench speaking on her phone. Around half a dozen ladies were crossing the square in various directions. In fact the only chaps in sight were me, Steve and the postman. It was ladies morning in Launceston. I noticed the inn in the centre of town was called "The Whif Hrt Hotel". Steve and I called in a local convenience store to pick up our lunch for eating later. It was too early to eat now. On leaving Launceston could swear it was brightening up. Surely that was a smidgen of blue sky I saw. We walked down a country road edged by high hedges towards the village of Tregadillett. I did say Cornwall was a county of eccentric place names. The only time we were passed on the country road was by horse and rider.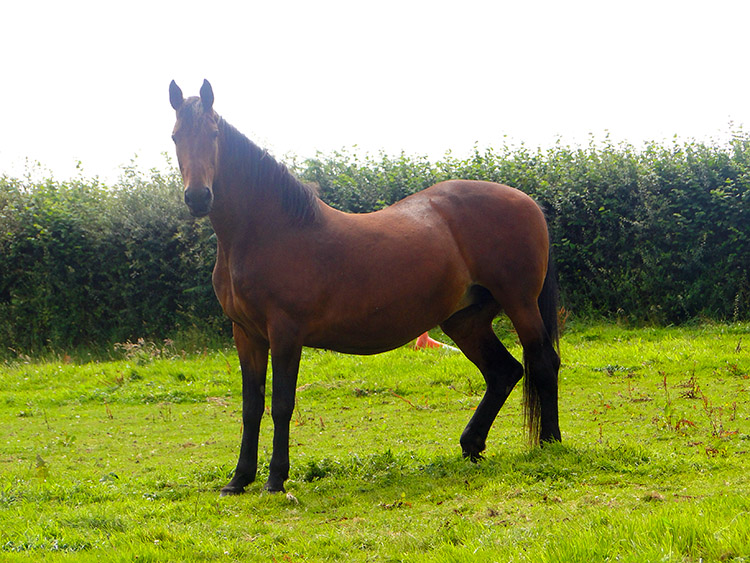 The Big Horse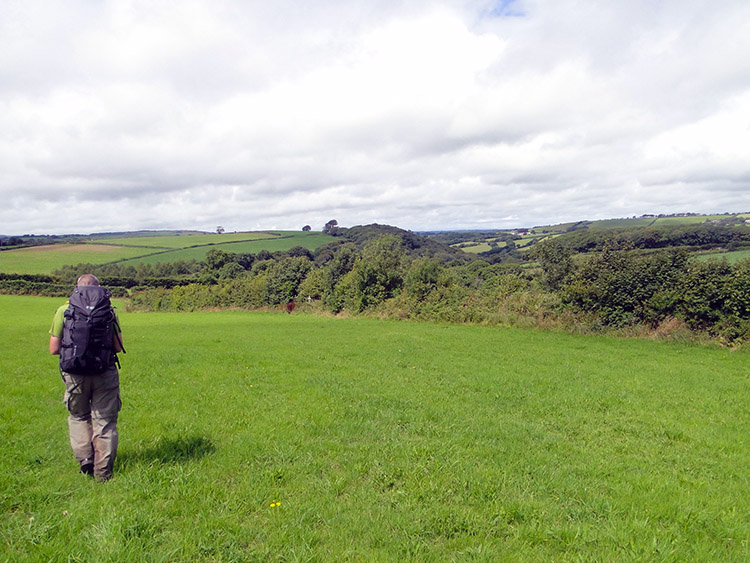 Countryside near Tregadillett
We left the country lane between Launceston and Tregadillett to cross a few fields. In one of these fields was a very big horse which Steve and I would have needed a ladder to mount. Not knowing horse breeds I asked friends by showing them the picture of the horse and what it might be. Replies included "17 hand Palfrey? Formerly used as a cavalry mount?" from Martyn. "It could be a Cleveland Bay" from friend of Leena. "Chestnut thoroughbred, probably ex-racehorse brood mare" from Chris S and variations of "Just a big horse" from Andy, Jocelyn and Chris H. Thanks a lot everyone, I have titled it 'The Big Horse'. More fields followed after walking through the quiet side of Tregadillett but not before we had taken our lunch break in a small wood to avoid a short heavy shower. Sunshine was either side of the shower though, much better than the persistent grim weather of the morning. Rain had stopped and sunshine returned when we resumed walking after lunch. We crossed some lovely meadows in St Thomas the Apostle Rural with the grasslands covered in the pink of Wild Clover and brilliant yellow of Autumn Hawkbit. We left the peace and the pleasure of the field crossings to follow a Z line of roads which would lead us to the village of Polyphant. A roadside information sign pointed the way to Hidden Valley. We did not get to see the hidden valley though, it was in the opposite direction to ours. Still, on finding out what Hidden Valley was I could compare it to Forbidden Corner in North Yorkshire, a place I have been to on a few occasions.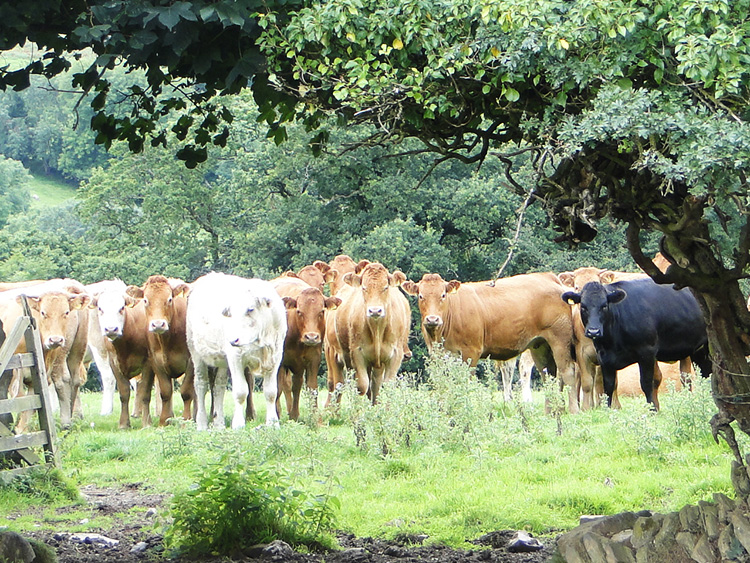 Preparing to race us across the field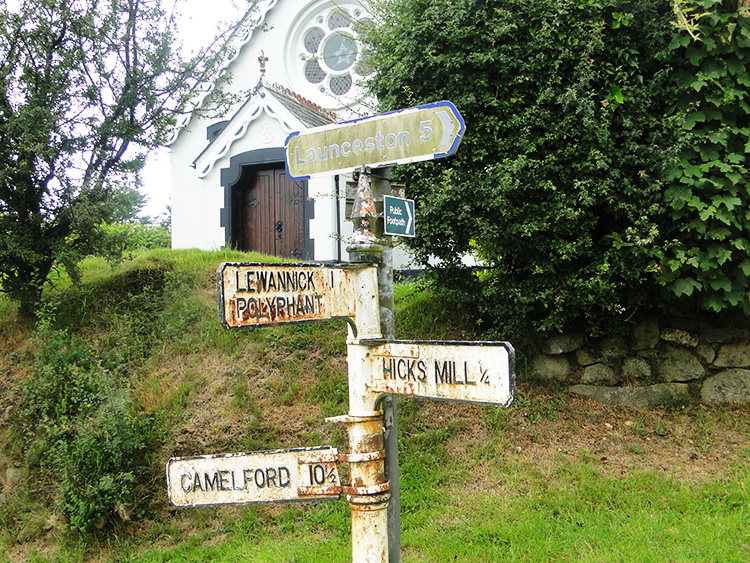 Signpost in Polyphant
Steve and I did not need the contrived adventure of Hidden Valley or Forbidden Corner anyway. We had the natural variety in front of us and with every step we took. And one such adventure came our way very soon as we had left the roadsides to cross fields to reach Polyphant. Just after passing Trenault Farm we crossed two fields before reaching a five bar gate which would take us into a third. Beside the gate in the nest field was a stock building and stood near it were a herd of Cattle. They were all young males. As soon as the spotted us approaching they had congregated as a group and fixed eyes on their quarry. We stopped before crossing into their field. sat down on the grass and took a ten minute break. "Let's sit here until they get bored" said Steve. "That is not likely" said I. We continued to sit it out and wait for them to wander off while we discussed a strategy on how to manage the field crossing. They did not get bored of staring at us so we decided to walk quietly across their field while completely ignoring them. That was the plan but you know what they say 'best laid plan'. We crossed over the gate into the field and we started walking towards the far side. We were not many steps into the walk across when we sensed them coming. The next thing I remember is Steve bolting off, running as fast as he could. Almost immediately I heard the cows pick up pace and without a second thought so did I. I know it was completely the wrong thing to do but when Steve had set off the die was cast. He got to the stile just as I felt the breath of the lead Bullock at my back. "Hurry up over" I shouted followed by "they are coming fast!". We just made it, daft sods. (Never do what we did. In truth we knew we would make it to the stile and that is why we did it. It certainly got our adrenaline pumping though and we could have made it much easier for ourselves).

After the drama of the race across the field we walked down a field to Hicks Mill. After walking on an access road past the mill we met the road which would lead us through Polyphant and straight to our end goal for the day at Five Lanes. Polyphant? How do they conjure up these names. Anyway, the whitewashed Methodist Chapel in the village was pretty. We did not see much else of the place, instead sticking to the road to Five Lanes. It took us an hour to get from Polyphant to Five Lanes. It was all by tarmac road and hemmed in by hedges. Not much happened which was just as well as it calmed the earlier adrenaline high down. We stayed at the Kings Head Hotel in Five Lanes and we had a great night chatting with the locals in the bar. And we were ready for Bodmin Moor which was waiting in the morning.
Continue the walk
Great British Walk