The Great British Walk
A personal record of my three month walk of the full length of Great Britain from north to south with written journal and photographs. Tracklogs for GPS units and for use with Google Earth are available for download for each stage.
---
Stage 75: Indian Queens to Truro
Google Maps
Open Source Maps
| Statistics | |
| --- | --- |
| Start: Indian Queens | Finish: Truro |
| Distance: 13.9 miles (22.3 km) | Time: 6-7 hours |
| Climbing: 326 metres | Total Distance: 1,055.9 miles |
| GPX Route File | Google Earth File |
Ordnance Survey Explorer Map (1:25,000)
Summary
The third to last stage of my Great British Walk was one of leisure enjoyed with friends. Steve and I had been joined by my brother Dave and our friend CJ who had made the effort to travel down from North Yorkshire and share the rest of my journey to the Lizard with me. We were also joined by CJ's son Callum and his friend Matt. The stage took us southwest from Indian Queens to Truro, Cornwall's county town and only city. we enjoyed walking through a few villages and across some nice Cornish countryside on the way.
(Note: My walk of Devon and Cornwall is a part of my
Great British Walk
from the north coast of Scotland to the south coast of England)
---
Stage Report
It was all downhill today. Well the walking was anyway which would take us from 160 metres at Indian Queens to near sea level in Truro. Though the rolling Cornish countryside during the first half of the walk accumulated to a little over 300 metres of climbing it looked pretty much flat on my elevation profile with the longest single climb being one of just over 50 metres. I doubted we would notice it. Especially as we were all in such high spirits after a night of fun in Bodmin. Steve and Dave had been booked in one hotel room while I had one to myself. CJ and the lads had planned to stay in the van but CJ ended up staying in my room with me. We had talked well into the night and I had not a clue when we had finally retired. It was well into the early hours. Still I felt refreshed in the morning and after a good breakfast I was raring to go. CJ enjoyed his bonus breakfast too, the breakfast room staff were very accommodating. There was no rigour on ticking off the guest list at breakfast at all.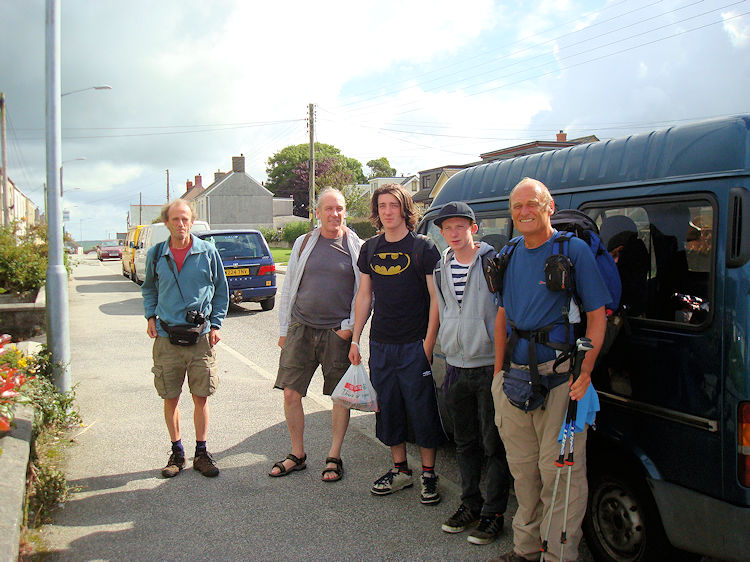 Ready for the off in Indian Queens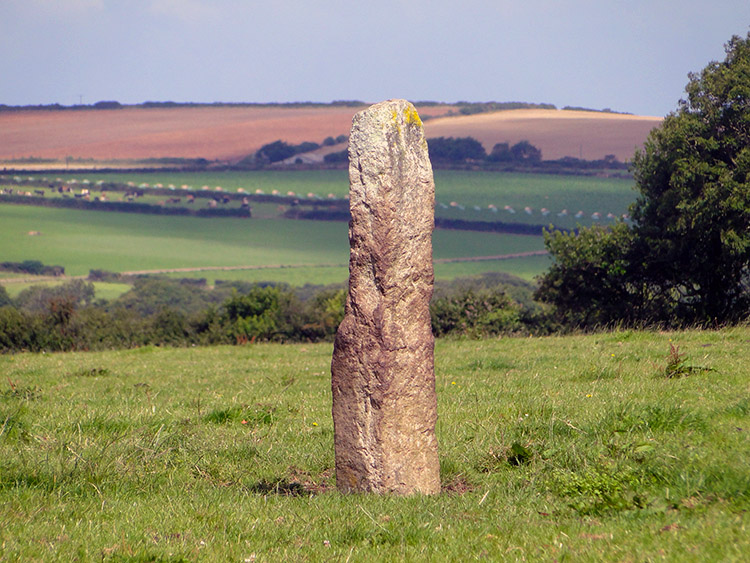 Enigma in field at Penhale
After enjoying CJ's limousine chauffeur service from Bodmin to Indian Queens my gang of six set off walking from Indian Queens by walking on the footpath down the B3275 road which took us through the adjoining villages of Fraddon and Penhale. By the time we had cleared the rows of houses on the roadside of the villages we had descended over 60 metres. The sun was shining and we were smiling. There was a lot of yapping going on too. We passed a field just after Penhale while walking towards Penrose Sophia on Narrow Lane. Was that a standing stone in the field? There was no indication anywhere of what it was. It did not appear to have been an old field boundary or gate post as it was stuck in the middle of the field. There is no indication of what it is on maps either. Mysterious.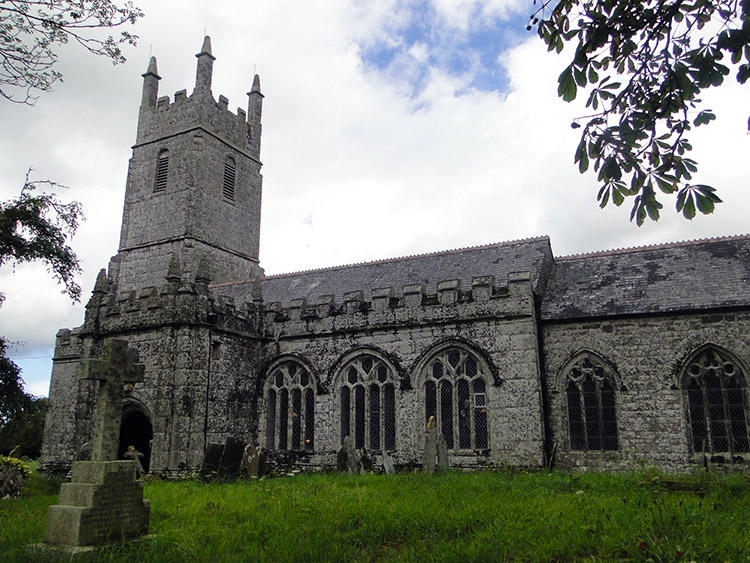 St Enoder Church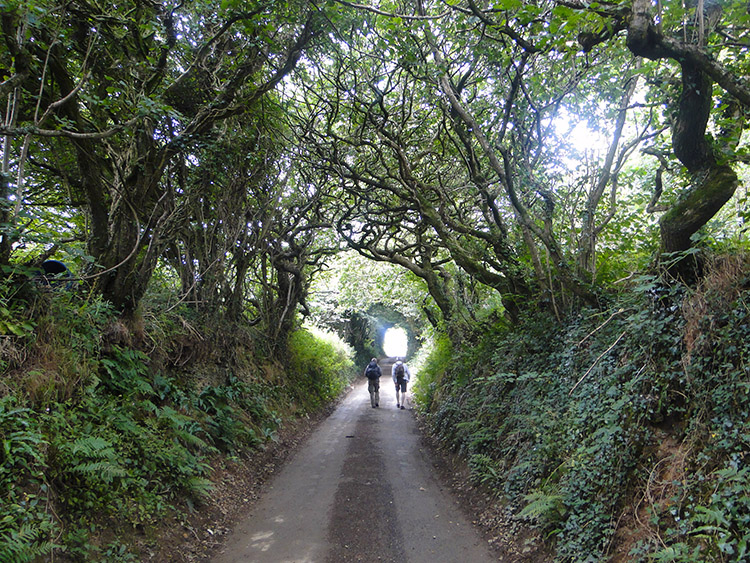 Holloway near Pencourse Manor
In just half an hour of walking we reached St Enoder. A fine church graces the village and not much else. From the church we had a long three mile walk along a minor road to the village of Mitchell which ran parallel to the A30 bound for Penzance. Though we were very close to the major commute road, sometimes walking within two small fields of the thunder of hurtling traffic we could not hear anything but our own voices. The soft soils of the ground we were walking along had sunken the old way into a holloway. For a good part of the walk to Mitchell we were around eight feet lower than the surrounding fields. Old gnarled Beech trees hung over the road. At times the cover was so dense it formed natural tunnels. Still the gang yapped. Steve and CJ talked with each other while leading the way. I walked on next while contemplating. Dave, Callum and Matt were talking with each other while walking at the rear.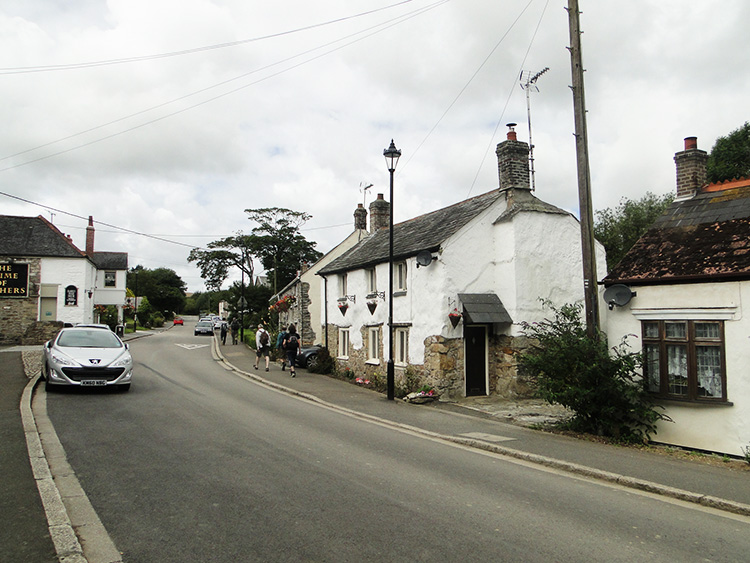 Walking through Mitchell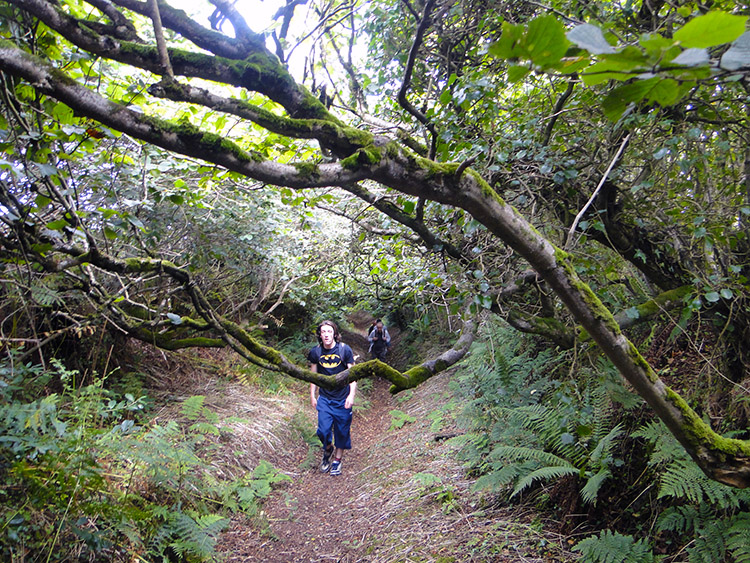 Climbing through the holloway
We reached the village of Mitchell at 11.45am, crossing over the A30 to access the village. In doing so we had covered five miles in just 90 minutes, not bad going at over three miles an hour. Mind you it had all been along good tarmac road and though we had strolled over a couple of humps the going had been generally downhill. That would change after walking through the quiet village which had benefitted greatly in the reduction of vehicle fumes and noise pollution when the A30 was bypassed from running through the centre of the village. I wondered if the roadside businesses felt that way though. I guessed they did. Who would want traffic streaming past their house night and day. From Mitchell we made the big climb of the day, a 54 metre climb through a dense narrow copse separating fields to the left and right. Though untrafficked this narrow gap uphill was also a holloway, driven a few feet downwards by footfall over the years.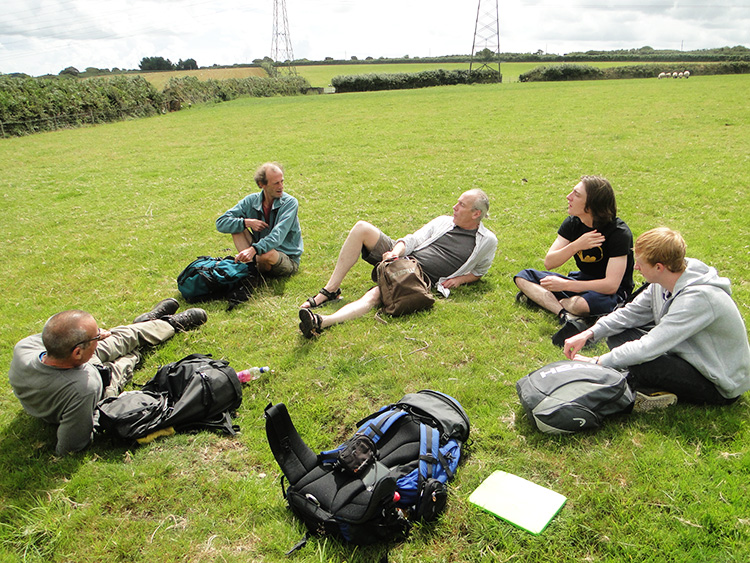 The break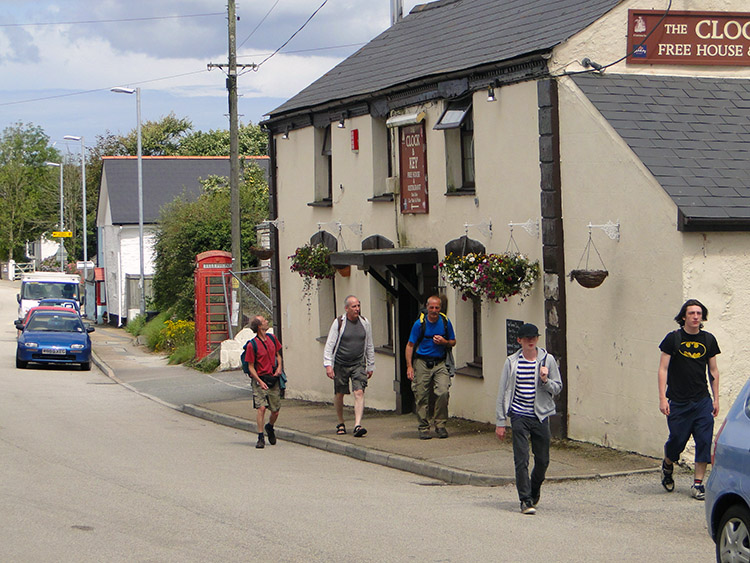 At the Clock and Key in Trispen
At the top of the climb we came out from the darkness of the holloway to the light of an open field. It was the ideal spot for a break and it was spot on noon too. Perfect timing. I do not recall if it came about as a result of mentioning my long walk through Britain but Steve, Dave and CJ got on to the subject of leading a Romany life, or at least that of living as an itinerant. It was a colourful discussion which took us through this first break of the day and one which was continued throughout the walk to Truro.

After our break in the top field we crossed a road and then followed a track past Hendra Motocross Track. After passing the motocross site we walked due west along a lane between fields to reach the A30 road again. We crossed from the east side to west side by a bridge only to walk half a mile and cross it from west to east by another bridge. That was three crossings of the road and we were not done with crossing the road on this stage yet. First though we reached the village of Trispen, St Erme where we found a shop. It was just past 1.00pm and near the time for refreshments.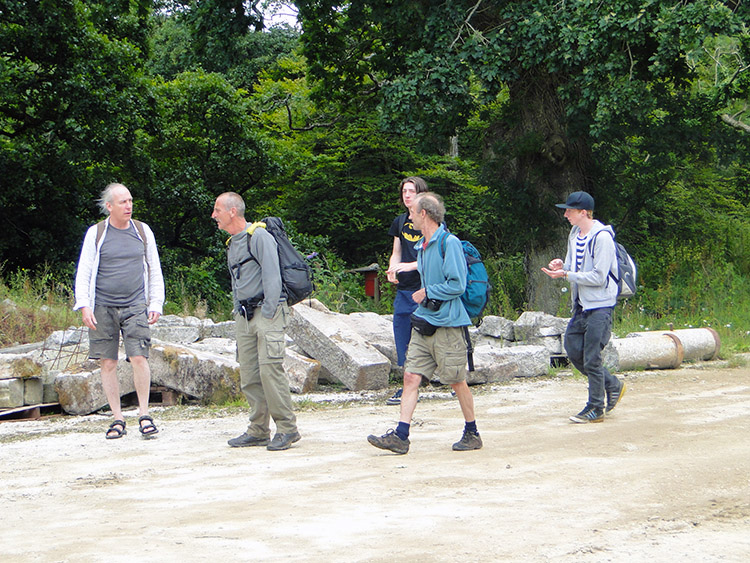 Site of discussion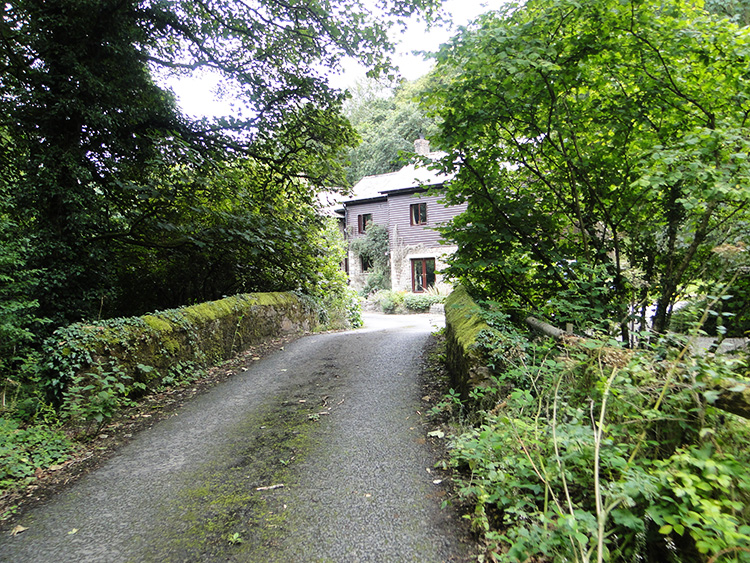 Lanner Mill
We crossed the A30 by a road bridge for the fourth and final time in the day soon after leaving the village of Trispen. Stocked with a medley of sandwiches, crisps, chocolate bars and soft drinks we found a quiet spot near a copse and sat down for lunch. Not so much talking was done this time. I think we were all a little tired now with the accumulation of last nights revelry and walking for ten miles causing a temporary lull in conversational energy. Having found there was a mobile signal some of the gang checked their phones while others munched away. The first break had lasted 20 minutes. This break took 45 minutes. After it was over and a little wearily we strolled onwards to Lanner Mill by way of an old quarry. From Lanner Mill we began a long walk through Idless Woods.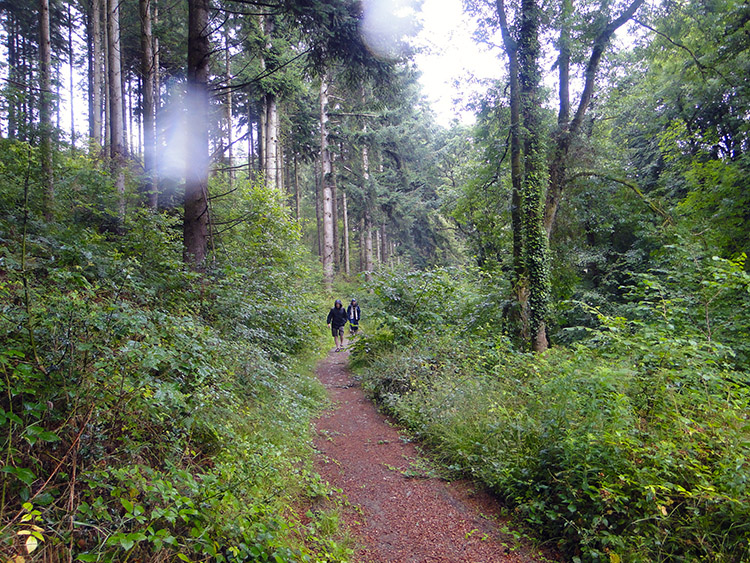 Idless Woods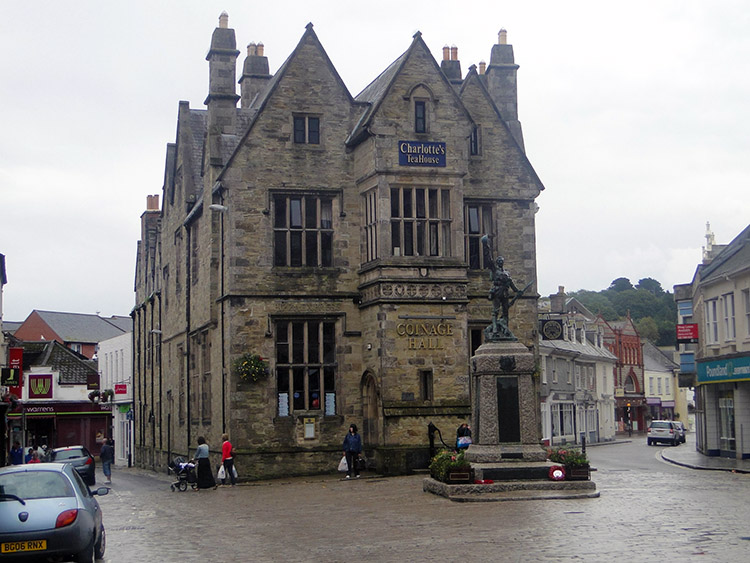 Truro
We got into the shelter of Idless Woods just in time. It had been fine all day but the weather had quickly closed in. At 2.00pm it was fine. At 2.30pm it was raining heavily. We had all been in light clothes at 2.00pm. We were all wearing full protective rain wear by 2.30pm. Idless Woods cover Bishop's Wood, St Clement Woods, Lady's Wood and Lord's Wood. Much is Forestry Commission softwoods, particularly on the north side which we entered from. Native and somewhat older Beech covered areas close to the path on the south side which was much nicer on the eye.

It did not stop raining when we emerged from woodland and met the road which would lead us through the village of Idless and into Truro. We were in for a wet finish. While walking through the woods we had continuously descended to just 20 metres elevation and we lost 15 metres of that walking down into Truro, finishing off the stage at 5 metres altitude. I had not been that low since setting off from Durness almost eleven weeks ago. Not done yet though, a little up and over some more Cornwall country to the most southerly peninsular of all on the British mainland. Another two days of fun walking with the lads yet.

Following the walk we all found a coffee house in the centre of Truro to enjoy refreshments together and dry off a little. Afterwards Steve and I found our accommodation while CJ, Dave and the lads sorted out their logistics of getting back to the van in Indian Queens and getting over to Falmouth where they were staying the next few days. In the evening Dave and CJ make it back to Truro for an evening with me and Steve. One idiot in the pub we chose could not detract from the good evening we had.
Continue the walk
Great British Walk