The Great British Walk
A personal record of my three month walk of the full length of Great Britain from north to south with written journal and photographs. Tracklogs for GPS units and for use with Google Earth are available for download for each stage.
---
Stage 2: Kyle of Durness to Rhiconich
Google Maps
Open Source Maps
| Statistics | |
| --- | --- |
| Start: Kyle of Durness | Finish: Rhiconich |
| Distance: 13.0 miles (21.0 km) | Time: 5-6 hours |
| Climbing: 353 metres | Total Distance: 17.5 miles |
| GPX Route File | Google Earth File |
Ordnance Survey Explorer Map (1:25,000)
Summary
It was a good decision to walk to Faraid Head and back yesterday. Cape Wrath evaded me, as it did 300 marathon runners participating in the annual Cape Wrath Challenge. At breakfast in the Keoldale Bed and Breakfast I heard the expected bad news that the Kyle of Durness ferry was not running and so as I had reasoned yesterday I decided that rather than wait in the vain hope it would take me over tomorrow, already putting me behind schedule that I would set off and follow the scenic road from the Kyle of Durness towards Kinlochbervie. It was a decision based on reason, having been informed this part of Scotland is on Amber storm alert for the next few days. Drat, damn and blast; foiled by the unpredictable weather but best be ahead of myself than than behind with the prediction of stormy weather for the foreseeable future.
(Note: My walk of the Cape Wrath Trail was a part of my
Great British Walk
from the north coast of Scotland to the south coast of England)
---
Stage Report
The route today was 13 miles, following my four and a half yesterday from the Faraid headland to my digs at the Kyle of Durness. Incidentally it howled all night, often waking me. Back to today, my walk began in miserable conditions and it was a frustrating sight to see the Cape Wrath ferry closed as I left Keoldale and resumed my walk south to Cornwall, a thought that filled me with awe. I still had today to get through and today was the first one carrying my 16 kilo (2.5 stones) backpack. How would I cope? I hadn't done much practice at all carrying the weight. More so, as I set off I was expecting to wild camp tonight; I had erected the tent once in a park in Harrogate on a sunny day, not slept in it at all and certainly not on a wild Scottish night. I knew I would cope though, the sense of adventure and challenge inspired me, I was topped up with motivation.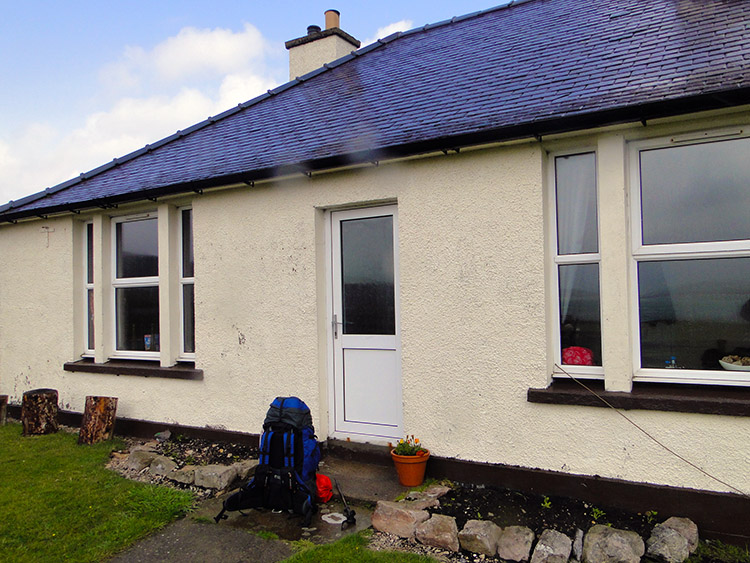 Mrs MacKinnon's Keoldale Bed and Breakfast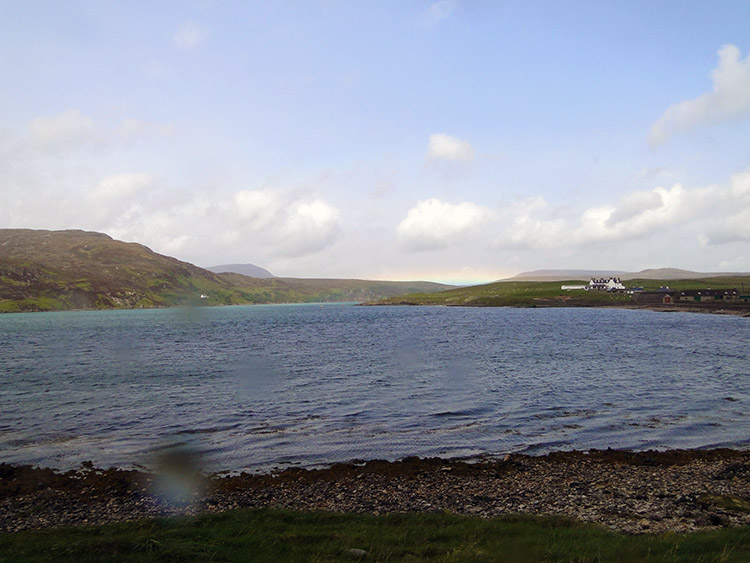 Kyle of Durness, Ferry closed
The rain which had stormed down during the night was still falling as I ate breakfast in Mrs MacKinnon's Bed and Breakfast and it was still raining as I set off but the weather did improve as I walked off from my first accommodation on the walk down the length of Great Britain and after a miles walking it actually stopped. The improvement in weather was bettered still more by my meetings with many of the 300 marathon runners whose alternative course to their intended Cape Wrath route was up the road from Durness for half the marathon distance before turning back again. At least their return half was with the wind. My thirteen miles was all against it.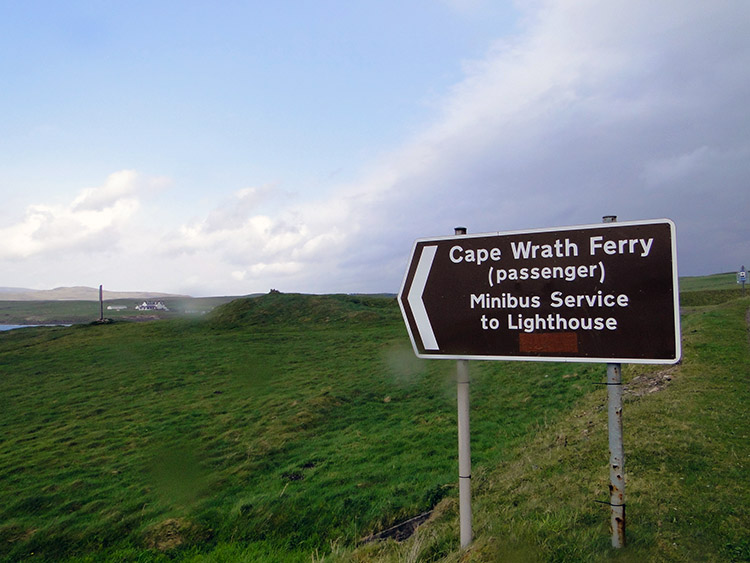 No chance today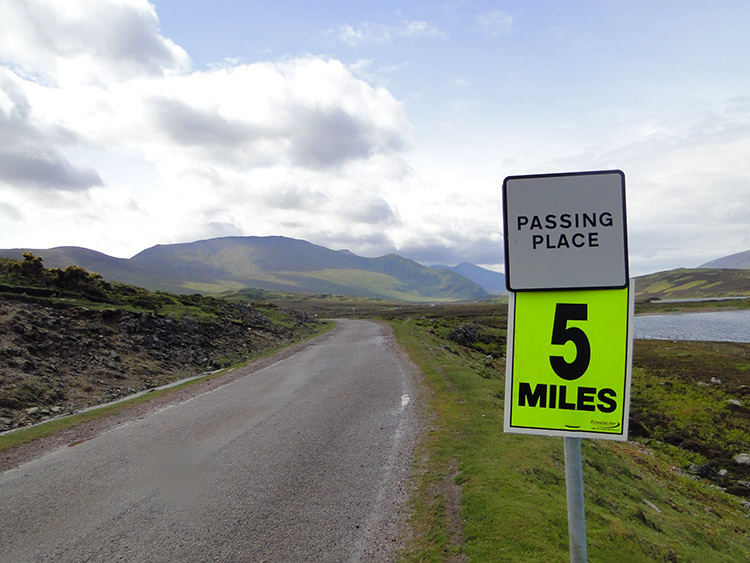 The long road south
As I reached the end of the Kyle of Durness and began the long but steady climb from sea level the sun shone brightly for me. Soon after the Kyle I came upon a support and refreshment post for the marathon runners just before Drochaid Mhor. There were three vehicles, a car supplying refreshments to the marathon runners, an ambulance and a Mountain Rescue vehicle. I did not need saving, not yet. Nor did I need medical attention; too soon into the walk. Nor did I need a drink or something to eat but the kindly people at the refreshment post offered me a drink and a KitKat anyway which I was not allowed to refuse. Such generousity. They knew, as with their marathon runners, that I too had been frustrated by the ferry closure and so welcomed me as one of their own. It was wonderful and during my short chat with them they wished me well on my journey. I wished them well too and after my drink and with KitKat saved for later I waved them goodbye and went on my way.
Drochaid Mhor, the bridge over River Dionard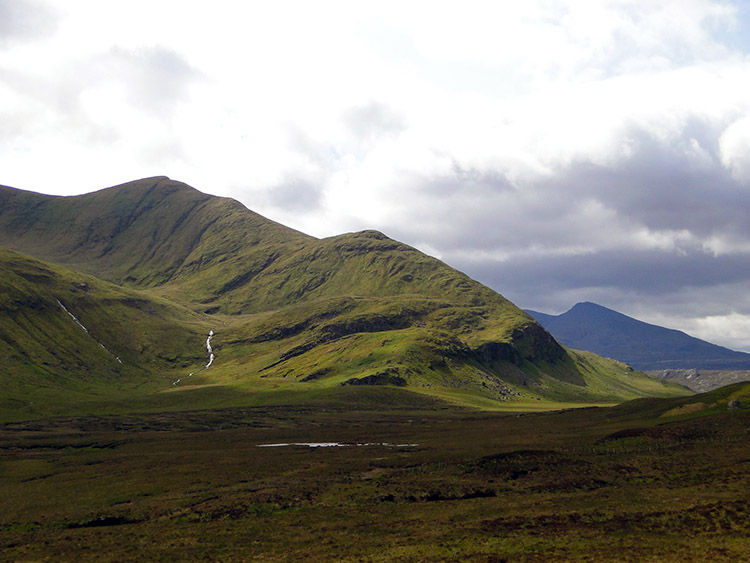 Beinn Spionnaidh
After passing over Drochaid Mhor, the bridge over River Dionard the improved weather and spell of sunshine allowed me to take some wonderful pictures of an interesting mountain to my left which I could not name at the time but which I now know is Beinn Spionnaidh. It is a marvellous mountain with wonderful shapes and prominent facing edges which reminded me of Blencathra. My attention was taken by the mountain, the first one on the 1,000 mile walk, for quite a time while I walked past. Beinn Spionnaidh was covered in a super green colour too, a colour unexpected particularly as those further distant were white and barren of green like Foinaven which I could see in the distance a little further south.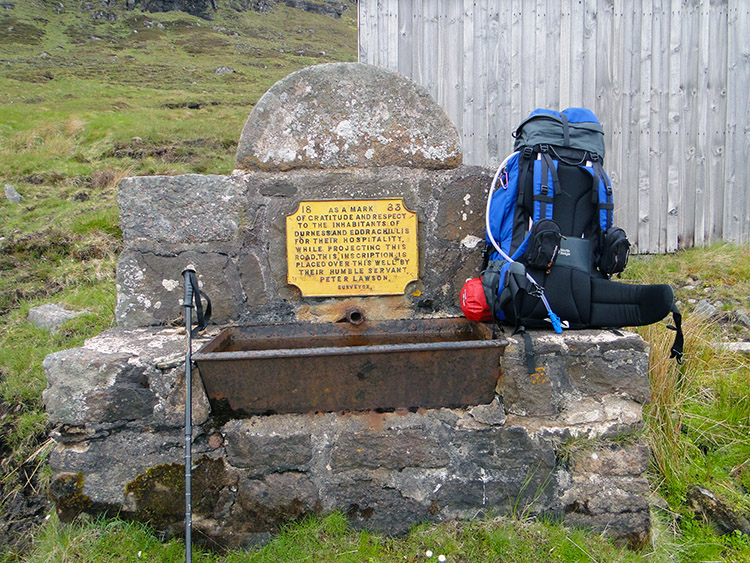 Memorial to road builder Peter Lawson beside the A838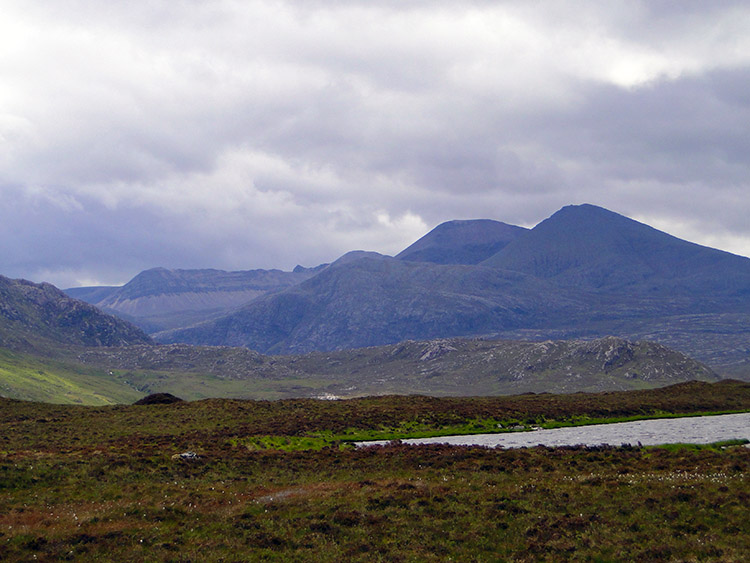 The Foinaven range with Ganu Mor the highest peak
While walking past Beinn Spionnaidh marathon runners continued to greet me and I them until after six miles and some steady climbing up the road when they were all gone. Now I was alone and weirdly I think the weather knew it because as soon as the last runner had passed and I was in my own company it started raining. The rain started to fall just as I took my first break of the day at a well with a memorial which read 'As a mark of gratitude and respect to the inhabitants of Durness and Eddrachillis for their hospitality while projecting this road. This inscription is placed over this well by their humble servant Peter Lawson, surveyor' As I took my break the rain continued to fall, first lightly, then constantly and then inevitably heavily. I completed my break and took out my wet gear which I draped myself in before setting off with head lowered to avoid the horizontal hits. I continued on quite happily though, I was feeling well and my feet were pumping me up to the highest point. I took pictures too because although it was raining heavily and now dull the view was always interesting with wonderful mountains in the near distance, rushing streams and small waterfalls closer and rock outcrops just by the roadside. Eventually I reached Gualin House where I had planned to camp but the rain was now relentless and no ground suitable so I kept going.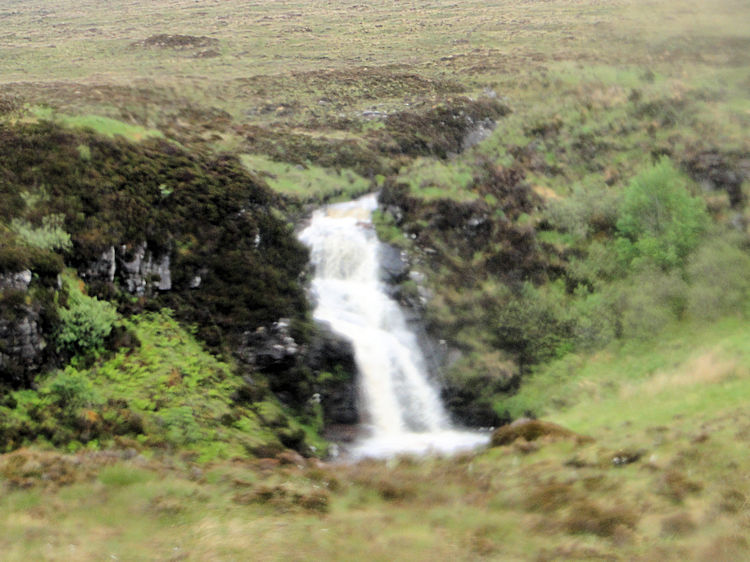 Loch na Gainimh supplies the Allt Leacach waterfall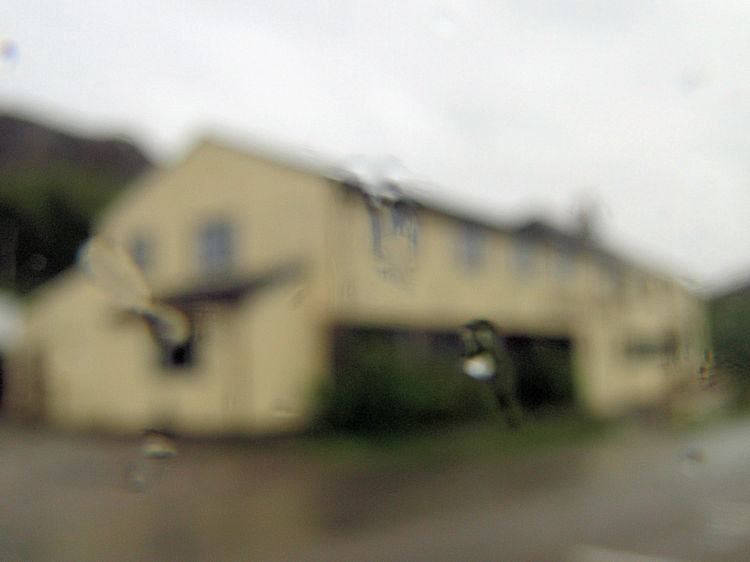 Rhiconich Hotel
Despite the rain I did feel good and on looking at the map I noted Rhiconich Hotel was only five miles distant. If I could keep going to there and if there were room at the inn I would actually get a day ahead of myself. No accommodation was booked until Inchnadamph three days on so I could stagger the legs between. Thus out came a very soggy phone and with intermittent signal and my backup team in Harrogate (my wife Lil!) I got through and a room booked. Now I felt a new rush of adrenaline and though I was wet through I kept on to Rhiconich which I reached in mid afternoon. It was deadly quiet as approached the hotel, I was the only one there. After five minutes of knocking at a locked front door I called base again and only then did a member of staff come from the other side of the hotel and let me in. Once in I was well looked after, provided with a lovely spacious room which allowed me to empty the backpack and dry everything. In the evening I enjoyed a couple of pints of good local ale and a good meal too which stocked me up well for the day ahead. Today, despite road being my companion the sights were awesome and of wilderness. tomorrow I leave the road for wilderness complete.
Continue the walk
Great British Walk