The Great British Walk
A personal record of my three month walk of the full length of Great Britain from north to south with written journal and photographs. Tracklogs for GPS units and for use with Google Earth are available for download for each stage.
---
Stage 5: Unapool to Inchnadamph
Google Maps
Open Source Maps
| Statistics | |
| --- | --- |
| Start: Unapool | Finish: Inchnadamph |
| Distance: 13.2 miles (21.3 km) | Time: 10-11 hours |
| Climbing: 1,085 metres | Total Distance: 49.7 miles |
| GPX Route File | Google Earth File |
Ordnance Survey Explorer Map (1:25,000)
Summary
The fifth stage, the third in a row crossing remote and harsh Scottish highland, the third in a row where the weather changed within minutes, the longest of the three because I chose to continue rather than camp high but despite the trials and tribulations another exhilarating day out walking with thrills throughout. Yet this was the first day when I slightly lost my cool and exclaimed loudly as I climbed to the Bealach na h-Uidhe hoping for the ascent and pain of fatigue to end. Over the tops the wind had howled causing me to stop dead in my tracks on occasions. It was tiring and drained my strength. Looking back on it all now I am extremely pleased to have toughed it out, it set me up resolutely for the challenges ahead. Despite all the hard work this was one of the most fantastic days out I have ever experienced in the wild.
(Note: My walk of the Cape Wrath Trail was a part of my
Great British Walk
from the north coast of Scotland to the south coast of England)
---
Stage Report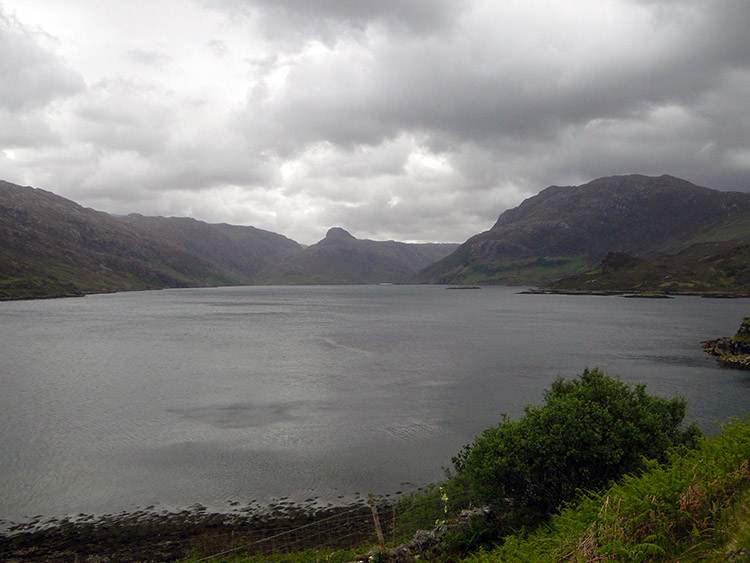 Looking toward Loch Beag from Loch Glencoul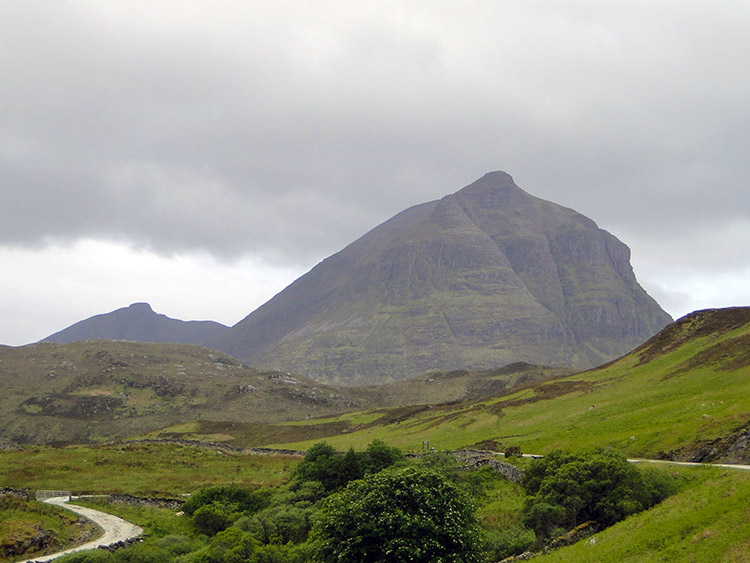 Sail Gharbh, the most prominent summit on Quinag
After a lovely breakfast provided by Mrs Milnes I set off from Maryck House, my Bed and Breakfast in Unapool near Kylesku before 9.00am. I was dry, the complete opposite of how I had arrived yesterday and in good spirits as I walked off in a south-east direction and on slight uphill gradient along the very quiet A894. As I left I looked over to the east across Loch Glencoul to the eye capturing sight of the rounded cone on Stack of Glencoul. To the right of the stack as I looked were the running waters of the Eas an t-Srutha Ghil waterfall, almost as magnificent and almost to the scale of Eas a Chual Aluinn, the highest waterfall in Great Britain which faced it on the opposite side of Glen Coul. I would be heading in their direction for a closer encounter later.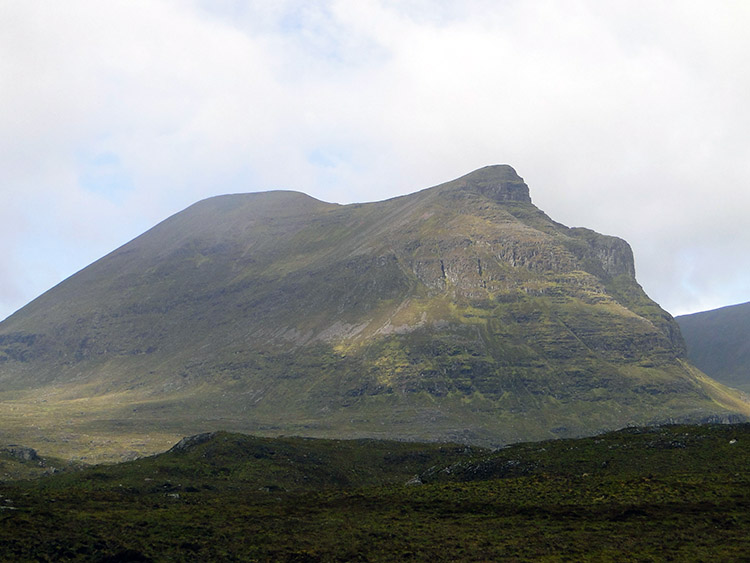 Quinag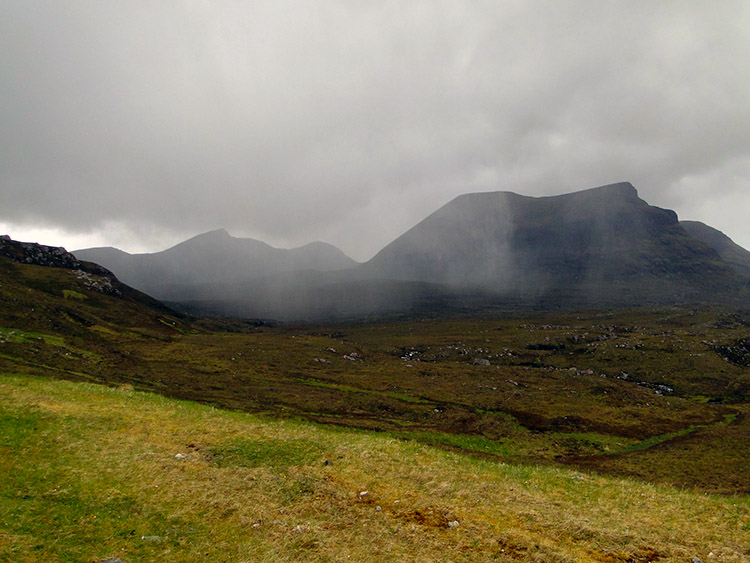 Storm blowing in
It was not raining as I walked along the road but winds were already high, due to get higher and although it was early morning the sky was already dark and foreboding. I was relieved just to get a little dry walking after yesterday though and I was most heartened as I turned a bend to walk south-west for I caught my first sight of the awesome mountain Quinag. Closest to me of the Quinag massif was Sail Gharbh, a striking rounded summit and the most imposing of the three Corbett's on the mountain. It took my breath away, the scale of its monstrous north face capturing my attention immediately. I simply could not take my eyes off the wonder of the monolith before me. I continued up the road and kept looking right to Quinag. While looking and walking I soon came to the entrance to Newton Lodge and noticed someone putting the rubbish out into the bins.

Soon after passing Newton Lodge I came across a board by the roadside which told me I was close to a geological fault line. By reading the information provided I looked across Loch Glencoul and clearly saw the Glencoul Thrust Plane on the mountains rising from the loch. I realised I was not just in marvellous scenery but also in the midst of many different rock strata from different ages that have come together then been skewed into all manner of extraordinary shapes over time. I was to follow the rock road for days to come and come across more information signs with interesting information. As I continued my ascent along the road the scenery around me opened out more and more and as it did I rejoiced more in heart. Widespread views of the terrain to the north west which I was leaving behind gave me a final goodbye with a stunning view of Eddrachillis Bay being realised and within the bay lots of small interesting islands such as Meall Mor, Meall Beag and a host of smaller ones to the north of them. Simply my attention was grabbed everywhere I turned. Quinag was drawing by my side by now and continued to dominate though and with all on offer I continued my climb up the road heartily.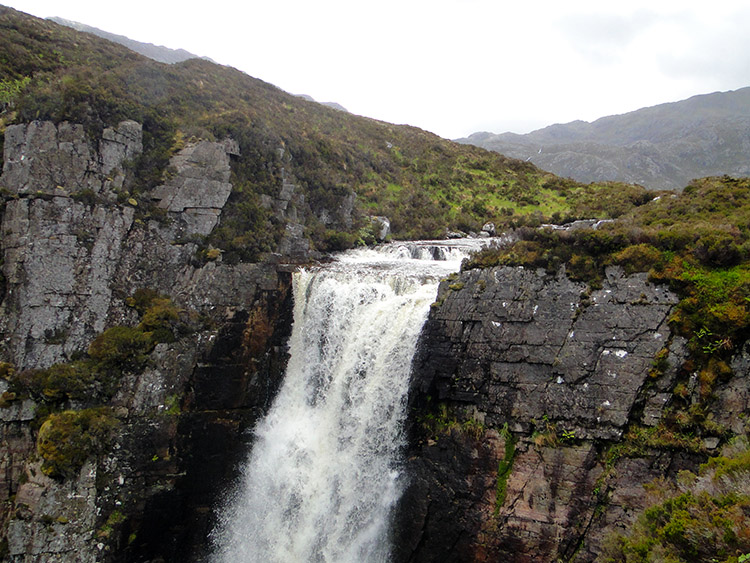 Loch na Gainmhich waterfall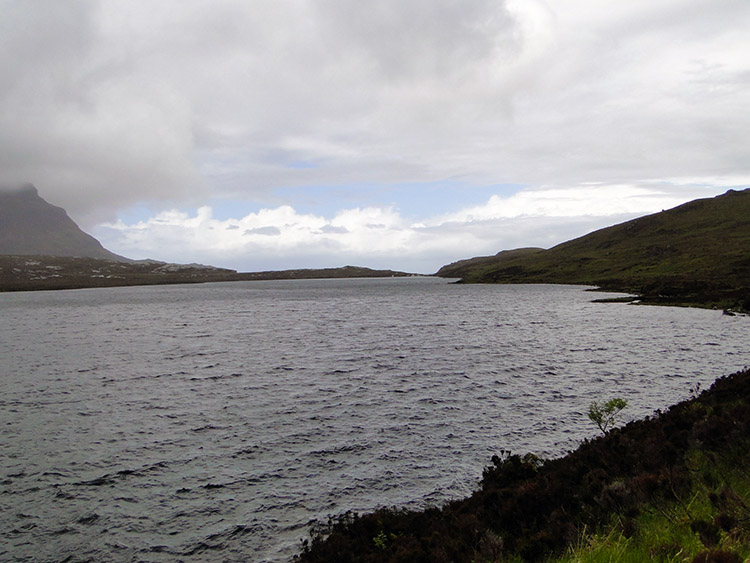 Loch na Gainmhich
I was grateful for the mountains protection too, being just a short distance west of me Quinag gave fair warning of weather I would encounter in the next few miles of walking. Some brief but significant squalls of rain had battered me on the way up the road already and when I got adjacent to Cnoc Coire a Bhaic I had one of those sublime moments that all walkers encounter. I was taking another of my frequent looks at Quinag when I saw a mess of a storm coming round her south side. It was like a swarm of Locusts and I got the camera out in time to capture a series of photographs as it approached. Hastily as it hit me I jumped from the roadside into a banking which at least protected my bottom half. For five minutes I stood directly facing away from it while being battered. Then it was gone as quick as if came and I walked on.

Soon after the transient storm I left the road and headed into country via a track on the north side of Loch na Gainmhich. The map pointed me to stepping stones across the outflow from the Loch but a few yards downstream there was an unnamed waterfall marked on the map which I visited first. I am so glad I did as it is one of the most spectacular waterfalls I have ever seen. If you ever venture into these parts you must visit it. It is only a few hundred yards from the road and really well worth it. It was a good job I did too, for otherwise it would have been a wasted journey. The stepping stones were impossible to cross, if attempted I could have been swept down the waterfall. So I backtracked to the road and followed it to the north side of the loch from where I took a much safer track around the north side.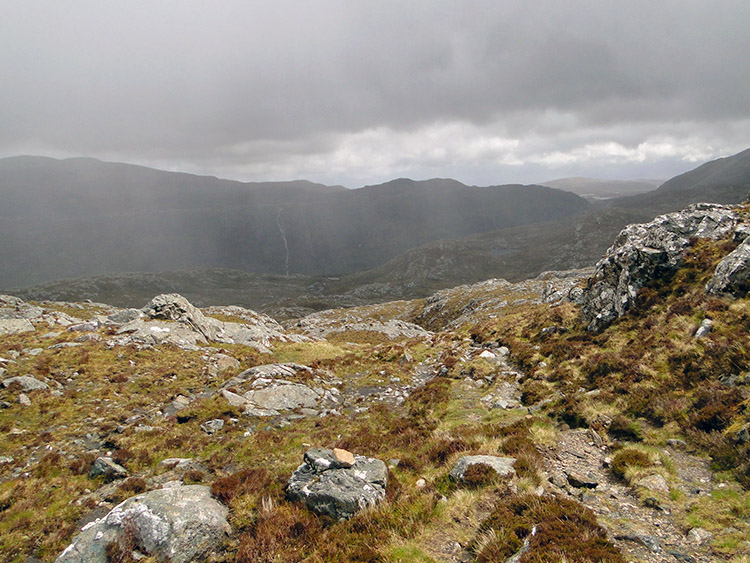 Rough terrain on the way to Eas a Chaul Aluinn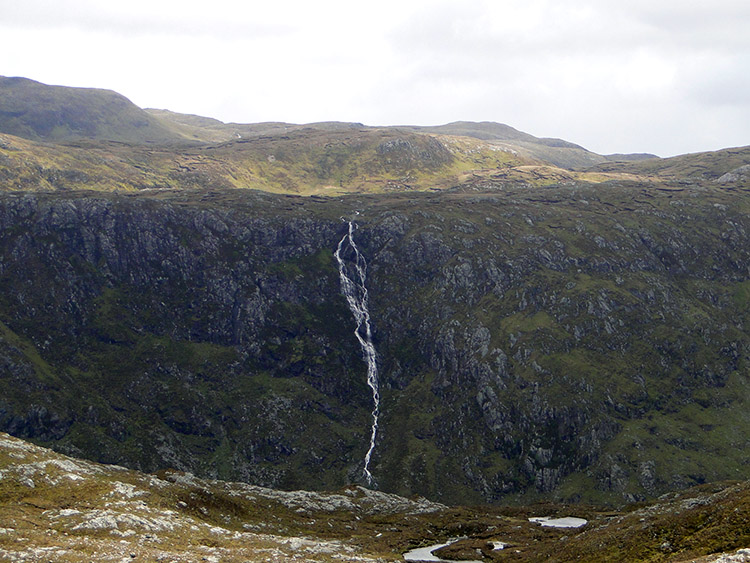 Eas an t-Srutha Ghil
After passing by Loch na Gainmhich I began another ascent, this time up a peaty boggy squelchy track to Bealach a Bhuirich. As I gained height and walked east I was being driven on faster than I cared to go by a loathsome tail wind which was getting uncomfortably strong. I was getting to around 300 metres high now and the going was not easy, a stiff climb and an uncompromising wind is a formidable combination. Fortunately after levelling off and passing the north shore of Loch Bealach a Bhuirich I descended again on my way to Eas a Chual Aluinn, the highest waterfall in Great Britain. The track I was following was good but inconsistent; sometimes my easy walking was replaced by strides and bounds over small rocks and outcrops.

After the ascent to Bealach a Bhuirich the descent toward Eas a Chual Aluinn was welcome but another pitfall befell me when a sudden violent hailstorm hit. Within moments the ground was covered in white pea sized hailstones. Then as soon as it came it was gone, the raging wind not giving storms time to settle in. Despite the mighty weather the anticipation of the waterfall drew my attention onwards and I continued on along very difficult ground until I reached a point at which I could get no closer. I still could not see it but now, tired and slightly exhausted, I stopped to take some lunch. It was cold and I felt colder while stopped. My hands were cold as I grappled with my food and when finished I was glad to put gloves I had been wearing back on to keep my hands insulated. After eating I rose over a slight crest and suddenly saw my objective. Or so I thought.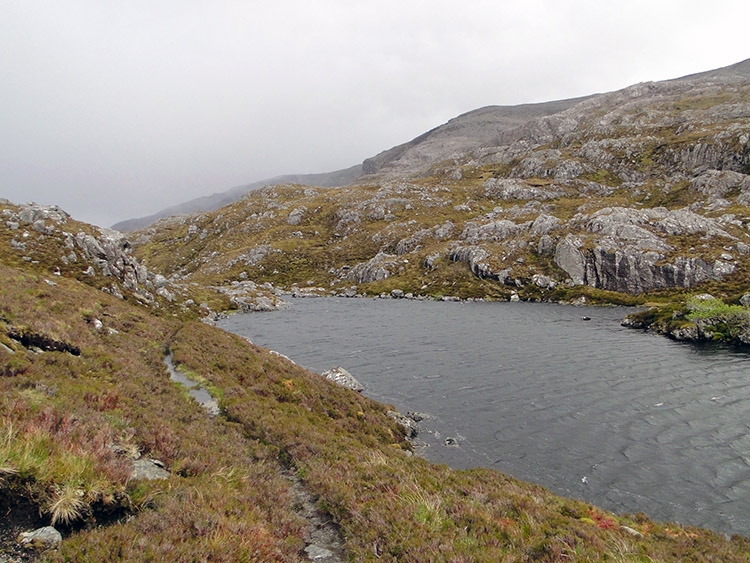 One of many lochans on the high ground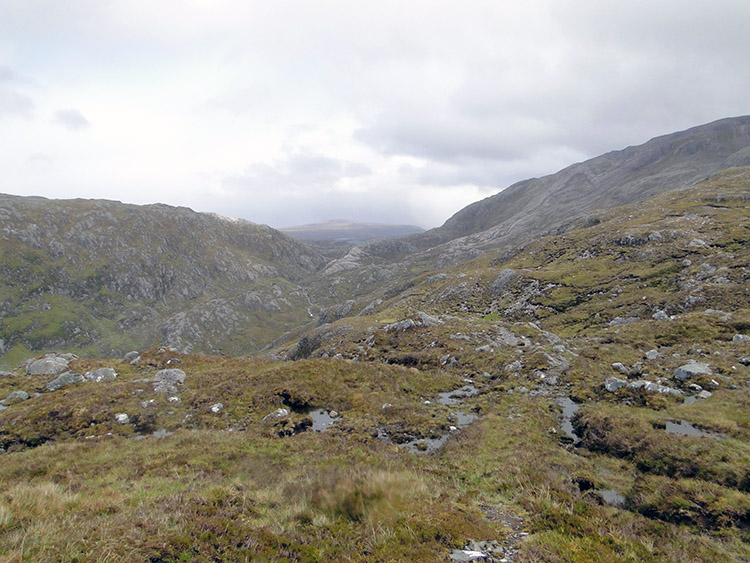 The terrain and views from Poll Amhluaidh
I looked straight over from Leitir Dhubh across the chasm of Glen Coul to the waterfall opposite. It was an impressive sight as it cascaded down a sheer face for around 300 metres with Stack of Glencoul just to the left. Long in length, a dramatic drop straight down then angled to the left as it flowed into Loch Beag. A sizable waterfall but not in volume though, I feel that first impressive waterfall I saw earlier at Loch na Gainmhich spilled more. However you cannot fail to be impressed by the length of the drop, nor the altitude, Eas a Chual Aluinn stands out for miles. Only it was not Eas a Chual Aluinn I was looking at for it was beneath me out of sight. I was looking to its twin waterfall on the other side of Glen Beag. I was looking in awe at the equally impressive Eas an t-Srutha Ghil. I just did not realise it at the time. After taking some time to view the waterfall I had to track back to a ford crossing a stream which, like many on this walk are deemed passable but are not easy after the incessant rains of the last week. A safe crossing took some time to find and when I did I took another soaking to the feet.

Now the real hard work begun. I had to start climbing again and it was now getting on. I had planned to camp around here on high ground but the wind and hailstorms had quickly put that out of my mind. I was already wishing an end to the day for as I walked along a high flat stretch around the 350 metres level the wind kicked up again and with so much force I had to stop in my tracks and stand my ground. A little lull in the storm, a few more metres made and it hit me again, so much so that I had to stand at a 30 degree stance into the wind just to be safe. I was motionless for a good 30 seconds before another short lull which allowed me to escape its grip. I admit now, that was a scary moment. (Note – a fellow walker I met in the evening told me he crawled on all fours at times on the same pass during the day)

I must digress for a moment but at around this time, in a wonderful moment with slight shelter from the wind I met four walkers going the other way. They were the Jane McMinn team from Glenrothes and they donated £20 to my charity effort. Thank you.

Now I was into the serious high climb to the pass between Glas Bheinn at 776m and Beinn-Uidhe at 740m and I was fatigued. Carelessly I took a wrong path for 600 yards and if I had not referred to my trusty Adventurer GPS I would have ended up in Glen Oykel and having to make a serious remapping of my route to Cornwall. As it was I made the correction just in time and after much cursing I regained the right track to the pass. For the next hour I struggled to walk a distance less than a kilometer, painfully slow and it was a tired exhausted Walking Englishman who finally got over the top of the Bealach na h-Uidhe.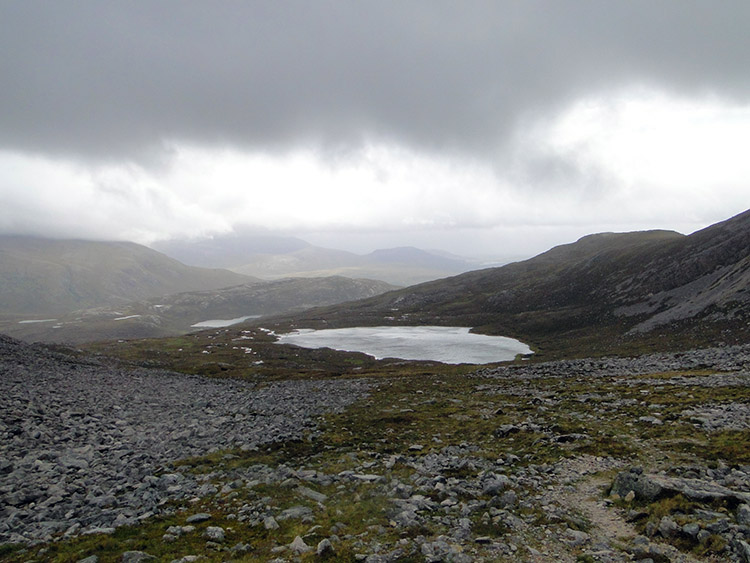 Looking from the top to Lochan Bealach na h-Uidhe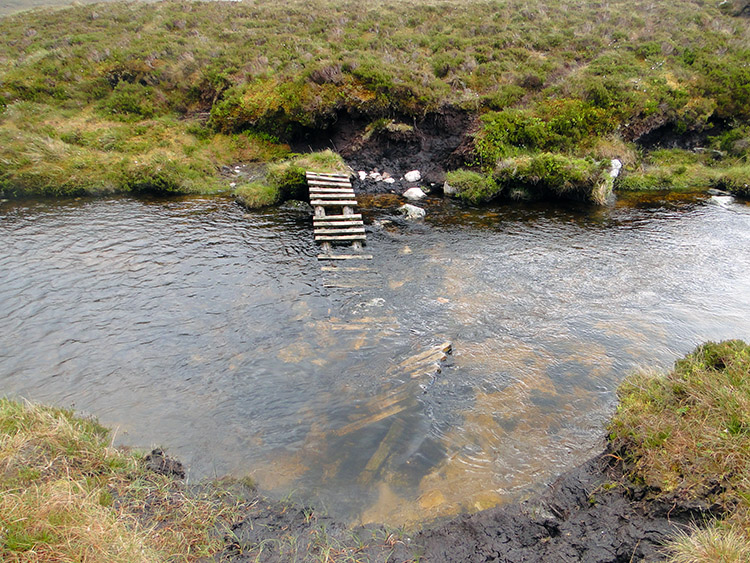 Collapsed footbridge at Loch Fleodach Coire
After the struggle over the top of Bealach na h-Uidhe I was hearted by the extensive and brilliant views of wide open Scottish highland in front of me. The sight of Loch Bealach na h-Uidhe was so comforting and after stooping for a while with hands on knees to recover from the ascent I gained a second wind which allowed me to walk briskly down toward the loch. There was no clear track though which was frustrating. Not many walk here, that is for sure and my course was more zigzag than true. Still I made my way down as fast as I could considering my recent fatigue which could have resurfaced any time. And by zigzag walking to find an elusive track tiredness returned before I had gone far. I was knackered, truly, and it was now past 6.00pm, nine hours into my walking day. I still had over three miles to go and I needed food and rest. Surely Inchnadamph would come to my rescue? With that hope I struggled on. Past Lochan Bealach na h-Uidhe I went and toward Loch Fleodach Coire. On reaching the loch I made for the outflow footbridge crossing. No good, the bridge had collapsed so the alternate stepping stones would have to do and how I got across them safely I will never know.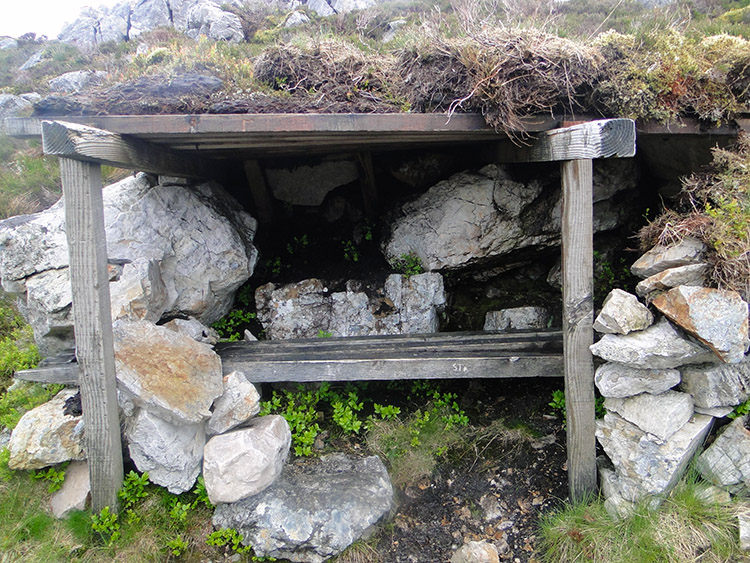 Deerstalkers refuge on Poll Droighinn?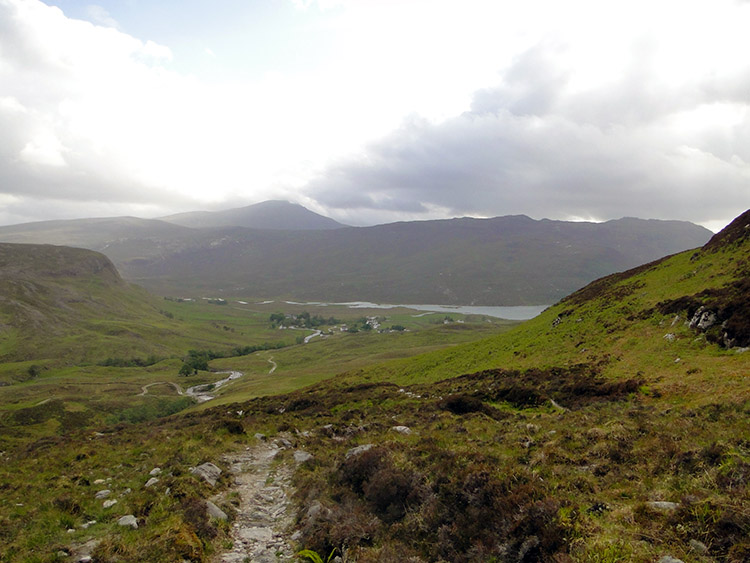 End of long day in sight, Inchnadamph and Loch Assynth
Safe across the lochs outflow water only to take a tumble on the final stretch to Inchnadamph. One moment I was walking along the path which thankfully had now appeared and was true and the next moment I was experiencing acrobatics, a full somersault and I was so thankful my rucksack took the impact from the ground rather than my back. Also and luckily the fall was made on soft peat ground so there was no harm done. Still, I did take note of the fall and a realisation hit me that I was all alone up here. Care was paramount. I was on an easy descent now though so effort was not too taxing although when I passed a rickety wood refuge I had thoughts of stopping a while before resolving to continue on.

Now at after 7.00pm I was still descending but with exhilarating views of treeless Inchnadamph Forest to hearten me as spur me on. I walked on a track due south and then south-west to follow the course of Allt Poll an Droighinn towards Inchnadamph. Slowed by tiredness it was a huge relief when I finally rounded a corner and saw habitation. Inchnadamph was in sight. I continued in a thrilled sense of achievement now for I knew I was closing in on my finish for the day and with two stages compressed into one I was arriving in Inchnadamph a day early. Now that was a good feeling.

I finally reached Inchnadamph just after 8.00pm. I was spent completely but my troubles were not over. No room at the lodge, no room at the inn either so I had to backtrack a mile to find a decent camping pitch. I got settled at 9.00pm and ate by 9.30pm. I slept on and off until 2.00pm the next day.
Continue the walk
Great British Walk