The Great British Walk
A personal record of my three month walk of the full length of Great Britain from north to south with written journal and photographs. Tracklogs for GPS units and for use with Google Earth are available for download for each stage.
---
Stage 11: Corrie Hallie to Kinlochewe
Google Maps
Open Source Maps
| Statistics | |
| --- | --- |
| Start: Corrie Hallie | Finish: Kinlochewe |
| Distance: 19.6 miles (31.5 km) | Time: 10-12 hours |
| Climbing: 1,038 metres | Total Distance: 119.2 miles |
| GPX Route File | Google Earth File |
Ordnance Survey Explorer Map (1:25,000)
Summary
A very long day but despite the length of the day and the difficulty of the walk this has to be one of the most spectacular stages of the whole walk. The views from the outset are sublime with mountains everywhere and as the mighty An Teallach is left behind more exquisitely shaped mountains take turns to dominate the view. From Sail Laith the views to the valley of Abhainn Loch an Nid is mind blowing and the walk to the Loch a fantastic one. After Loch an Nid the course of my walk took me off track and across petrified forest to Bealach Gorm from where I followed more petrified forest to Meallan Odhar from which I found the track down Heights of Kinlochewe to my base in the village. At almost 20 miles it was late when I arrived but the long day was compensated by the thought of a rest day to follow.
(Note: My walk of the Cape Wrath Trail was a part of my
Great British Walk
from the north coast of Scotland to the south coast of England)
---
Stage Report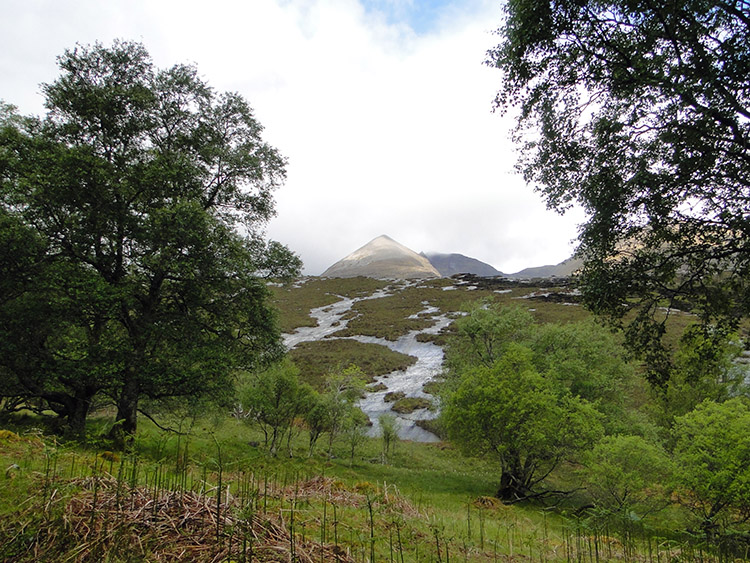 The morning view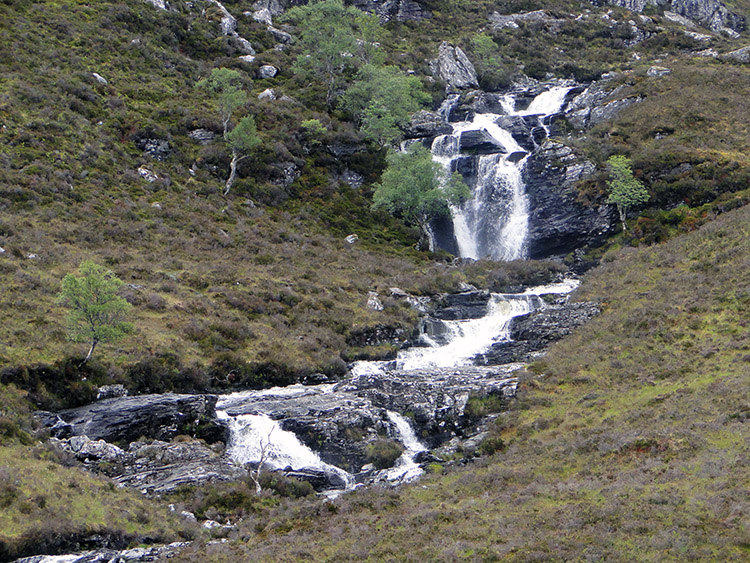 Waterfall from Loch Coire Chaorachain
It is safe to say this was one of the most spectacular days of my walking life and as a consequence of an impromptu decision made during the walk one of the most arduous. After a decent nights sleep in my tent I awoke just after 6.00am. After breakfast and the daily chore of repacking the rucksack and dismantling the tent while fending off the unwanted attention of midges which soon found my scent I was on my way walking just before 8.00am.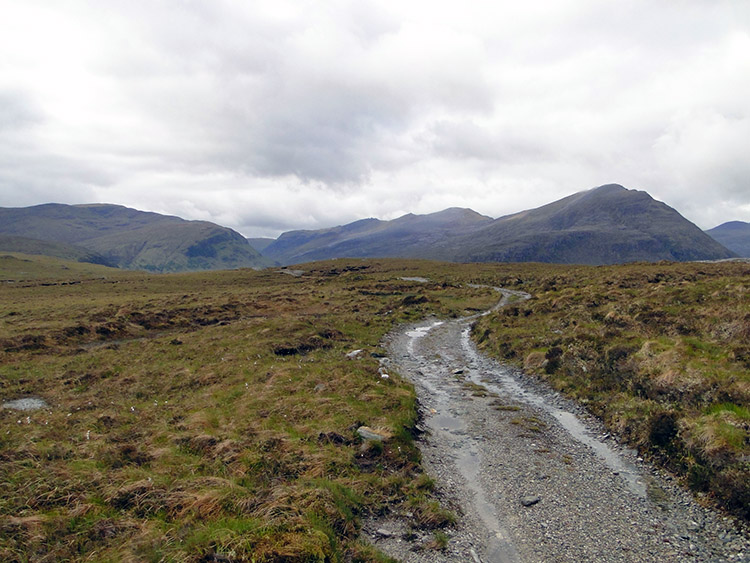 The high road through Dundonnell Forest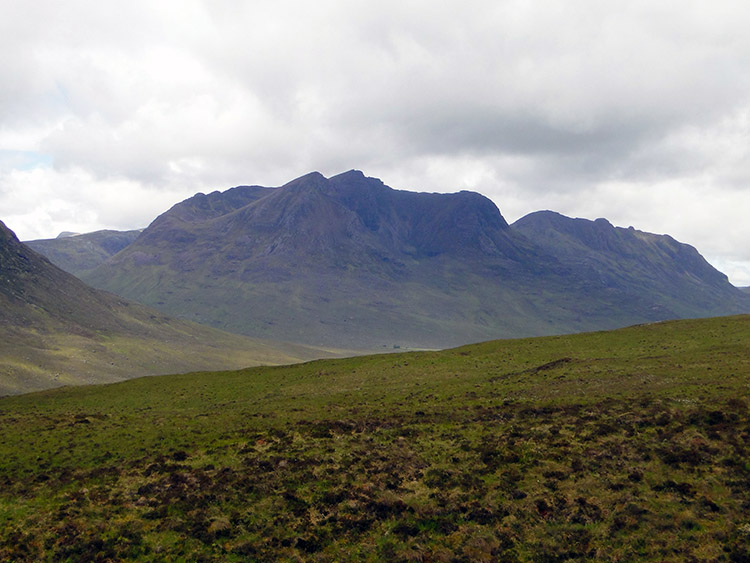 Outstanding mountains were everywhere
It was a lovely morning, overcast but dry and with small scatterings of blue sky. Cloud was low enough to obscure the higher mountain tops though so An Teallach was not in full glory as it had been the previous evening. This gave me the opportunity to focus on the lower hills, many with interesting profiles which often took my attention from the track ahead. It was a grand scene.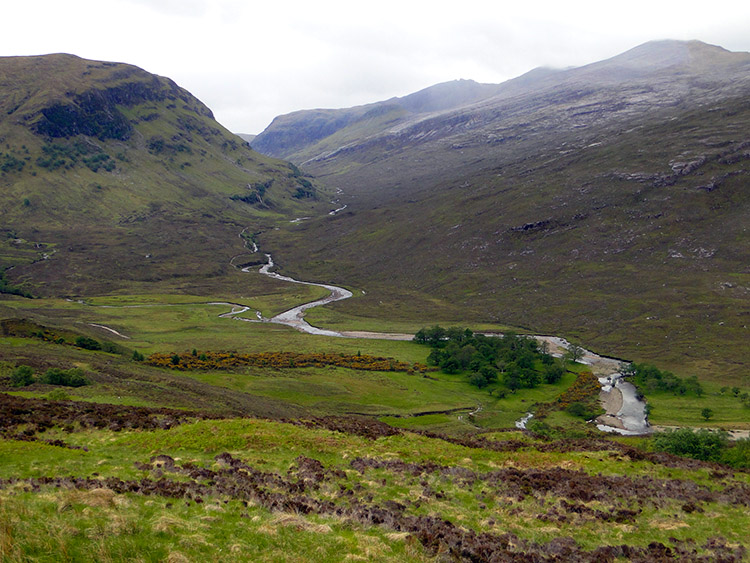 Descending to Strath na Sealga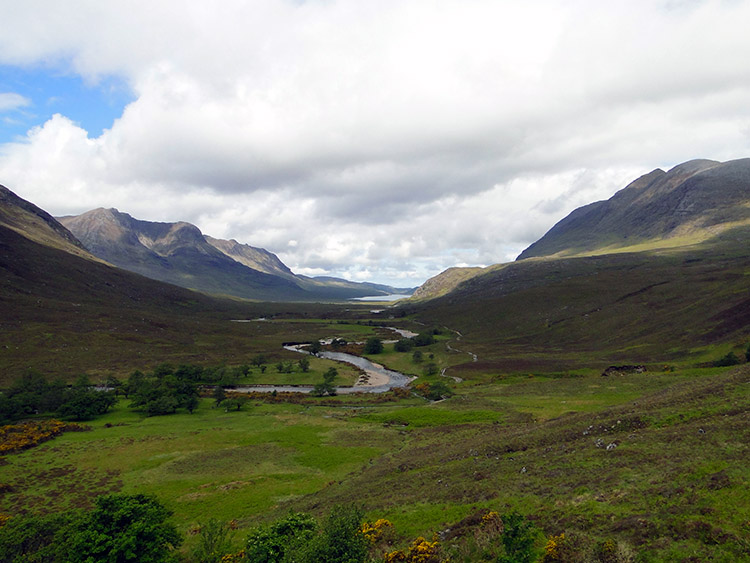 Looking down the valley to Loch an Nid
My first mile walking was up a gentle track though birch woods with all the satellites of An Teallach to my right. Peaks with evocative names like Sail Liath, Sgurr Fiona and Glas Mheall Liath all pointed out their singular prominence to me. They were wonderful close companions as I continued to climb up the track and out of the birch wood to just west of Loch Coire Chaorachain. Near the loch three young walkers caught up with me. We chatted for a while about the splendid walking country. They were heading straight for An Teallach to do the ridge traverse from south to north. I wished them well and they too wished me all the best on my long journey south. Just after they left and walked on I reached an intersection in the track. They headed off on the right hand fork toward the Shenavall Bothy. Somewhere before the bothy they would probably cut due north to ascend Sail Liath, the first peak on the An Teallach traverse. I took the right hand fork and continued south.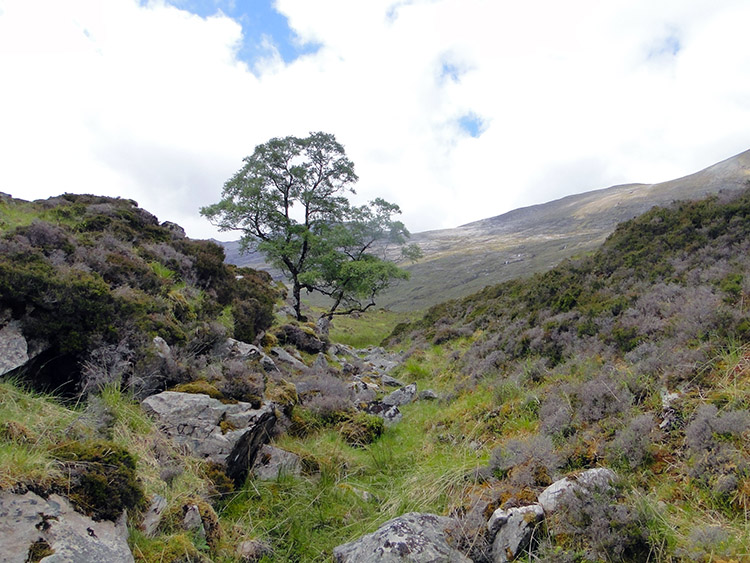 The track was indistinct at Cnoc nan Righreon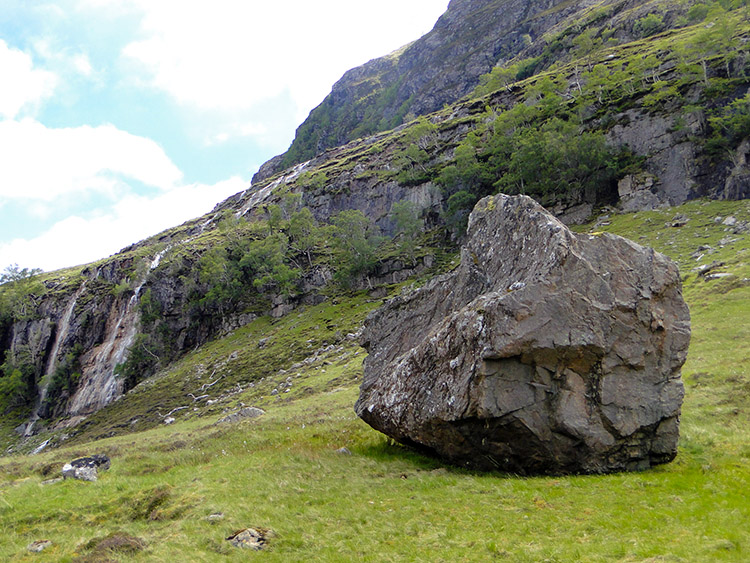 Erratic of Creag Rainich
Soon after the intersection I had another WOW moment, they were becoming a regular inspiration to me in the magical north west highlands of Scotland. As I passed each iconic mountain or mountain range it was replaced by another. An Teallach was sadly behind me now but the WOW was caused by the view of the twinned peaks of Beinn Dearg Bheag and Beinn Dearg Mor which are separated from An Teallach by Loch na Sealga. As well as the magnificent twins I could see the craggy north face of Beinn a Chlaidheimh straight ahead of me. I was heading toward a valley past her eastern flank. While looking at these beauties and other fine mountains in the distant east I suddenly realised my ascent and levelling had turned into a fair descent. I was heading down to Abhainn Loch an Nid, a river that I would follow upstream for the next two miles.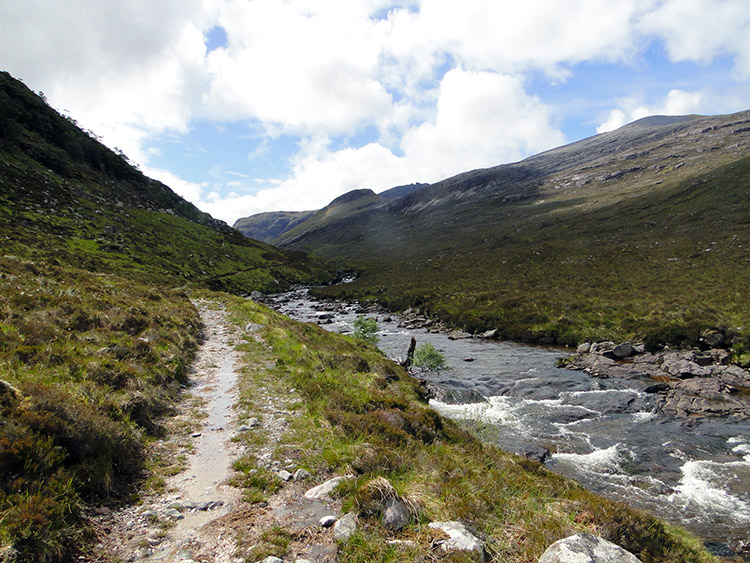 Walking alongside Abhainn Loch an Nid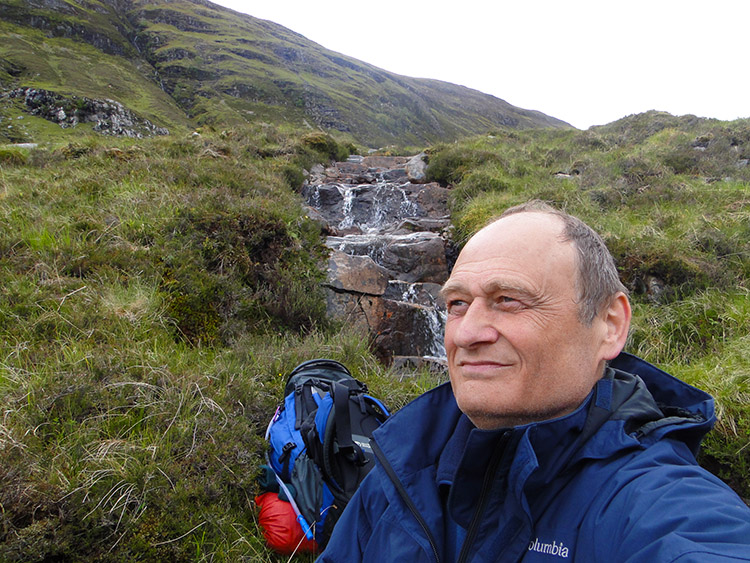 Content in solitude amidst stark beauty
After the exhausting day yesterday I was surprised to be making good headway but it was a fact I was and the walk through the valley flanked by first Beinn a Chlaidheimh and then Sgurr Ban to the west and by Creag Rainich to the west soon passed by. Interesting features in the valley included by some erratics. These huge boulders were strewn by the path side and they must have made an almighty sound when they had sheared off the mountainside.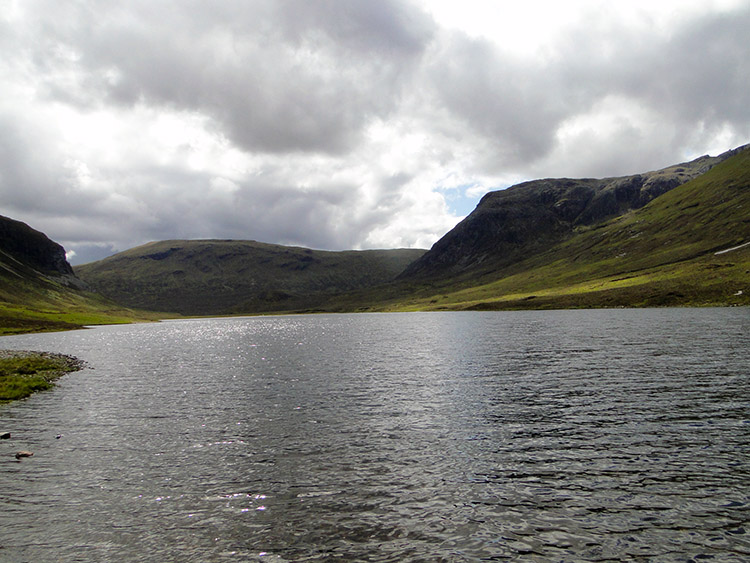 Loch an Nid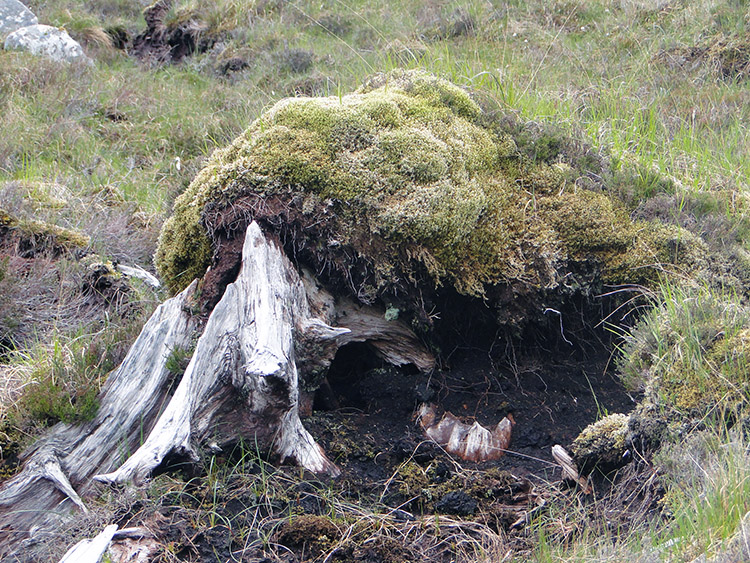 Petrified Forest
I reached my goal of Loch an Nid at 12.30pm. My original plan had been to camp near the loch before heading on for Kinlochewe the following day. However, on arriving at Loch an Nid and walking to the south side of the loch I felt full of energy. The weather was good too with plenty of warm sunshine so I decided to make the most of it and press on. My immediate thought was to walk on a little further, have a mountainside lunch and then deliberate on what to do next.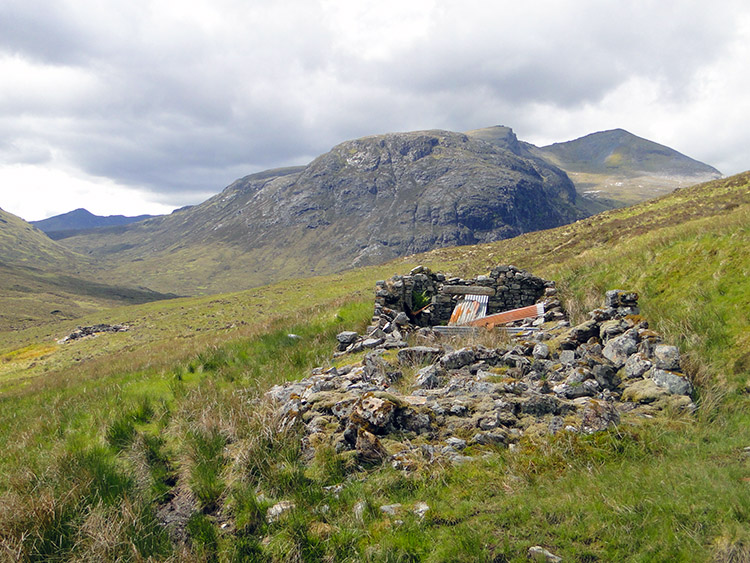 Abandoned building at Feinasheen and Sgurr Dubh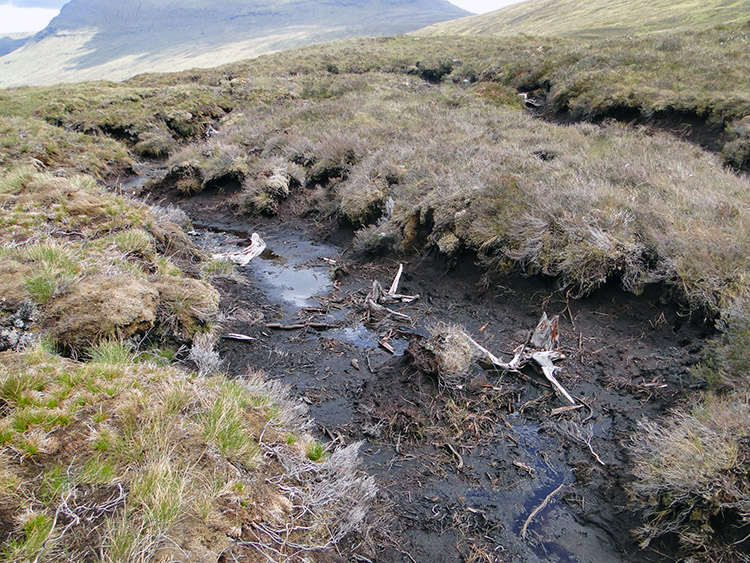 It was tough crossing the ancient forest
I walked on from the tranquility of Loch an Nid due south and then rounded Creag Rhuig a Bhraghad to track east toward Loch a Bhraoin. Soon I came to Feinasheen, the ruins of an old mountain building which I stopped beside to take lunch. It was now just after 1.15pm and a warm sunny afternoon. Like a true long distance walker I took out the gas, pocket rocket burner, kettle and cooking utensils to prepare a gourmet meal. I made two cups of tea, a hot mountain fuel drink and a Cheese Pasta meal in a bag. I followed it all with a Kitkat. It was absolutely divine. After lunch it was approaching 2.00pm and it was at that precise moment I decided to go for it. Rather than camp on the mountain, and not knowing what the weather had in store for me tomorrow, why not take advantage of the conditions and walk as far as I could thus making the next day easier. And so I set off towards an unknown ending.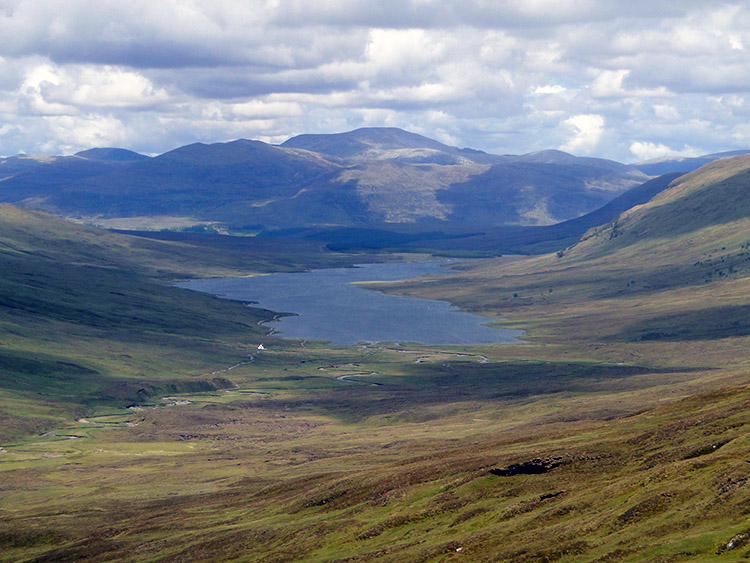 Lovely views to Loch Bhraoin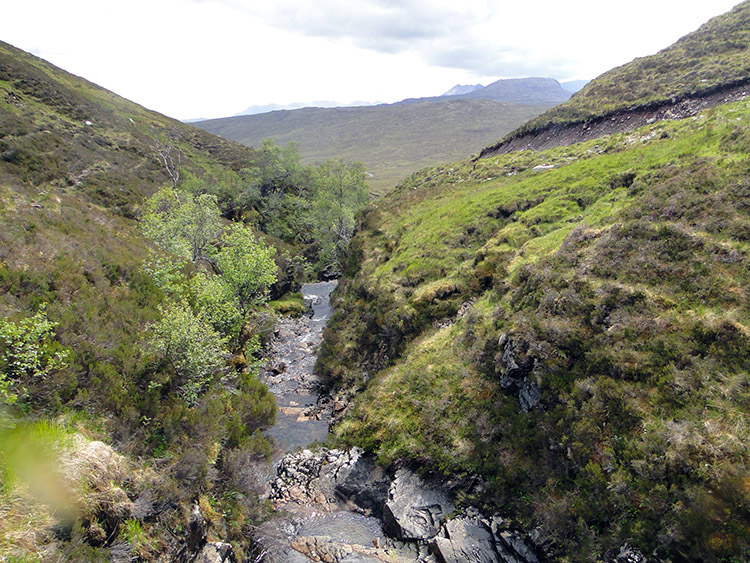 Bealach of Groban and Beinn Bheag
I made for the nearest mountain pass to the south. This was Bealach Gorm flanked by Groban to the west and Meallan Chuaich to the east. The going was heavy through peat and in the depressions were very old tree stumps from when the area was covered in dense forest. It was an interesting distraction imagining the area of desolation being full of life then. It was reduced to a barren wasteland now. Despite the trudging and inevitable meandering through the peat hags I made it over the bealach in good time and thanks to the food intake with some energy.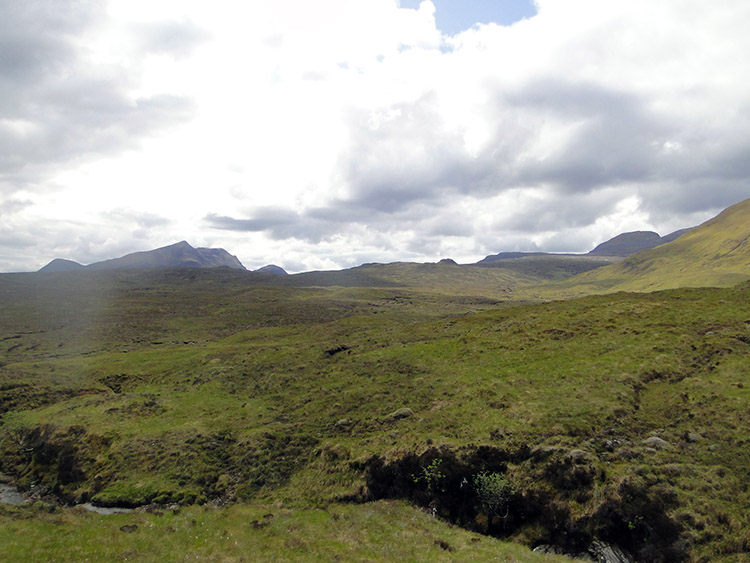 Kinlochewe Forest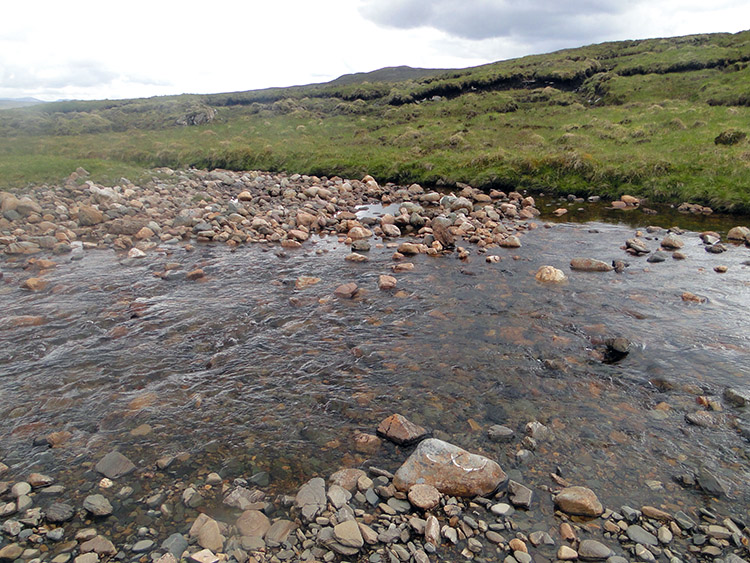 Allt a Bhealaich Bhain
From the crest of the mountain pass the descent was easy but as I got lower it became steeper and significantly harder. No man made tracks were evident but sheep trods were so I followed the animals paths down to the floor of Kinlochewe Forest. They proved to be the safest way down and the best. I reached the open moorland of Kinlochewe Forest with not a tree in sight. Just peat, more plodding peat. I had no alternative but to cross it on a course due south to the Heights of Kinlochewe nearly three miles distant. The prospect did not exactly thrill me. Nor did Allt a Bhealaich Bhain, the river I stood at the bank of. I knew I had to find a way across it and though it was not deep I knew I would get my feet wet. Decision time, boots and socks off or sod it. I took the second option and expected another knee high wade across water. Fortunately after walking upstream a few paces I found a diagonal rock strata furnished with a couple of convenient boulders which allowed me to make a dry crossing by taking a few careful steps and then a final enthusiastic hop. I did it!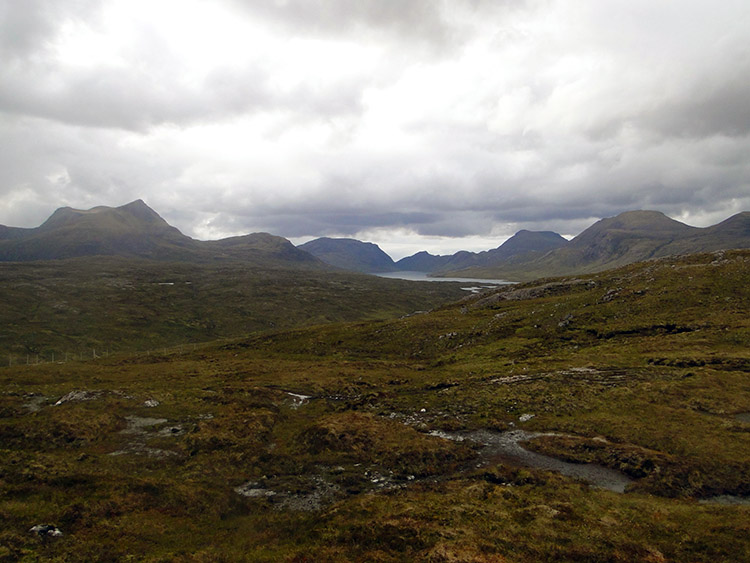 Kinlochewe Forest sapped my energy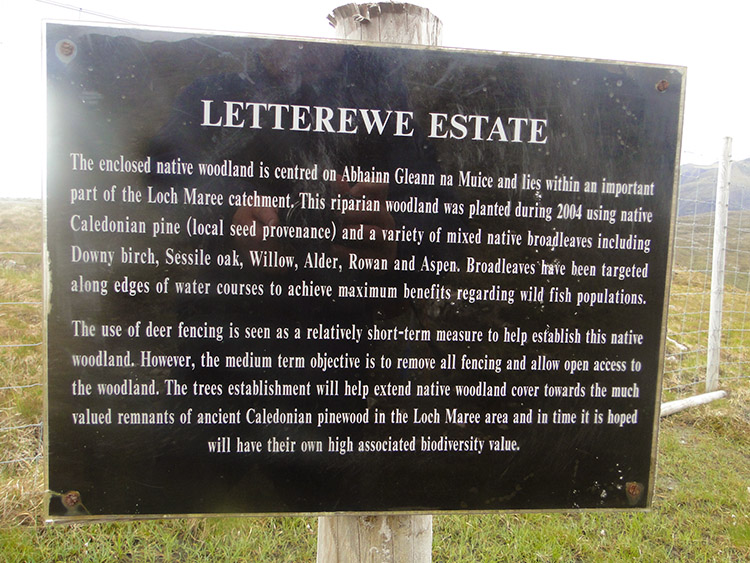 Letterewe Estate
After my successful bridging of Allt a Bhealaich Bhain I trudged and trudged and trudged and trudged on yet another meandering course through a heavy peaty landscape. To make it worse on an ascent toward Loch a Mheallain Odhair I could not find what I was looking for. I checked the map and confirmed my position with the GPS but I still could not find it. Due to the early onset of fatigue I began to get angry. According to the map I should have found a track but it was taking some finding. I was now at the cursing stage and my legs were beginning to ache. My pace of earlier in the day had turned to slow motion. It was also starting to get cold, a wind was picking up. At last and just before I threw an almighty tantrum which would have been completely pointless and needlessly energy draining I found the track. In doing so I was mentally invigorated and a little further down the track when I came to a sign pointing out I was at the boundary of the Letterewe Estate I hollered out a yippee. The flow of joyous energy was short lived though. Physically I was drained, I needed rest but there was still some way to go before I would get that.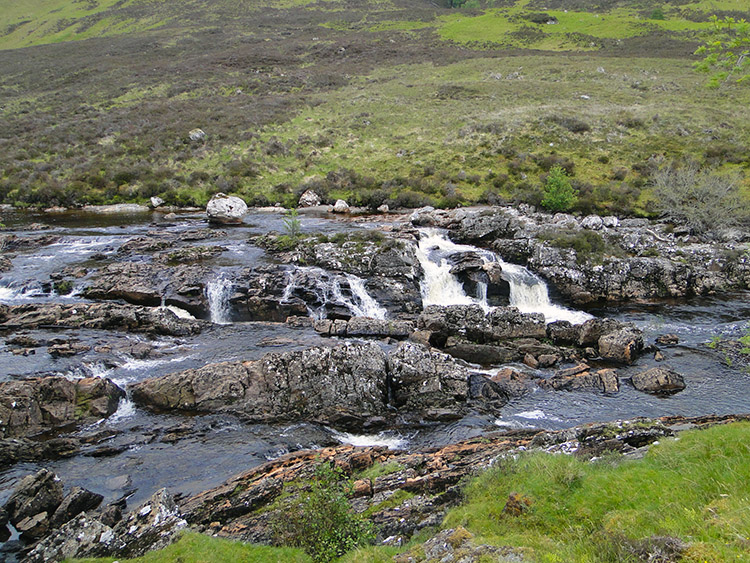 Abhainn Bruachaig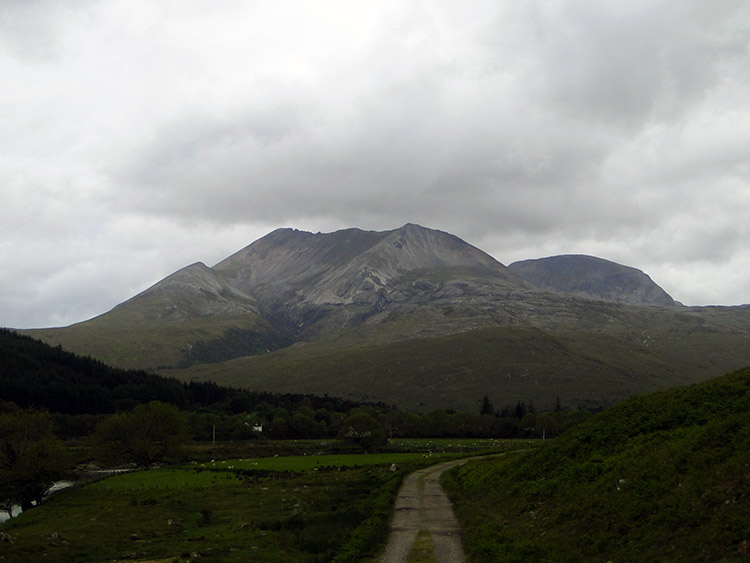 Beinn Eighe
Fortunately the track from Kinlochewe Forest to the Heights of Kinlochewe was good and a steady downhill gradient. I made my way down as quickly as my ailing feet and legs would take me. The wind was getting up more now so the descent was a welcome one. Aching every step I made it down to the Heights of Kinlochewe and now began what seemed the longest two and half miles ever. On the heights I had got a signal on the phone and my angel Lil had secured me accommodation in Kinlochewe for the night. I just had to get there. As I walked the last miles I looked at every contour and feature on the map. It seemed an age to get to each one. I was going painfully slow. The only pleasures of my pain were the views of cascading waters over white rock falls of Abhainn Bruachaig and the view to Beinn Eighe, a glorious white mountain which like an angel guided me on the tough final steps into Kinlochewe.

I reached my goal at 8.00pm. I had been walking for twelve hours and for about twenty miles, often over hard terrain. I was very tired but I had reached my goal and completed two stages of my walk in one day. I have earned a rest day. Just as well because heavy rain was forecast and I could watch it do its worse from shelter.

Today has been awesome in many respects but despite the toil I will look back on it with reverence. I have seen more stunning mountains, many wonderful landscapes, breathtaking waterfalls, cascading rivers and streams, secluded gorges and idyllic havens of beauty. I am in awe of this place and on Thursday I will resume my wonderful journey through this marvellous land.
Continue the walk
Great British Walk