The Great British Walk
A personal record of my three month walk of the full length of Great Britain from north to south with written journal and photographs. Tracklogs for GPS units and for use with Google Earth are available for download for each stage.
---
Stage 12: Kinlochewe to Strathcarron
Google Maps
Open Source Maps
| Statistics | |
| --- | --- |
| Start: Kinlochewe | Finish: Strathcarron |
| Distance: 17.1 miles (27.5 km) | Time: 10 hours |
| Climbing: 684 metres | Total Distance: 136.3 miles |
| GPX Route File | Google Earth File |
Ordnance Survey Explorer Map (1:25,000)
Summary
A long day which began with a real challenge navigating from Kinlochewe towards Loch Carron in which I had real problems finding any semblance of a path. It was a case of define the course and weave my way up onto the high ground and towards a forest which was shown on the map but which in reality had been felled. Once I had worked the dilemma out I found old tracks through the area of the now defunct wood and used compass and GPS to follow my course to Loch Coulin. From there I followed a good track to Achnashellach and then I followed the road most of the way to Strathcarron. First part excellent despite the severe challenge, middle part one of awesome views, the final part a chore.
(Note: My walk of the Cape Wrath Trail was a part of my
Great British Walk
from the north coast of Scotland to the south coast of England)
---
Stage Report
I travelled 17 miles on this stage and the weather was perfect for walking. There was sunshine but it was often overcast. Most importantly though there was no rain which meant that for the first time I stayed dry since I had set off on my remarkable journey two weeks earlier. I did not manage to stay entirely dry though for I walked over some wet ground and I had another river to walk across. Most crucially though navigation was a nightmare at times with land features showing on the map not being the same as those found on the ground.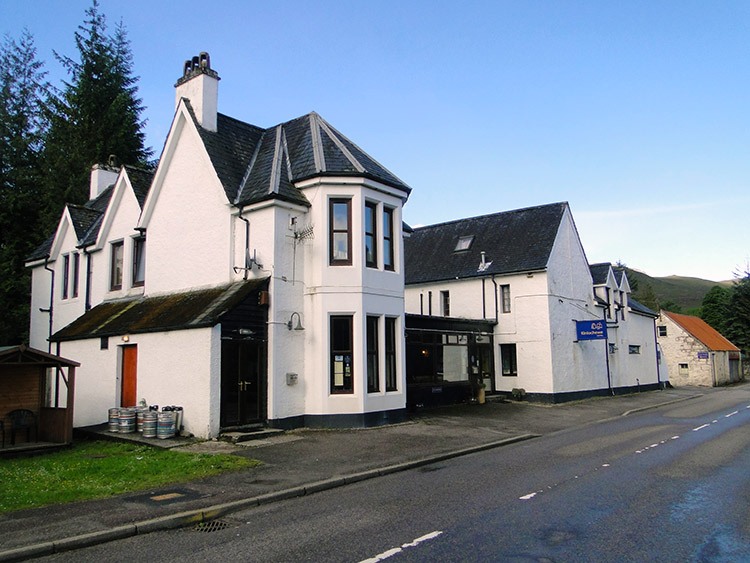 Kinlochewe Hotel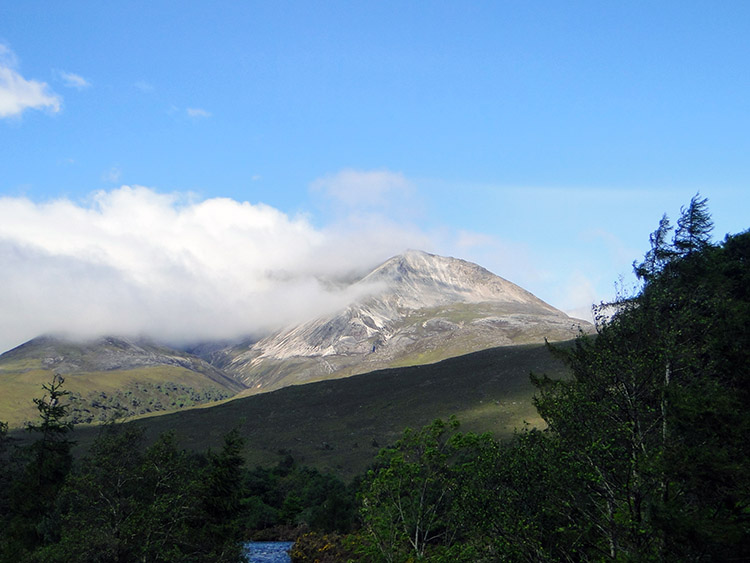 Beinn Eighe
After a good breakfast of cereal and a Scots Porridge Oats I left Kinlochewe just before 9.00am. After my rest day I was in good spirits but the energy I had banked for the long 17 mile stage was soon sapped away. In earlier stage reports I have mentioned the Cape Wrath Trail is not signposted or marked in any way. I had made my course plan following the guide notes from the book 'North to the Cape' and while it had proved invaluable in the desktop planning exercise it is not a bona-fide route guide as one would expect for a designated trail guide. It makes recommendations and details a rough course but it does not use Ordnance Survey maps. The section of the book which I was now walking over was the most erroneous of all.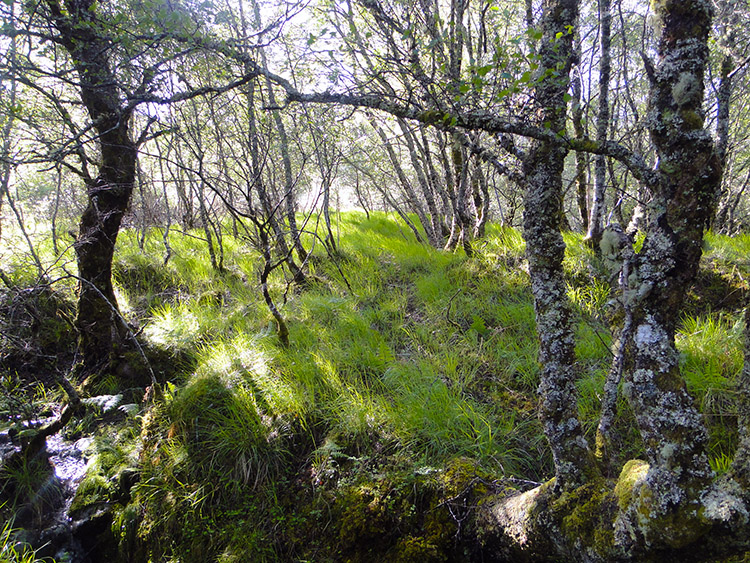 Birch and scrub everywhere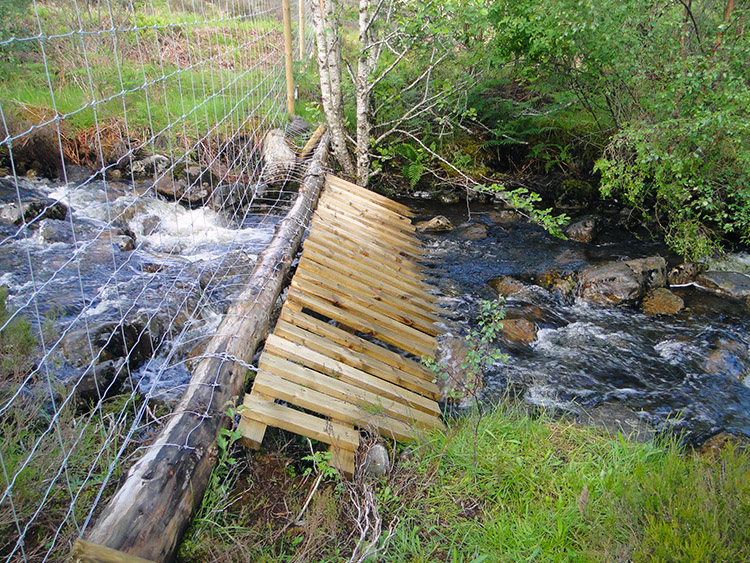 I used this deer fence to ford Allt an Domhain
I set off by leaving my hotel, crossing a road bridge and following a track into a field which would allow me to follow a course alongside the river on a course due south in line with the book description taking me in the direction of a forest with tracks giving me eventual access to Carn Dhomhnull ahic a Ghobba. The book said negotiating this section was nigh on impossible due to fallen trees. That was an understatement for the track was none existent. First I trudged through two sodden fields and then had to scale a steep bank beside a deer fence which I had to use to haul me up. Then I came to a stream which was in torrent after the incessant rain of recent weeks which I had to wade across with the help of a fallen birch tree. Then finding any semblance of a track was futile. I knew I was in the right place because of my GPS but I was going around in circles like a moth to a light bulb trying to manage a decent course to the forest track the guide book and the map promised. More deer fences forced me to deviate slightly off course. SPLASH! I went knee deep into quagmire. I had my Hounds of the Baskervilles moment in a flash, the quicksand would have me after all. I reacted quickly and dragged myself out. I crossed the bog clinging on to the deer fence and then followed the deer fence further up to survey the land. Then I realised I was at the forest, only then realising there was not a tree in sight. They had all been felled. I found a track in the carnage, followed it and only then did I find access to the hill I was seeking. I had completed one mile of my seventeen. It had taken two strength sapping hours to do so.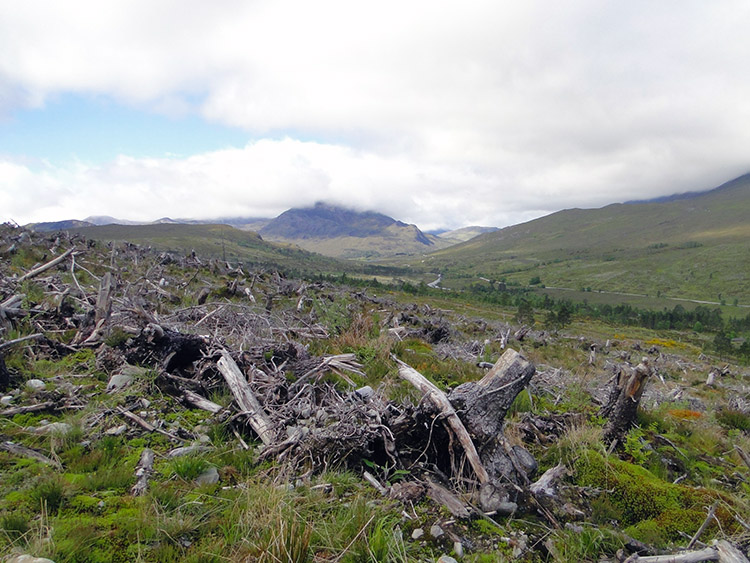 The forest I expected was cleared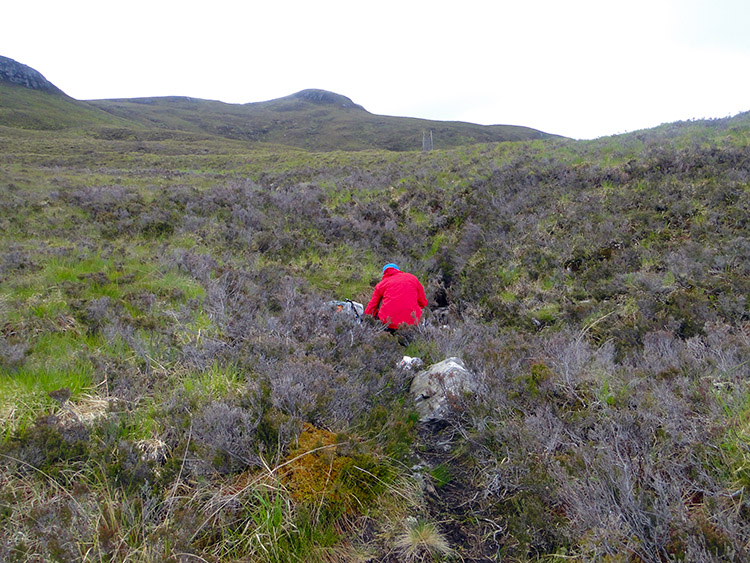 I could not believe it, another walker
I was relieved to be on open moor and although the going was wet underfoot I accelerated to catch time up. But soon I stopped for directly in my path was a very unusual obstacle. A fellow walker, one from the Netherlands was sat down on the track cooking his breakfast. He was the first person I had seen on the trail for days and during our brief conversation he told me he had started out from Fort William and was heading to Ullapool. I told him my story in a short paragraph or two. A very brief friendship was made and a handshake followed. I then resumed my walk at a brisk pace.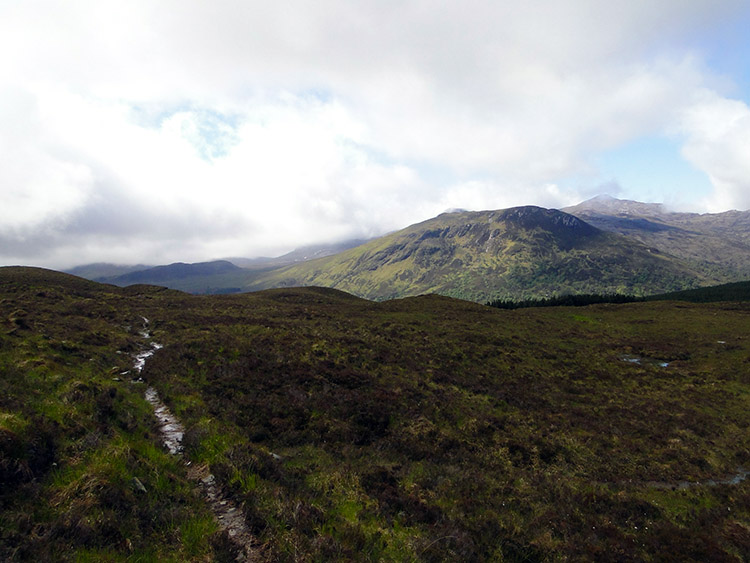 Is that a track? Blimey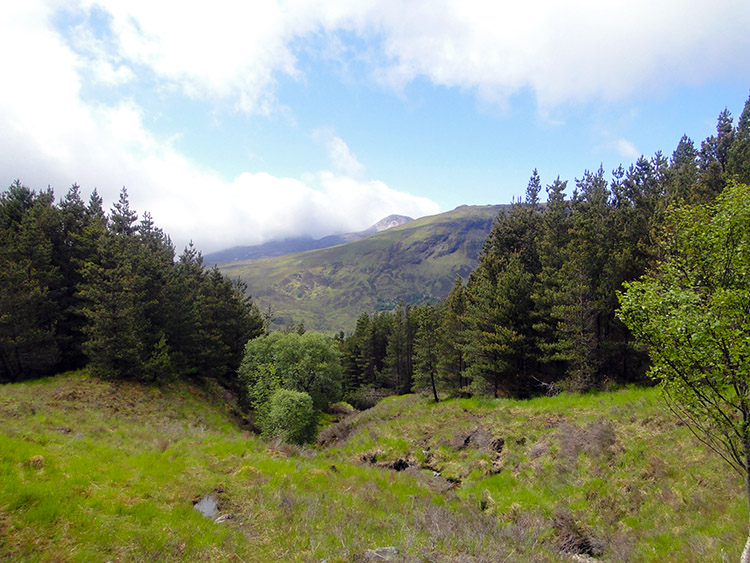 The track disappeared on my descent
Soon I came to another forest, this one with the trees intact and I followed the track through it to Torran Cuillin. I was relieved to be there at last, four miles done in just over three hours so I had done the walk since leaving my fellow walker at three miles an hour. Not bad for such terrain where paths came and went as they pleased. Torran Cuillin was a lovely spot to dwell at for a while but I did not dwell too long knowing I still had a long way to go. It was afternoon when I passed Loch Coulin but I rather than stop I decided to delay lunch until later in the afternoon.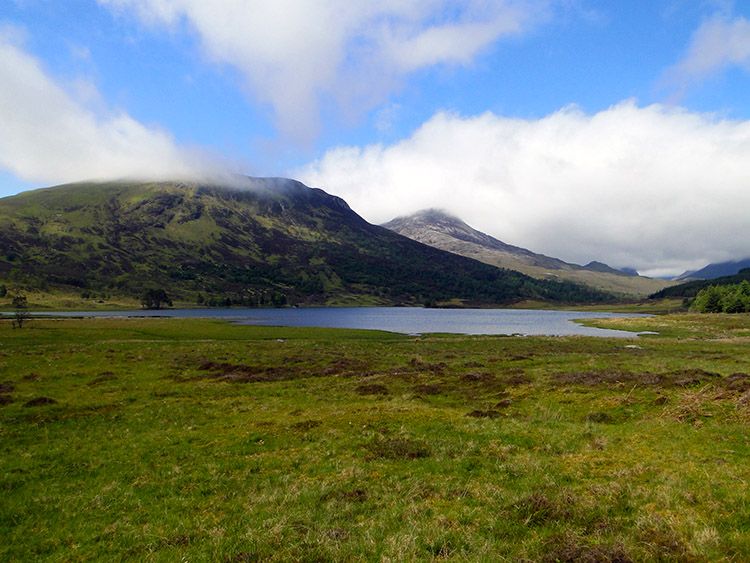 Loch Coulin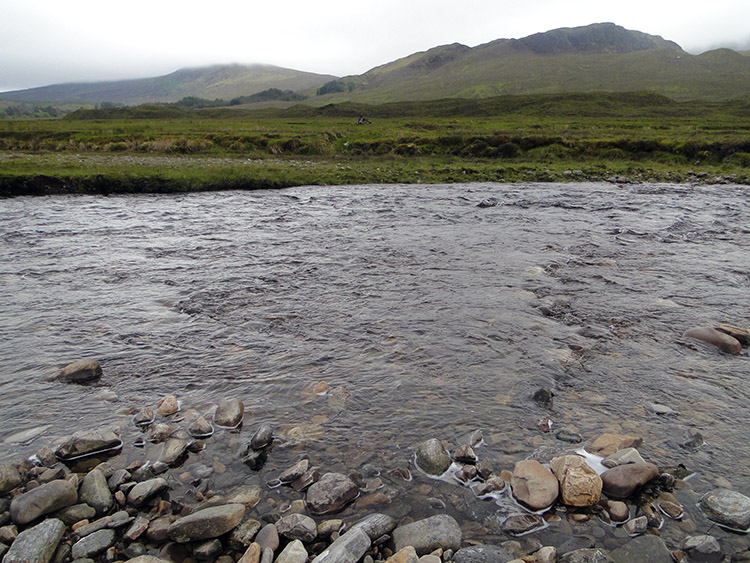 I crossed the River Coulin here
My next challenge was to wade across River Coulin which was done very gingerly. At one point the water was well above my knees but with my hands held high in the air holding my backpack and with the utmost care I made it across without toppling over. The Cape Wrath Trail involves many small stream and larger river crossings by design. Do not expect bridges for you will be disappointed. All part of the challenge.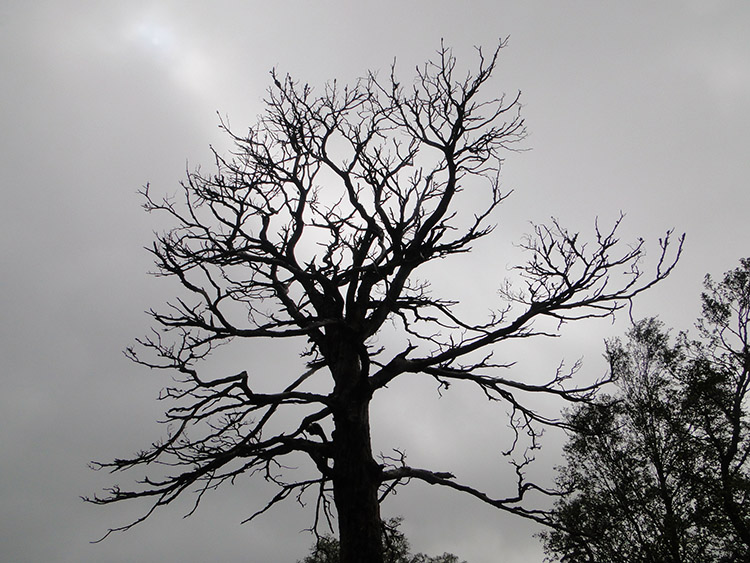 Pointing to the sky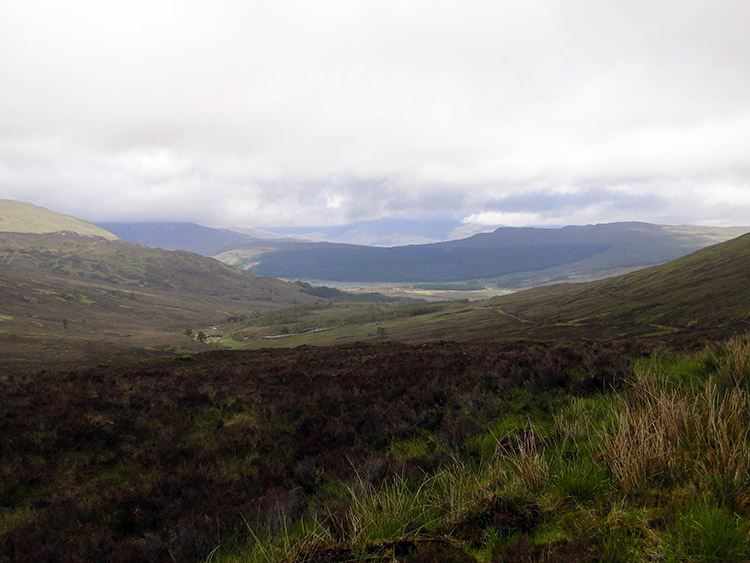 The view from Coulin Pass
The next stage of my walk was easy along a good vehicle track over the Coullin Pass to Achnashellach. I paced four miles along the track speedily. Despite my pace I still took the time to look out at the views unfolding for me. By far the best of them was to the south west and I could see Loch Carron as a distant speck. I worked out where my home for the night at Strathcarron Hotel was. I imagined being there and relaxing in the bath. Oh, I did hope there was a bath when I was staying in accommodation. I always like a soak after a long walk.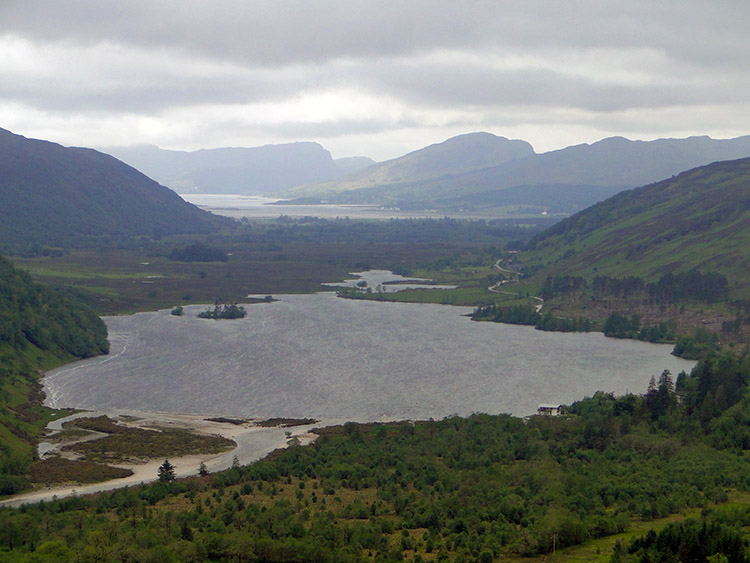 Loch Dughaill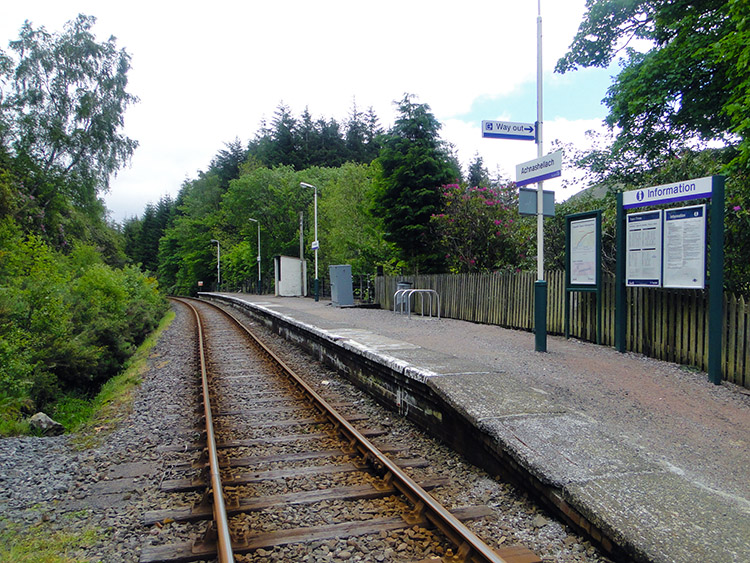 Achnashellach Station
Eventually I reached the point where the descent from the Coullin Pass began in earnest. The great views to distant Loch Carron began to diminish as I zigzagged down the forest plantation path I was following to Achnashellach Station. After the bendy bit I walked in a straight line down through the plantation noting areas cleared of wood, areas ready for clearing and areas assigned to new growth. The woodland here constantly changes as it does in much of Scotland due to our insatiable appetite for wood. After a while the straight gave way to bendy bits again and then I arrived at Achnashellach Station.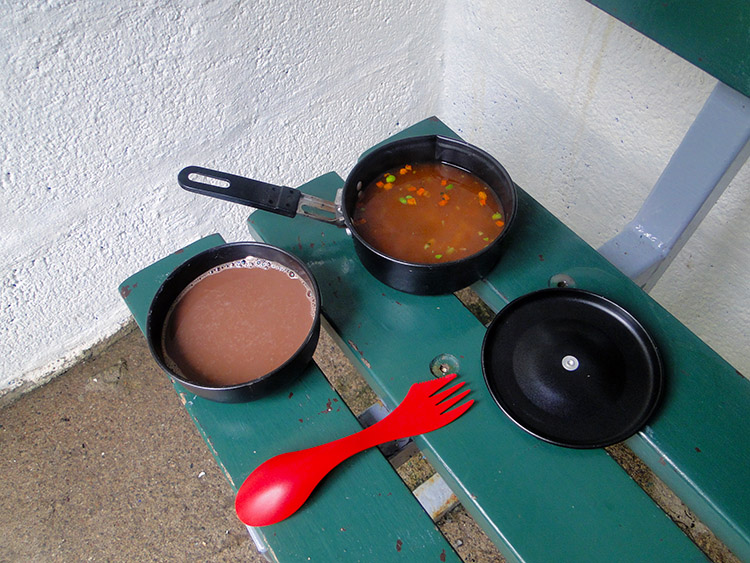 Backpackers lunch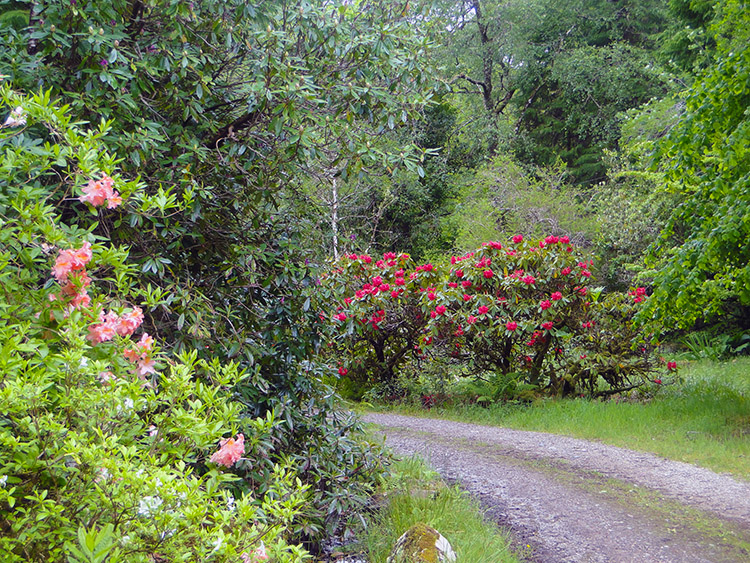 Rhododendron at Achnashellach
I was ready for my dinner. Achnashellach Station is a demand only stop with a little waiting booth. The booth served as a good kitchen. I took out my cooking implements and my provisions. I prepared my plates and cutlery. I cooked and I recharged myself with food. Soup for starters and a hot chocolate drink for afters. Not the most exciting dinner ever but it was great. I finished it off in no time. With lunch over and everything cleaned up I resumed my walk. I had a final six mile haul to Strathcarron and after Achnashellach Lodge I had four miles to walk along the valley road. It is never the best fun tramping the feet on tarmac but the views to the mountains of the west were a compensation and the attractive valley drew me on.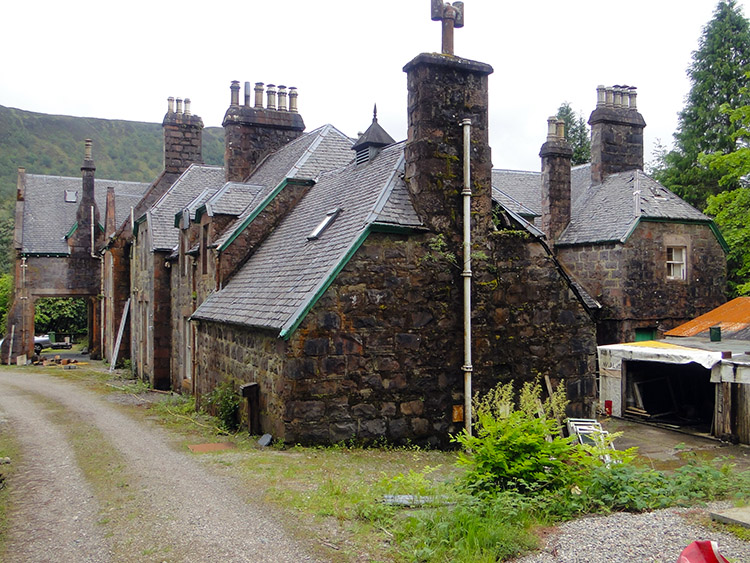 Achnashellach Lodge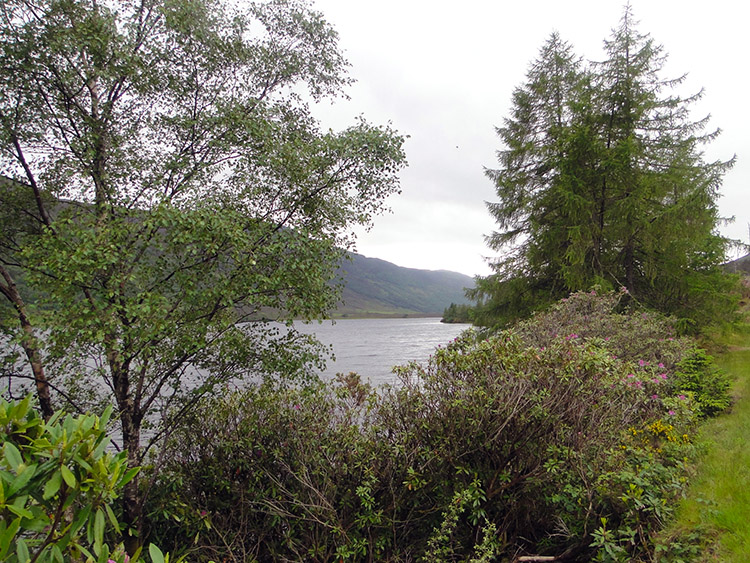 On the road alongside Loch Dughaill
So after passing Achnashellach Lodge I came to the A890 road. I marched on the roadside, climbing on to grassy banks whenever I could. It was a case of walking stretches of tarmac, stretches of gravel and stretches of grass in no regular pattern. I walked past Dughaill and soon after I walked past a row of small houses which constituted Balnacra. Soon after that I walked past another few houses which constituted Coulags. No one was to be seen in either place. For a mile on the road I was next to a railway line but not a train came. Very few cars passed me on the four miles of walking along the road. Where was everyone?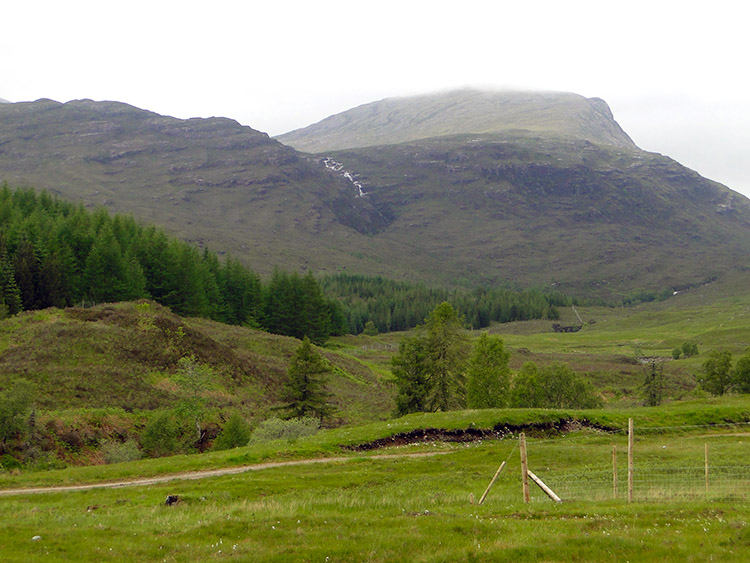 The roadside walk was softened by lovely mountain views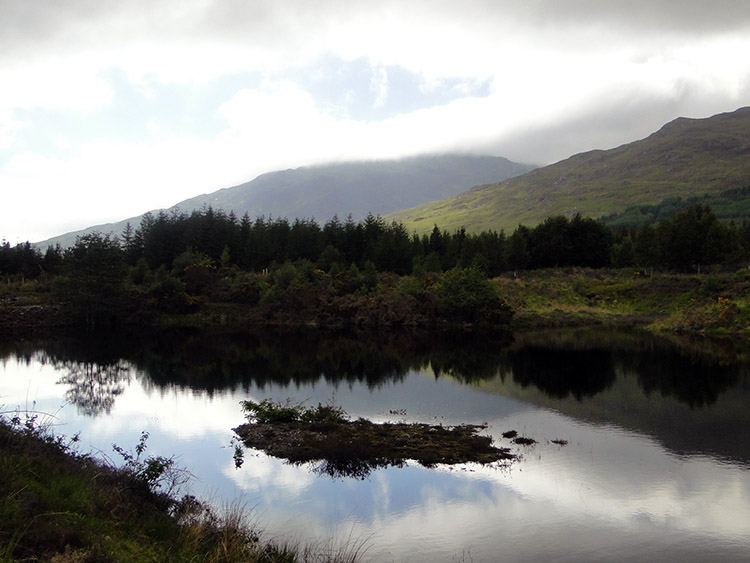 Lochan and mountain near Strathcarron
The last two miles of the walk were lovely as I left the roadside about a half mile after passing Coulags Bridge to amble through woodland and beside the fast flowing River Carron. As if on cue the sun had come out to accompany me on this final stretch of easy walking. As I got closer to Strathcarron I finally began to see people again. They were out walking too. Most of them had dogs to keep them company.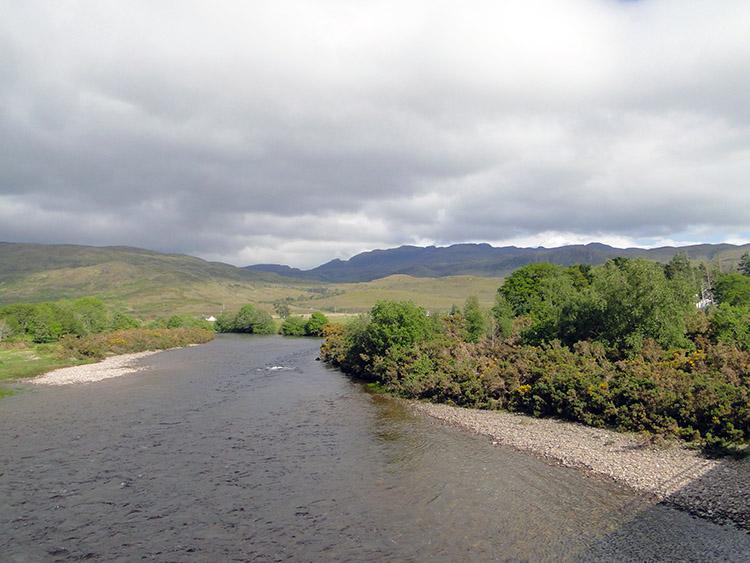 River Carron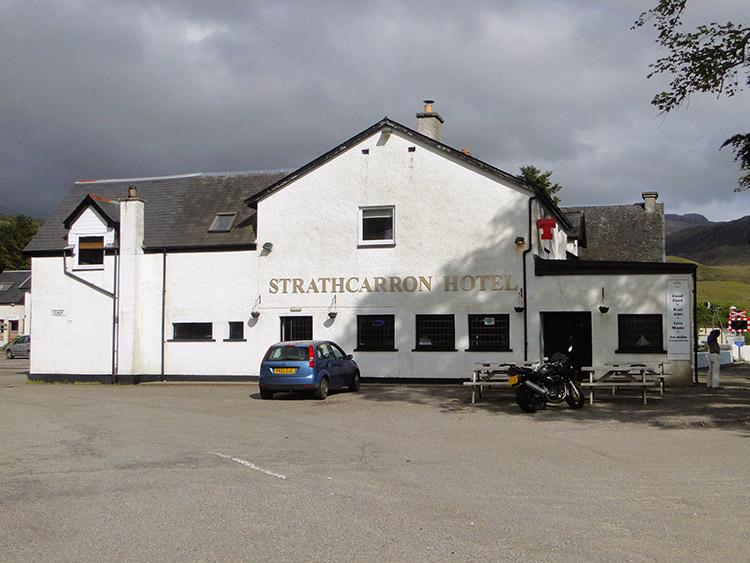 Strathcarron Hotel
Soon I was in Strathcarron and I arrived at the hotel which was my home for the night. I enjoyed a good supper and a couple of beers in the evening and as I enjoyed the ale I recalled the events of the day. After the navigational nightmare on leaving Kinlochewe and the trouble in finding the forest which never was the rest of the stage had been reasonable with good views at height, interesting moments afterwards, lunch at the railway station and as I had walked I had passed through land in transition from Torrid mountains to Knoydart mountains. I now looked forward to exploring them.
Continue the walk
Great British Walk