The Great British Walk
A personal record of my three month walk of the full length of Great Britain from north to south with written journal and photographs. Tracklogs for GPS units and for use with Google Earth are available for download for each stage.
---
Stage 9: Morefield to Ullapool
Google Maps
Open Source Maps
| Statistics | |
| --- | --- |
| Start: Morefield | Finish: Ullapool |
| Distance: 2.8 miles (4.4 km) | Time: 1-2 hours |
| Climbing: 95 metres | Total Distance: 85.3 miles |
| GPX Route File | Google Earth File |
Ordnance Survey Explorer Map (1:25,000)
Summary
A very easy stage as I covered most of today's intended distance yesterday by continuing on from Strathcanaird to Morefield. Just as well, today was miserable with rain throughout the day. Even the holiday makers in Ullapool were particularly gloomy under the thick cloud. Still, in my short three miles to Ullapool I enjoyed a lovely walk along the Ullapool Riverside Paths, a lovely place for wildlife where few Ullapool visitors venture. It is their loss for not doing so.
(Note: My walk of the Cape Wrath Trail was a part of my
Great British Walk
from the north coast of Scotland to the south coast of England)
---
Stage Report
As I had reached my destination yesterday it started to rain. As I left my guest house to begin the short walk to Ullapool it started to rain again. For the third day running I was drenched by yet another storm lashing into north west Scotland from the gulf stream. Oh, how I wanted decent sunshine again, hoping for the first decent spell of sunshine and dry since walking from Knockan to Stac Pollaidh. Tomorrow perhaps?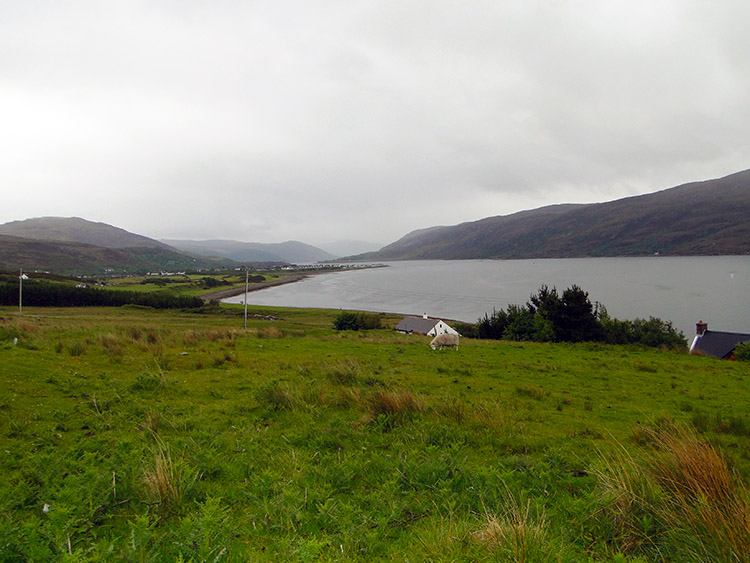 Loch Broom as seen from Ardvreck in Morefield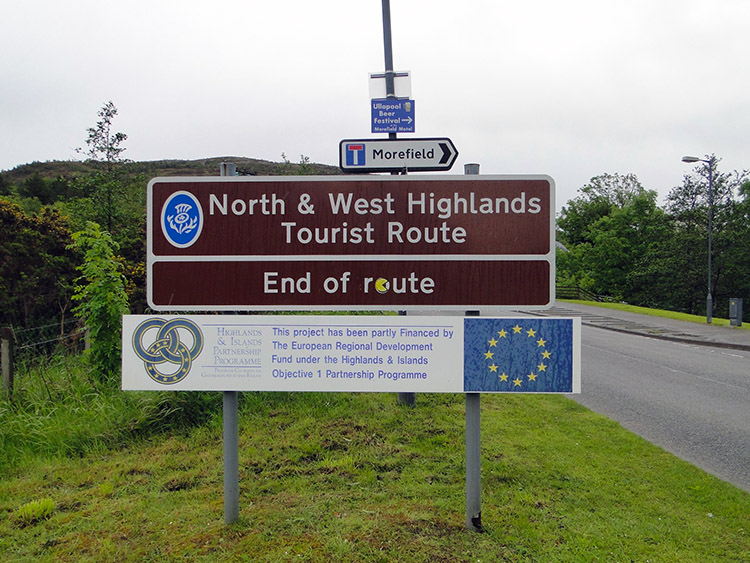 End of the tourist route at Ullapool
In the rain I walked up from Ardvreck back to the road, a steep climb up the drive which covered all of my 95 metres ascent of todays short stage. Now it was all downhill to Ullapool, a walk of a mile in which I saw little for my head was down underneath my hood looking at my feet. Thanks to the rain I had got to know them so very well. The road, despite being the only one in the area was extremely quiet, just two cars passed me as I walked down to the town on a miserable Sunday morning. Not so much for a tourist route, as the sign I reached on the edge of town suggested, but then what would possess someone to be out in this weather? Only someone walking the length of Great Britain that is! After the tourist route sign I left the roadside.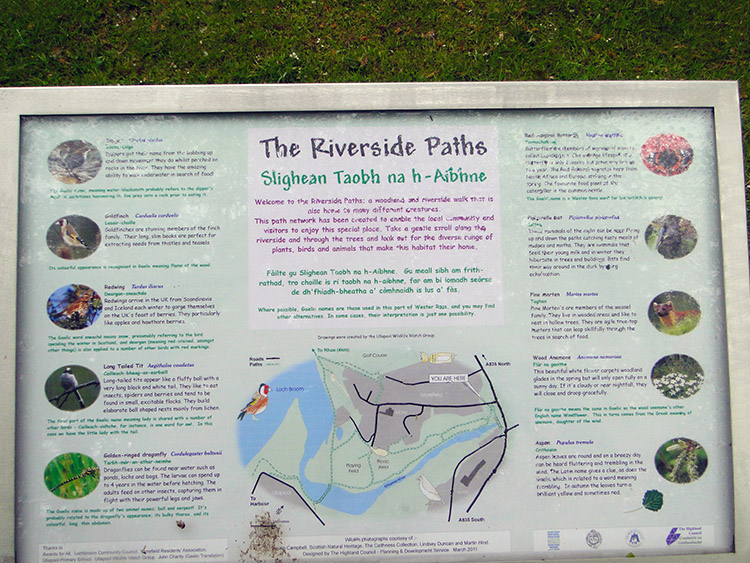 Information on the Ullapool Riverside Paths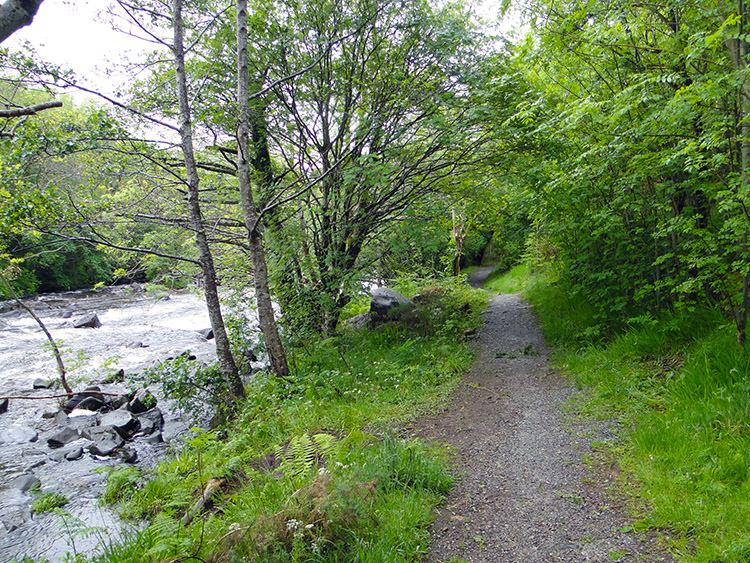 On the edge of Ullapool with no one about but me
I turned right from the road onto a path to follow the Ullapool woodland and riverside walk. For the next half mile I was in rapture. My first impression was the powerful force of Ullapool river flowing vigourously on its short three and a third miles course from Loch Achall into Loch Broom. A short river but like most in Scotland a powerful one.
Ullapool River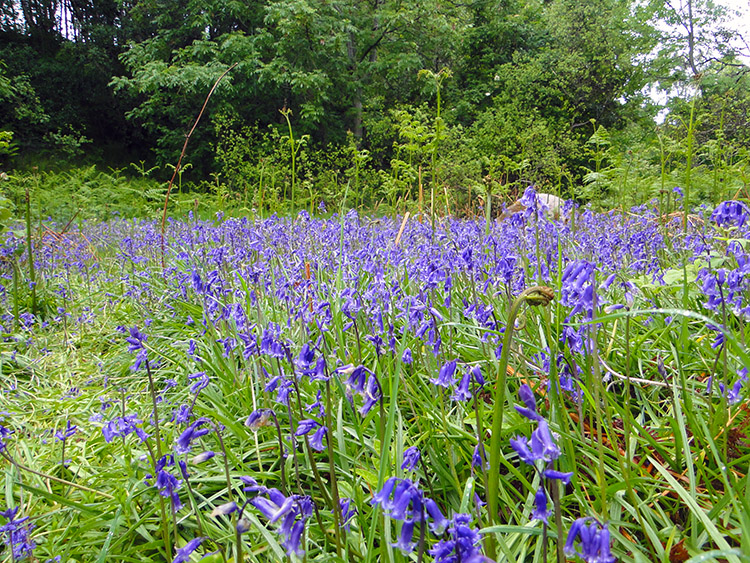 Bluebells in Ullapool
In preparation for this epic walk I had missed out on my normal fix of Bluebells in North Yorkshire. I had thought I was not going to see any this year. Wrong, they were in prolific show in the woodland of Ullapool and I spent an half hour of joy following the woodland tracks in the midst of Bluebells everywhere. Not fading Bluebells either, these were in full glorious show and it was clear the Bluebells of northern Scotland would continue to provide wonderful colour for the local folk into June. The woodland also provided another comfort for me as the tree canopy kept the rainfall from me for the brief time I was on the woodland and riverside path.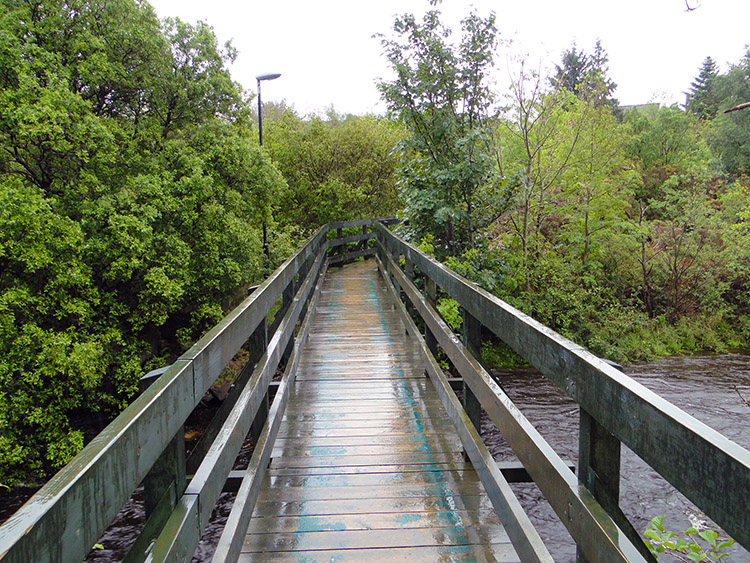 Footbridge across Ullapool River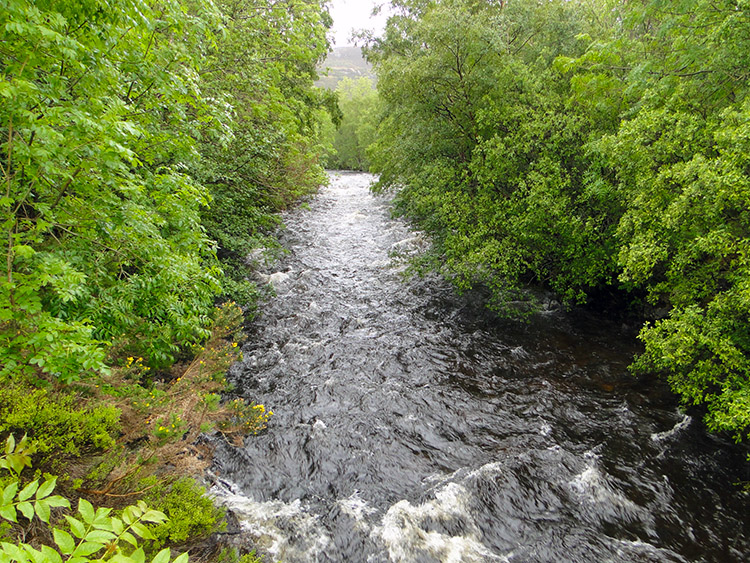 Ullapool river on its journey into Loch Broom
On leaving the woodland and riverside path, which many unfortunate visitors to Ullapool will miss out on (do look for it if you come, it is to the north of the town and a wonderful place) I followed the streets of north Ullapool with row upon row of white buildings into town where I found a cafe and hurried into for a pot of Earl Grey and a dry out, a luxury I knew I would not see again until Wednesday as I had two days of camping ahead of me in nowhere land.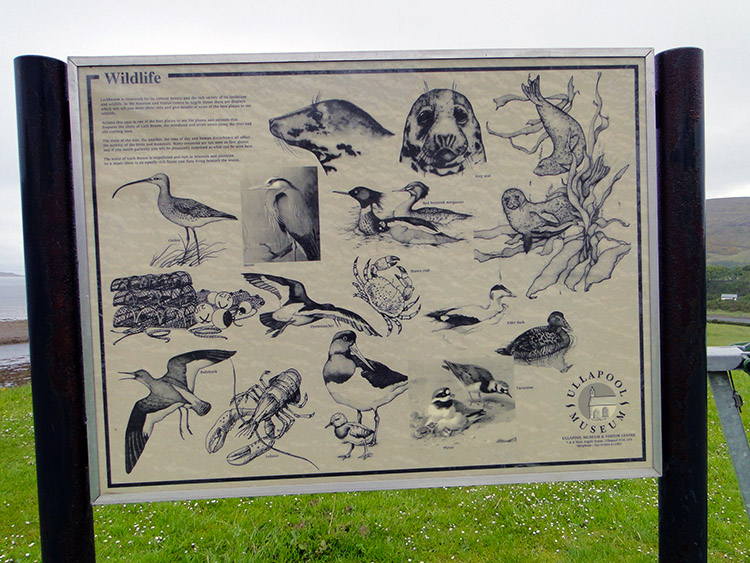 Wildlife to be found in and around Loch Broom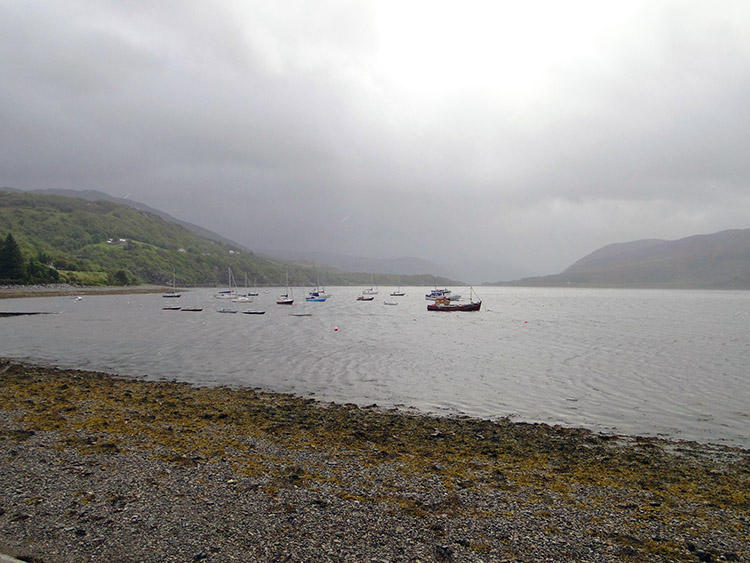 Loch Broom on a gloomy Sunday morning
I had enjoyed a curry in Ullapool on the Saturday night after being driven into town by my hosts in Morefield, after which I took a taxi back. Now I was staying in the town I chose to follow the example of the visitors who had assembled in cover beside a Fish and Chip shop and were eating their suppers from newspaper. The food was delicious. Afterwards I popped into the pub near the Fish and Chip shop for a couple of local ales and then, still early for some, I returned to my accommodation. It was still daylight when I got back but after reading local magazines and guidebooks in the lounge for an hour I retired to bed. My two days of fairly straightforward walking were at an end and I had a long day of walking ahead of me.
Continue the walk
Great British Walk