The Great British Walk
A personal record of my three month walk of the full length of Great Britain from north to south with written journal and photographs. Tracklogs for GPS units and for use with Google Earth are available for download for each stage.
---
Stage 7: Knockan to Drumrunie
Google Maps
Open Source Maps
| Statistics | |
| --- | --- |
| Start: Knockan | Finish: Drumrunie |
| Distance: 11.8 miles (19.0 km) | Time: 6-7 hours |
| Climbing: 660 metres | Total Distance: 74.4 miles |
| GPX Route File | Google Earth File |
Ordnance Survey Explorer Map (1:25,000)
Summary
Following yesterdays stage of road walking and a detour to some scenic bone caves and then more road walking this stage was similar with road at the start and the finish but with a spectacular and longer off route section in the middle of the stage. I was walking today in fantastic mountain country and amidst some of the most spectacular mountains in the whole of the British Isles. With Cul Mor, Suilven, Stac Pollaidh and Cul Beag to name just a few this section of my 1,000 mile walk was one of the best and the detour off route through a valley without marked paths was one I had designed with intent to get as close as I could to the magical mountains without compromising my overall itinerary. It was such a brilliant walk, tough in part due to the ground beneath my feet but I would not choose it any other way. It was simply one of the best days walking.
(Note: My walk of the Cape Wrath Trail was a part of my
Great British Walk
from the north coast of Scotland to the south coast of England)
---
Stage Report
I had been looking forward to this stage, my adventure day where only four miles south would be gained but almost 12 miles done. This was because I had designed a detour, a route circumnavigating the imposing mountain Cul Beag (769m) which would get me close to Stac Pollaidh and also give me a good south side view of Suilven and the north face of Ben More. I was taking a walk in the midst of many magical mountains.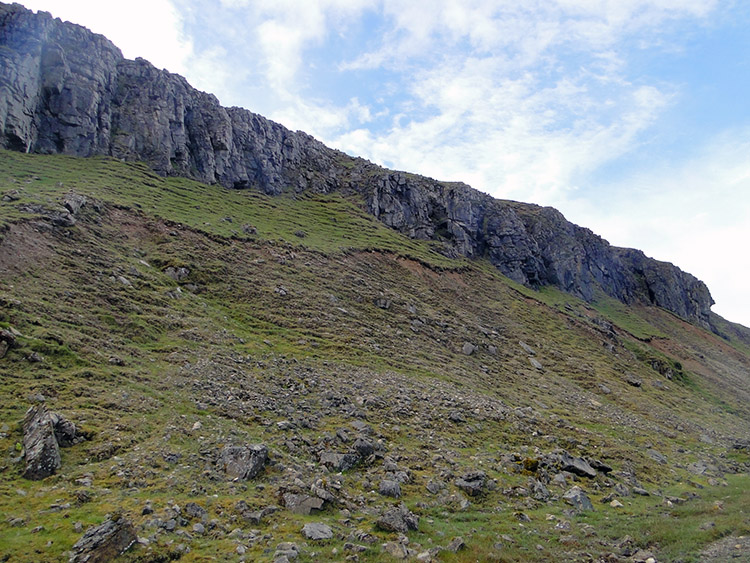 Knockan Crag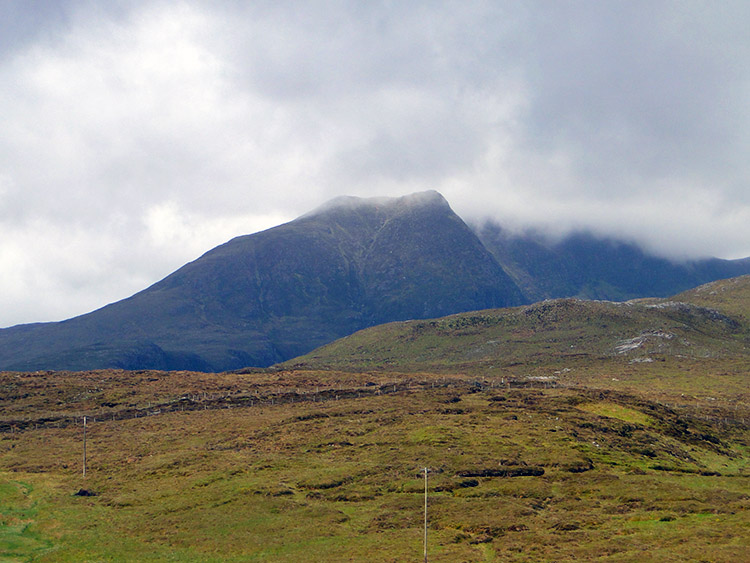 Cloud sweeping over Cul Mor
I set off from my guest house on an dry overcast morning and followed the A835 southwest to Knockan Crag. Like Inchnadamph yesterday Knockan Crag is another Scottish National Nature Reserve and part of the Rock Route I have been following since my start in Durness. Fittingly my first days of walking had been on the oldest ground of all in the British Isles, a walk on rocks formed 3 billion years ago during the Pre-Cambrian Eon, rocks of metamorphic origin, amongst them the Lewisian Gneisses formed in volcanic turbulence 30 miles underground within the crust of the earth. Indeed standing on such ground now was a privilege, when it was formed I would have been fried at temperatures of 650 degrees Centigrade. Another interesting rock type in my range of sight was Torridonian Sandstone and it is the stone that forms the mountain of Suilven which always entrances me when I see it. I shall see it today and I looked forward to that moment so much. Enough on geology for now I will complete the Rock Route in Ullapool so more on it then. Now I will continue my walk.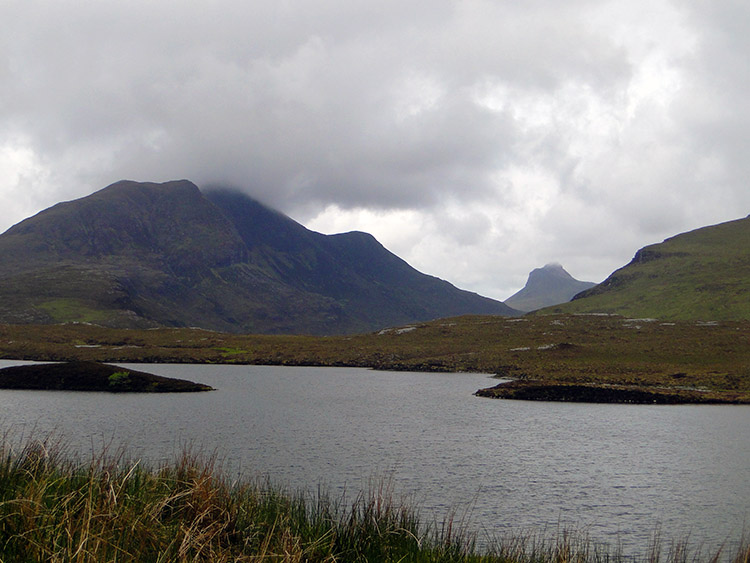 Lochan an Ais with Cul Beag and Stac Pollaidh beyond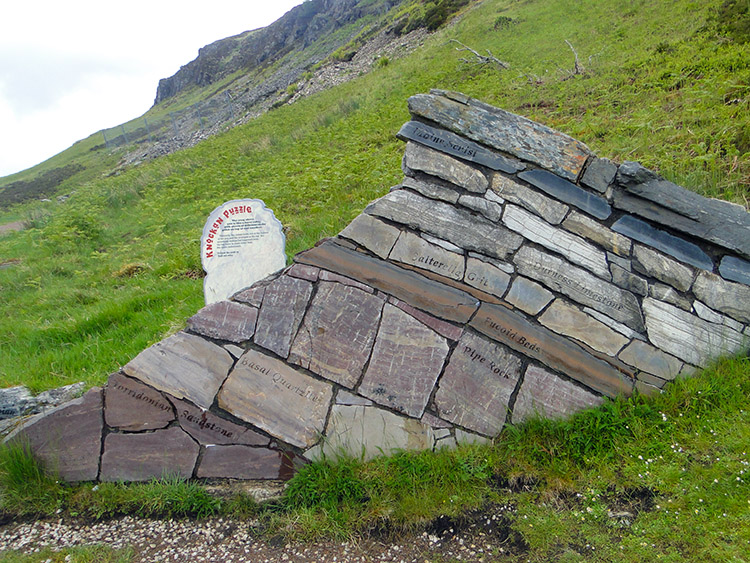 Rocks of the Pre-Cambrian
I couldn't leave geology behind though, not today. Soon I came to Knockan Crag Visitor Centre and paid it a visit. Two men were working at the centre improving the paths and surrounding walls. They did not want for materials, there was plenty around, strewn all over the land below Knockan Crag. At the centre a hill shaped feature of layers of rock showed, from top to bottom, Moine Scnist, Durness Limestone, Salterella Grit, Fucoid Beds, Pipe Rock, Basal Quartzite and Torridonian Sandstone. As is often found naturally the stone on top is much older than those below, a consequence of millions of years of shifting and shaping of the land we take for granted. I was fascinated and there was more to learn inside the visitor centre.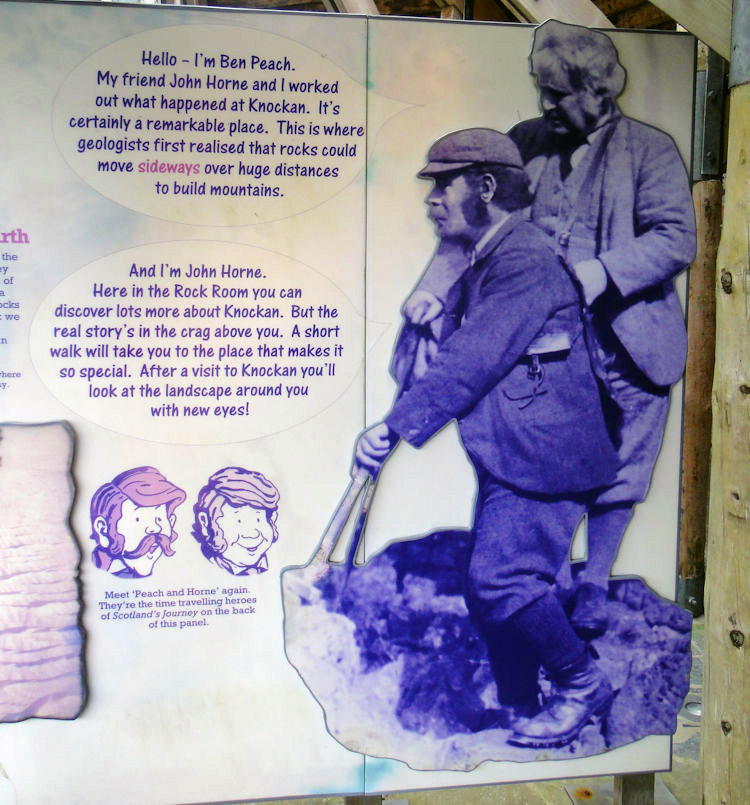 Ben Peach and John Horne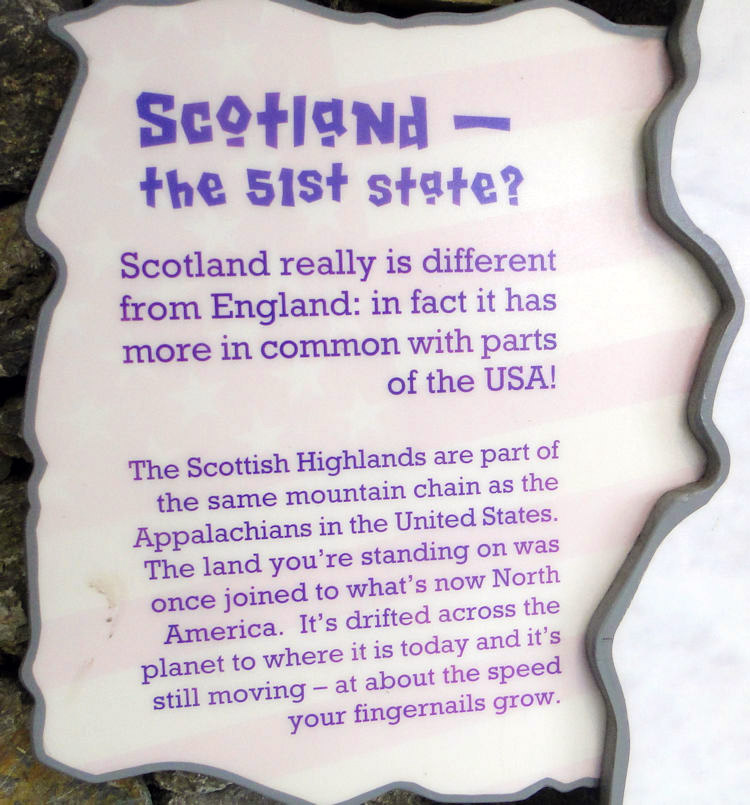 Scotland, the 51st state of the USA
Inside the visitor centre I learned about Ben Peach and John Horne. 'The names of these two close friends are usually spoken together; pioneering geologists who made a lasting contribution to their field. Although Ben Peach was not a Scot by birth, his father Charles was a coast guard posted from East Anglia to Wick in 1852, where the local academy provided Ben with much of his early education. Already an amateur geologist of some distinction, his father became a close friend of the Thurso baker and self-taught botanist and palaeontologist, Robert Dick. It was no wonder young Ben aspired to be a geologist himself. His father's friendship with Sir Roderick Murchison, the Director-General of the Geological Survey, facilitated Ben's entry to the Royal School of Mines and, in 1862, recognising his accomplishments, ultimately into the Geological Survey itself.

John Horne, four years younger, was born at Campsie near Stirling and while still studying at Glasgow University also gained employment with the Survey in 1867, apprenticed to Ben Peach. The partnership proved immensely successful and lasted the rest of their lives. They were tasked with mapping rocks in the Central Belt in winter, and in summer, when the weather allowed more arduous field work, in the North West Highlands' Source http://www.highlandnaturalists.com/biography/peach-horne Another interesting fact I found out was that the mountains of Scotland were once of the same chain that is now the Appalachians in the USA. I never knew that and the thought of it amazes me. I walked on from Knockan Crag more learned than when I had arrived.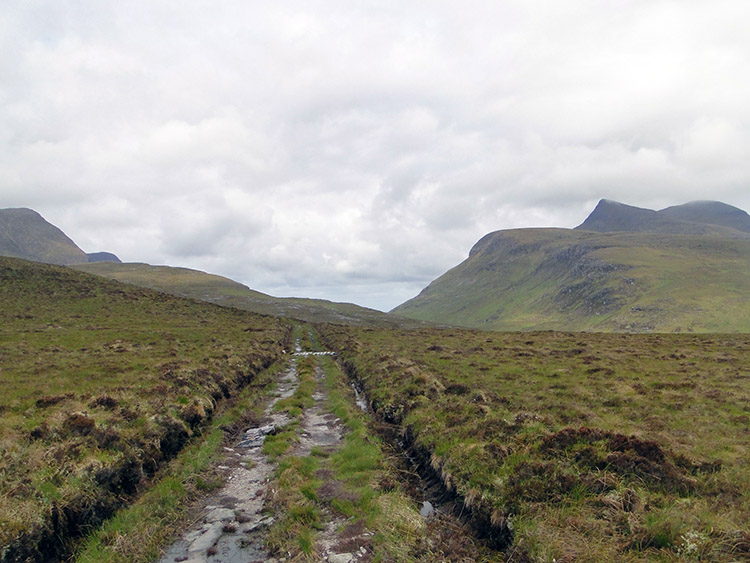 The track to Lochan Fada and Lochan nan Ealachan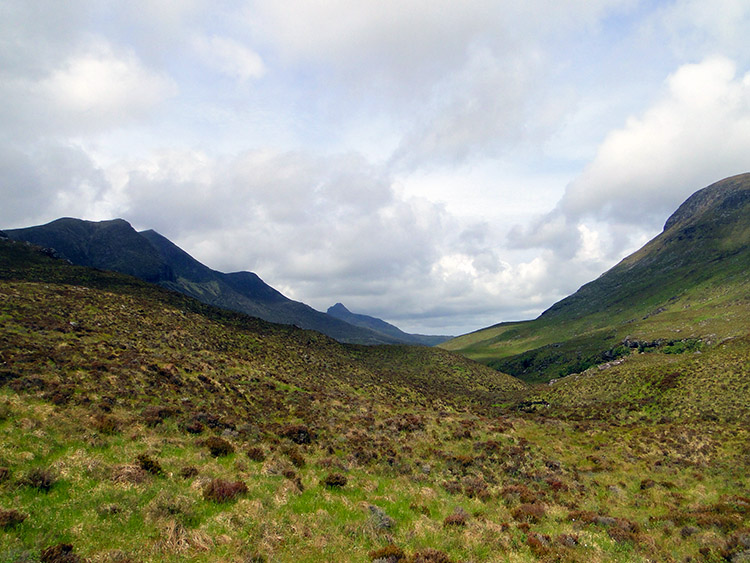 No tracks to follow now, walking on terrain without paths
I left the road very soon after Knockan Crag and followed a track west toward a land gap between Clar Loch Beag and Lochan Fada. On the track I came across a Scotsman cooking breakfast next to his car. His home seemed to be in the vehicle, all worldly possessions crammed in. We struck up a conversation. He told me he escapes up to north west Scotland for a month a year and spends it living in the wild. On asking about me and discovering I was a Yorkshireman he asked if I knew Michael Parkinson. I had to disappoint him but he wished me on my way all the same. After biding the adventurer farewell I continued along the track which posed me with a dilemma on the land gap between the two lochs. A stream linking the two was too broad to leap over and so with no rocks nearby to use as stepping aids I just has to hop into the water and hop out again. I was getting used to wet feet by walking through bog, peat and many watercourses so the soaking did not faze me. After the wade over the water the track carried on to a third lochan, Loch nan Ealachan. Near the lochan the track diminished, became patchy and broken and then disappeared altogether. With no track available I now followed the course of the Lochans outflow stream on a course west which created a natural pass bisecting Cul Beag to the south and An Laogh (546m) to the north. Directly through the pass pulling me through was the stunning profile of Stac Pollaidh. The going was not easy in the mix of tufty grass, rock and peat bog. My feet were soon squelching. It continued to be hard going but heavens above the sun came out on brief occasions. I took advantage and took some striking photographs of the pass. My designed route was indeed hard but incredibly spectacular.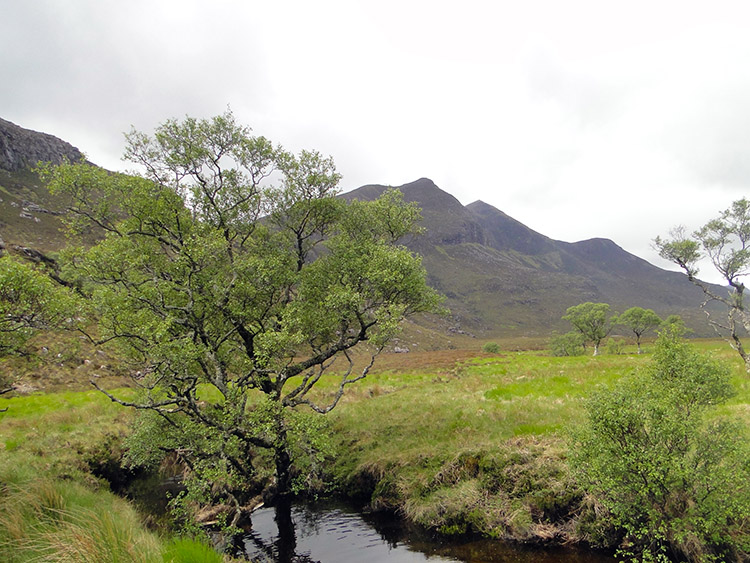 Beauty in the wilderness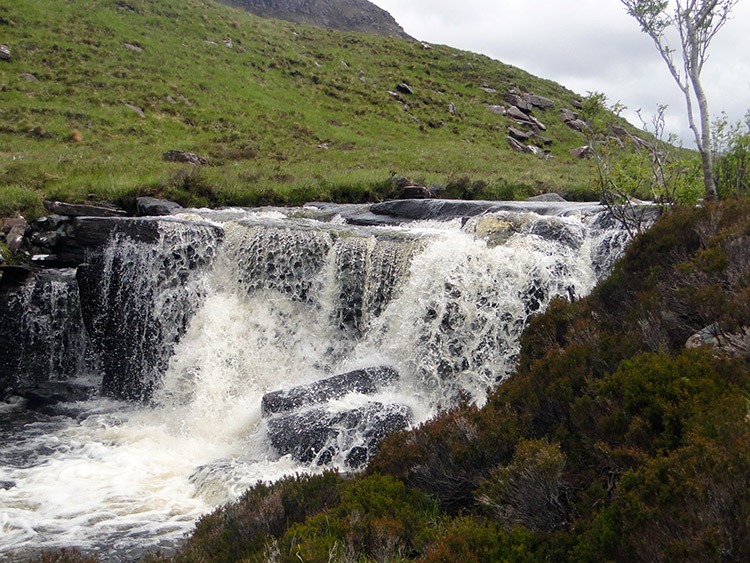 Waterfall on the outfall of Lochan Dearg
The stage of walking without a track along Allt an Loin Duibh was an incredible experience. I felt like a proper adventurer tracking across unexplored country and indeed I was for there was no evidence of other people being here before. Not a foot mark did I find, even in the obvious places where I was forced to the waters edge and made to stride up and down rock shelves and peak hummocks on a roller coaster ride upstream through the valley floor of Gleann Laoigh. Why nobody walks here and forges a track though made me wonder. The views to striking craggy peak of Stac Pollaidh are a natural draw. I thought "Lucky me". To my surprise I found havens breaking up the difficult walking and making the toil of the undulating ground well worth the effort. I found small clusters of Birch, often by the side of the water and I also came across frequent small waterfalls of incredible beauty, the best being on the outflow of Lochan Dearg.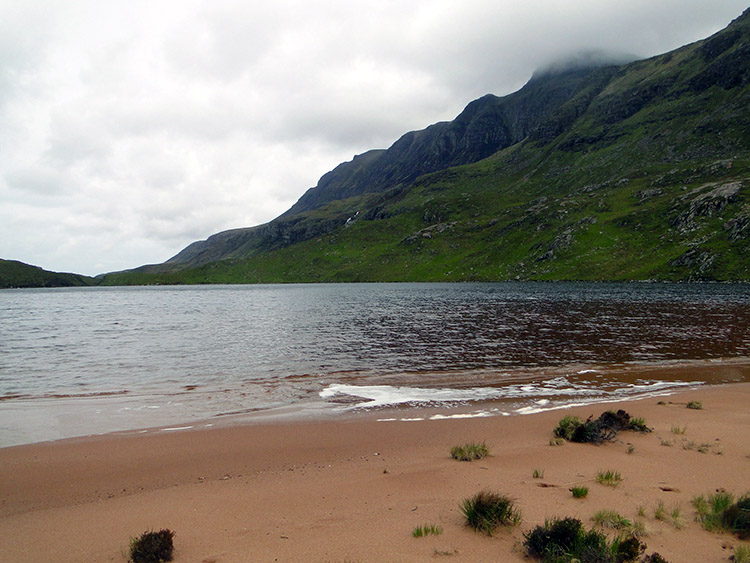 Some relief, a sandy beach at Lochan Dearg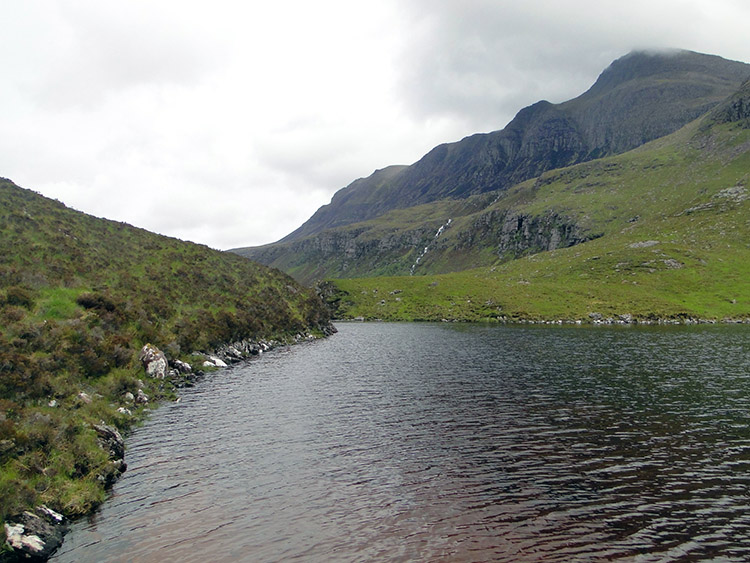 Lochan Dearg and Creag nam Preas Garbha
The hardest graft was done when I reached Lochan Dearg. On its east shore I found sand, my own little seaside! Small maybe but to me a much better place than many seaside resorts. Here I did not have to negotiate the hustle and bustle of a busy promenade. Nor I did have to endure the noise of traffic and seafront amusement arcades. I had my own little place, all quiet and truly serene. It was my own little heaven for a short while. Alas just as I was enjoying this magical place seemingly all to myself noticed interlopers getting in on the act. I saw insects arriving and congregating around my head, midges perhaps? Bog Myrtle spray was quickly applied. If they were midges it worked, no bother and in suitable protection I took a little longer to dwell on my sandy shoreline.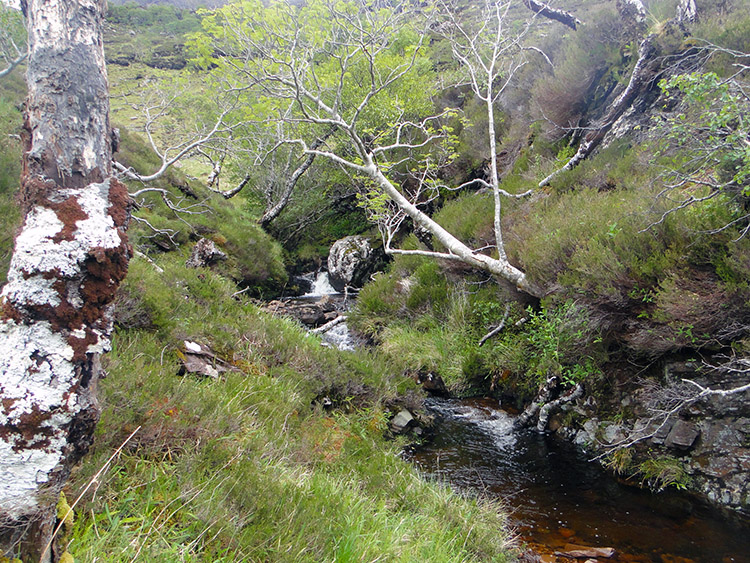 Difficult stream crossing near Loch An Doire Dhuibhn
Scenic coppice at Doire Dhuibh
From the sandy shore on the south side of the lochan I tracked around the western edge of the water to the north side. From Lochan Dearg I ascended from the water to some raised rocks which provided me with a wonderful vantage point. Looking north west I could see water everywhere with Loch Sionasgaig dominating the scene. Beyond was Enard Bay and the sea. With such beauty to take in I took a short break. The view west to more Lochans and to Stac Pollaidh which was now looming much closer were breathtaking, magical even. However there was a foreboding as I took my leave from my temporary resting place, darker skies were approaching from the west. To add to the feeling of approaching gloom what I had imagined was a level ground walk to a track marked on the map at Doire Dhuibh turned out to have a hidden steep drop to cross a stream taking waters collected on Cul Beag into Loch An Doire Dhuibh. It was steep down, a narrow but awkward hop over the water and then a steep climb up to Doire Dhuibh. Thankfully the effort provided me with a walk through a scenic coppice with a stupendous view of Stac Pollaidh dead centre.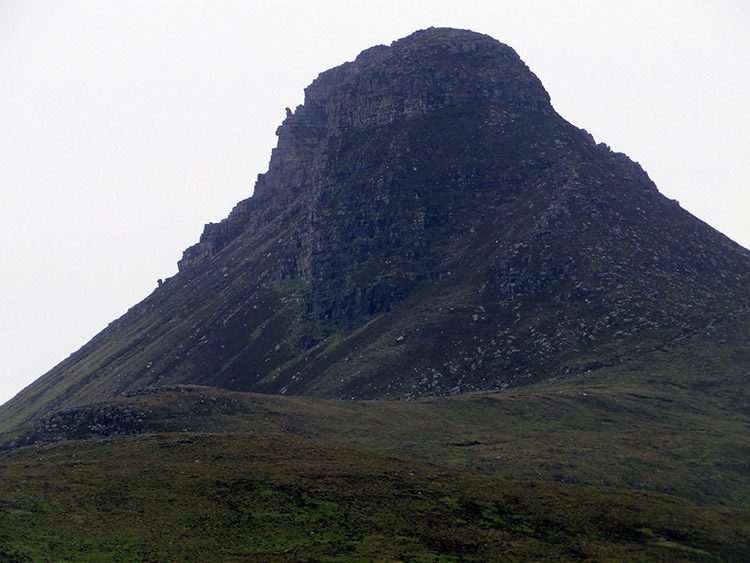 Stac Pollaidh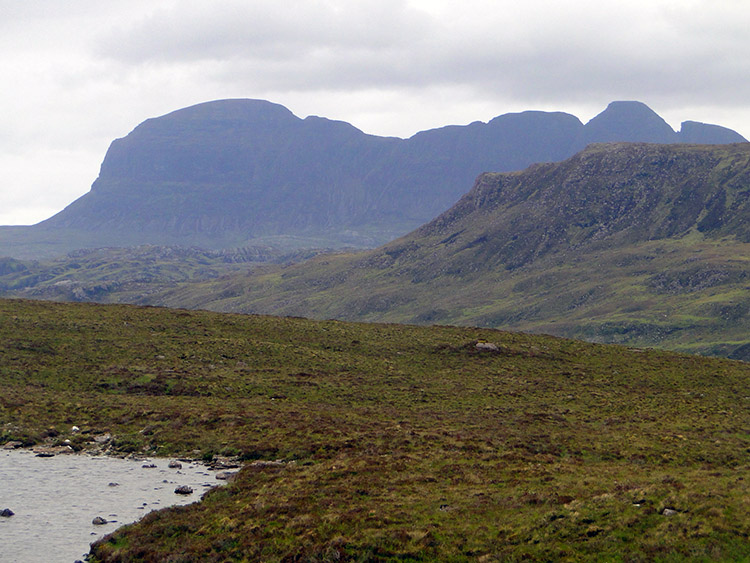 Suilven as seen from Doire Dhuibh
I rounded Cul Beag from the north side to the east side on a good track now clearly visible from Doire Dhuibh and a level height of 150 metres which provided more thrilling views. On the track now going south between Cul Beag and Stac Pollaidh on a slight ascent I considered my option plan to climb higher onto Stac Pollaidh. The earlier foreboding skies made my decision for me. The clouds were dropping lower quickly and it was starting to rain. Fortunately before the weather had time to close in completely I got a great view of my favourite north west Scotland mountain. By looking due north Suilven stood out from the retreating mass of Cul Mor which had shielded it from my view during my walk through the valley. Despite the deteriorating weather I stood looking for a good minute or two; it has that effect on me. The lower east slopes of Suilven were obscured by the western edge of An Laogh but it did not take anything away from my moment. At the same time Cul Beag was near to the east, Stac Pollaidh near to the west and then there was the massive of Ben More to the south directly across Loch Lurgainn. Four magnificent mountains on all four cardinal points. It was a WOW moment. During my awesome moments transfixed and somewhat pole-axed by the view the rain had set in properly so regrettably I deemed it necessary to be on my way.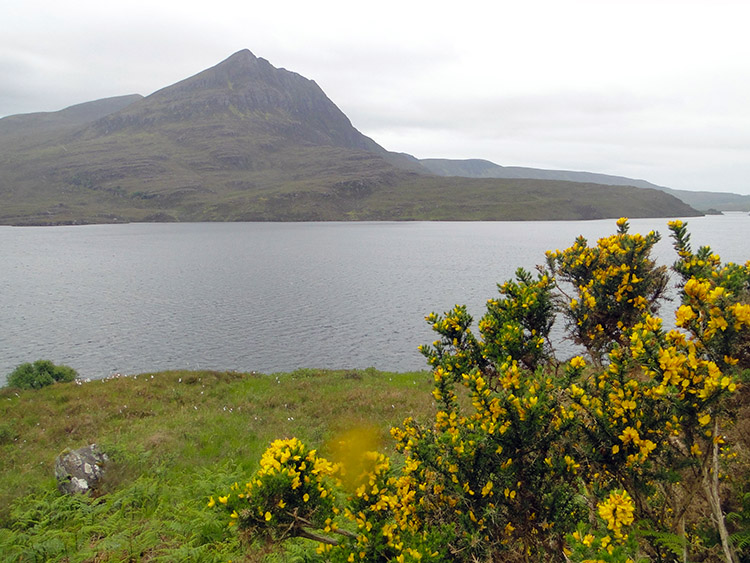 Loch Lurgainn and Sgorr Tuath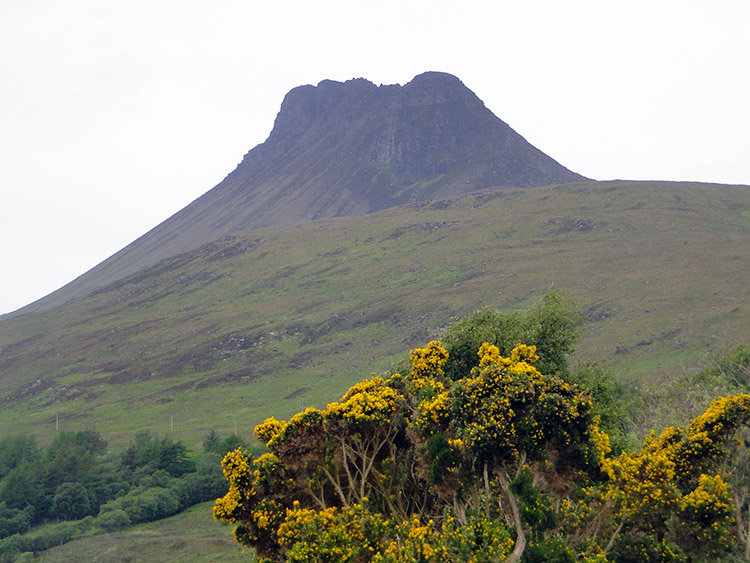 Stac Pollaidh as seen from Linneraineach
From Doire Dhuibh I followed the track southwest to the edge of Lochan Fhionnlaidh and then down to the road at Linneraineach, the last few hundred yards on a quite steep descent. On this section I met some people going the other way but they will not have been doing my walk in reverse, they will more likely have been heading to circumnavigate Loch An Doire Dhuibh as tracks lead around and back, going nowhere else. After I had descended to the Inverpolly road I walked south east in incessant heavy rain for three miles to Drumrunie.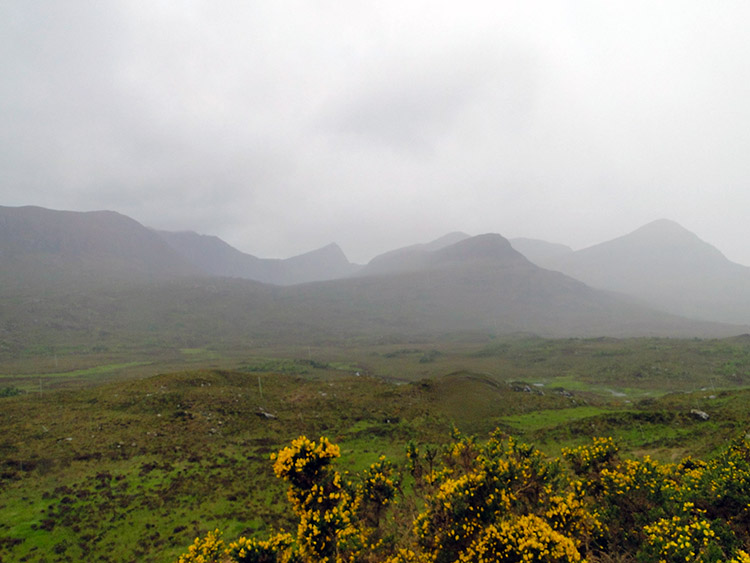 Rain over to Sgorr Deas and Coire Beinn an Eoin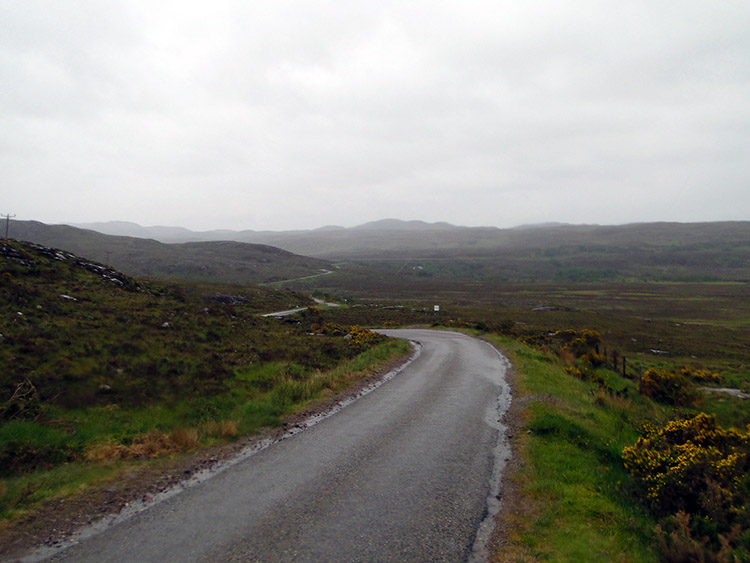 The long and winding road to Drumrunie
I got drenched as I walked those final miles, the cloud shrouded the mountains in a dreary mist and the rain persisted. Another day on the 1,000 mile walk and another drenching but at least I had enjoyed a dry morning a early afternoon in the most sublime walking territory. That final turmoil will not detract from a wonderful, thrilling, awesome, spectacular, exploring, path finding day.
Continue the walk
Great British Walk