The Great British Walk
A personal record of my three month walk of the full length of Great Britain from north to south with written journal and photographs. Tracklogs for GPS units and for use with Google Earth are available for download for each stage.
---
Stage 8: Drumrunie to Morefield
Google Maps
Open Source Maps
| Statistics | |
| --- | --- |
| Start: Drumrunie | Finish: Morefield |
| Distance: 8.1 miles (12.9 km) | Time: 3-4 hours |
| Climbing: 270 metres | Total Distance: 82.5 miles |
| GPX Route File | Google Earth File |
Ordnance Survey Explorer Map (1:25,000)
Summary
This stage of the walk is a short day and with the easiest of navigation as it entails a straightforward walk along the side of the A835 from Drumrunie to Morefield on the north side of Ullapool. Despite walking along the road it is usually quiet and good verges make it safe to stand off the road in the infrequent times of traffic. Views from the roadside are outstanding for the most part with good views of Ben More Coigagh and Stac Pollaidh at the start and then excellent views of Loch Broom and its surrounding mountains as you approach Strathcanaird and then in the descent to Loch Kanaird. The final section of walking from Ardmair involved a stiff final climb to Cnoc na Moine but once it was done was home for the day.
(Note: My walk of the Cape Wrath Trail was a part of my
Great British Walk
from the north coast of Scotland to the south coast of England)
---
Stage Report
After all the brilliance of yesterdays stage which included an off route exploration of new ground without paths, today was a very straightforward proposition. All I had to do was follow the A835 for eight miles, a simple affair of putting one foot in front of the other and steadily walking to reach Morefield by early afternoon so I could spend the afternoon at leisure, either in my hotel room or in Ullapool. After competing my second night in Knockan my helpful host drove me over to Drumrunie junction where I had finished the night before and on arrival and having wished my host well I was on my way. The weather was overcast and there was a strong wind. Showers were promised during the day but for now I was OK, high and dry so to speak for today I would finish at an altitude 100 metres lower than my start.
Looking over Loch Cul Dromannan to Ben More Coigagh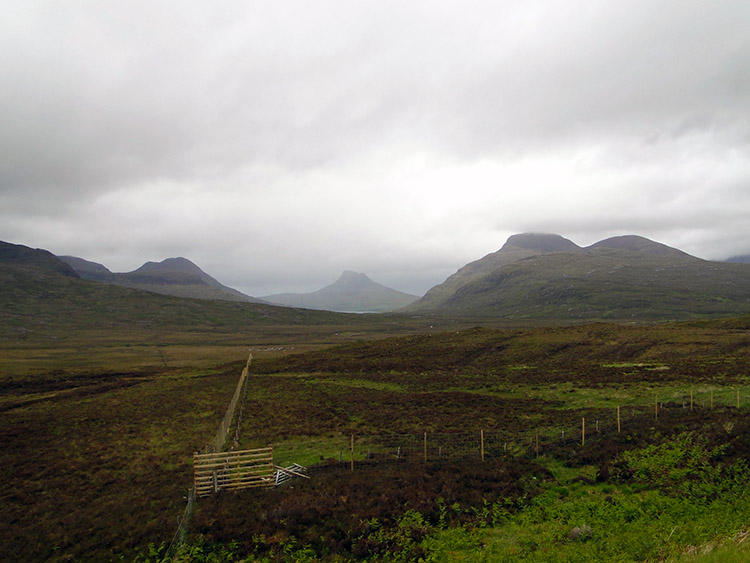 Coigagh
I set off in a hurry, wanting to make good time so I could have my anticipated Saturday afternoon to myself. A little time in Ullapool collecting provisions followed by an afternoon of sport in front of my hotel room TV seemed a good idea and I aimed for it. It was not too long before I came to my first target on the map, a point by the road near the shore of Loch Cul Dromannan. Just beyond the loch the map showed a parking area and a viewpoint. I could tell why for I was looking over the loch to the Ben More Coigagh Nature Reserve. Craggy mountains and high hills were constantly in eyesight, all a result of ancient glaciation and weathered erosion and such an awe inspiring sight. I stood for a while at the viewpoint looking to Stac Pollaidh. Next time I come here I will climb it. For now I turned, walked on and further distanced myself.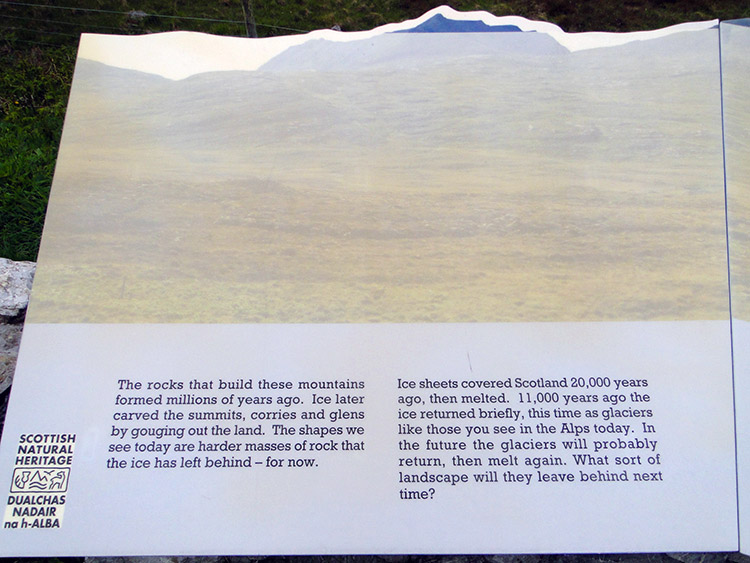 Covered in glaciers 20,000 years ago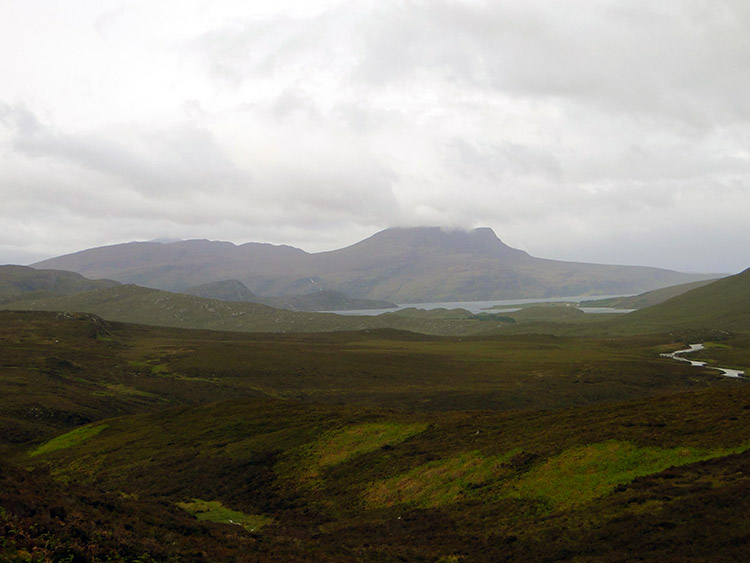 First sight of Loch Broom from near Strathcanaird
Near the viewpoint I also came across another information board on the Rock Route I was following. I consolidated my learning by reading the board to understand that 20,000 years ago this was a much colder place. In fact where I stood I would be frozen in ice and quite a long way underneath its topmost level. Less shivered I continued on my way towards Strathcanaird where I had considered staying when I first planned the walk. What would I find as I passed by? Answer, an almighty storm. I'll emphasis the immediate response to it and more to come in a passage I wrote in my blog on the afternoon of sport, it goes "As it has been for almost all of the walk so far the weather was horrible. There were frequent rainstorms and when they came they were with such severity that I had to stop walking and find shelter. If none was available then I had to turn around, bend forwards and take it until it passed. It was that bad, the storms dramatically whipped up the wind, blowing fresh foliage off trees and creating white horses in the coastal waters. This attritional bombardment from the west must relent soon. Surely?" That first storm hit me as I approached Strathcanaird and I walked as fast as I could to a covered bus shelter where I huddled for 15 minutes while the skies turned black and an almighty rainstorm swept across at an almost horizontal level. It was vicious.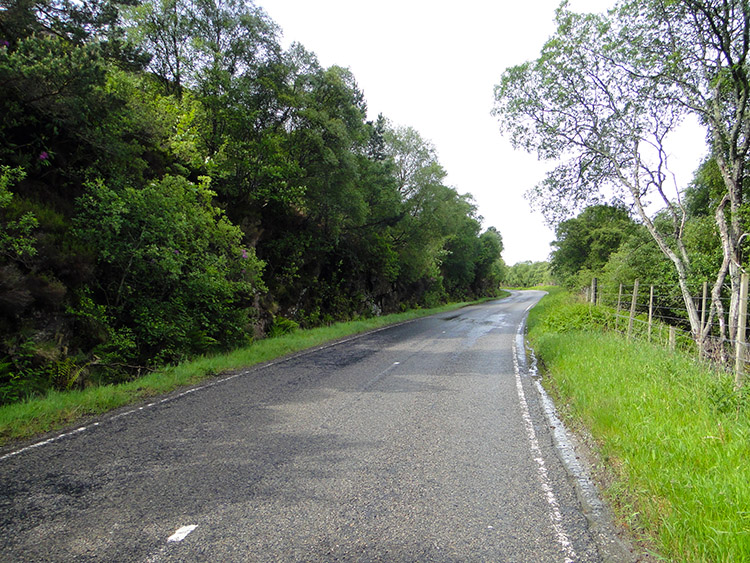 The road from Strathcanaird to Ardmair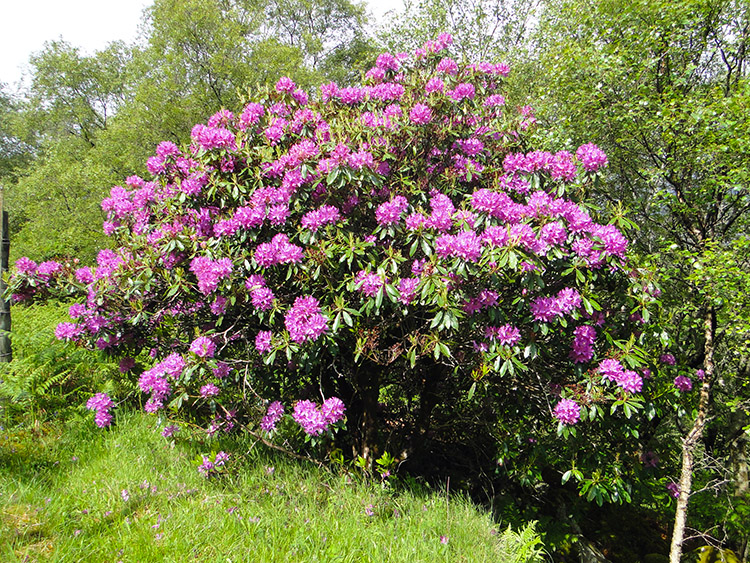 Rhododendron brighten up the roadside
As quickly as the storms came they went to be followed by fresh skies with areas of blue. The sky was never constant though changing from one minute to the next and I kept a wary eye on it when I approached open sections of road. The changing pattern of the sky and variations of colour allowed me to enjoy some dramatic views though and one such stupendous view was the one I got of the south and west from Strathcanaird with my first sighting of Loch Broom coinciding with my last view of Ben More Coigagh and Stac Pollaidh. What I saw I have pictured here, a remarkable memory. After I was allowed to depart the bus shelter by the passing storm I walked on to a straight stretch of road called Glutton. As I walked along the road toward Ardmair the foliage noticeably increased with lots of roadside trees and patches of cultivated land apparent. Now and then the green and brown was complemented by flower colour, particularly of Rhododendron which I was finding to be a popular shrub in northern Scotland. The colour cheered me.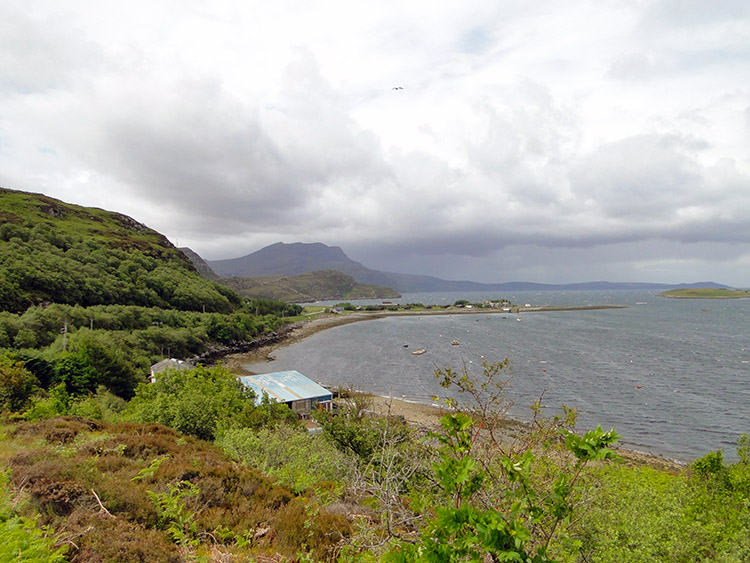 Ardmair and Loch Kanaird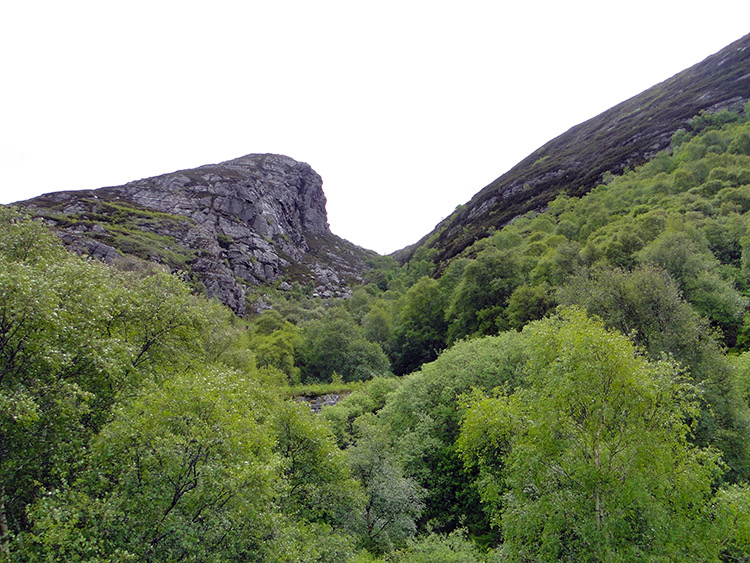 Creag An Uillt Ghairbh
The straight stretch of road that was Glutton was a long one and spent in solitary isolation. However as I passed a building aptly named Glutton Bungalow I actually came across my first person seen on the walk today, barring people in vehicles that is. It was a young man jogging. He was sweating somewhat and reddened in face, a little overweight and in need of exercise. I passed courtesy as he ran by me, he kept head down avoiding such contact. Perhaps he was focused on the task in hand. After the budding athlete had passed I made a short steep ascent over Creag Dubbh to catch my first sight of Loch Kanaird. As I did so it was bathed in sunshine and still sunny as I walked by the greenery at the bottom of Creag An Uillt Ghairbh. Then I had some fun.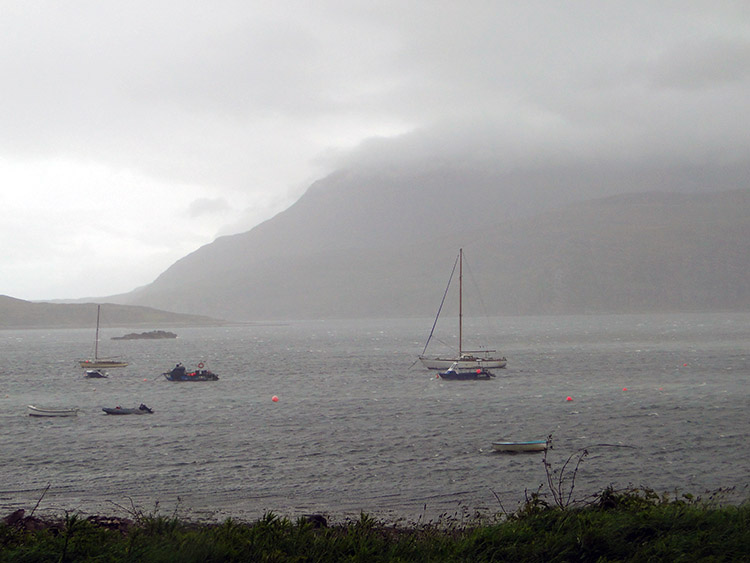 Storm sweeping into Ardmair Bay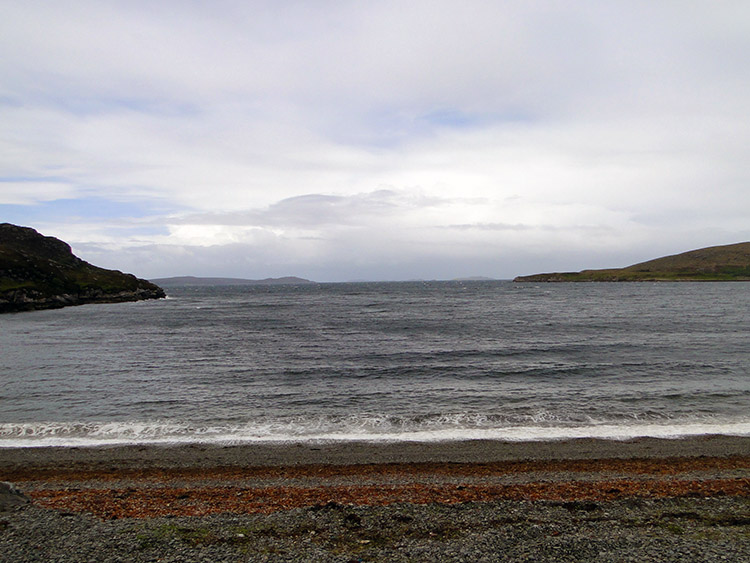 Minutes later the storm has passed
It was only 600 metres from passing Creag An Uillt Ghairbh to reaching the pier at Ardmair on the banks of Loch Kanaird. In that time the weather turned once more from placid to vicious. A storm swept in stealthily and quickly from the west and I had to run from the roadside into a small coppice where I sheltered by trees for the next fifteen minutes. Traffic at Ardmair had reverted to headlights for it was like night and all the small boats moored in the bay were rocking back and forth in the aggressive sea. I huddled by my trees that were providing shelter and watched it all happen, the storm crossing the bay and then passing over the hills and away to leave in its wake a serenity almost unimaginable. Everything went quite and returned to normality. I resumed my walk and continued on through Ardmair.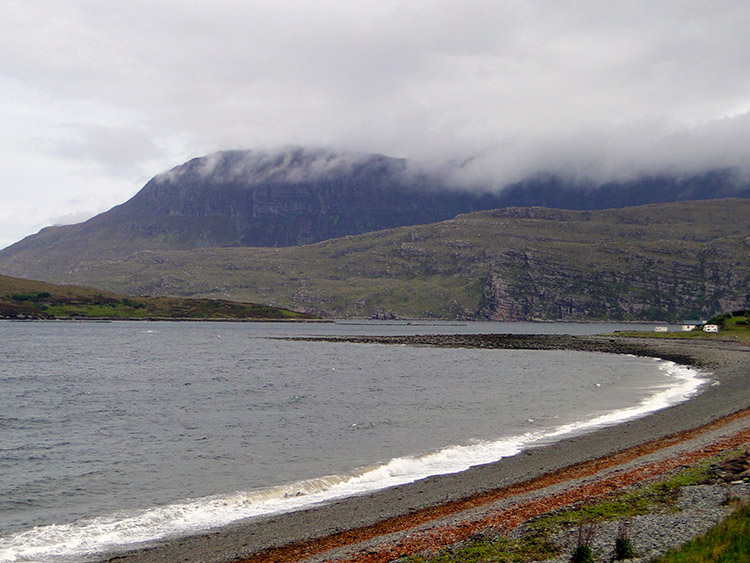 The sweep of Cul a' Bhodha headland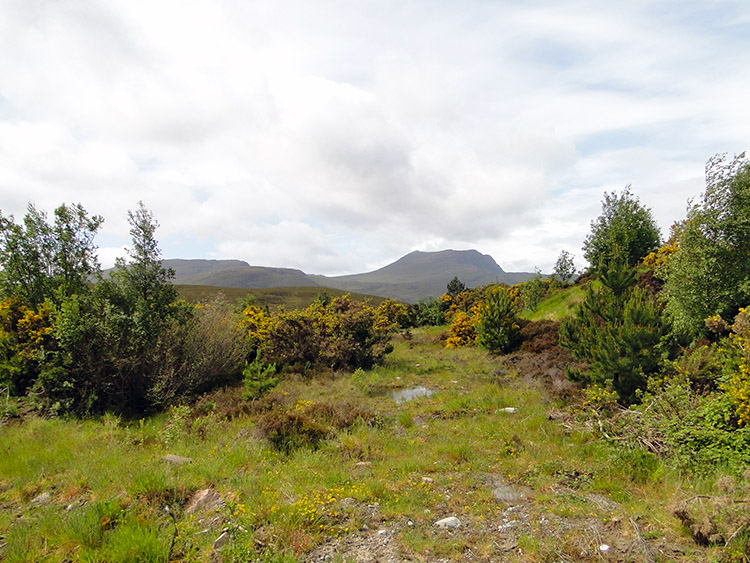 Scrub at Blar an t-Srathain
As I was passing the last buildings of Ardmair and just after I had taken the photograph of Cul a' Bhodha I was beckoned by a group who drove alongside me in their car. The pulled up and got out to greet me, expressing surprise at seeing me again. It was ironic and coincidental but just as I walked away form the road to take the picture one of them had said "It can't be him" Another had said "I think it is him" and as I returned to the road they all agreed it was me. I had seen the group in the car four days earlier as I had walked from Unapool to Inchnadamph. They had even kindly donated £20 to my charity effort. It was Helen McMinn and friends from Glenrothes who I had met during a similar stormy day on the high ground near Eas a Chaul Aluinn. It was lovely of them to stop, they left me a few sweets which I enjoyed and then they wished me well for the rest of my walk before they departed on their way. I walked on, enjoyed my unexpected sweets and followed the road from the bay up to Meall Mor then down to Blar an t-Srathain and back up again to Cnoc na Moine.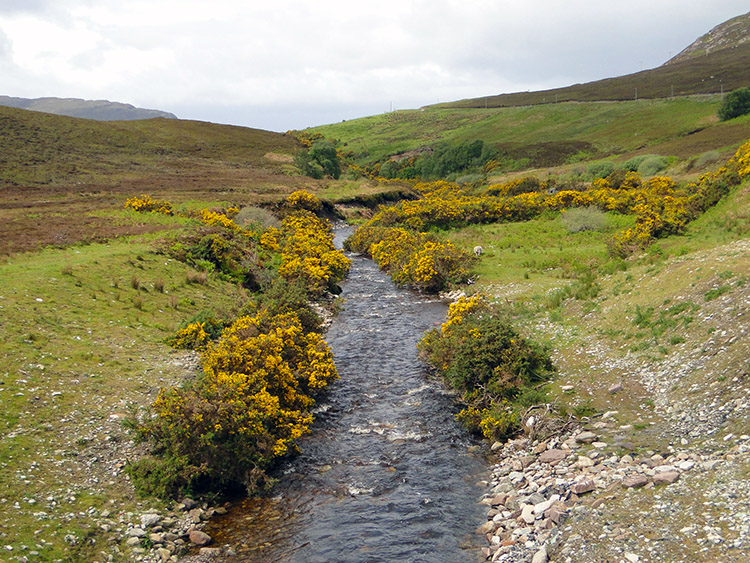 Gorse lines each side of Allt an t-Srathain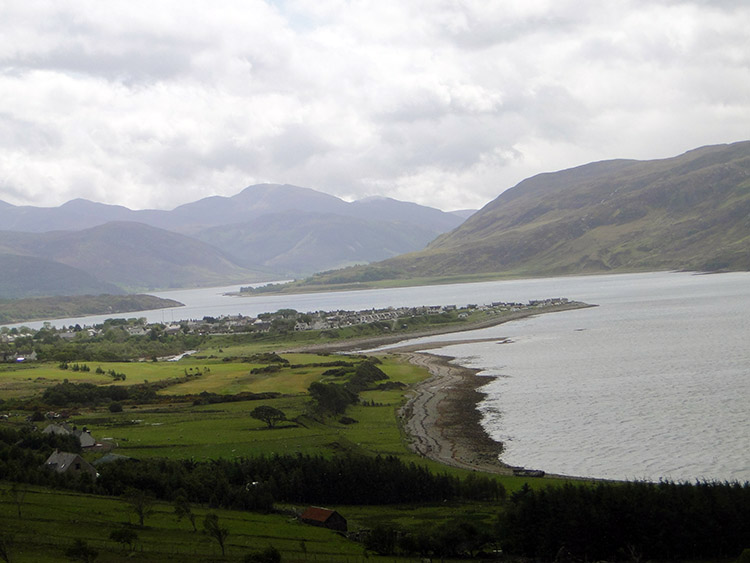 Ullapool and Loch Broom
Despite the breaks for rainstorms and the chance meeting with the walkers I was on schedule to finish around lunchtime and as I reached Cnoc na Moine I took in my first view of Ullapool. No time to dwell though for as soon as I ended my road stage to walk down the hotel drive to Morefield, my stopping point for the day the sky darkened again and while I was only 100 metres from the door when the rain started I was very drenched by the time I got in the building. Drat, I thought to myself, surely this inclement weather will turn for the better soon.
Continue the walk
Great British Walk