The Great British Walk
A personal record of my three month walk of the full length of Great Britain from north to south with written journal and photographs. Tracklogs for GPS units and for use with Google Earth are available for download for each stage.
---
Stage 14: Loch na Leitreach to Invershiel
Google Maps
Open Source Maps
| Statistics | |
| --- | --- |
| Start: Loch na Leitreach | Finish: Invershiel |
| Distance: 8.9 miles (14.3 km) | Time: 6-7 hours |
| Climbing: 645 metres | Total Distance: 161.1 miles |
| GPX Route File | Google Earth File |
Ordnance Survey Explorer Map (1:25,000)
Summary
Stunning is a most appropriate word for this stage although the second part of the walk is an anticlimax after the thrills of standing above the Falls of Glomach and watching the tremendous cascade of water as it thunders 113 metres from Allt Coire Lochain to Allt a Ghlomaich. I made an early start from my camp at Loch na Leitreach to the falls along a challenging path with death defying drops into the gorge to my left. The walk was to the falls was breathtaking and then the moment of reaching the waterfall itself a real WOW moment. After spending what seemed an eternity viewing the waterfall the remainder of the walk was on good mountain tracks to Dorusduain Wood and then on similarly good tracks to Strath Croe before I followed quiet roads to Morvich and Invershiel.
(Note: My walk of the Cape Wrath Trail was a part of my
Great British Walk
from the north coast of Scotland to the south coast of England)
---
Stage Report
I woke at 4.30am and tried to sleep another hour but the birdsong was too prolific. Sleeping wild in a tent forces you to wake with the rest of the local wildlife. I did manage to stay still while snuggled in my sleeping bag until 5.00am but then I became restless and urged myself into action. Breakfast was prepared and done by 6.00am and then I diligently repacked the rucksack by quarter past. It was time to unzip the tent and see what the morning was like.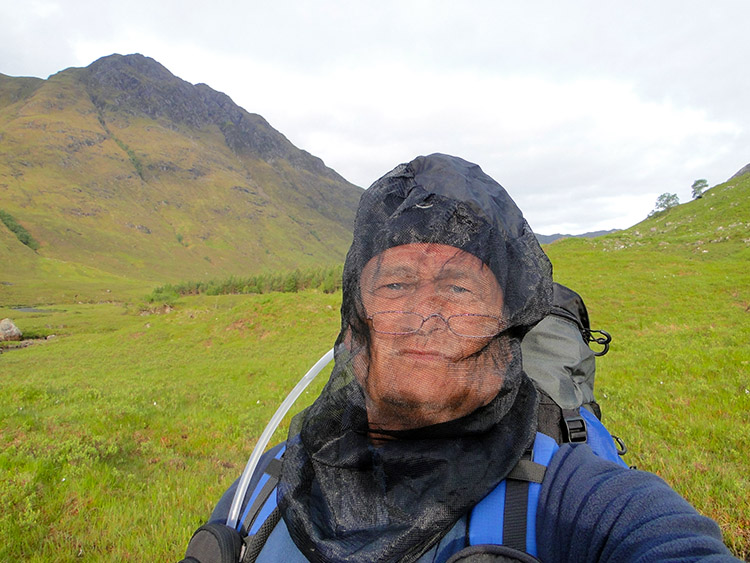 Midges were persistent this morning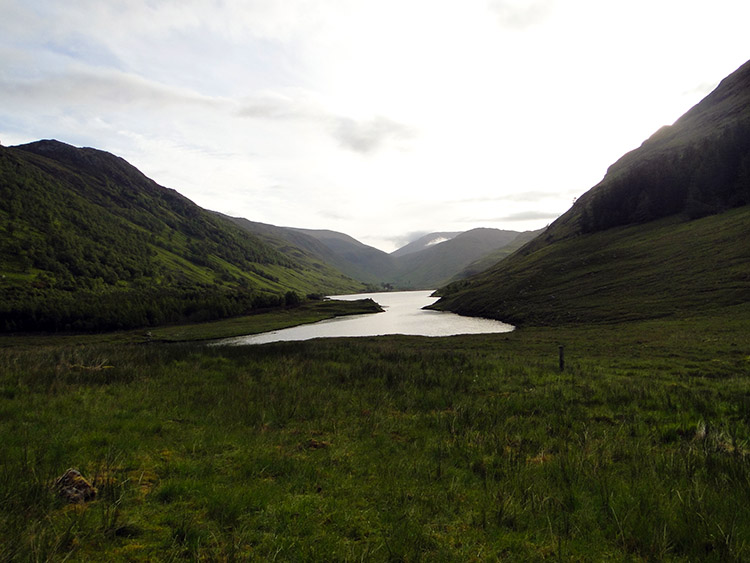 Loch na Leitreach
I quickly glanced to see it was a lovely morning and then scuttled into action for I knew what was about to happen. It took what seemed just a millisecond before they were on me. I braved myself to face the millions of Midges that had been lying in wait for their own breakfasts. My blood would do nicely. I hurried to take down the tent as quickly as I could but the Midges were irritating enough this time for me to don the face mask for the first time on this trip while I stowed the tent away. I had endured them up until now but this was too much. I wafted with my arms as much as I could while I stowed the tent away and hitched it to my backpack. I was so happy to finish the task at hand and be on my way walking as briskly as I could. It was six-thirty am. What followed next I will never forget.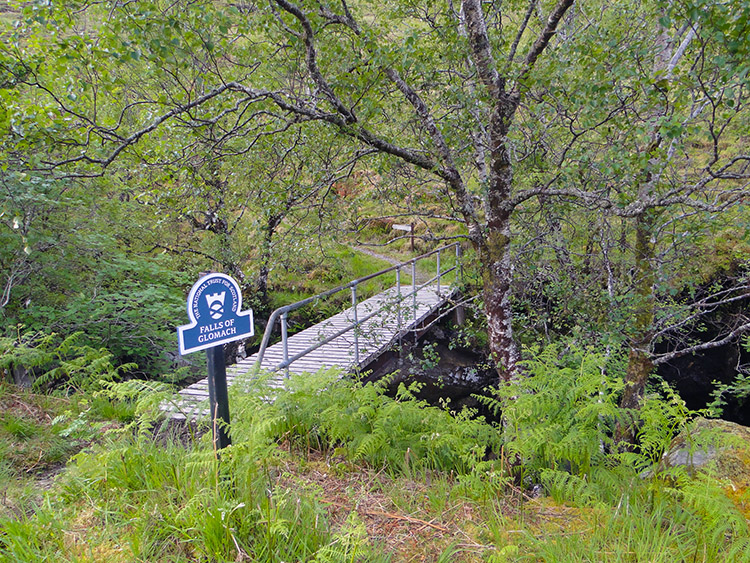 A sign, the first one seen one on this journey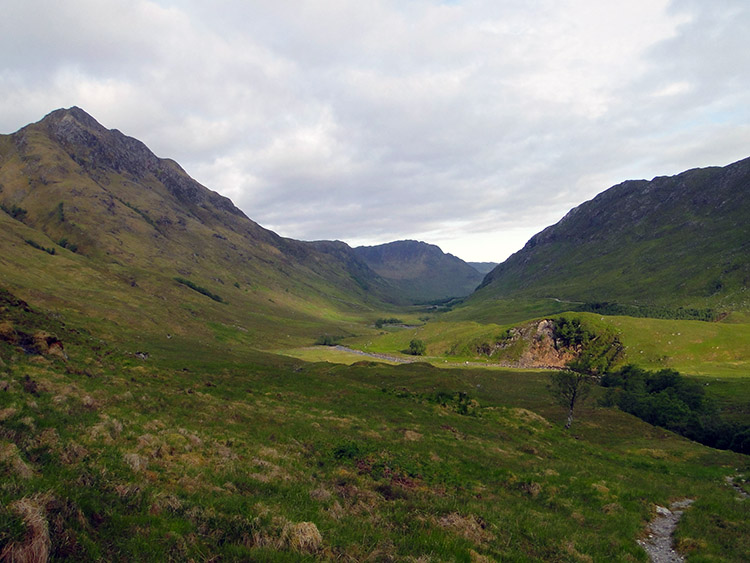 Glen Elchaig
I began my days walking by walking a short distance from my campsite to a footbridge which spanned Alt a Ghlomach. At the footbridge I paused and looked back to Glen Elchaig which I had thoroughly enjoyed walking through yesterday. I reminded myself it was spectacular, peered at the fascinating contours of the hills in the glen and then turned to walk away. I began to climb.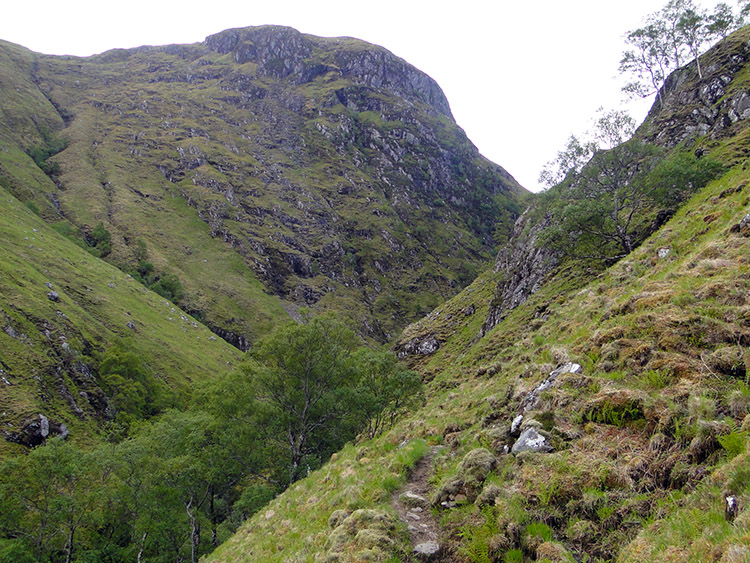 The precarious path to the Falls of Glomach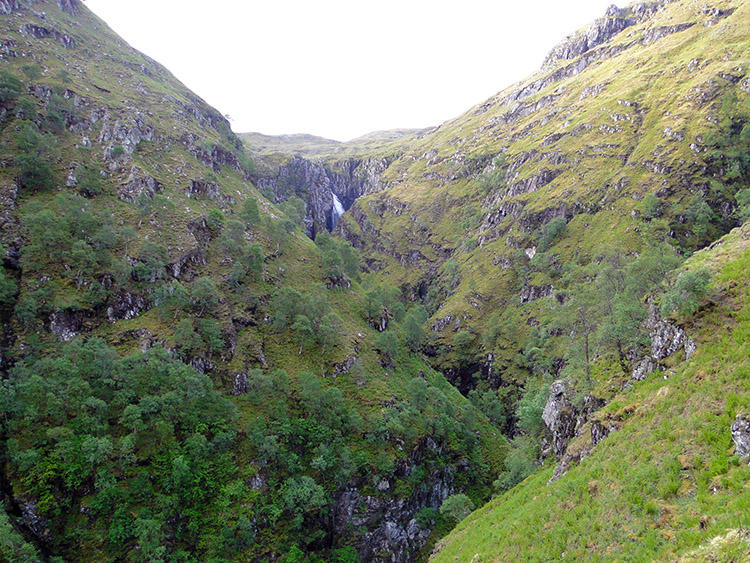 It is a breathtaking walk to the Falls of Glomach
I was now following Alt a Ghlomach upstream on a south course into a narrow gorge and soon I was forced around the west edge of the gorge. Sometimes I was very exposed with the cliff face to my right and a deep chasm to my left. A slip off the path would be dire and so I made my way up carefully. The guide book had warned against taking this track in ice or snow and now I knew why. The rewards for the venture were stupendous though with incredible views into the abyss to my left with a racing river below me. The far side of the gorge was a steep and almost vertical wall of rock. I cannot explain in words how awesome the scene was but as I have tried before I will say it with a WOW. Then if that was not enough I had a moment of incredible sensation.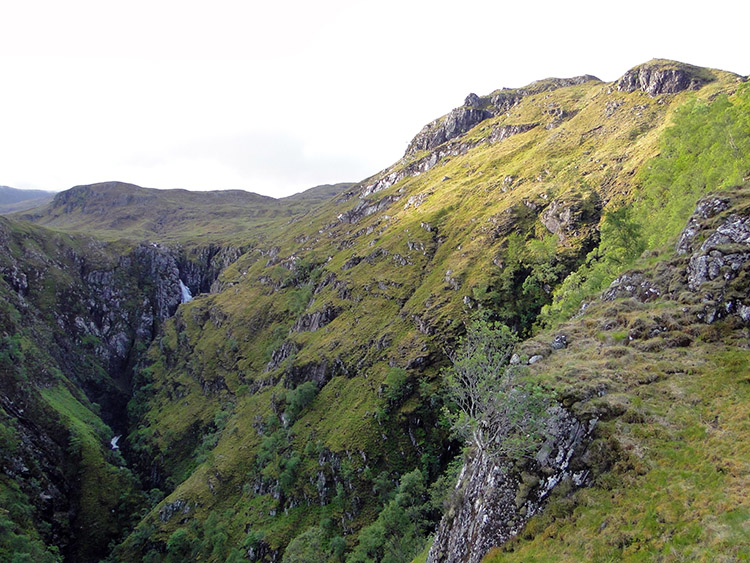 Stay as high as you can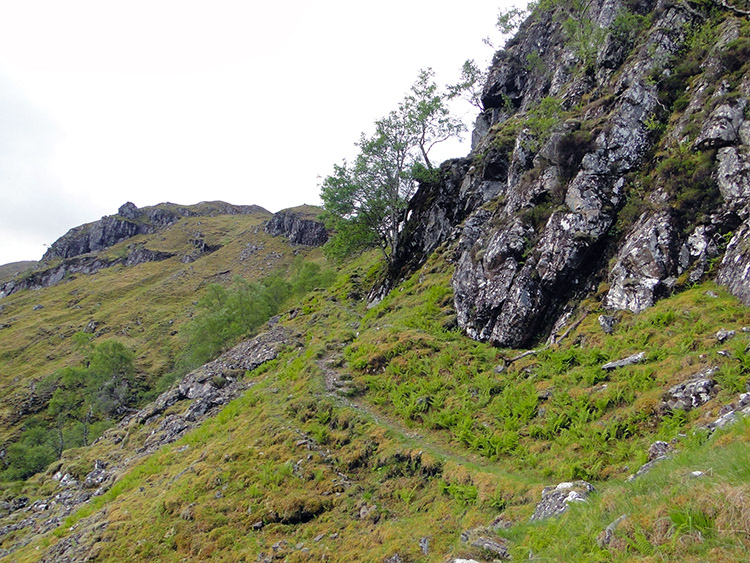 The path is clear to see in most places
I came around a sharp corner abutting an outcrop of rock on the precipitous path and then I saw the Falls of Glomach for the first time. I could only see the top of the waterfall, not fully appreciating the scale of the cascade as I approached. I still had more work to do. Frustratingly I wanted to make haste and get to the waterfall quickly but I was forced to descend on the path to cross Alt na Loaidhre. This task was very scary as the path was precipitously exposed across the water and attendant scree. gingerly tiptoed over before ascending after the crossing the make the final ascent to the top of the Falls of Glomach. At the top I could only see the top half of the falls so I decided to leave my rucksack at the top and follow a steep path down to get a better view of the whole waterfall. What followed was magic.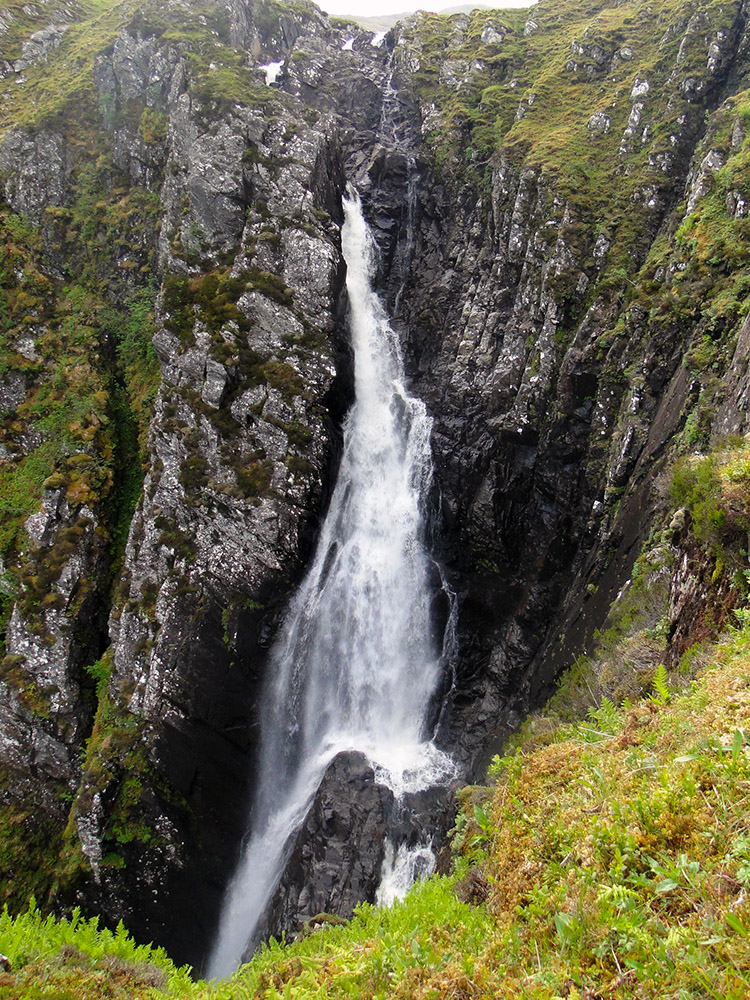 Falls of Glomach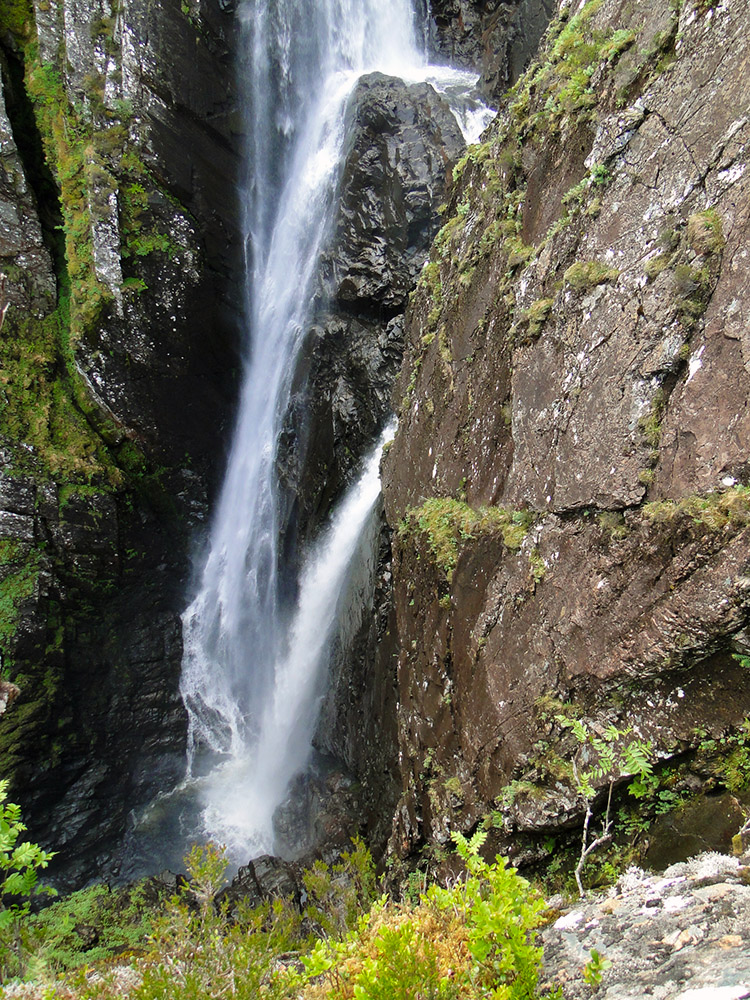 A thrilling spectacle
I took the path down to the Falls of Glomach step by step in order to get a better view. Twice I stopped at viewing points to take a picture but I could not see the bottom of the falls so further down I went. The third time I stopped to take a view was a moment I will never forget. I had to precariously shuffle to make an assumption that this was the place to be and then I laid myself flat and crawled to see over the edge. The noise was incredible and then I saw the full drop of the Falls of Glomach. I was faced with the view of a waterfall depositing water over 100 metres further down the steep gorge. The noise was shuddering. I shook with trepidation and somehow managed to take a good look straight down the chasm. It was beyond my imagination and how I managed to take a movie and pictures I do not know. I do know I clung to the camera tightly as I took the panorama sweeps. I sincerely hope they would represent the scale of what I experienced.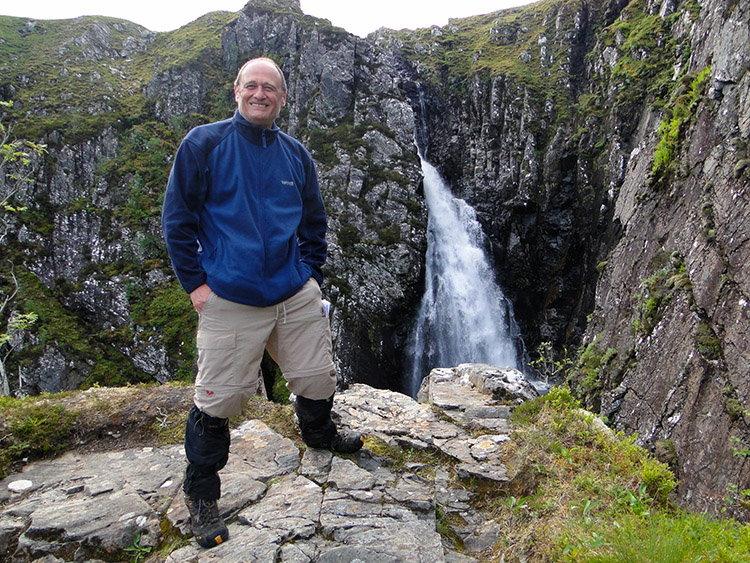 Very proud and very happy at the Falls of Glomach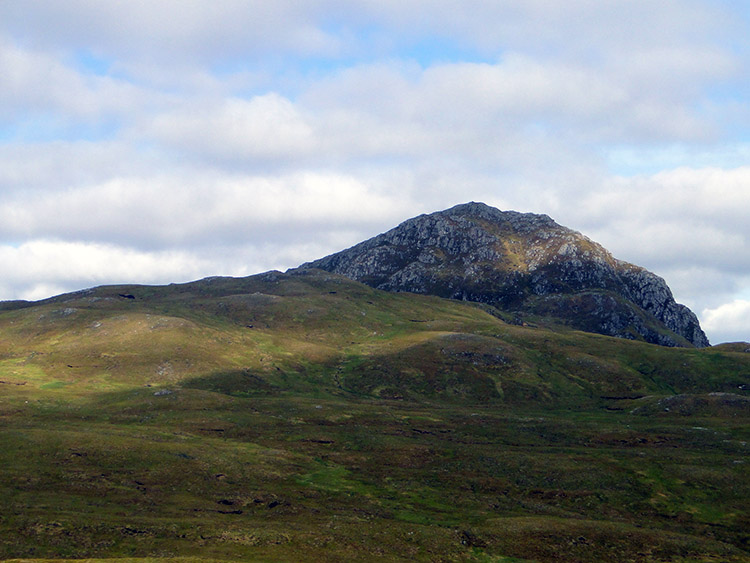 Heading towards Bealach na Sroine
After tasking one more look at the roaring waterfall I turned away and scampered back up the steep path to the top. I was exhausted by the experience and it was not yet 8.30am. The exhaustion was balanced by the delight I was experiencing and I sat on rocks beside my backpack coming back to earth when I was interrupted. Up here? At this time? While I had been scrambling down to the waterfall, taking my media shots and then scrambling back up a mountain rescue guide from the Isle of Skye had arrived at the falls. His name was Ian and he told me he had driven to Killilan, cycled to Loch ne Leitreach and then jogged up the path I had taken earlier to the falls. He had hoped to get here so early that he had the experience to himself and I had scuppered his dream. "Oh dear" I said but he was OK with it. We had a good laugh, took pictures of each other with the Falls of Glomach as backdrop and after more friendly conversation I left to let him have his moment of solitude at the waterfall. It was a great chance meeting. So memorable.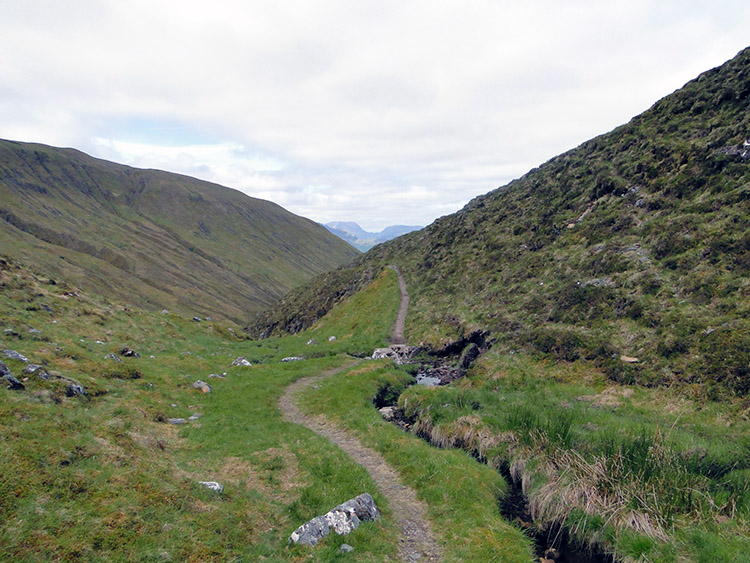 Bealach na Sroine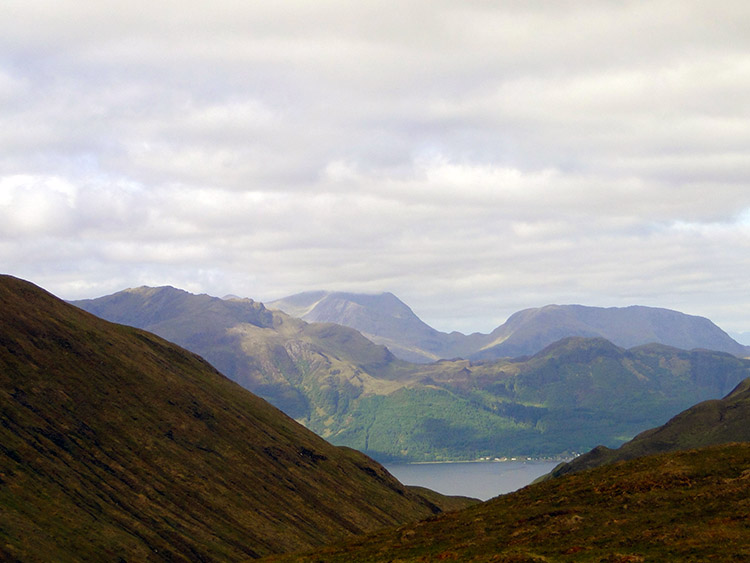 Loch Duich and Lochaber from Bealach na Sroine
After such a thrill not only climbing on the path through the narrow gorge to Falls of Glomach but experiencing the ferocity of the waterfall the remainder of my day walking in the glory of Scotland was an anticlimax. And yet there were more amazing views awaiting me which, had it not been for the events before, deserved more accolade. The first task was to ascend and cross the Bealach na Sroine which, when done, afforded me my first views of Loch Duich and Kintail. Mountains of interest again captured my attention including Beinn Bhuidhe and Sgurr na Moraich.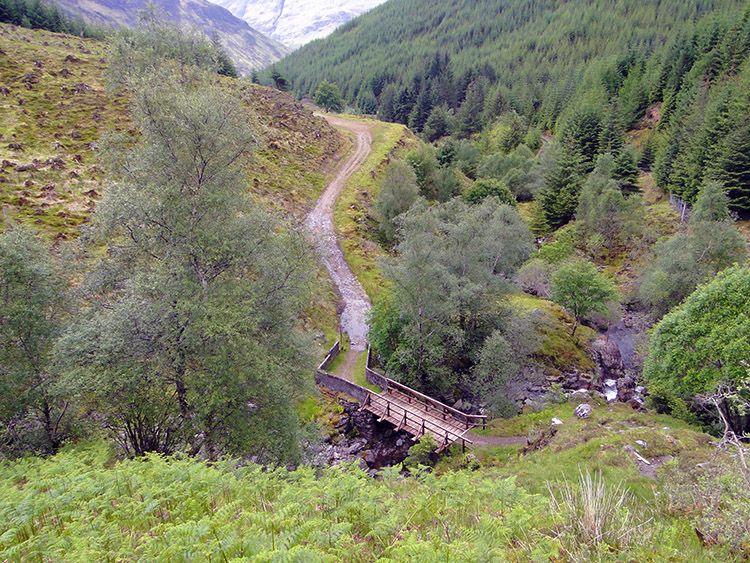 Footbridge giving access into Dorusduain Wood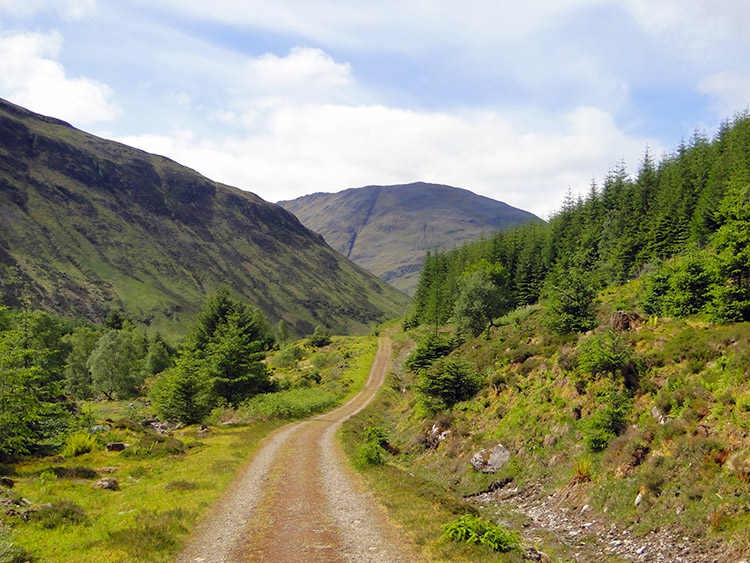 Dorusduain Wood
Despite the attention of the new mountain tops, the rolling valleys and Loch Duich most of my thoughts were on safety and dedicated to watching my steps during my steep descent to Kintail. It was a difficult descent following Allt a Leoid Ghaineamhaich downstream. For the first time I noticed my feet beginning to ache after the hard exploits of previous days. It was a harbinger of tough times ahead. I was really struggling and walking at a snails pace as I reached Dorusduain Wood which would shepherd me down to the valley floor.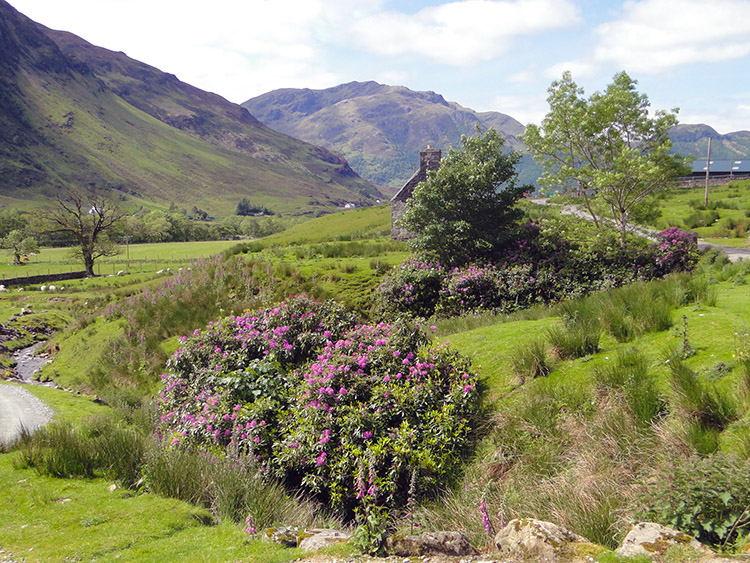 Lienassie in Strath Croe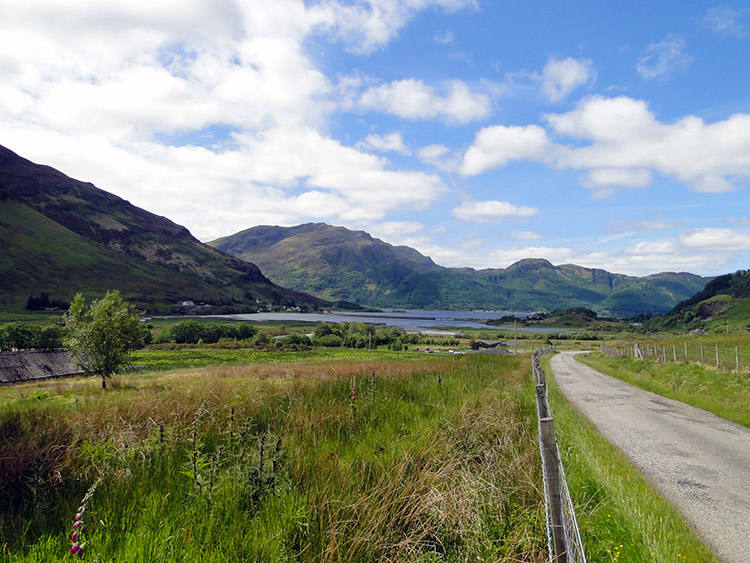 The view to Loch Duich from Strath Croe
My walk through Dorusduain Wood was taken very slowly. I tried to enjoy my walk through woodland as I usually do but the attention of pain in my feet was beating any effort to forget about it. I stopped a couple of times, each time throwing off the backpack, standing on tiptoes with my hands on my waist and sighing in relief. I was reluctant to take the weight of the backpack again but eventually I had to. There were two blessings to the misery though. First the sun came out and turned the day into a beautiful warm Saturday afternoon. Secondly my wife Lil called and with reassurance wished me well for the day and the days ahead. We were to meet up the following weekend when support would come in more than just words. I soldiered on and out of Dorusduain Wood and through Strath Croe which was very beautiful.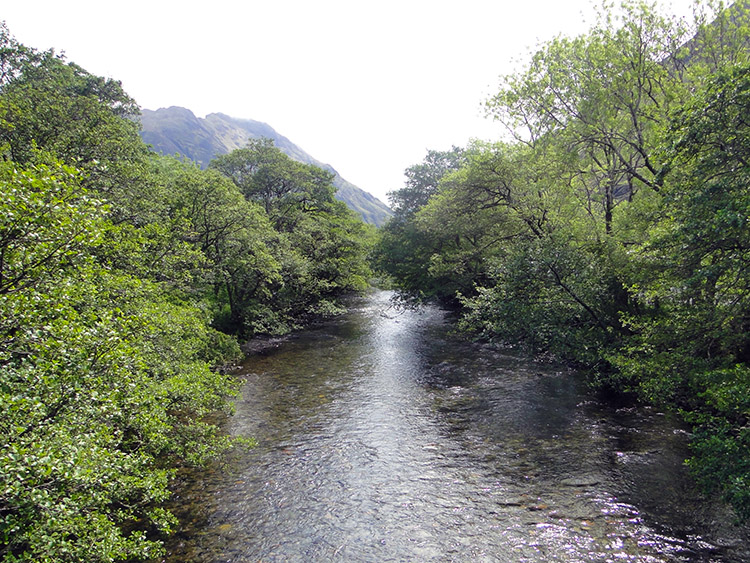 River Croe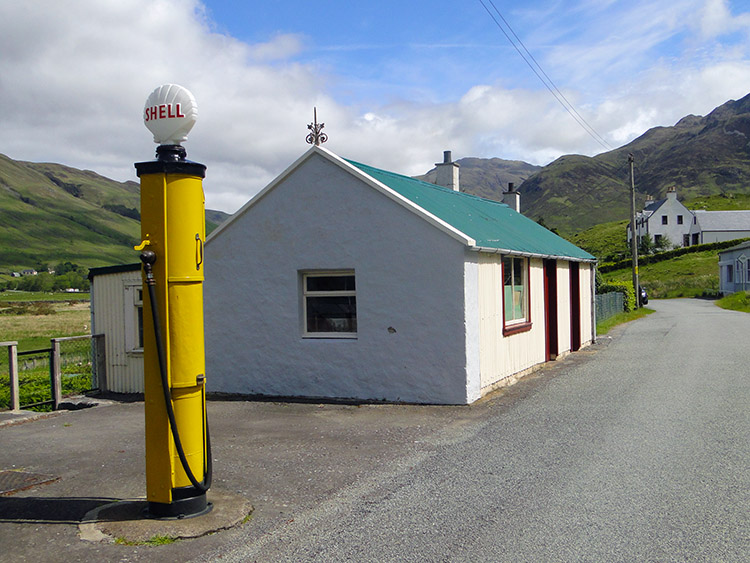 Old petrol pump outside garage at Carn-gorm
I was immediately taken in by the beauty of Strath Croe and the views west along the length of Loch Duich. It was gorgeous. I reached Croe Bridge and stopped once more. This time after taking the backpack off I took my tent out of its cover and spread in over a field gate to dry out. I would not be using it again for a few days and didn't want it going all musty on me. While backpacking I thought I would make an effort and keep as fresh as I possibly could. Good housekeeping eh? After the drying exercise which completely worked I repacked the tent, flung on the backpack once more and marched on. I will rephrase that, I hobbled on. Passing an old garage with a petrol pump which reminded me of my childhood afforded me a smile from my grimacing face.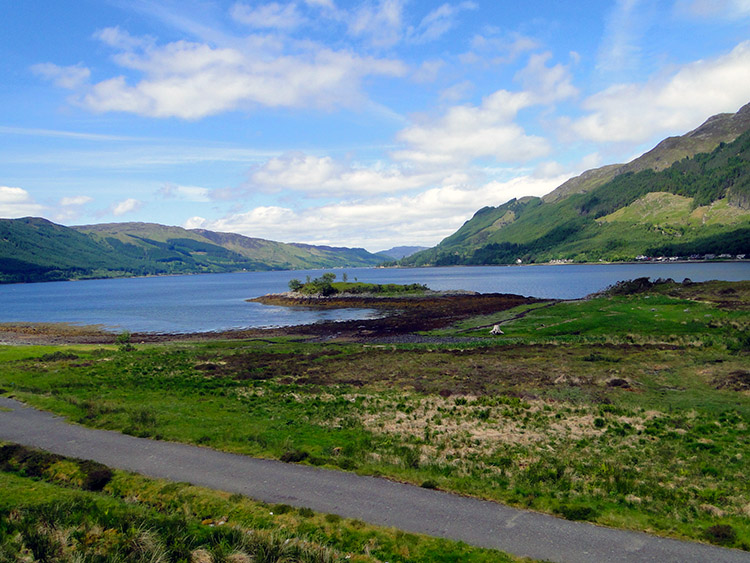 Loch Duich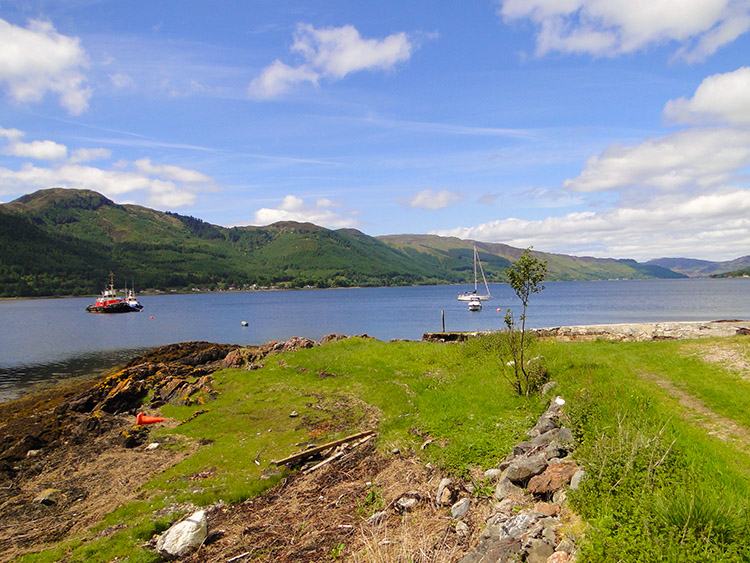 Boats on Loch Duich
My hotel refuge could not come soon enough as I tramped the final stretch and when I saw the craft shop which doubled as a post office and store at Shield Bridge I dived in for an iced lolly. I sucked it to oblivion very quickly. From the shop I walked with purpose to the Kintail Lodge Hotel. It was to be luxury for me in the evening this time around, much needed luxury. As soon as I had checked into the Kintail Lodge Hotel I sat in the lounge with a pot of Earl Grey tea. It was a welcome brew. Others in the bar attended to their weekend break in different ways, alcohol was off my agenda though. After my pot of tea I retired to my room to rest and watch the horse racing. It was the day of the Derby which was won by a French horse called Pour Moi. Then I fell asleep. In the evening I popped down into the bar and indulged myself with fresh Mussels from Loch Duich and a rather indulgent Fish Pie. I had needed it.

Rising just outside the hotel are the Five Sisters of Kintail. I had originally intended to cross them on this journey but my condition now ruled that possibility out of the question. I would pass by them and pay homage from below instead. I was sure there were other outstanding sights in store too but how could anything compare with the approach to and intimate meeting with Falls of Glomach? I had experienced one more of the most memorable walks of my life.
Continue the walk
Great British Walk