The Great British Walk
A personal record of my three month walk of the full length of Great Britain from north to south with written journal and photographs. Tracklogs for GPS units and for use with Google Earth are available for download for each stage.
---
Stage 13: Strathcarron to Loch na Leitreach
Google Maps
Open Source Maps
| Statistics | |
| --- | --- |
| Start: Strathcarron | Finish: Loch na Leitreach |
| Distance: 15.9 miles (25.6 km) | Time: 8-9 hours |
| Climbing: 768 metres | Total Distance: 152.2 miles |
| GPX Route File | Google Earth File |
Ordnance Survey Explorer Map (1:25,000)
Summary
After three difficult stages this one was easier with clear paths to follow throughout. The first section by road from Strathcarron to Attadale is not too bad and there are good views of Loch Carron to look back at during the small hill climb just before Attadale Gardens. This is the last place to take refreshment before pushing on south over upland to Killilan. From Killilan the track to Loch na Leitreach is a delight. Here I finished for the night with the Falls of Glomach an enticement to consider during my overnight camp.
(Note: My walk of the Cape Wrath Trail was a part of my
Great British Walk
from the north coast of Scotland to the south coast of England)
---
Stage Report
Today was simply majestic. The weather was perfect with warm sunshine accompanying me most of the day and for the first time I followed defined tracks all day. The whole walk was a pleasure. I was in the midst of marvellous scenery and I enjoyed it all.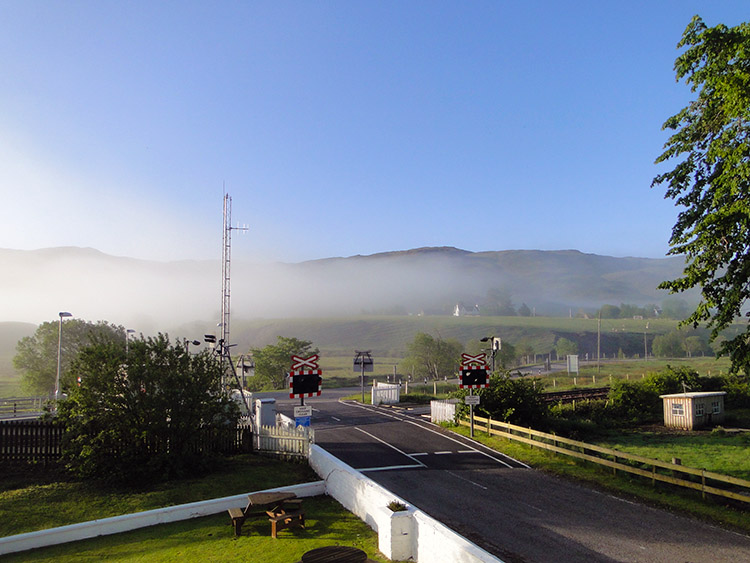 Early morning mist clearing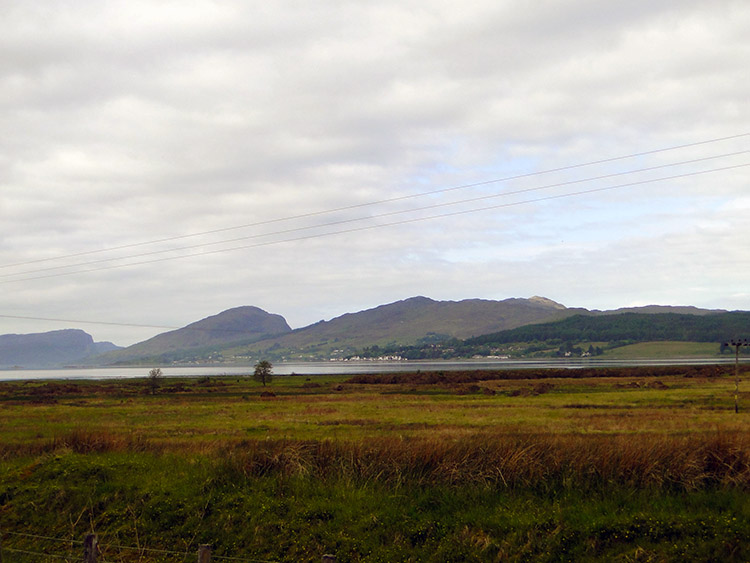 Loch Carron and surrounding mountains
When I woke at 7.00am and looked out of my bedroom window at the Strathcarron Hotel I smiled immediately. The sun was rising into the early June sky and it had already burned off most of the morning mist. Being in no rush to leave the hotel I let the sun do its work in warming up the outdoors while I breakfasted and prepared for the off. I had a camp after today's walk so there was no point in getting to my finish early. I resolved to enjoy the day at my leisure. I set off from Strathcarron at 9.00am and followed the road south west, all the while enjoying views of Loch Carron and the picturesque mountains north west of the loch.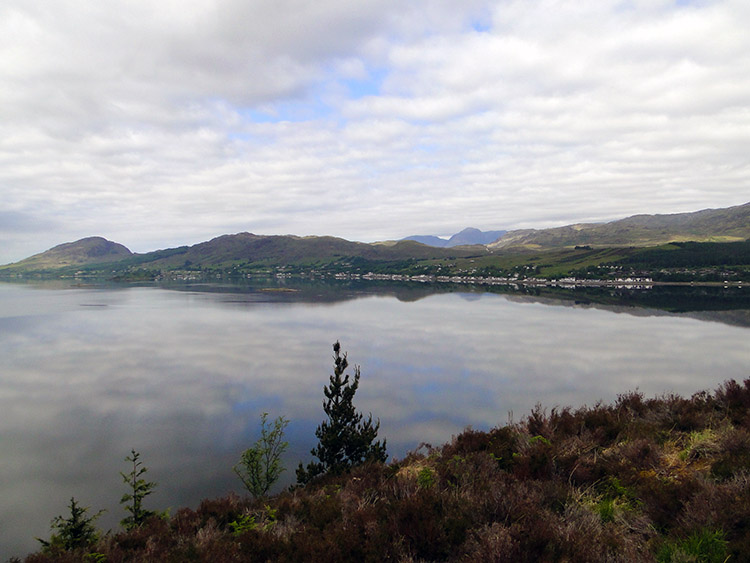 Lochcarron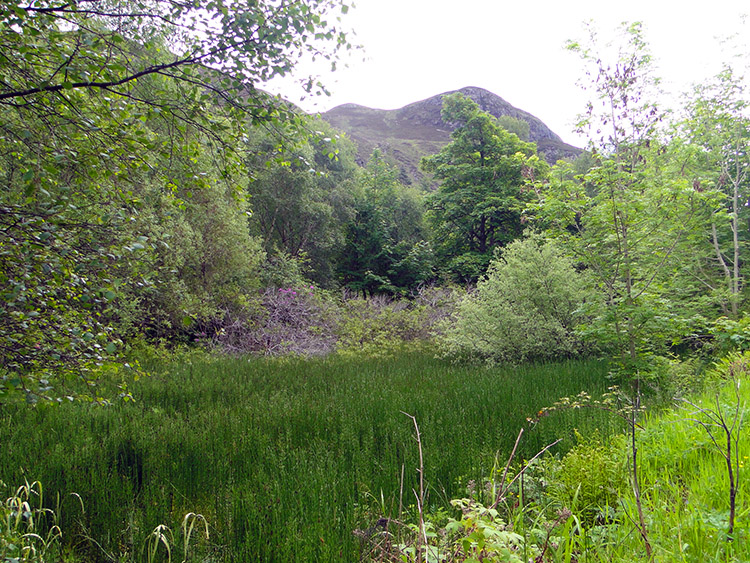 Attadale
Soon I followed the road on its course going south and distancing itself from Loch Carron by climbing a steep bank at Cam Allt. The shock of the climb after the pedestrian amble along the loch side woke my leg muscles from their slumber. For the first time on my walk it was warm enough for me to get down to a light T Shirt. My fleece top I had worn every moment of every day since setting off from Durness was folded up and put away. It never saw light again all day. Despite taking off the heavy Fleece and walking in just the T Shirt I was soon in a lather and wiping my brow with my walkers cloth. The steep ascent of just 60 metres which caused the breakout of perspiration then became a steep descent of about the same length. I descended with my brakes on. After the brief up and down over Cam Allt I reached Attadale which was my prompt to leave the road and head out into open country.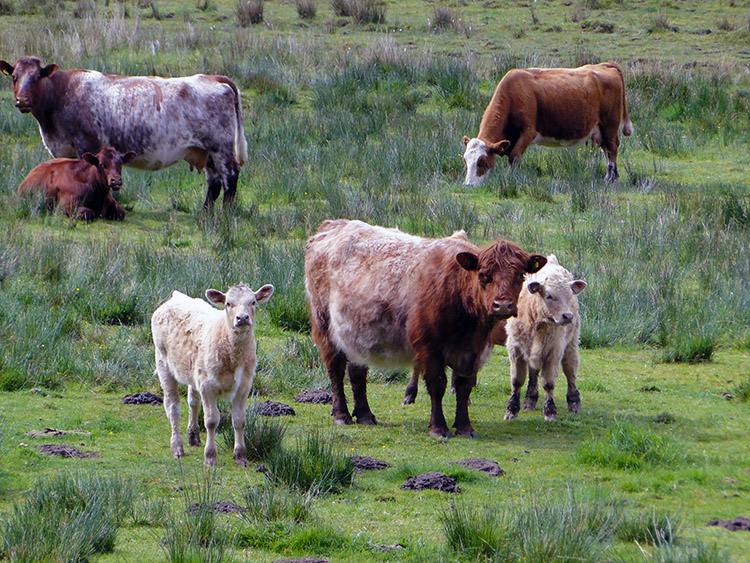 Highland Cattle near Attadale Gardens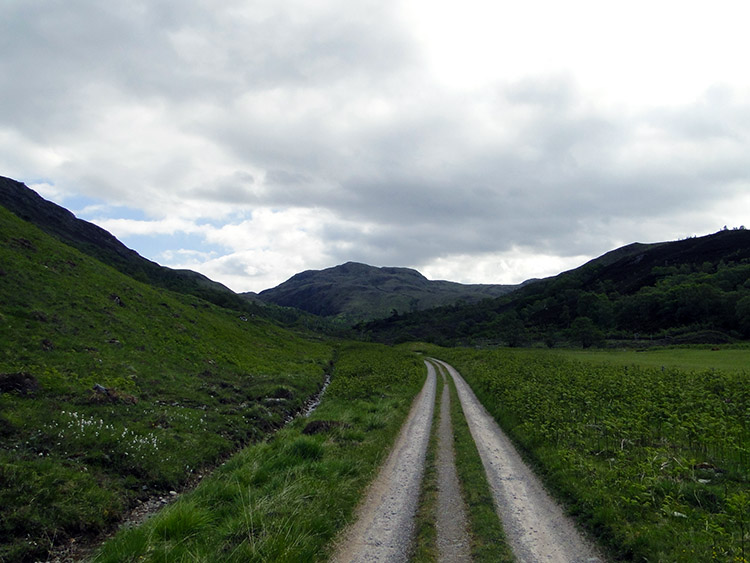 The way to wilderness
From the roadside I skirted around Attadale Gardens and beyond the gardens I followed a straight track for approximately a mile. A herd of Highland Cattle with calves looked bemused. Perhaps walkers here are a novelty, few and far between. They were not in the slightest aggressive, a friendly bunch really. The walk along the track brought me attention from life of another kind though, a more belligerent type. I had my first encounter of the day with the local insect life and the flying bugs are big in these parts.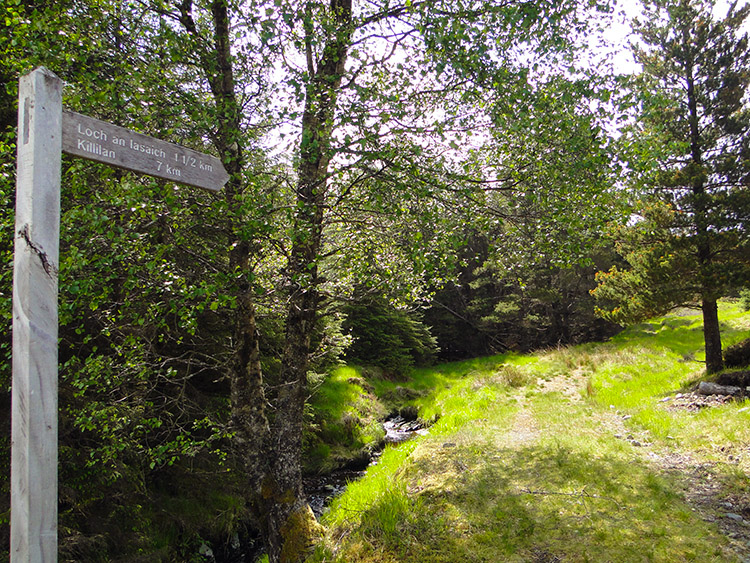 Starting to climb from River Attadale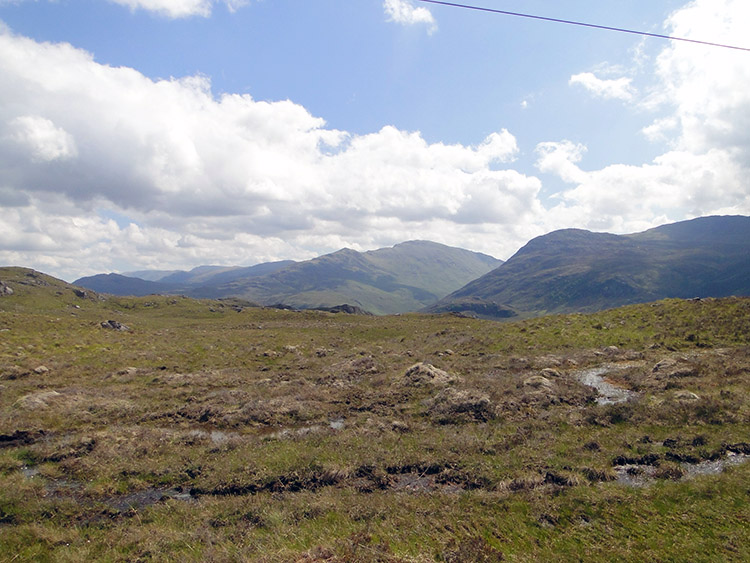 Cnoc nan Uan
One particularly large flying insect took a liking to my left elbow and I had to fend it off quite a few times. It was stubborn and would not take my gesticulations and towel waving as a deterrent. He and his pals kept coming. Fortunately after the mile of walking on the level I was now on a steady ascent and with every extra step of height I gained the bugs found my skin less entertaining. I walked as fast as I could to gain the height needed to see them off completely.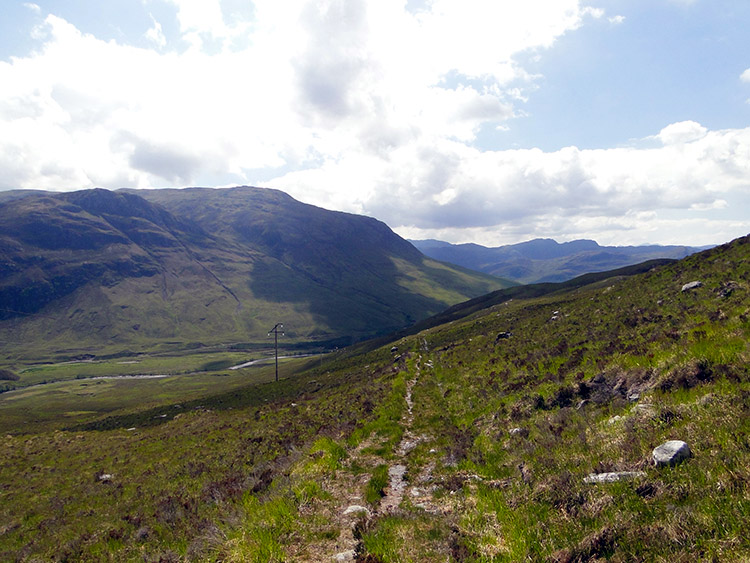 A good track took me across Carn Allt na Bradh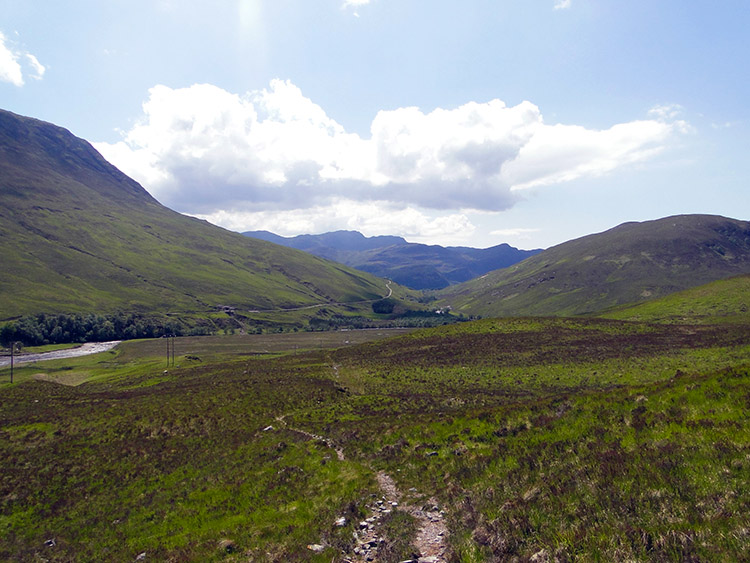 Tracking south to Glen Ling
Rid of the unwanted attention I continued to gain height towards Loch an Iasaich. With each step forward the views increased in distance and in pleasure. Shapely hills were taking my attention one by one. I noticed a distinct change in the terrain too. The hills and higher mountains were looking more like those of the English Lake District I was more familiar with and less like the white and grey colouring of the far north hills and mountains I had passed on my journey from the far north. Forest was noticeably more widespread too. Much more green was to be seen. Apparently I was now in a different geological area and it showed. Eventually I came to a sign on the track pointing on a right handed fork to Loch an Iasaich. I stopped by the sign for a short break but declined to visit the loch. I wanted to get to Glen Ling and linger there instead. After my break I was descending and soon I saw Glen Ling fro the first time. I was feasted by incredible beauty.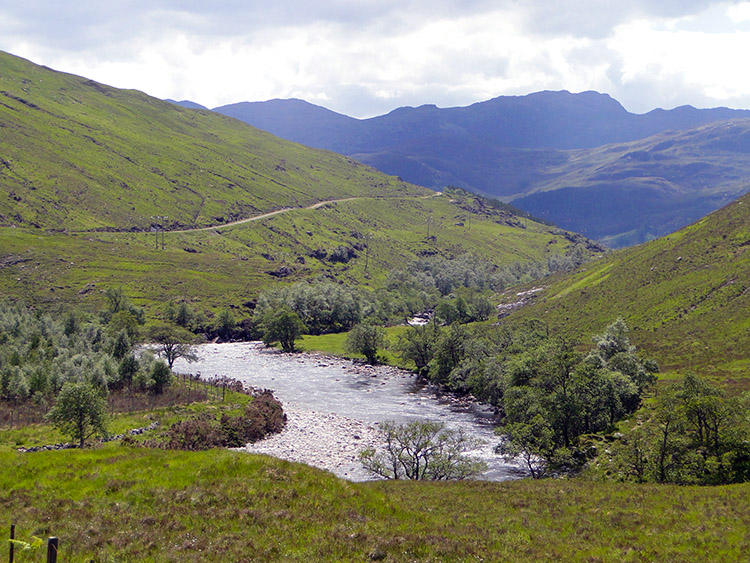 Descending from Carn Allt na Bradh to Glen Ling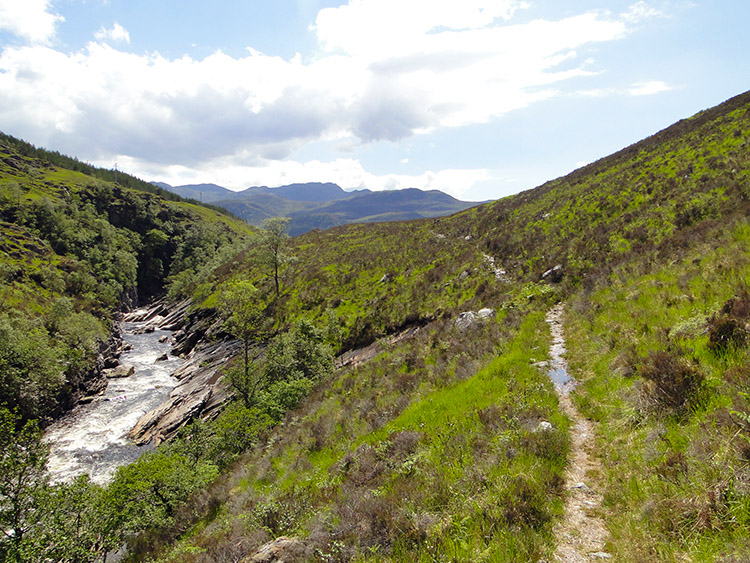 Glen Ling enthralled me
Glen Ling was verdant green and it drew forward to be entranced by its charm. I descended to River Ling and then followed it on a parallel path, slightly raised above the river, for a mile in absolute rapture. I was awestruck with the way it cut an exciting path south towards Killilan. There were rapids, there were waterfalls, there were brief interludes of quiet water allowing fishermen to ply their trade and all the while it led me to more and more beautiful vistas.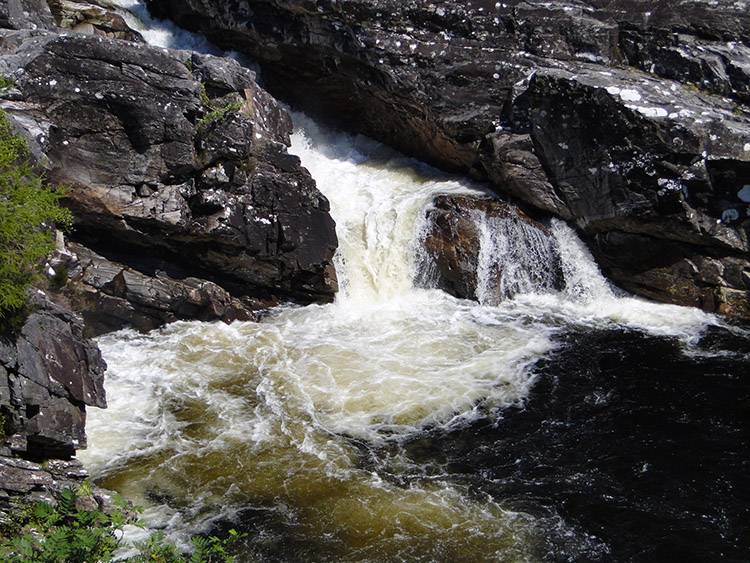 Water rips its way down River Ling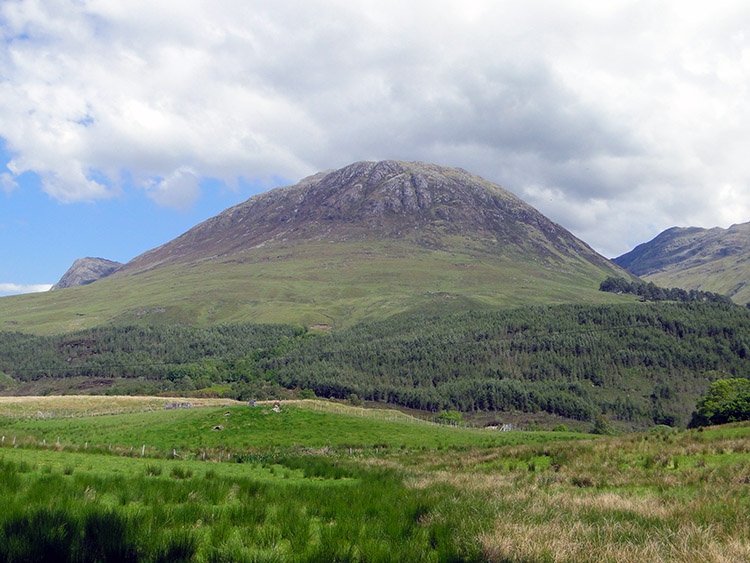 Ben Killilan
My thoughts as I walked were as to how such a wonderful piece of the world could be so quiet and unexplored. If this were the English Lake District there would be masses walking the trails. as it were there was just me and for that I was grateful. I continued my slowed walk through the glen and yet beyond Glen Ling I was promised another glen full of yet more beauty. I was not rushing this experience by. The sunshine I was enjoying maximised the appeal of the landscape for sure but for me this was always going to be a heavenly place. I was not disappointed. Big mountains stood directly to the south making the scene as beautiful and dramatic as it could be.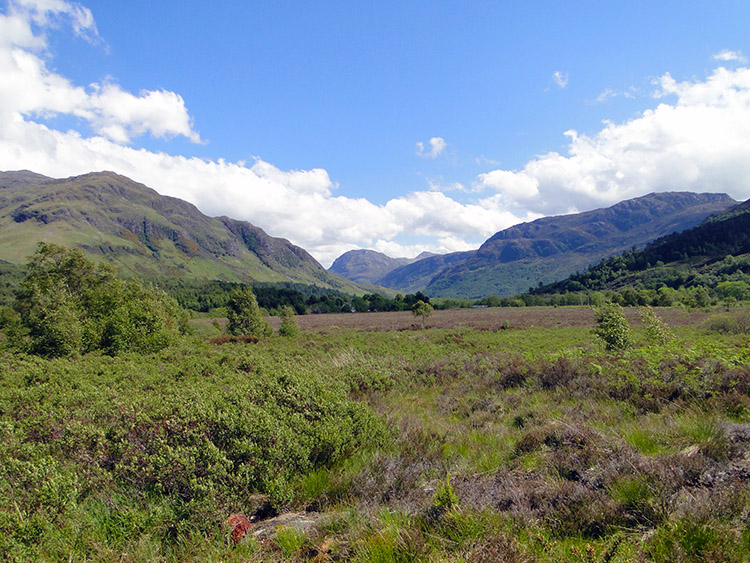 The view from Nonach Lodge to Glen Elchaig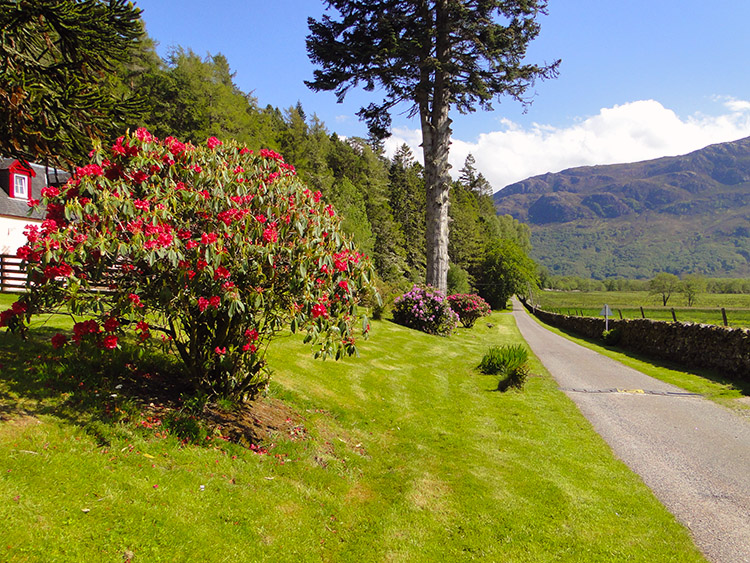 Killilan
At Killilan I begrudgingly left Glen Ling but as expected I need not have feared the day of walking through sublime beauty was done. The walk continued to amaze me. After a brief rest in the village in which I found a working red telephone box I called home to confirm my progress and my safety. Best to do so at every opportunity. After ticking that reassurance box I followed a track toward Glen Eichaig, home of the big mountains I had seen. The highest Carnan Cruithneach is a wonderful cone shaped mountain which is simply fantastic to look at as you approach it along Glen Eichaig from the west.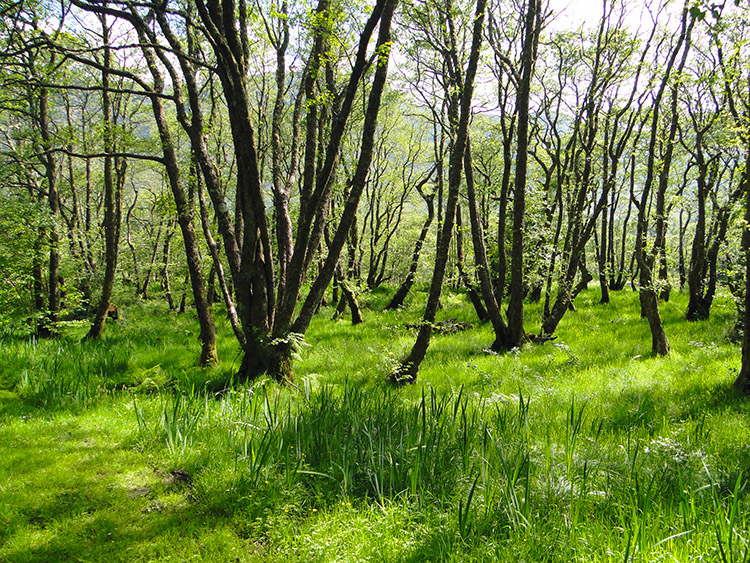 Woodland near Camas Luinie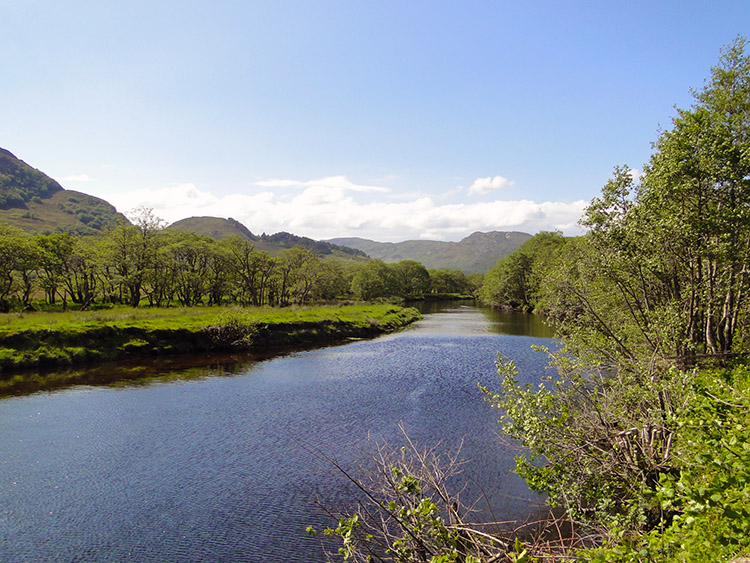 River Elchaig near Camas Luinie
I passed lovely woodland and then I walked close to the beautiful River Elchaig. Then I found Carnan Cruithneach looming large ahead of me. As I got closer to it another smaller mountain of similar shape complimented it on the other side of the track. On Ordnance Survey Landranger maps it is unnamed but it should not be. As I neared the twin peaks their interesting character only got better, with both having fabulous and somewhat sheer rock outcrops. Again I was in awe at the spectacle. I enjoyed another WOW moment.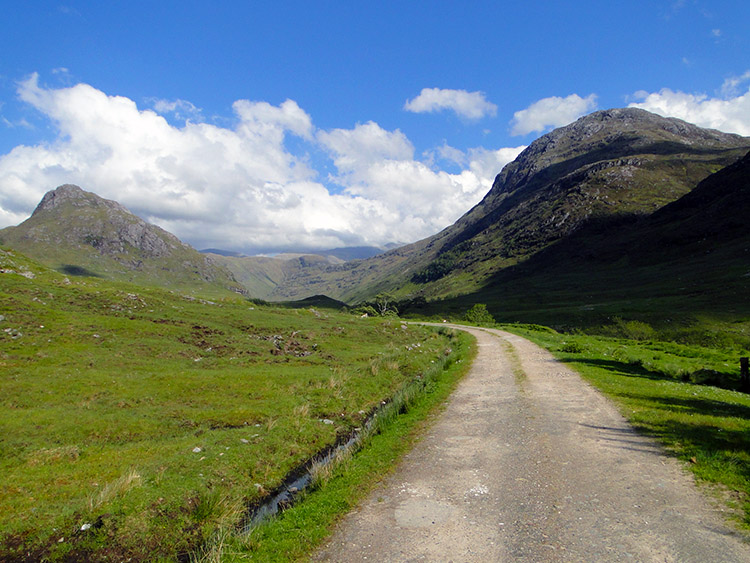 Carnan Cruithneachd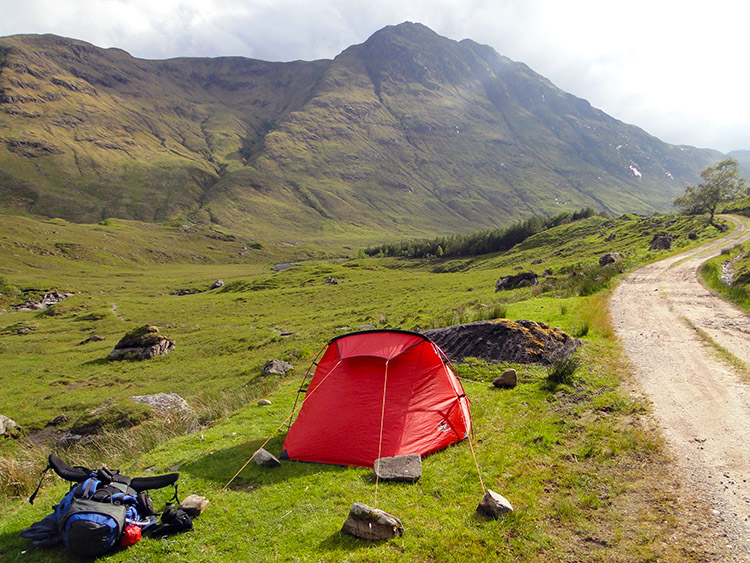 Campsite in stunning surroundings on a lovely Friday evening
I was nearing the end of my superlative day of walking and it ended with me setting up camp near Loch na Leitreach. I camped in a lovely spot close to a track leading down to the loch and rested. I was one mile from one of the most fabulous waterfalls in Great Britain and I heard the rumble of the waterfall all night. Tomorrow would draw me to the Falls of Glomach. I knew they would be a spectacular sight. Another WOW moment to look forward to.
Continue the walk
Great British Walk