The Great British Walk
A personal record of my three month walk of the full length of Great Britain from north to south with written journal and photographs. Tracklogs for GPS units and for use with Google Earth are available for download for each stage.
---
Stage 18: Strone to Fort William
Google Maps
Open Source Maps
| Statistics | |
| --- | --- |
| Start: Strone | Finish: Fort William |
| Distance: 6.6 miles (10.6 km) | Time: 4 hours |
| Climbing: 78 metres | Total Distance: 222.3 miles |
| GPX Route File | Google Earth File |
Ordnance Survey Explorer Map (1:25,000)
Summary
On a normal day this walk would be a delight by following the Caledonian Canal into Fort William. For me it was anything but a delight as I was in severe pain caused by repetitive impact damage on my feet and in particular to my right heel which I could hardly place on the ground. Therefore what would have been an easy enjoyable walk became a nightmare and that is a shame because the walk beside the canal is lovely, the locks at Neptune's Staircase an interesting sight and the the view to the Narrows and Loch Eil a lovely introduction to Fort William. One landmark in completing this stage was that I finished the Cape Wrath Trail, the first of a number of Long Distance Paths to be completed on my Great British Walk.
(Note: My walk of the Cape Wrath Trail was a part of my
Great British Walk
from the north coast of Scotland to the south coast of England)
---
Stage Report
My Great British walk from the north west coast to the south west coast of the British mainland has many different stages with milestones I had mentally defined. In completing this stage I would reach the first milestone of Fort William which meant the completion of my variation of the Cape Wrath Trail.

I did not sleep well in my wild camp tent. The heel on my right foot ached acutely from impact damage caused by the effort over the previous two days which had amounted to 40 miles of walking carrying my 16 kilo backpack. In my frequent spells of tortuous time trying to fall asleep I had heard screeching Owls and other local wildlife. I was disheartened further when I heard the dawn chorus which began just after 3.00am. I tried to sleep through it all but gave up at 6.00am in the morning to have breakfast. After a breakfast of porridge and tea it was half past six and I closed my eyes for a what I imagined would be a minute. I woke three and a half hours later at 10.00am!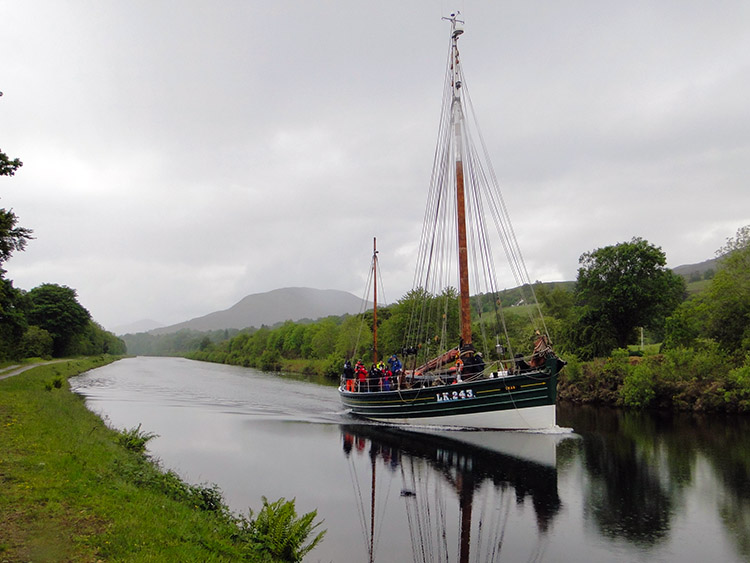 Cruising on the Caledonian Canal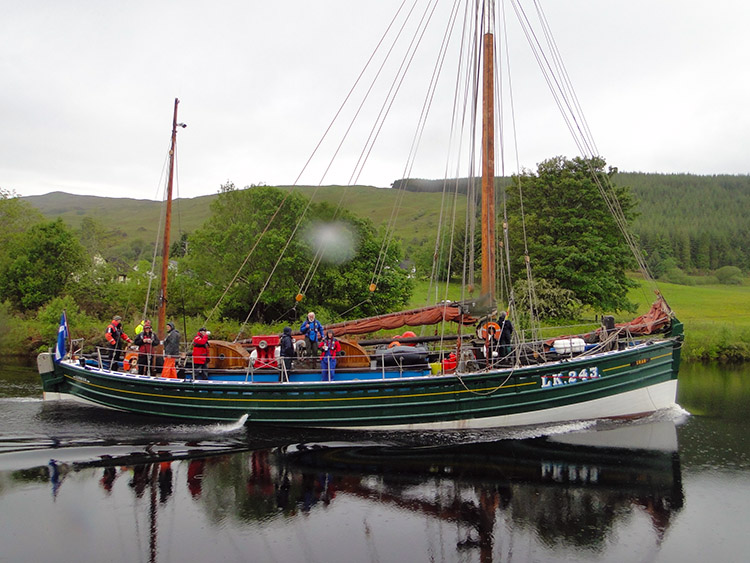 Good morning
When I woke in late morning I was so relieved to have dropped off. My pain had also subsided but I knew any weight on the foot would be chronic. So I rested further until noon then made myself a warm lunch before breaking camp. At 12.30pm I resumed my walk by following the Caledonian Canal towpath toward Fort William. It was a painful resumption and every step taken took effort. As I was nearing the most populated settlement in north west Scotland the crowds were out. Many groups of walkers were on the towpath with me. Most I met expressed concern at my obvious woe. Some offered help which I generously declined. I was nearing my first milestone and I was determined to make it alone.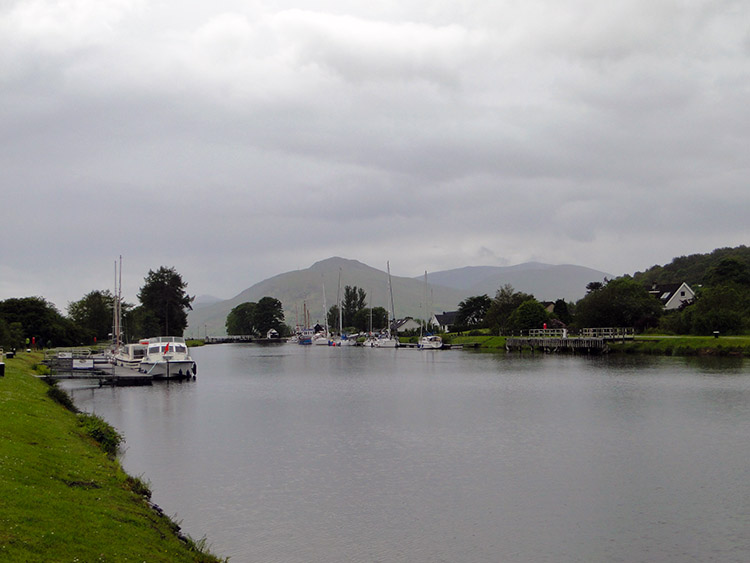 Caledonian Canal near Fort William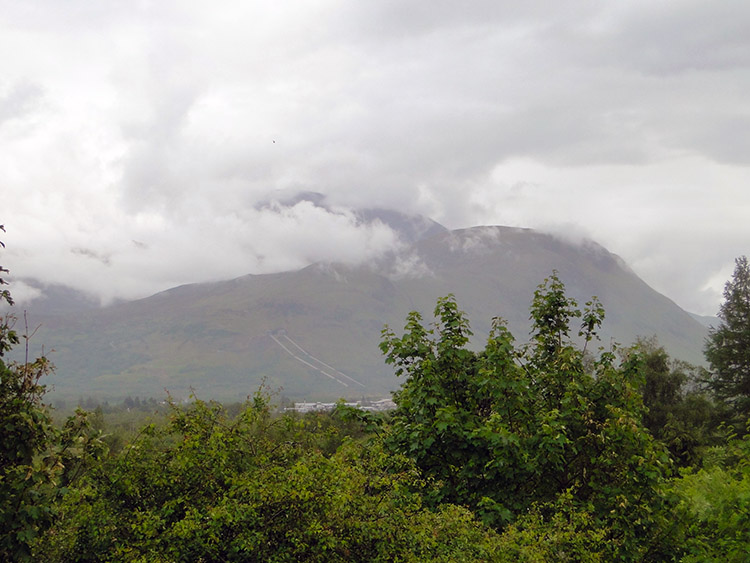 Ben Nevis
One huge motivation was the sight of Ben Nevis, its northern face dark and ghostly with ever changing mist and cloud creating a moving picture. It was an incredible sight to behold and it drew me on to the edge of Fort William habitation at Neptune's Staircase, a series of eight locks which raises boats 64 feet from sea level to the Caledonian Canal. At the staircase I watched one boat making its slow ascent up the locks. It was almost as slow as me.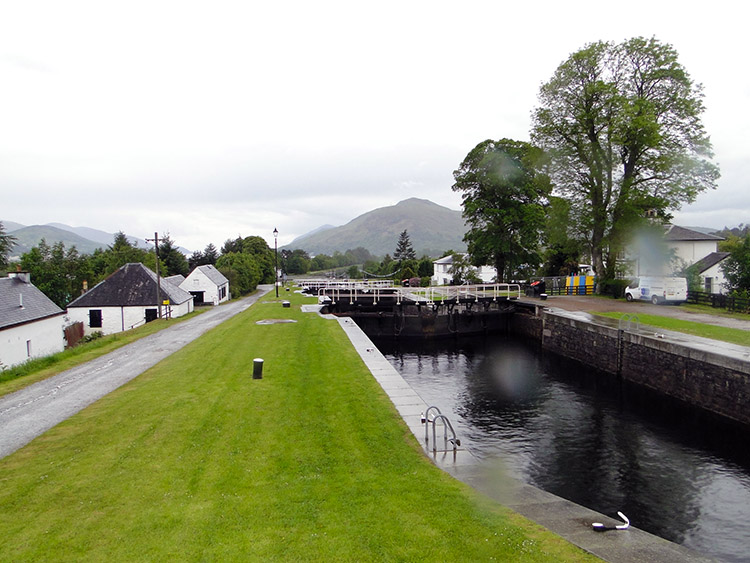 Neptune's Staircase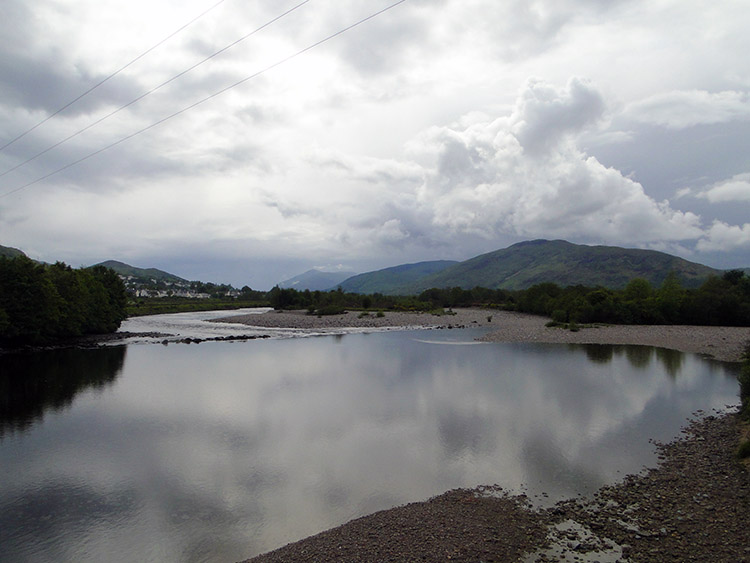 Narrows linking Loch Eil to Loch Linnhe
After the interesting interlude at Neptune's Staircase I entered the outskirts of Fort William. After all the grandeur of the north west Highlands I was in the suburb of Caol and walking through a housing estate. At least there was a shop in the estate. I dived in for a sandwich, bag of crisps and a bottle of Orange juice to help me on my final approach to the centre of town. After Caol came the small village of Lochyside and then I crossed shore side fields to yet another suburb, this one being Inverloch. At least this was the last one before I was to reach the imaginary chequered tape of my first milestone at Fort William.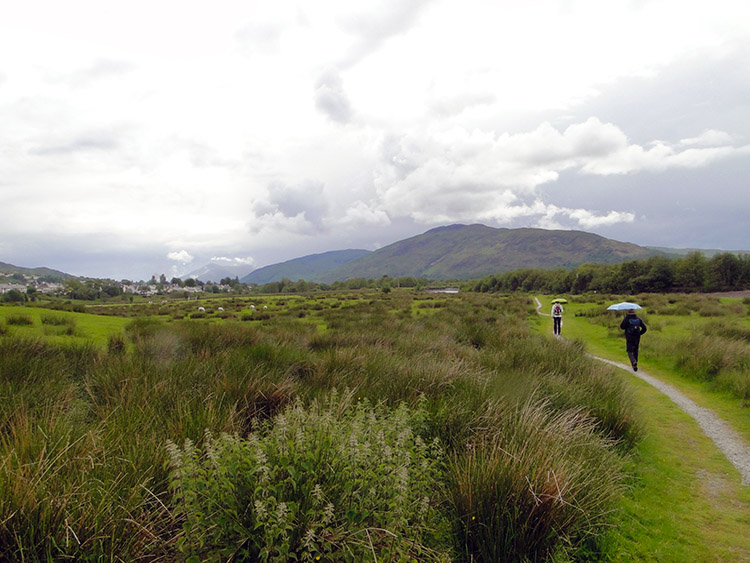 Path from Caol to Fort William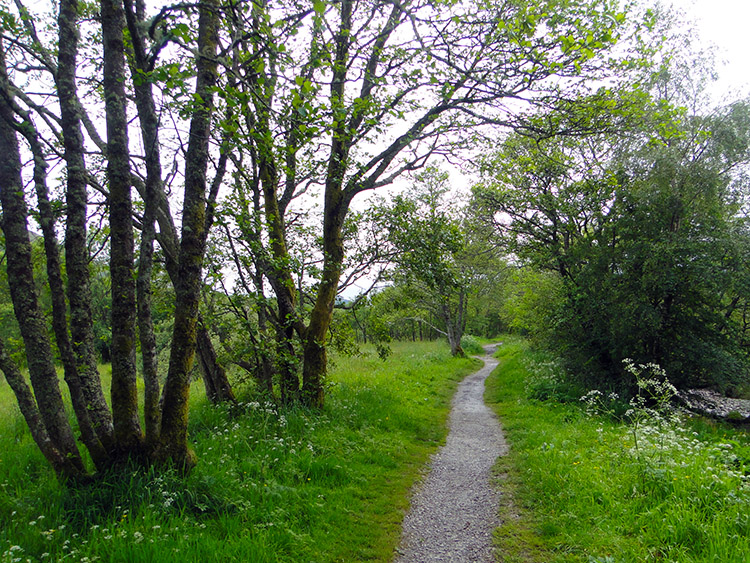 Woodland walking between Caol and Fort William
The relief on reaching Fort William was immense. I had completed the Cape Wrath Trail solo and unaided. I know I have a long way to go and many more painful hurdles to overcome before the final milestone at Lizard Point in Cornwall but I also know the hardest trail in the series I will connect with in my walk down the country was now behind me. Now I could rest until I was ready for the next stage. As I walked to my Bed and Breakfast in Fort William I passed the first sign pointing to the West Highland Way. What I did not know at the time was how long it would be before I took my first step along it.
Continue the walk
Great British Walk