The Great British Walk
A personal record of my three month walk of the full length of Great Britain from north to south with written journal and photographs. Tracklogs for GPS units and for use with Google Earth are available for download for each stage.
---
Stage 4: Loch Stack to Unapool
Google Maps
Open Source Maps
| Statistics | |
| --- | --- |
| Start: Loch Stack | Finish: Unapool |
| Distance: 11.0 miles (17.8 km) | Time: 5-7 hours |
| Climbing: 668 metres | Total Distance: 36.5 miles |
| GPX Route File | Google Earth File |
Ordnance Survey Explorer Map (1:25,000)
Summary
After the excitement of yesterdays walk this stage was equally interesting and challenging. The start from Loch Stack took me on an ascent of the north west shoulder of Ben Stack before I made a crossing of open high moor to Duartmore Bridge before following the A894 south to cross Kylesku Bridge and on to Unapool. Highlights of the day were the views I was provided with near Cnoc Odhar, views to majestic Quinag and the mountains of Inchnadamph Forest. The view from the high ground to Kylesku, Eddrachillis Bay and the sea was striking too and one I shall never forget.
(Note: My walk of the Cape Wrath Trail was a part of my
Great British Walk
from the north coast of Scotland to the south coast of England)
---
Stage Report
I woke up in the early morning around 6.00am after a decent nights sleep in the tent. I was only woken once from my sleep by a loud roar nearby which I imagine was a Monarch of the Glen. It worried me for a moment but then I though he would tumble over the guy ropes if he got too close. After a slow rousing from my slumber as there was no hurry to be off from the tent I prepared and ate a hearty breakfast of porridge and enjoyed a cup of tea. After breakfast I went through the process of washing and dressing before checking all my gear rigorously and making sure to put everything in its place. Toiletries went into a white bag, food in a green one. Electrical equipment also had its own bag as did maps and books. Pans, Cutlery and Gas had its own bag too. And all had their own place in the rucksack. Sleeping bag, cotton blanket and my luxurious inner silk blanket shared the sleeping bag hold all while clothing had its own hold all too. Dirty clothing and underwear had a separate bag, retained in isolation until washed. Indeed everything I deemed essential for this long journey down the length of Great Britain had its place and though I was yet to perfect the packing sequence at least the routine of bagging and double checking was established. When all was packed and bagged I dismantled the tent and after equal attention to packing the tent, the stays and the guys and ropes I broke camp and was on my way by 9.00am.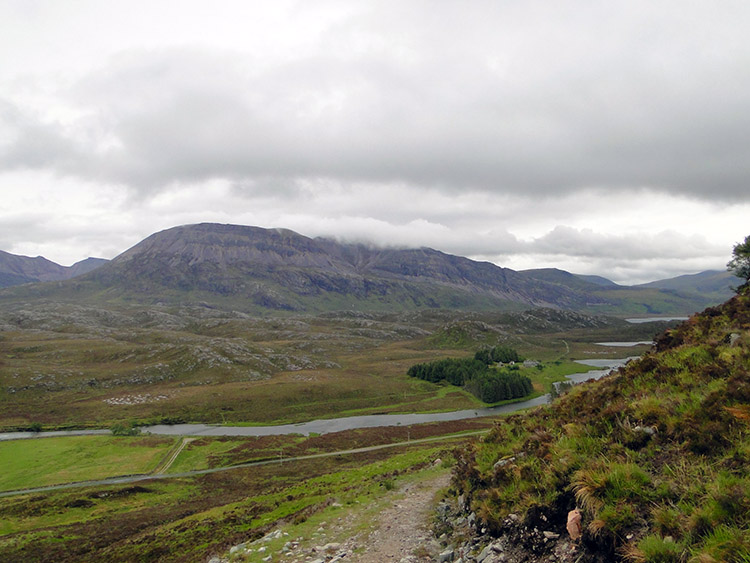 Looking back to Arkle from Ben Stack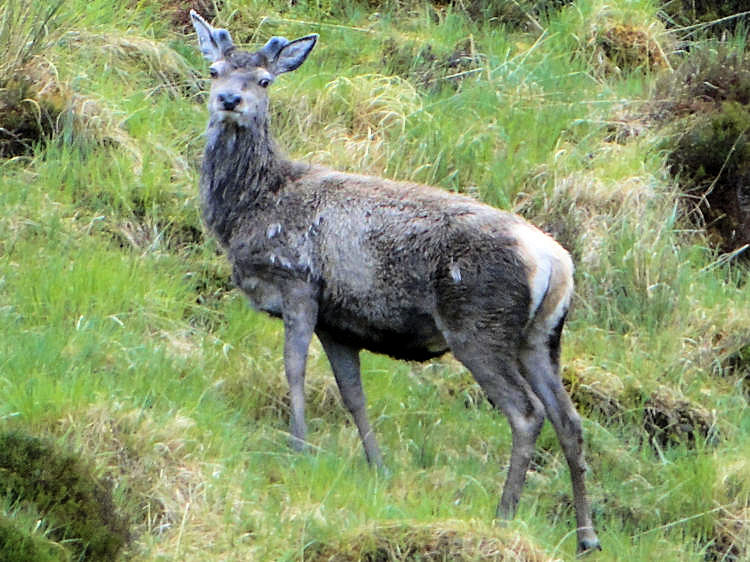 Deer on Ben Stack
I set off walking, unlike yesterday which began with a flat walk along a river valley, this time I made my way on a track on a steady climb around the north west face of Ben Stack. It had been raining while I breakfasted but on setting off it was dry and continued to be on my ascent of the track. Oh how I wished for some sunshine though, I had precious little yesterday and todays forecast did not offer much hope for any either. For weeks leading up to the walk I had watched the Scottish weather with interest and despite a good early spring the weather had settled into a series of cold fronts sweeping across the country from the Atlantic. And it was cold, I had even had to buy a second walking coat in Inverness because of the raw chill. I had it on today just as I had on every day so far. Weather aside, it was not long into the walk before the low levels were behind me and it was not long at all before I had my first 'stop moment' of the day. As I rounded a corner just 50 yards ahead of me was a herd of about 50 deer. They were probably the Monarch's clan and on seeing me they trotted off round a corner and out of sight. I never saw them again but they gave me a super moment, the first time I had even seen a herd of deer on a mountain.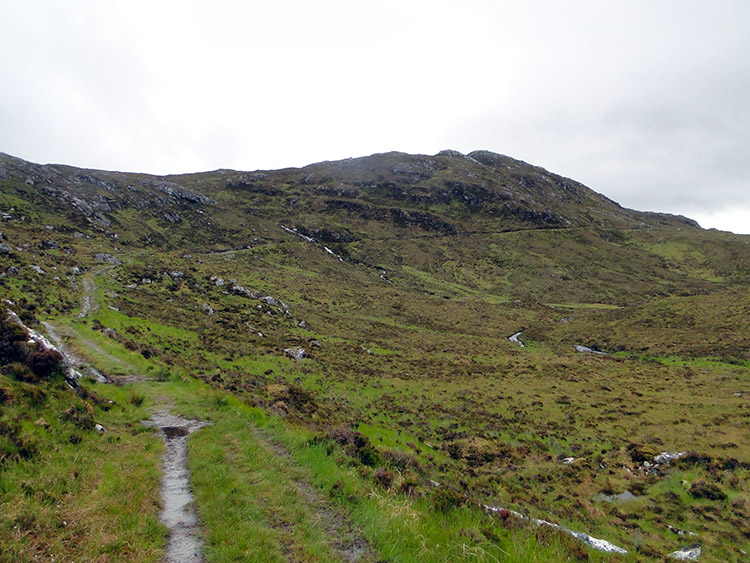 The track from Loch Stack to Duartmore Bridge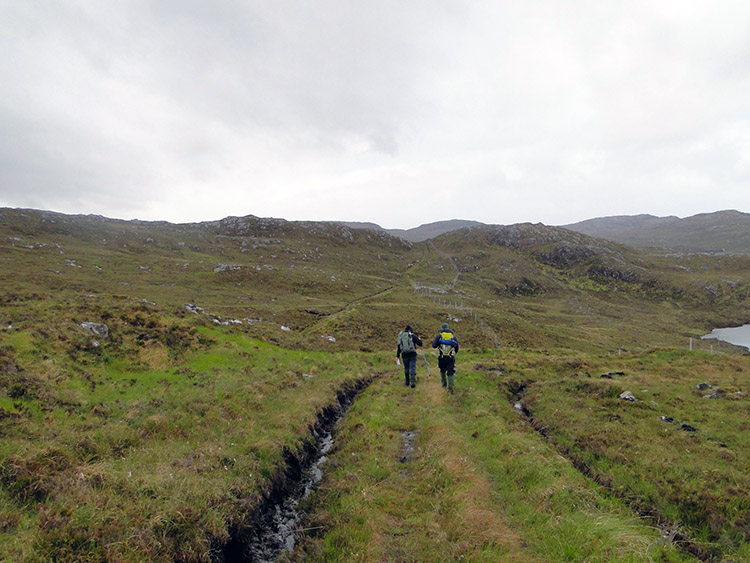 Mat and Atholl from Matlock going fishing
As I continued to ascend the flank of Ben Stack I noticed a couple of walkers behind me, the first I had seen on my entire journey. They were Mat & Atholl, a gentleman and his son in law from the Matlock area on a week long fishing trip. I enjoyed their company for a short while before they headed off west to a loch to catch some Brown Trout. In their company the weather had kept dry and I was feeling optimistic. Wrong! Minutes after I had resumed my solitude the heavens opened. As usual the wind freshened too and I was walking into a forceful gale. Soon I was sodden, my feet were squelching through the boggy ground (oh yes, as had happened yesterday the track had disappeared too) and the visibility was reduced, my head was down and I was plodding looking at my feet making the one step at a time actions and making sure I kept to the driest line. Unfortunately there was not one. My feet were swimming. Trench foot sprung to mind. However I imagined..."Come on Mike, look on the bright side, not a midge in sight (I am on a roll!)" As the weather changed in no time at all in north west Scotland the rain stopped quite suddenly and soon after the rain ceased I was bathed in sunshine. It was a wonderful warm spring sun too and I enjoyed it as I climbed to the highest point of my day at exactly 300m altitude just beyond Loch Eileanach. As I was walking and drying in peaceful solitude I got a real shock. Over the crest of a small rounded hilltop near to my right came over a military jet not much higher than the ground. It was sudden, it was loud and it was brilliant!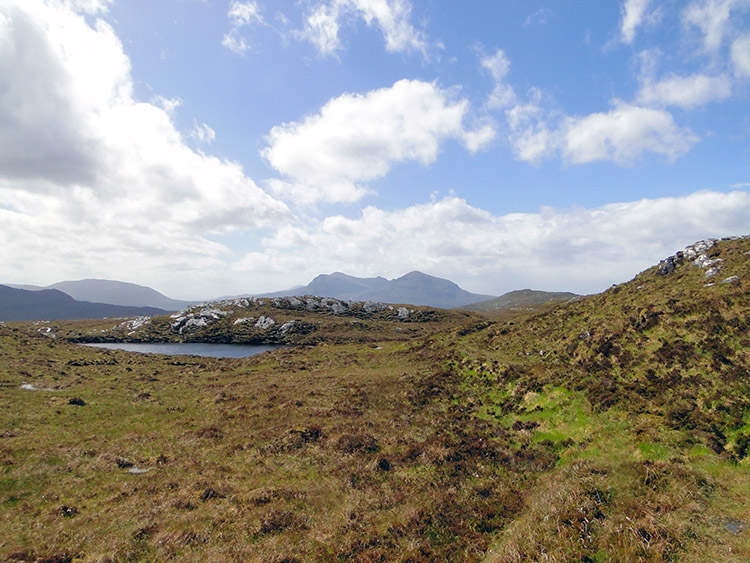 Approaching one of many lochans on the moor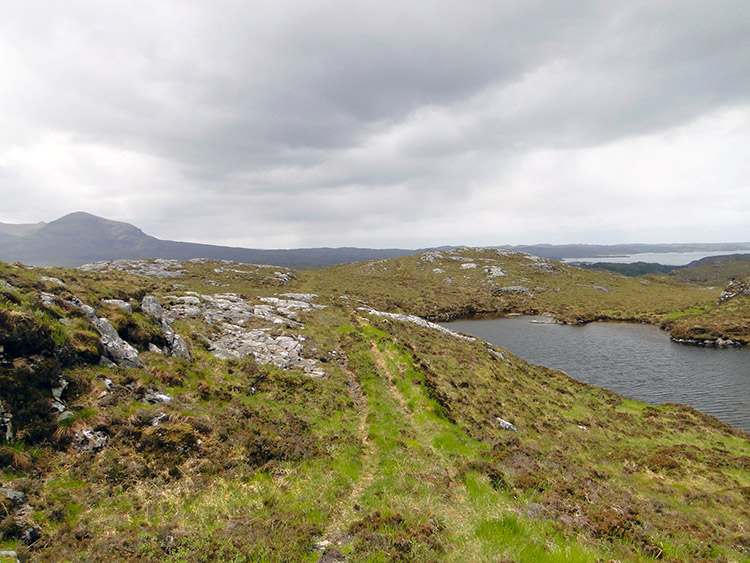 Wilderness
After the shock of the sudden appearance of the jet and the joy of reaching and passing the highest point on my crossing from Loch Stack to Unapool I took pictures, I danced (in mind only, fatigue prevented the the Highland Fling) and I accelerated to a pace of over a mile an hour! At height the views opened out too, accentuating my joy and it was just about this time when I experienced the first sight of a fantastic mountain. Quinag came into view and the mountain took my breath away. Quinag, is special, it has a wonderful shape to its series of three separate Corbett peaks along its Y-shaped crest. The first sight of Quinag and soon afterwards the first view of Eddrachillis Bay made my happy sojourn last a good hour, even though the ground underfoot kept my feet wet through for a second day. I was happy, the suns company kept my spirits up and I enjoyed all about the walk over the moor. Soon after I passed a series of small lochans though I began my descent to Duartmore Bridge and as I did so the clouds rolled in once more. No more high moor, no more peace, no more sun, the mood of all was changing.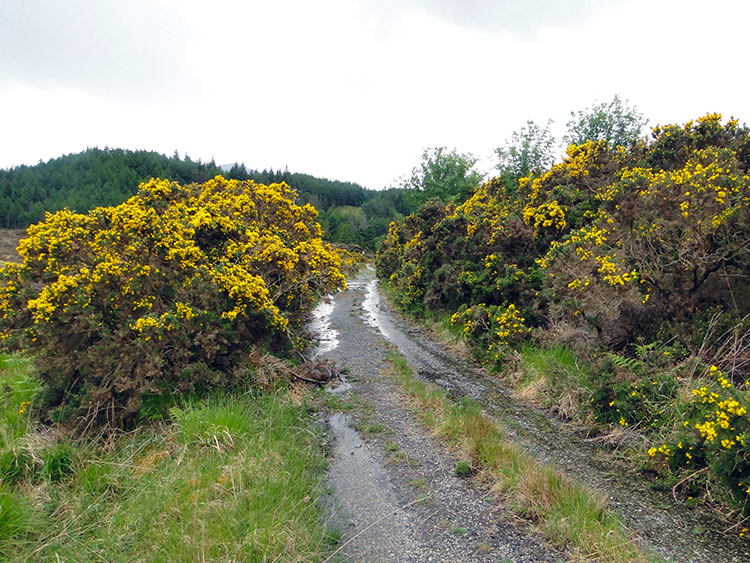 Flowering gorse near Duartmore Bridge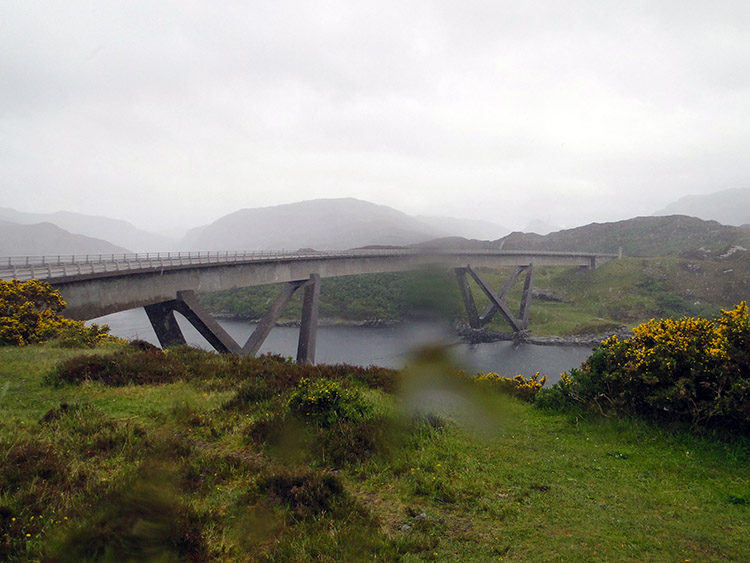 Kylesku Bridge
I descended from the moor by gaining access to a proper hard track by making my way through a high deer gate. Then I crossed Alt na Feithe Buidhe and walked along the track and past a fish farm to reach the metalled road still 3 miles from Kylesku and four miles from my accommodation in Unapool. I took a short drink by the roadside, ate a cereal bar and rested a while. As I resumed my walk the gathering cloud filled, the sky darkened and an almighty rainstorm descended, one which did not abate at all for the remainder of the stage. I walked on the road side with head lowered as the rain continued heavily and unabated. I walked with head down and counting steps in the hundreds before looking up to see what distance I had achieved. One hundred, two hundred, three hundred.. the road went on. Eventually and after much counting I turned a corner and came to Bealach Strome. Here there where a car park and viewing spot for Eddrachillis Bay and Kylesku. A couple in a car were struggling under a windswept umbrella to enjoy the view. It was not the best of days for seeing the bay at its best but the austere weather still gave the view a suitable wild composition which I appreciated. I stayed for a while longer than the couple who were soon back in the car and gone before I continued on down the roadside to Kylesku Bridge.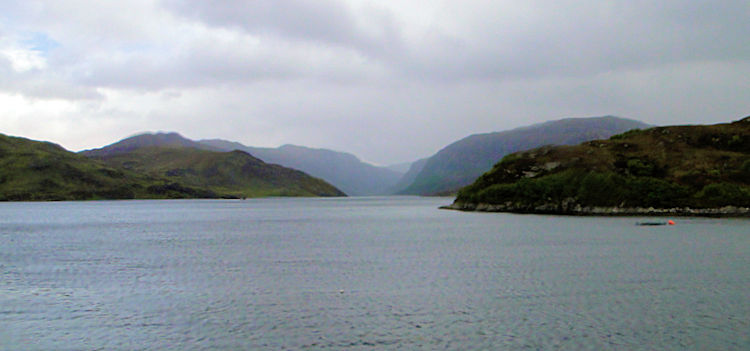 Loch Glencoul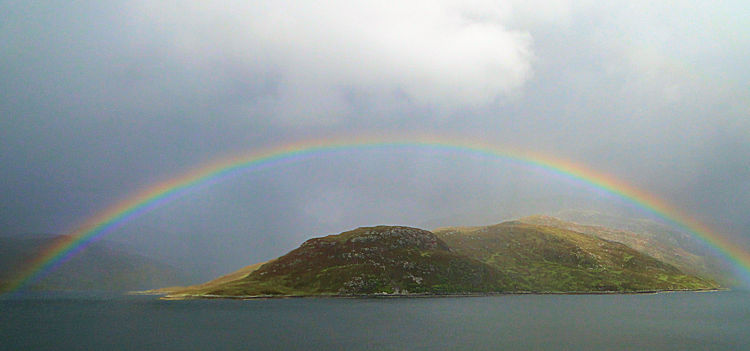 Perfect rainbow over Loch Glencoul
Before I reached the bridge I rounded the rocky outcrop of Garbh Eilean which blocked my view of the structure. Kylesku Bridge was opened in 1984 by the Queen. It is 276m long and crosses a 130m stretch of water called Caolas Cumhann which separates Loch a Chairn Bhain and Loch Glencoul. The curving, five-span bridge has been described as one of the most beautiful bridges in the world. Wainwright did not agree, he loved Kylesku and loved the romanticism of the Ferry which the bridge made redundant. I tend to agree but the bridge gave me a course straight and true to Kylesku and then to Unapool. Soon after I had crossed the bridge I stumbled into my haven of the Tea Shop in Unapool. I physically fell into a chair, wiped out and exhausted by the weather. Soon after sitting down a large puddle of water formed around me as the wet fell from my drenched clothing to the floor. With good fortune the teashop was managed by the delightful lady with whom I was staying and she generously looked after me. After tea I was taken over to the adjoining bungalow and shown my room. Mary Milnes at Maryck Guesthouse even took care of my dirty laundry, I was blessed with having such a wonderful host.

Today, as yesterday was a wonderful days walking in the rugged remote wilderness of north west Scotland. Tomorrow I will be walking near to Eas a' Chual Aluinn, the highest waterfall in Great Britain and by all accounts a spectacular sight. If it rains as it did today I might as well stand myself right under it; I could not get much wetter. Yet, despite the awful weather, and I am told there is more to come in the days ahead, I remain motivated on this epic walk and in very good spirits. I do hope I get some consistent dry walking soon though, the magnificent landscape of North West Scotland deserves it.
Continue the walk
Great British Walk